USAC recap – Oct. 19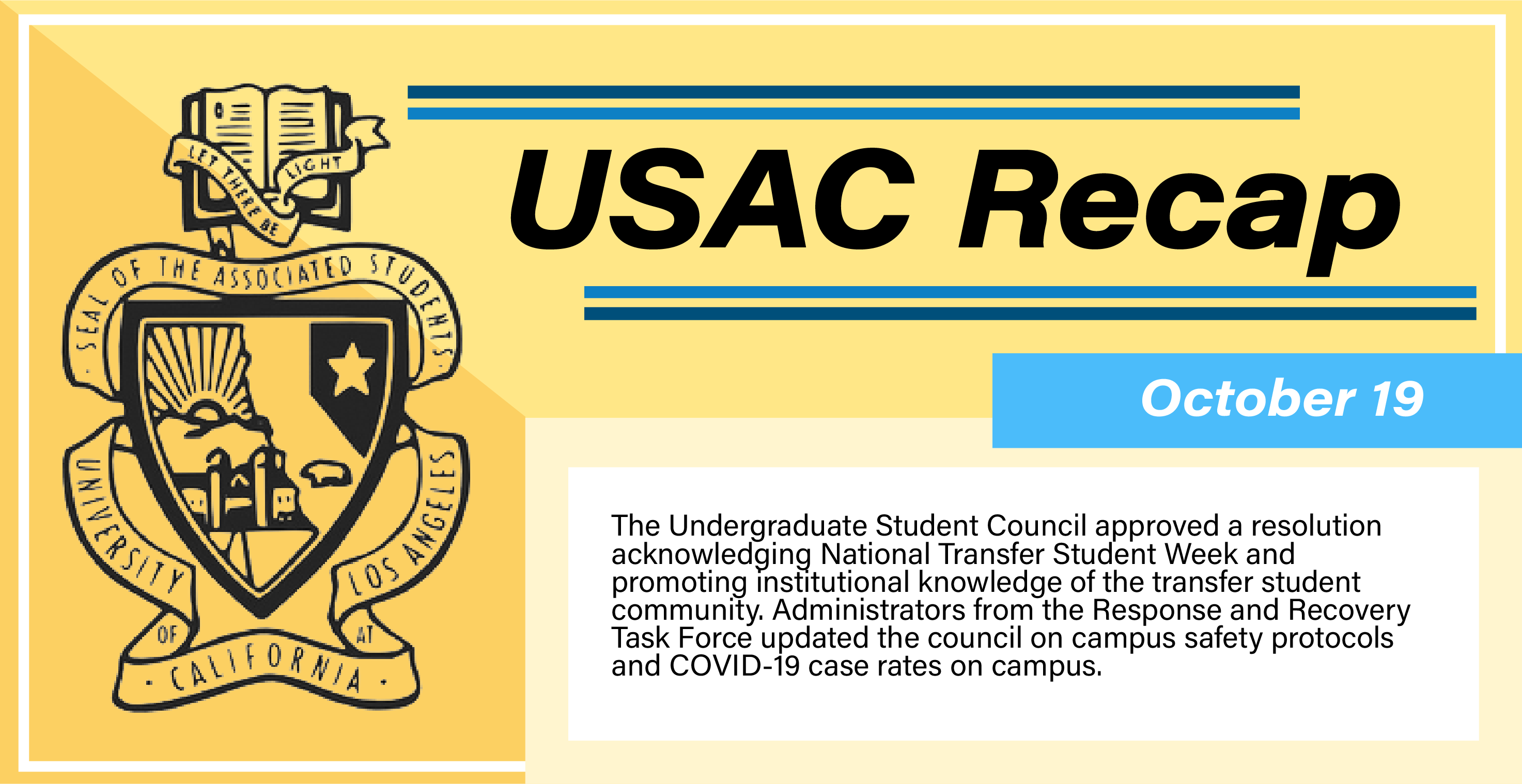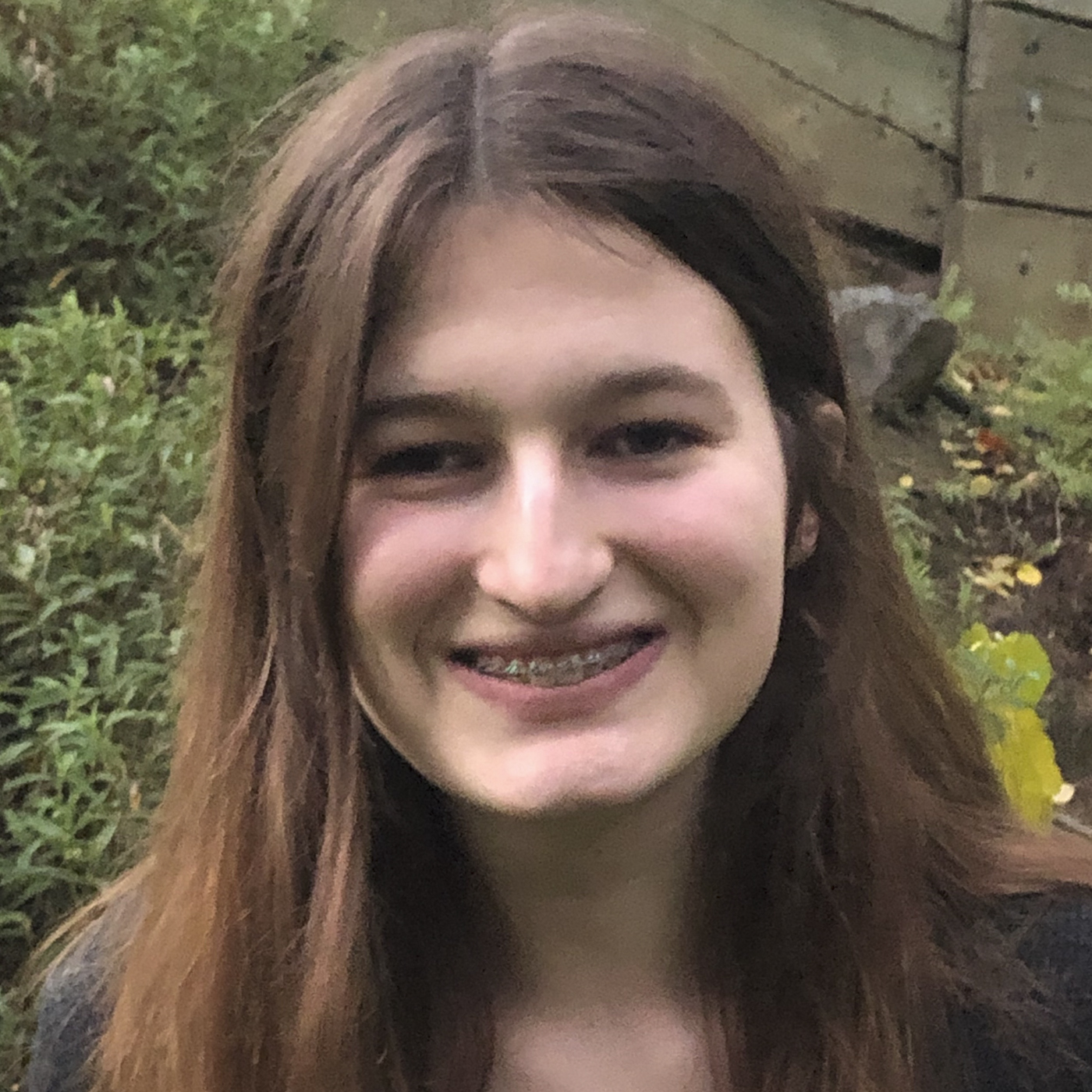 Correction: The original version of this article misspelled Palmer Turnbull's name in a sentence.
This post was updated Nov. 2 at 10:30 a.m.

The Undergraduate Students Association Council approved a resolution acknowledging National Transfer Student Week and promoting institutional knowledge of the transfer student community. Administrators from the Response and Recovery Task Force updated the council on campus safety protocols and COVID-19 case rates on campus.
Public Comment:
Radha Patel, chair of California Public Interest Research Group and fourth-year sociology student, said CALPIRG is holding a pledge drive during weeks five and six to fundraise for resources and staff trainings to support student advocacy work.
Special Presentations:
Megan McEvoy, co-chair of the COVID-19 Response and Recovery task force, said they are updating protocols to manage events such as the upcoming family weekend. McEvoy added that almost 500,000 COVID-19 tests have been administered since November 2020, with about 2,000 positive cases identified in total in the past week. McEvoy also said there are almost 500 beds set aside in the UCLA Guest House and De Neve Evergreen for quarantine, with six students in the housing currently. The housing is available to both on-campus and off-campus students to quarantine free of charge, she added. Michelle Sityar, a member of the task force, said the group refers to the summary of on-campus protocols and decision matrix when it makes decisions about updating on-campus protocols. McEvoy added that 96% of students are fully vaccinated. McEvoy also said there have been issues with compliance to the symptom monitoring survey and starting Nov. 4 students will be restricted from on-campus dining and recreational facilities if they have not filled it out.
Allocations:
The council allocated $84.13 to Samahang Pilipino, a cultural organization, for their general meeting.
The council allocated $85.60 to the Expressive Movement Initiative for their pumpkin painting social and $98.10 for EMI's weekly classes. EMI is an organization that aims to introduce creative movement and therapeutic dance to children with developmental disabilities.
The council allocated $631.39 to Bear at UCLA, a consulting group for student organizations and startups, for their fall retreat.
The council allocated $40.76 to the UMMA Volunteer Project, a student volunteer source for the UMMA Community Clinic, for their "Chill Hill" social.
The council allocated $983.34 to Bruin Film Society, a student organization dedicated to screening and showcasing films. This includes $666.67 for French Dispatch Screening and $316.67 for a Mailchimp subscription.
The council allocated $443 to Students for Justice in Palestine, a group dedicated to promoting justice for the Palestinian people, for "What is Socialism? – Teach In."
The council allocated $750 to Bruin Chamber Musicians, an organization for students to form classical chamber music groups, for their fall social.
The council allocated $750 to The Bruin Experiment, an organization dedicated to fostering scientific curiosity in Los Angeles middle schools through science fairs, for their fall retreat.
The council allocated $1,005.14 to the Center for Liberal Arts and Free Institutions, an organization for promoting the study of the liberal arts through courses and lectures, for CLAFI Constitutional Day Dinner.
The council allocated $318.67 to Bruins Down Under, a group for students from Australia and New Zealand, for a picnic social.
The council allocated $50,995.49 from the Board of Directors Programming Fund to 15 non-USAC student organizations.
Resolution:
The council approved a resolution in acknowledgment of National Transfer Student Week and promoting institutional knowledge of the transfer student community. Transfer Student Representative Herman Luis Chavez said the resolution celebrates and honors transfer students at UCLA and creates a written history of the transfer community. He also said it calls for council members to participate in transfer awareness training and advocate for transfer issues on campus.
Agenda:
The council approved changes to the Arts Restoring Community fund guidelines for the upcoming year. Rebecca Guo, a chairperson of the ARC fund, said the new guidelines specify that funding is available for in-person, online and hybrid events and will remain flexible. She added that funding does not apply to food that has no cultural significance or that is integral to an event and does not apply to merchandise unless it is a virtual public event. She added groups must submit funding applications at least three weeks in advance of the event and that the next application deadline for funding is Oct. 30.
The council approved $18,825 in funding for the AAC Books for Bruins program to cover the expenses for the scholarship this quarter. Academic Affairs Commissioner Angelina Quint said Books For Bruins is a quarterly textbook subsidy program that gives students funding to assist with textbook costs. She added that the funds will be disbursed as reimbursements since most students have already purchased their course materials this quarter.
Appointments:
The council appointed Clarissa Arjona, a third-year history student, to the Academic Senate Committee on Teaching. Arjona said she is passionate about academic equity and wants to support marginalized students and provide accommodations throughout the pandemic.
The council appointed Sachi Cooper, the 2020-2021 USAC Facilities Commissioner and a fourth-year geography and urban studies student, to the Community Service Mini Fund. Cooper said she loved working in TGIF as facilities Commissioner last year and is interested in expanding the fund to larger groups of students.
The council appointed Mark Topoozian, a third-year biology student, to the Community Service Mini Fund. Topoozian said this position will allow him to help people better their communities.
The council appointed Palmer Turnbull, a fourth-year political science and statistics student, as USAC Election Board Chair. Turnbull said that he wants to work on increasing voter turnout for the upcoming election cycle. He added that as the elections board director of external relations last year he saw issues and the impact he could have as chair first hand.
Reports:
President Breeze Velazquez said her office met with the Response and Recovery Task Force to discuss the implication of flu season on on-campus housing. She also said they discussed the academic hold that the university will impose on students who have not met the vaccine requirement by Nov. 8. Velazquez added that there are plans to make booster shots available for students to receive both on-site and off-site.
Internal Vice President Cassandra Gatica said her office publicized the Leadership Lobby – a Slack workspace for student leaders to communicate and share resources – to students on IVP social media platforms. She added that the housing relief award crowdfunding campaign on UCLA Spark is launching Oct. 25, which would provide housing funding assistance to students in need. She also said the ASUCLA T-shirt Design Contest is open for students to submit a T-shirt design that could be sold at the UCLA Student Store. Gatica said her office is planning a week five de-stressing event. She added that she also met with Good Clothes Good People, a volunteer group that provides basic needs items to students, to collaborate on the Housing Resource Guide with Bruin Shelter and Bruins for Accessible Resources.
External Vice President Sarah Wang said her office met with Bruin Shelter to discuss an on-campus shelter proposal and will be meeting with Peter Angelis, the Assistant Vice Chancellor of UCLA Housing & Hospitality Services, next week. Her office also met with UCLA Government and Community Relations to discuss redistricting efforts which she said is no longer a large concern. She added that the Bruin Advocacy Grant is open for student groups to apply to earn funding for advocacy work.
Quint said her office is working on opening more study spaces on the hill, as well as revamping and publicizing existing study spaces. She added she is drafting a letter to the Academic Senate to stand in solidarity with UC lecturers and a letter to the Undergraduate Council to encourage academic departments to implement hybrid learning for winter quarter. She also met with the Academic Affairs Office at University of Southern California to discuss a cross-campus mentorship program. She also said her office is working with the IVP office to host an event in recognition of ADHD awareness month to raise awareness of stigma and academic barriers. She said her office also opened Academic Success Referendum applications for students to apply to cover educational expenses.
General Representative 2 Passa Pungchai said in a written report that she began a braille sign initiative in collaboration with FAC. She added her office is meeting with Housing and Dining to address student dining hall concerns.
Transfer Representative Herman Luis Chavez said in a written report that his office is celebrating National Transfer Student Week and his office has finished transfer student appointments to the academic senate.