Weekend preview: Oct. 20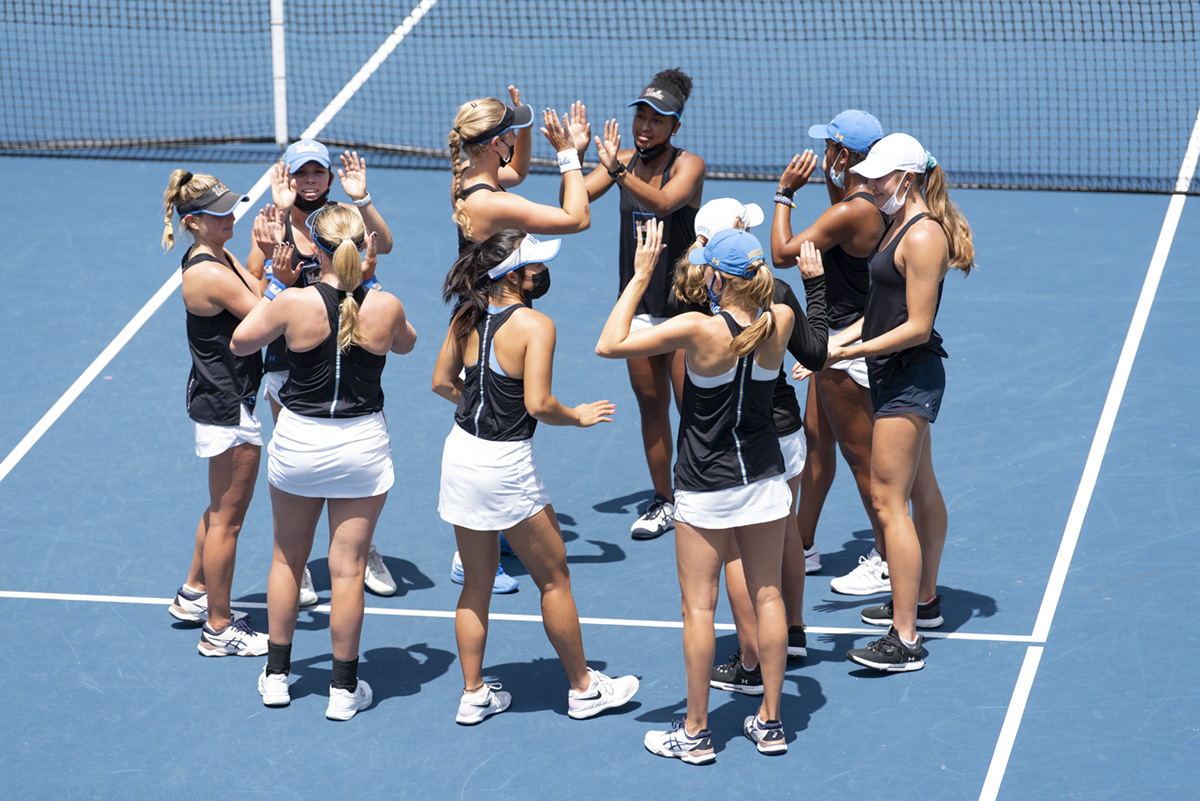 UCLA women's tennis players high-five on the courts during a match. The Bruins will be sending seven players to the ITA Regional Championships in San Diego this weekend. (Antonio Martinez/Daily Bruin)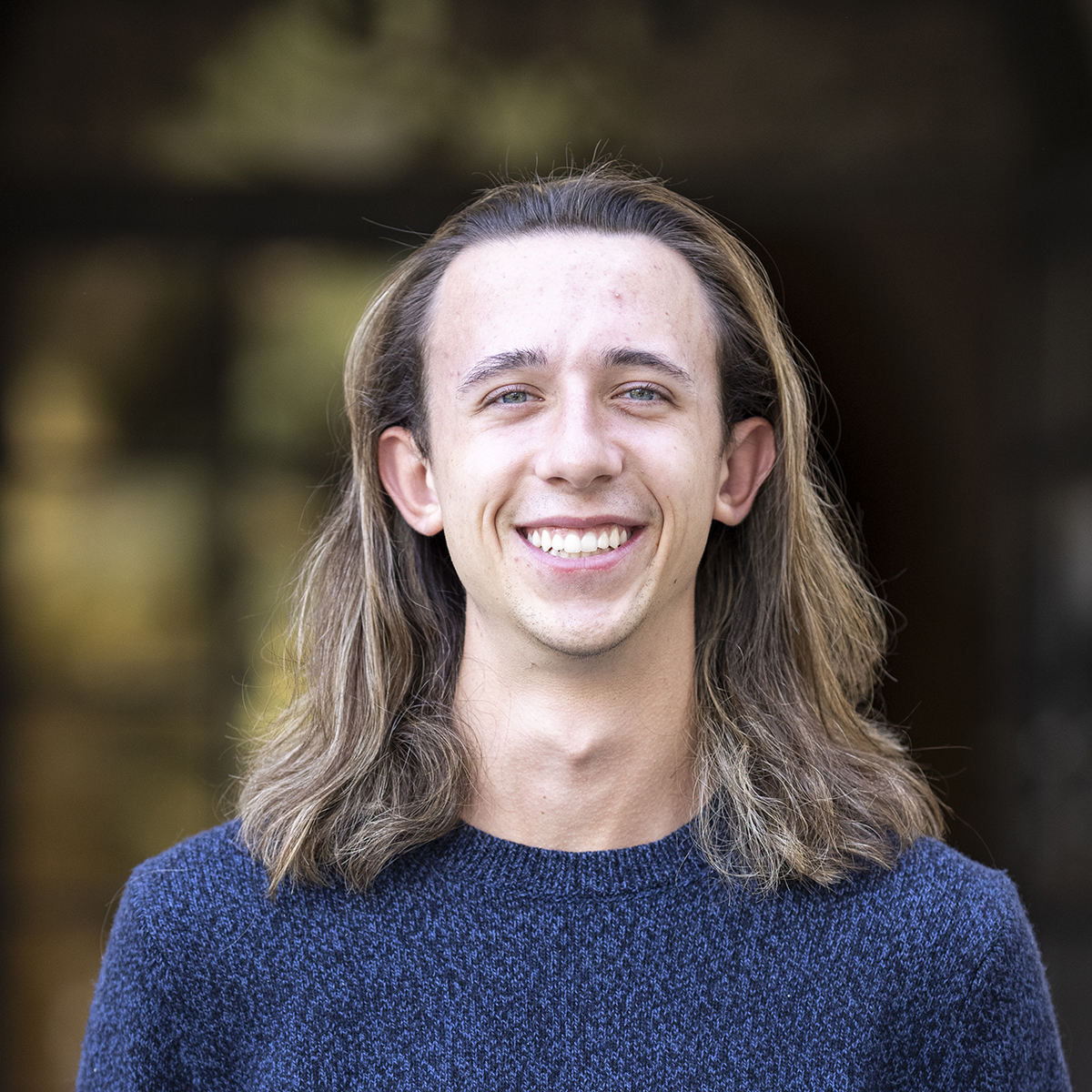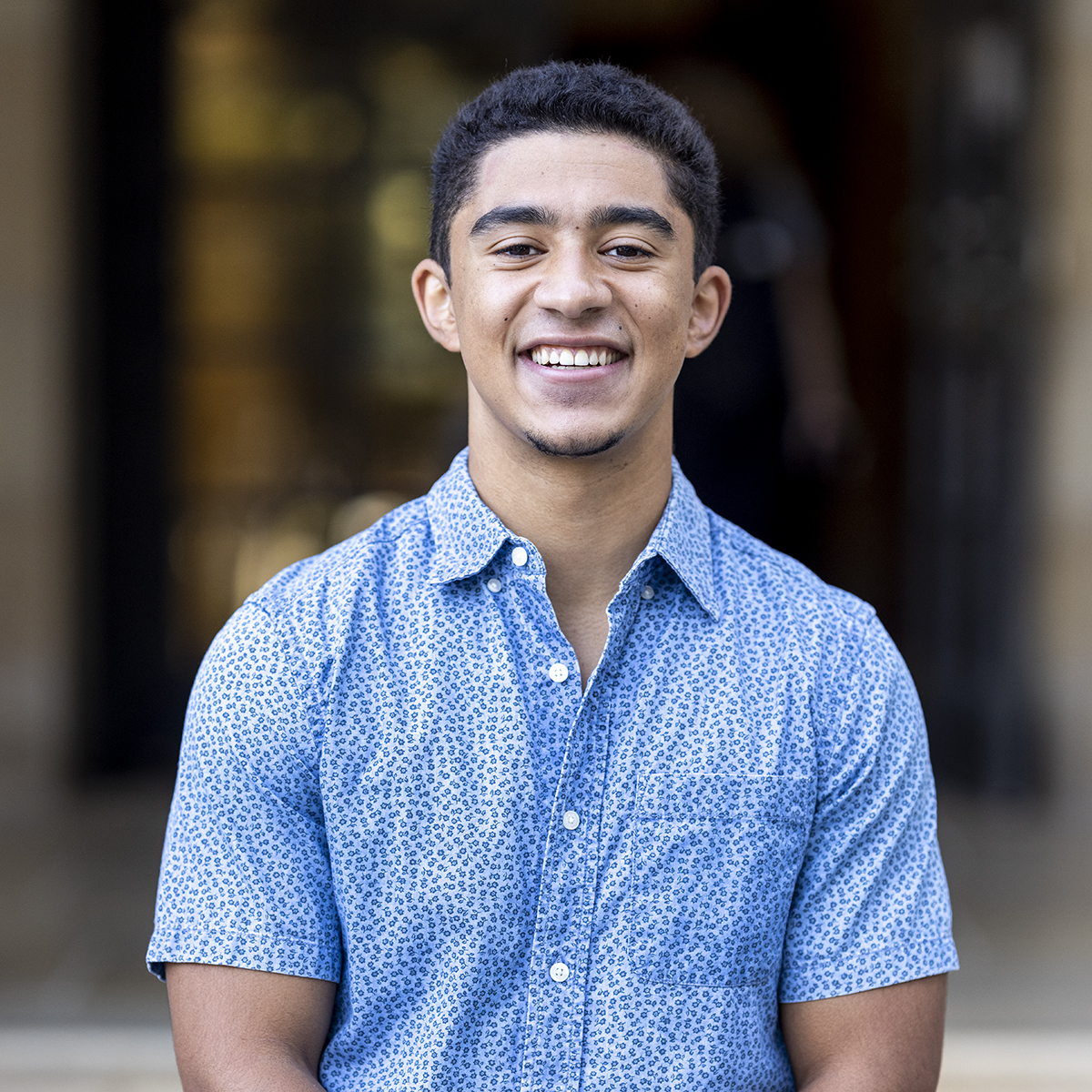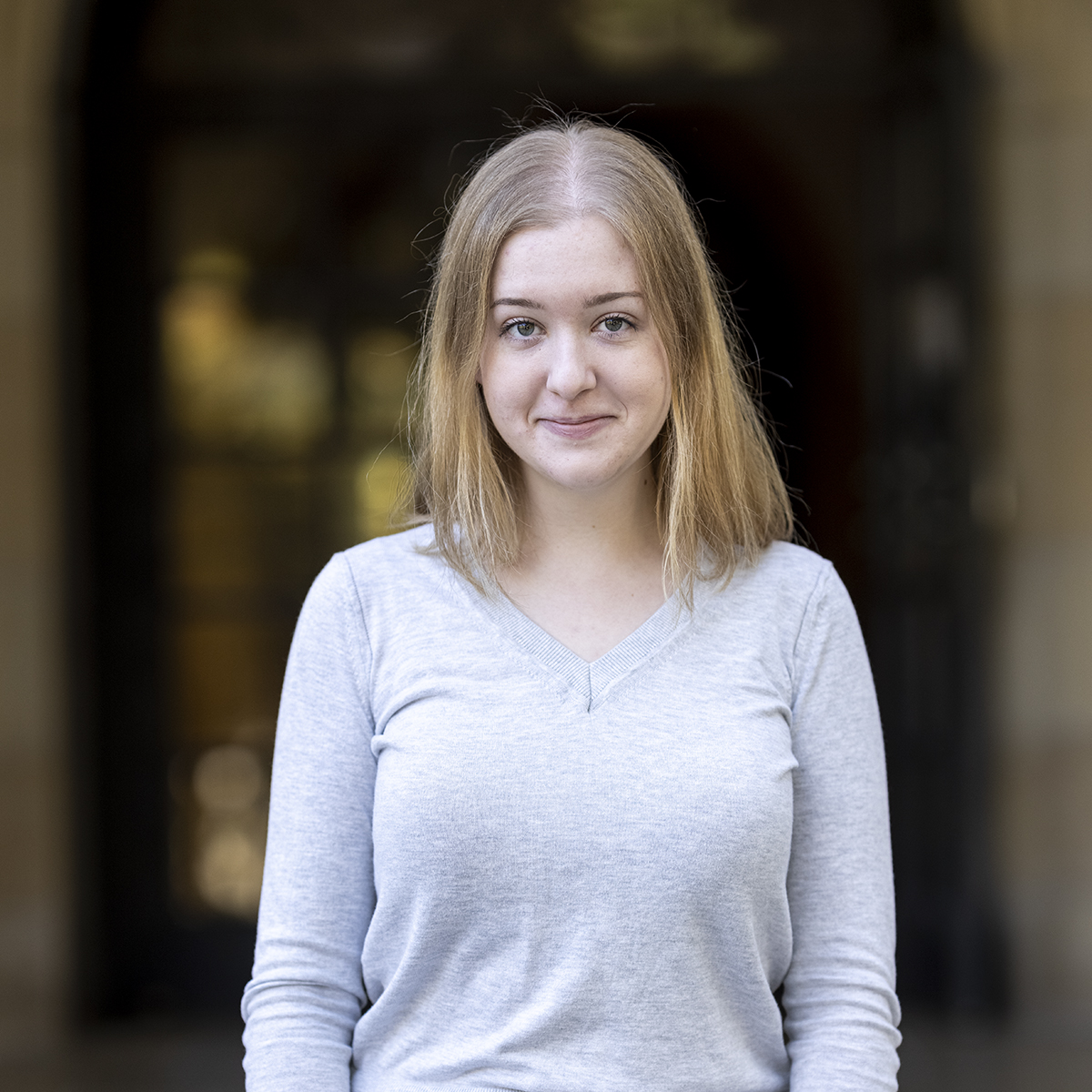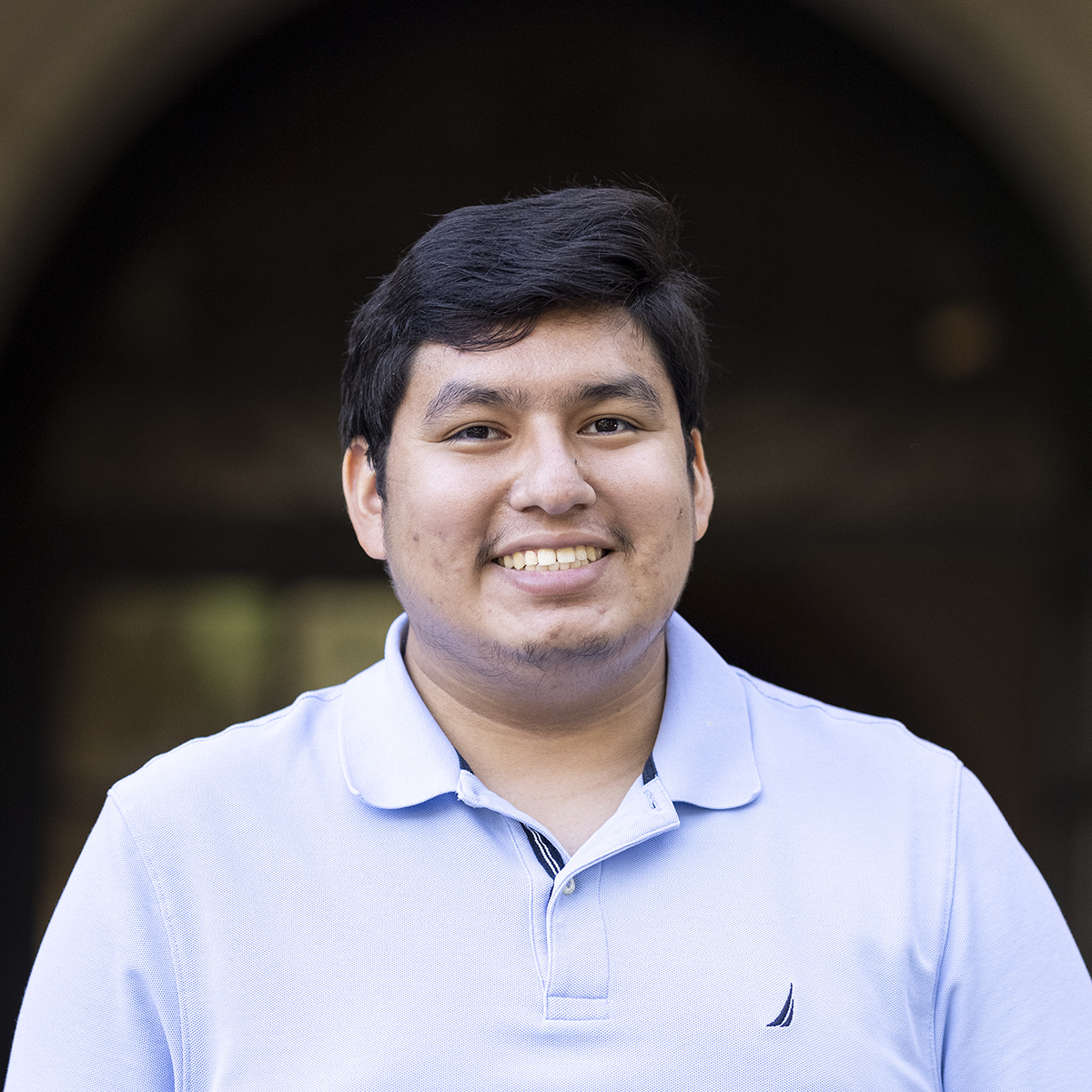 Women's tennis
Jack Nelson, Daily Bruin contributor
A slew of Bruins will be heading south to represent the blue and gold in preseason play.
All but two players for UCLA women's tennis are set to take the courts at Barnes Tennis Center for the ITA Regional Championships, which last from Thursday to Monday. The absentees include national No. 2 singles player and defending Pac-12 Singles Player of the Year junior Abbey Forbes and three-time ITA All-American senior Elysia Bolton, who will return to the team in January.
For most Bruins, the first action of their fall campaign was at Marks Stadium for the Women of Troy Invitational, where they notched a combined 14-2 record across singles and doubles play. Their effort was spearheaded by junior Sasha Vagramov, who posted a 6-0 mark by claiming her three singles matches and three doubles matches.
"The coaching staff was very pleased with the way they competed, the way they performed, and (we're) just looking forward to more opportunities for them to get familiar with us and how we coach," said coach Stella Sampras Webster.
UCLA's performance also included five different tandems, with each winning their respective doubles matches. With the shared success, Sampras Webster said it hasn't been easy to select doubles teams.
"It's a good problem. All of them can play at a really high level, and it's just a matter of putting combinations together," Sampras Webster said. "We'd like to put an underclassman with an upperclassman just to see how that goes, and that's kind of what we've done so far."
As at Marks Stadium, the theme at Barnes Tennis Center will be opportunity, Sampras Webster said.
The Bruins lost four frequent starters from last season's NCAA quarterfinalist team, so there is a void to fill before finalizing the first roster of regular-season dual-match play. Last year's preseason was canceled because of COVID-19 guidelines; however, with the preseason return comes the chance to identify the prime candidates for filling those lineup spots.
"We really didn't realize it until we didn't have it, so we're really grateful to be back together and have this time so we can build a base for our team and bring them together," Sampras Webster said.
Men's tennis
Paul Diamantopoulos, Daily Bruin contributor
The Bruins are back on the road for the preseason.
UCLA men's tennis will send a contingent of players to the ITA Regional Championships at the Ralphs-Straus Tennis Center this weekend. Eleven of 14 Bruins on the roster will compete at the championships, which will include a combination of singles and doubles play.
Coach Billy Martin said two of the three tournament absences are because of health issues, as seniors Mathew Tsolakyan and Roscoe Bellamy are both recovering from injuries.
Martin said this tournament presents a unique opportunity to gain an understanding of how his players will deal with pressure and to see which doubles pairings can develop chemistry.
"Doubles is always a key for us early on," Martin said. "Trying to see what combinations work well together is kind of hit-and-miss. … It has a lot to do with getting along well together on the court."
The 29-year head coach emphasized the luxury of being able to get a feel for the players at tournaments like the ITA Regional Championships, which the team missed last year because of the COVID-19 pandemic.
The Bruins lost three of six starters in the singles lineup from last year. Martin noted that the team has the talent to fill these holes, but this tournament is important for new and returning players to establish their ITA rankings and team roles.
"Alex Hoogmartens, our freshman from Belgium, is very talented and is going to be a strong part of our team," Martin said. "Giacomo Revelli, our new player from the U.K., is really going to step up and be a big part of our season."
Revelli, a freshman from England, is set to be officially announced as part of the roster Thursday and will be able to fully participate as part of the team.
The championships will kick off Friday in Malibu.
Swim and dive
Olivia Simons, assistant Sports editor
While some Bruins will be preparing for "GameDay" festivities Saturday, one group will be preparing for its own early weekend contest.
UCLA swim and dive will kick off its two-week homestand with a meet against UC Santa Barbara at Spieker Aquatics Center on Saturday. With an 11:30 a.m. start time, the Bruins will compete after ESPN's "College GameDay" is welcomed to Westwood before UCLA football's matchup with Oregon, which coach Jordan Wolfrum said will add extra energy to the meet.
"It's great to be able to race at home on such an exciting day as Saturday, when we're going to have 'College GameDay' and we've got home football," Wolfrum said. "It's going to be an exceptionally exciting day to be a part of Bruin athletics and so I think that's the thing I'm most excited for … just being a part of a big day on campus."
The meet is the Bruins' first dual meet of the year following the Fresno State Invitational that kicked off the season and is one of only two home dual meets in the 2021 calendar year.
UCLA will be racing head-to-head against Santa Barbara – in contrast to competing against multiple teams at an invitational – which Wolfrum said adds to the emotion of the meet.
"It's the most exciting kind of racing that we get to do at this time of the year," Wolfrum said. "It's less about exact scores and exact times, and it's just about beating the girl in the different colored suit, and that is so exciting."
The Bruins hold a 35-1 all-time record against the Gauchos, an advantage that Wolfrum said comes from UCLA's depth both in swimming and diving.
"UC Santa Barbara has a great team, they have a great new coach as well this year, and they always come and give us a heck of a meet," Wolfrum said. "We have a bit of historical advantage in depth, and we're hoping that that's the case again this year, but I know that they're going to give us some great head-to-head racing."
Men's soccer
Lexi Grimes, Daily Bruin reporter
The Bruins are headed north to play the two lowest-ranked teams in the Pac-12.
After entering the national rankings for the second time this season, No. 22 UCLA men's soccer (8-4-0, 3-2-0 Pac-12) will have a chance to build on its two-game winning streak with road matchups against California (2-8-2, 0-5-0) on Thursday and Stanford (4-5-3, 1-3-1) on Sunday. The Cardinal and Golden Bears rank fifth and sixth, respectively, of the six teams in the Pac-12.
UCLA will start its road trip with a visit to Berkeley. When the two teams met earlier this season at Wallis Annenberg Stadium on Sept. 19, the Bruins secured a 2-1 victory. In the 2020 season, the Bruins went 1-1 against the Golden Bears, with the loss coming on the road in a 2-0 shutout.
Three days later, UCLA will travel to Stanford for the second leg of its Northern California road trip. The Bruins picked up a 2-0 shutout win in the two teams' first matchup of the season Sept. 16 in Westwood. However, UCLA has failed to earn a victory at Laird Q. Cagan Stadium since 2013.
UCLA hasn't played a game on the road in three weeks, last losing to Oregon State and Washington, both of which were ranked at the time, on Sept. 30 and Oct. 3, respectively. However, coach Ryan Jorden said the Bruins are learning from their mistakes and are looking forward to the upcoming road games.
"We played two top-five teams on the road (and) we were ahead in both games – to do that shows the character of the team and the quality to get there," Jorden said. "We just hopefully learn from the mistakes we made the previous time. We're excited about going on the road."
UCLA has five games left in its regular-season schedule to secure a spot in the NCAA tournament. The Bruins currently rank third in the Pac-12, with each of the top two teams having yet to take a loss in conference play this season.
The Bruins will face the Golden Bears on Thursday at noon and the Cardinal on Sunday at 3 p.m.
Men's water polo
Ricardo Garcia, Daily Bruin contributor
The Bruins will return home to face an opponent that is making waves in the water.
No. 1 UCLA men's water polo (15-1,1-0 MPSF) welcomes No. 9 Pepperdine (13-7, 1-0 GCC) to Spieker Aquatics Center on Sunday in a battle of two streaking teams. Both teams are riding winning streaks of at least six games, as the Bruins have won six straight games since their lone loss of the campaign, while the Waves have won seven straight since they dropped below .500 earlier this season.
Earlier this season, Pepperdine defeated No. 2 California in what was the program's first win over a team ranked in the top two since 2008.
Despite the Waves' recent upset, graduate student attacker Nicolas Saveljic said nothing changes regarding the Bruins' preparations.
"We're excited for the game, but it doesn't really differ from any other game," Saveljic said. "One game at a time. Nothing's guaranteed."
After scuffling through a 10-of-43 spell on the power play, UCLA shot 62.5% in six-on-five situations against Pacific on Sunday, its highest percentage since it shot 10-of-20 against UC Santa Barbara on Sept. 5.
In the 13-8 win over the Tigers, the Bruins also shot over 50% from the pool for the first time since they shot 18-of-33 against San Jose State on Oct. 2.
This weekend's game is the final home game of the regular season for UCLA, meaning there will be Senior Day celebrations for the team's graduating players. Coach Adam Wright described the day as special but said the Bruins still need to be ready for their opponent.
"Because of COVID, we have guys that are coming back and actually getting a Senior Day," Wright said. "We're going to honor them, but we also have to be mindful because we have a really big opponent to play in terms of Pepperdine."
The Bruins' opening sprint against the Waves is set for Sunday at noon.
Men's golf
Gavin Carlson, Daily Bruin reporter
Two season debuts helped the Bruins last week.
They now have a chance to end the fall season on a similar high note.
After its first top-five result since March of 2020, UCLA men's golf will finish the fall campaign at the Golf Club of Georgia Collegiate Invitational in Alpharetta, Georgia, this weekend. The Bruins' lineup will once again include senior Sean Maruyama and freshman Omar Morales, both of whom finished in the top 20 overall while making their season debuts in last week's Wolf Pack Classic in Reno, Nevada.
Coach Derek Freeman said the addition of both golfers will ease expectations for the rest of the team heading into the final tournament of the season
"Having those two guys, it's going to make a big difference in our lineup," Freeman said. "These guys are going to help take some pressure off of the guys who've been playing."
Maruyama shot 2-over-par and finished 18th in his first tournament back from injury since starting for UCLA in 2019. Morales, meanwhile, made his collegiate debut and finished tied for 19th with a 3-over-par performance.
In addition to having a more complete lineup, Freeman said he expects success this weekend as the upcoming course requires driving accuracy – a strength of his team.
"One of the most important parts about this course is you have to drive it well (and) historically we drive it pretty straight as a team," Freeman said. "If we limit our mistakes on the par 5s, make sure we don't do anything crazy there, and make sure we're making good decisions, we're going to have a great event."
The Bruins' final fall tournament starts Friday at 9 a.m.