UCLA women's soccer travels to Washington, tackles last regular-season road games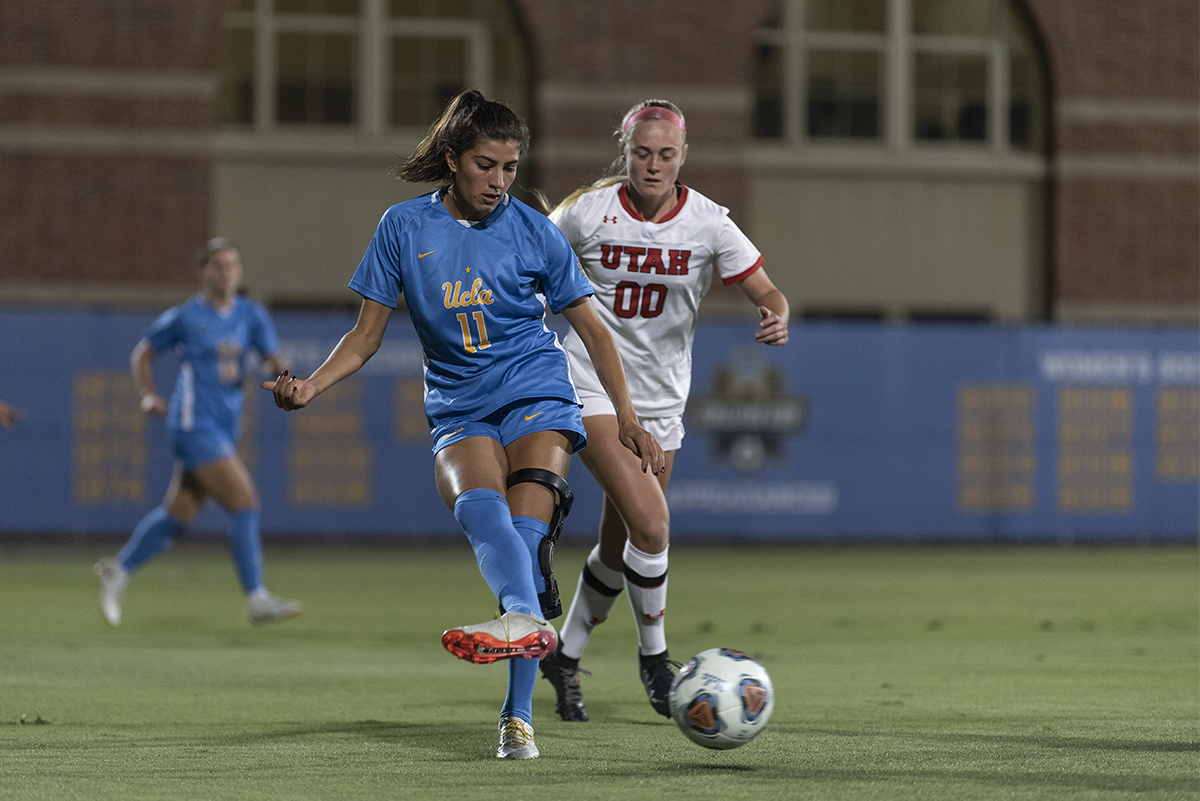 Redshirt junior midfielder Madelyn Desiano and No. 8 UCLA women's soccer will head to Washington for a pair of games Thursday and Sunday. The Bruins are undefeated on the road this season. (Christine Kao/Daily Bruin staff)
Women's Soccer
---
Washington
Thursday, 7 p.m.
Husky Soccer Stadium
Pac-12 Networks
---
Washington State
Sunday, 5 p.m.
Lower Soccer Field
Pac-12 Networks
The Bruins will finish up the road portion of their regular-season schedule over the weekend.
No. 8 UCLA women's soccer (12-0-2, 4-0-2 Pac-12) will travel north to face Washington (4-6-3, 2-2-2) in Seattle on Thursday night and Washington State (10-2-2, 4-1-1) in Pullman on Sunday evening. The Bruins are at a perfect 7-0 away from Westwood this season, including three road wins against conference opponents.
The last time the blue and gold maintained a perfect Pac-12 road record was in 2008. Redshirt junior midfielder Madelyn Desiano said that as the team piles on road wins, its confidence grows.
"We're a good road team," Desiano said. "We've won our three Pac-12 games on the road, (and) we felt confident after them. Even though this is a challenge and it's hard going on the road, especially to Washington, we're using that confidence from (our previous) road wins and carrying that with us."
Last season, the Bruins welcomed the Washington schools to Wallis Annenberg Stadium before dispatching them both, downing the Cougars 4-0 and the Huskies 1-0. In that 4-0 victory, redshirt sophomore forward Sunshine Fontes scored her fifth goal of the campaign.
While Fontes has not been able to get on the scoresheet this season – after scoring five goals in her debut season with the blue and gold – the forward said she's trying to play the same role for the Bruins.
"My role this season is similar to last season," Fontes said. "I haven't gotten on the board this season yet, but coming off the bench, I'm just trying to bring energy after subbing a starter off. It's important for all the game changers to not get too in your head about not starting because it's not always about how you start, but how you finish the game."
Washington, which ranks seventh in the conference, is coming off its largest victory of the season, defeating Arizona 4-1 in Tucson. Washington State sits one point behind UCLA in the Pac-12 standings after tying Arizona State 2-2 in its most recent matchup. The Cougars also boast the best defense in the conference, allowing six goals in 14 matches.
The Huskies have not beaten the Bruins since a 2-1 victory in 2015, while the Cougars sport a 3-3 record in their last six fixtures against the blue and gold, winning the last two times it has played in Pullman.
Desiano said she expects two competitive games against defensively solid opponents.
"(Washington) always has something up their sleeve – they have a couple crafty players up front, and they have a good defense," Desiano said. "Washington State has always been super physical, athletic. … It'll be a challenge for us to try and score goals against good defenses."
In its most recent contest, UCLA triumphed over Oregon State 4-1, reaching the four-goal mark for the second time this season. Two of the goals came from a pair of defenders, junior Brianne Riley and freshman Lilly Reale, who both netted their first career goals in Corvallis.
"Scoring four goals and (junior forward Mia Fishel) not being one of them is great," said coach Amanda Cromwell. "If you have defenders scoring with forwards scoring, that's really difficult to defend, so we have to keep it coming from all areas of the field."
With five games left on the schedule – including three showdowns against current top-four teams in the conference – the remaining match results could have a significant bearing on the final Pac-12 standings.
"Got to go up there and play well," Cromwell said. "Do what we do best – keep the ball and finish our chances."
Kickoff is in Seattle on Thursday at 7 p.m., while the contest in Pullman will start at 5 p.m. on Sunday.
Farinha is currently a Sports staffer on the softball beat. He was previously a reporter on the women's soccer beat.
Farinha is currently a Sports staffer on the softball beat. He was previously a reporter on the women's soccer beat.