The Transfer Transition: Navigating isolation, institutional barriers as transfer students at UCLA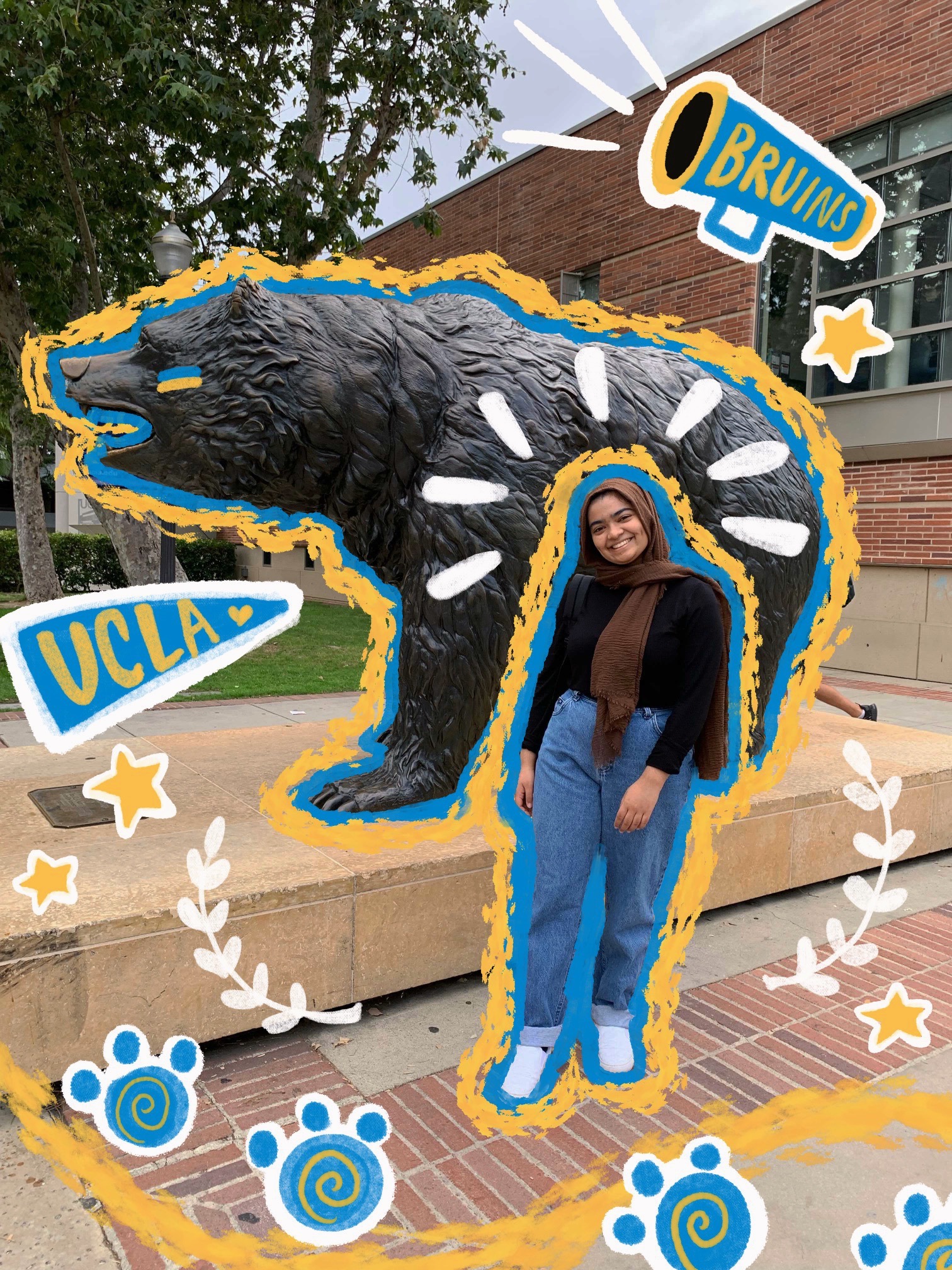 Opinion columnist Sarah Karim beams as she stands in front of the Bruin Statue. In the first installment of her series "The Transfer Transition," Karim explores how she got to UCLA and what it means to be a transfer student. (Photo courtesy of Sarah Karim/Daily Bruin Staff. Photo illustration by Katelyn Dang/Illustrations director)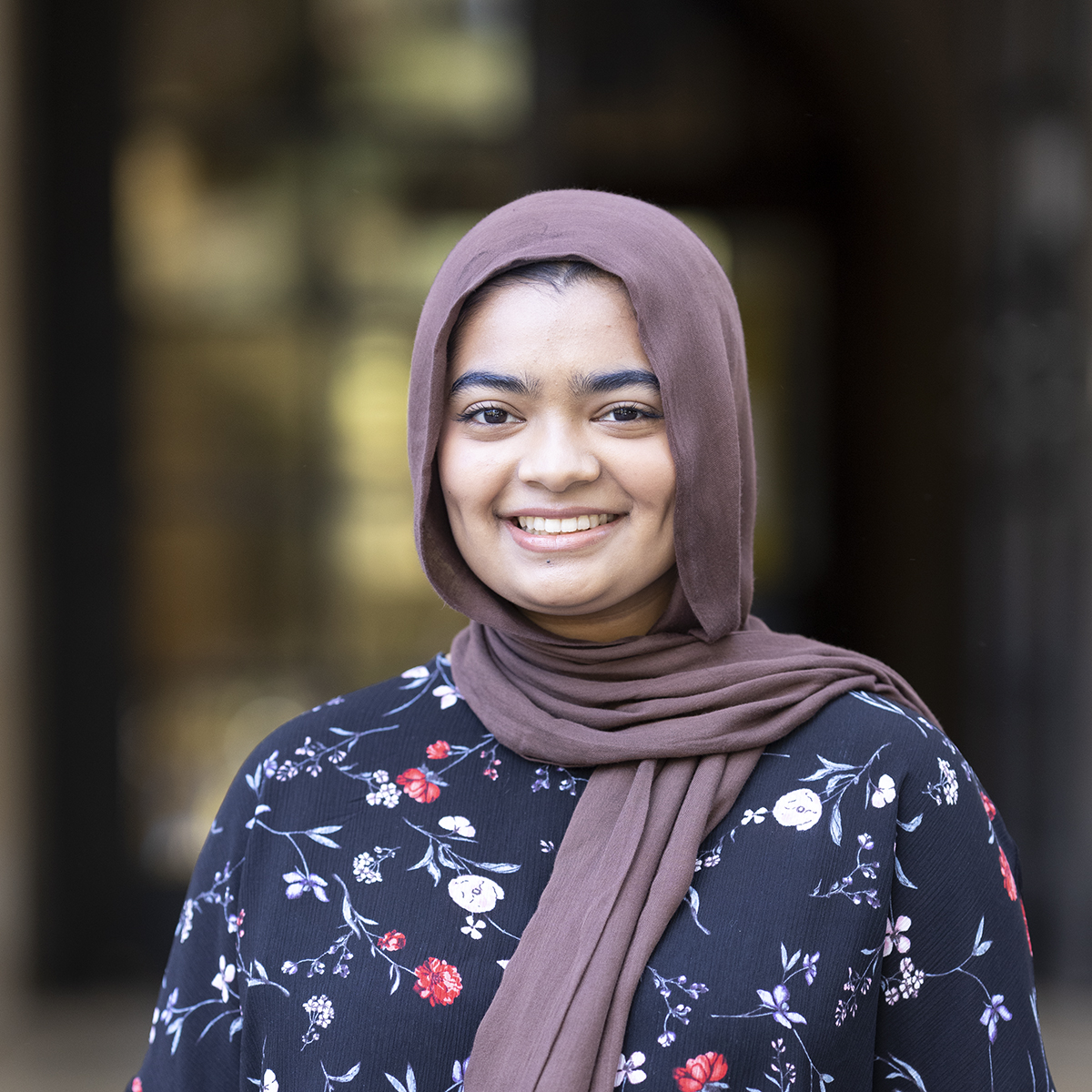 "The Transfer Transition" is a series by Opinion columnist Sarah Karim, a fourth-year political science transfer student. These columns will explore various transfer experiences, from the application journey to the difficult process of transitioning to a new campus. The goal is to bring awareness to the unique struggles that transfer students face and to foster a deeper understanding of the transfer community.
"Where do you go to school?"
That question used to fill me with dread. I knew as soon as I answered, I would have to endure the look of disappointment sent my way. For a long time, I let that disappointment fuel my own.
My choice to go to community college was not an easy one.
After my senior year of high school, I had been preparing to attend UC Davis, even attending orientation in August 2019.
However, during the orientation, I felt an overwhelming sense of uneasiness that this wasn't the right place for me. I would be far away from my family and friends and in a major I wasn't certain about – all on a campus that didn't excite me. I had to ask myself whether I really wanted to sign away the next four years of my life to be spent in Davis.
I realized I had chosen a four-year college because I felt as if there were no other options, not because it was the right place for me.
And so, despite everyone's advice against it, I relinquished my spot at UC Davis and chose to attend Glendale Community College instead.
My one year at community college wasn't easy; the requirements in order to transfer before my second year were very difficult, but luckily, I wasn't alone in my ambition.
The people I met at Glendale Community College all had their own stories of why they chose to attend. Some had familial responsibilities and now finally had the opportunity to get an education. Many couldn't afford a four-year college. And others were like me, unsure about the next steps in their lives. Despite these differences, my peers all worked hard to achieve their academic dreams, and they inspired me to do the same.
After bearing all the academic stresses and opinions of others for the last year, I was thrilled to get accepted at UCLA and I was more than ready to experience everything life as a Bruin had to offer.
To my disappointment, it wasn't quite what I expected.
On top of the difficulty of attending classes online, assimilating as a transfer student wasn't easy. I couldn't help but feel that there were constant barriers and requirements that never seemed to keep transfers in mind.
As I was searching for clubs to join, I found that many had a UCLA GPA requirement, which is impossible for almost any incoming student to fulfill. And when explicitly discriminatory policies weren't in place, it seemed impossible to gain officer positions in student organizations when competing against students who had been members for years.
Academically, things weren't much better.
At the time, I was considering taking on another major, which brought a whole new wave of struggles my way. Every counselor explained that unless it fit under my timeline of graduating in 2022, the school would not accommodate an expansion of my educational horizons.
Yet, "traditional" students have plenty of opportunities to change majors and to attend UCLA a fifth and even sixth year if they need it to accomplish their goals.
I was constrained by a timeline that I hadn't anticipated. When I looked into adding a minor, I found similar issues. Many of them required a series of classes as prerequisites, which I would have had to begin during my first quarter here in order to meet the graduation deadline.
Again, any of my direct-entry friends could add minors as they wished.
Although I've been grateful for my time at UCLA, it's difficult to feel like a true student when the university continually creates barriers to make transfer students feel like they don't belong.
There is so much that transfers experience that many other students on campus cannot relate to, and I'm proud of my fellow transfer students for all their hard work that goes unnoticed.
Now, when someone asks me what school I go to, I don't hesitate to say I transferred from a community college to UCLA. My years at both institutions are important parts of my complete college education.
While I used to be influenced by others' opinions of community college, I've realized everything happened exactly as it should have.
I am proud to be a transfer student, and I hope that others start to recognize that we deserve to be seen – and treated – the same as any other student.