Opinion: UCLA has responsibility to prioritize community safety through requiring weekly testing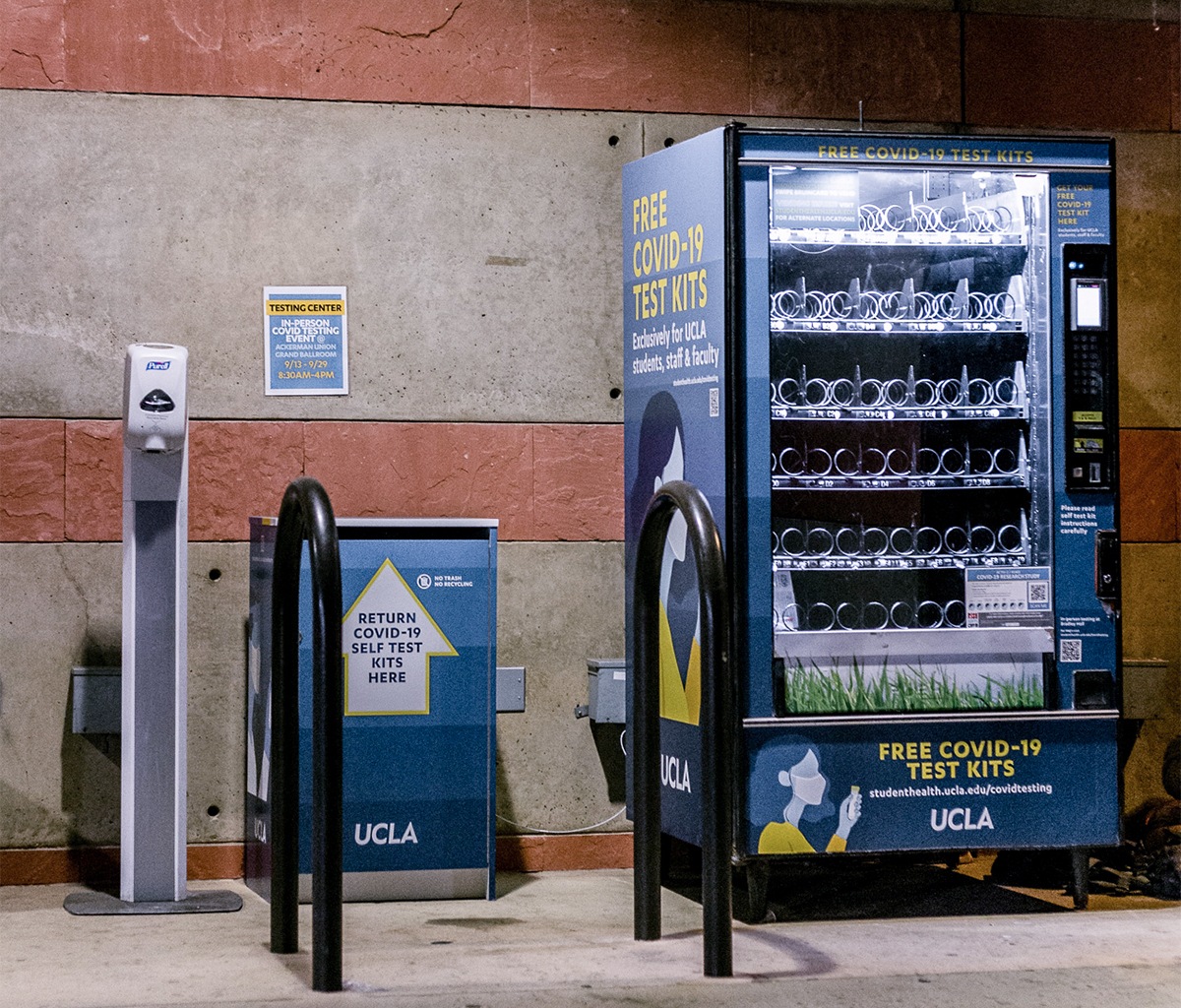 (Michael Vigman/Daily Bruin)
In its harried rush to normalcy, UCLA has failed to protect all members of its community.
Currently, unvaccinated students, faculty and staff are required to test for COVID-19 twice a week. These tests are self-administered saliva swabs and are conveniently available in vending machines on campus. All students, regardless of vaccination status, are eligible for two free tests each week.
While this is a step in the right direction, it isn't enough to ensure our safety.
The administration encourages vaccinated students to take weekly tests of their own volition; however, in order for the university to stay ahead of an outbreak, it needs to make this an enforced requirement. All students and faculty, regardless of vaccination status, can contract COVID-19.
For certain students, such as those with underlying medical conditions or older family members, an outbreak could be deadly. UCLA can only mount an effective response to keep Bruins and their families safe if it knows the true number of cases on campus.
That knowledge requires comprehensive testing.
According to an emailed statement from UCLA spokesperson Bill Kisliuk, more than 94% of UCLA students are fully vaccinated. As a result, the administration has put its efforts into alternative prevention methods, such as contact tracing.
These efforts, however, are not foolproof. Within the first three weeks of fall quarter, there have been more than 50 confirmed cases of COVID-19 on campus. Traces of COVID-19 have already been found in the wastewater of residential halls, and cases will only continue to increase as the year goes on.
"Our decision not to test vaccinated, asymptomatic individuals at this time is consistent with other UC schools and large universities," Kisliuk added in the emailed statement.
We've heard these sentiments before. At the beginning of the 2020-2021 school year, many colleges chose to remain open, leading to large outbreaks of the virus and preventable harm.
Simply following the lead of other schools is not enough.
UCLA must require all students, regardless of vaccination status, to be tested regularly for COVID-19. With the rise of new variants and booster shots still limited to a small group of high-risk individuals, it's clear a surge in cases is not out of the picture.
Establishing a weekly testing requirement would provide stability and hold students accountable for their behavior. It will also help asymptomatic carriers take precautions to stop the spread.
The university's current passivity is forcing students to act for themselves.
Ayesha Aslam-Mir, a second-year human biology and society student, has started a petition to change these policies.
"Out of all the things we can do to mitigate the spread of COVID, vaccination, testing and masks are probably the top three … and I kind of felt unassured," Aslam-Mir said. "Now that they've removed the incentive that people who live on campus or go on campus have to (get tested) if they're vaccinated … it makes me a little worried."
She added that she hopes an increased number of signatures will let the Bruin community know that students are willing to comply with a testing requirement.
The petition has more than 1,300 signatures, indicating that many students feel a weekly testing requirement would be beneficial to the well-being of the student body.
"With the amount of cases and the amount of people everyone sees all the time I think (a testing requirement) would be a good thing," said Sanah Ali, a second-year human biology and society student.
As a student living on the Hill, Ali added that it is clear that her peers are taking COVID-19 guidelines lightly while socializing with friends.
UCLA's current COVID-19 monitoring system is insufficient. Contact tracing hinges on accurate information from participating students. If students are failing to adhere to COVID-19 guidelines, there may be a much higher chance of transmission than originally anticipated.
It is true that enforcing weekly testing for the entire student body would require a lot of resources. UCLA would need more testing kits, more manpower to process these kits and systems in place to enforce the new regulations. It would most likely be unpopular with some students as well. Despite that, we have to remember that during the last year and a half, the pandemic has persisted through multiple peaks and tapers. If we create a false sense of security now, we open ourselves up to more danger.
Moving forward, our community's safety must take precedence. Preventing the spread of a contagious virus is far easier than scrambling to keep an outbreak in check.
As much as we want to forget about masks, testing and social distancing, the university needs to remain vigilant. Only then can we continue toward normalcy at a pace that's actually safe.