Gameday predictions: UCLA vs. Washington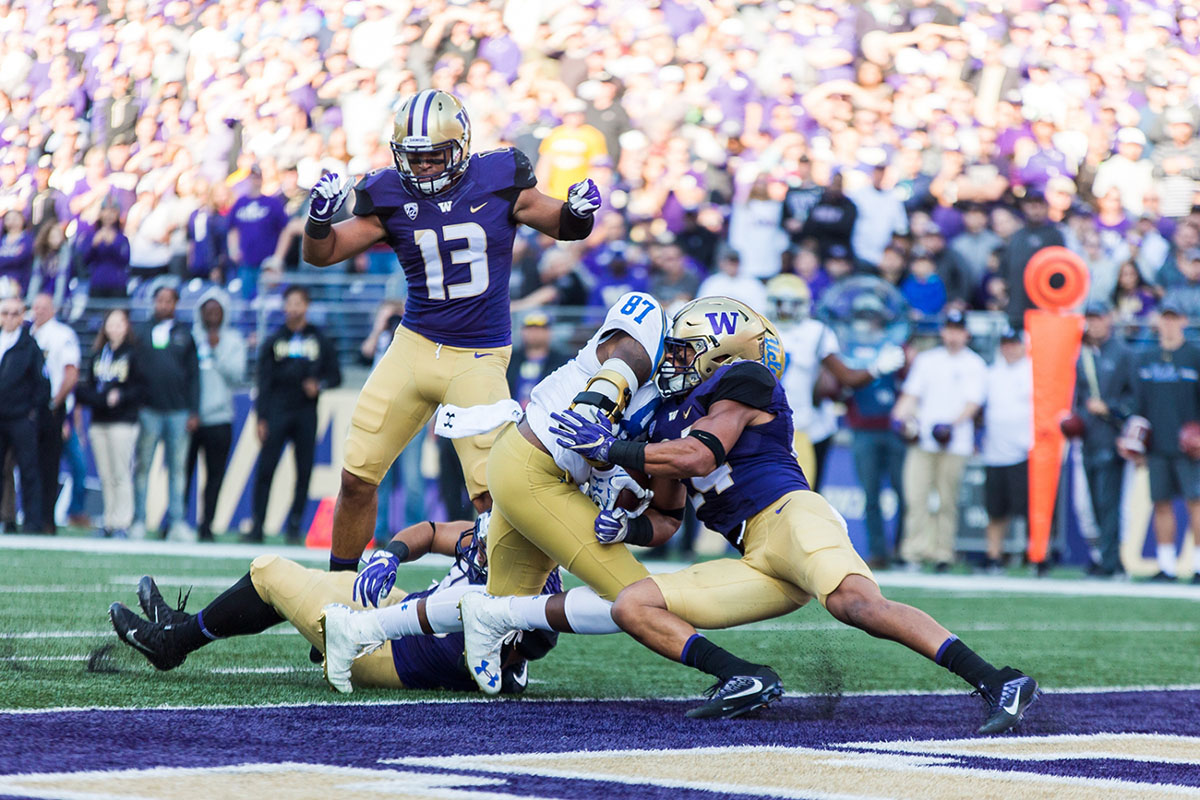 UCLA football hasn't beaten Washington in nearly seven years but will get the chance to take down the Huskies on Saturday on the road. The Bruins last traveled to Seattle in 2017, when they lost 44-23. (Daily Bruin file photo)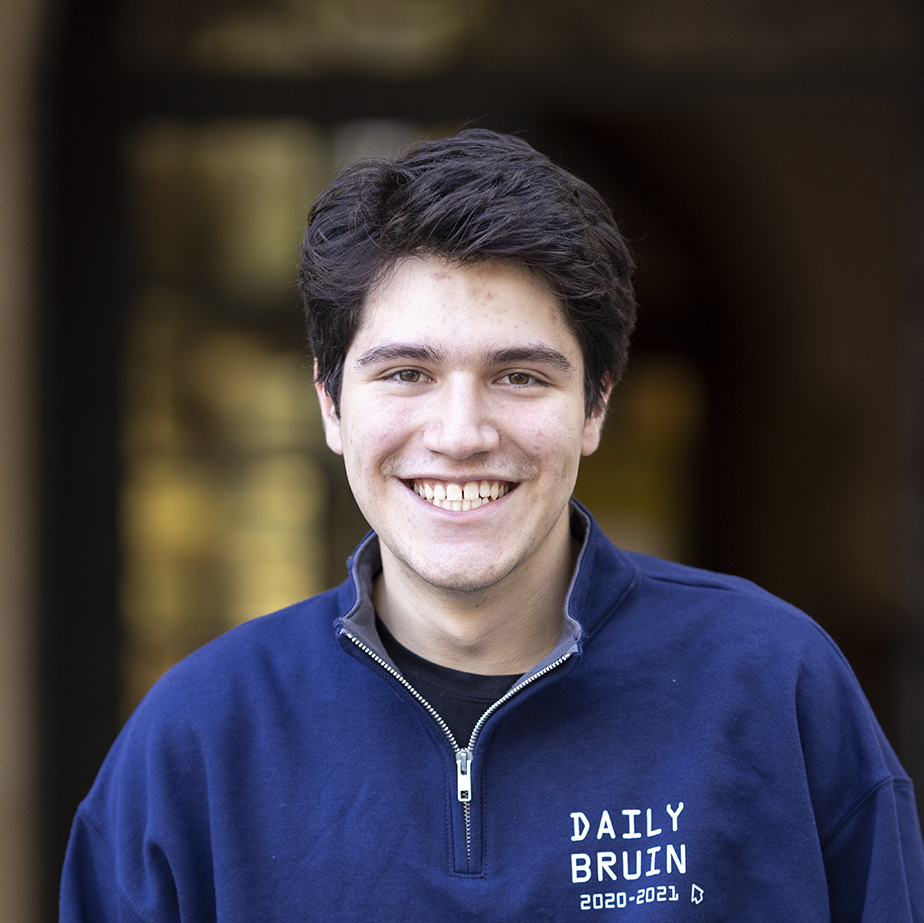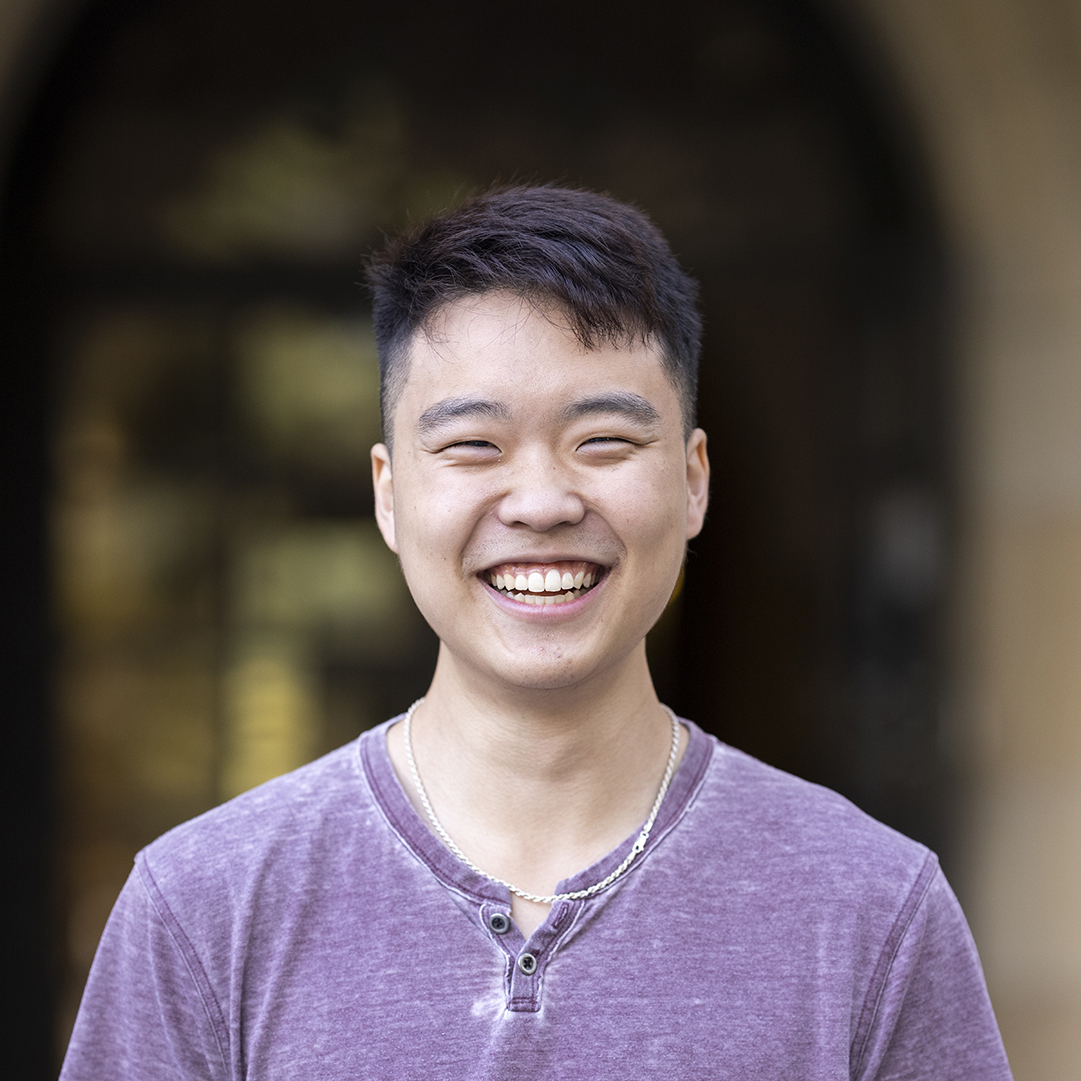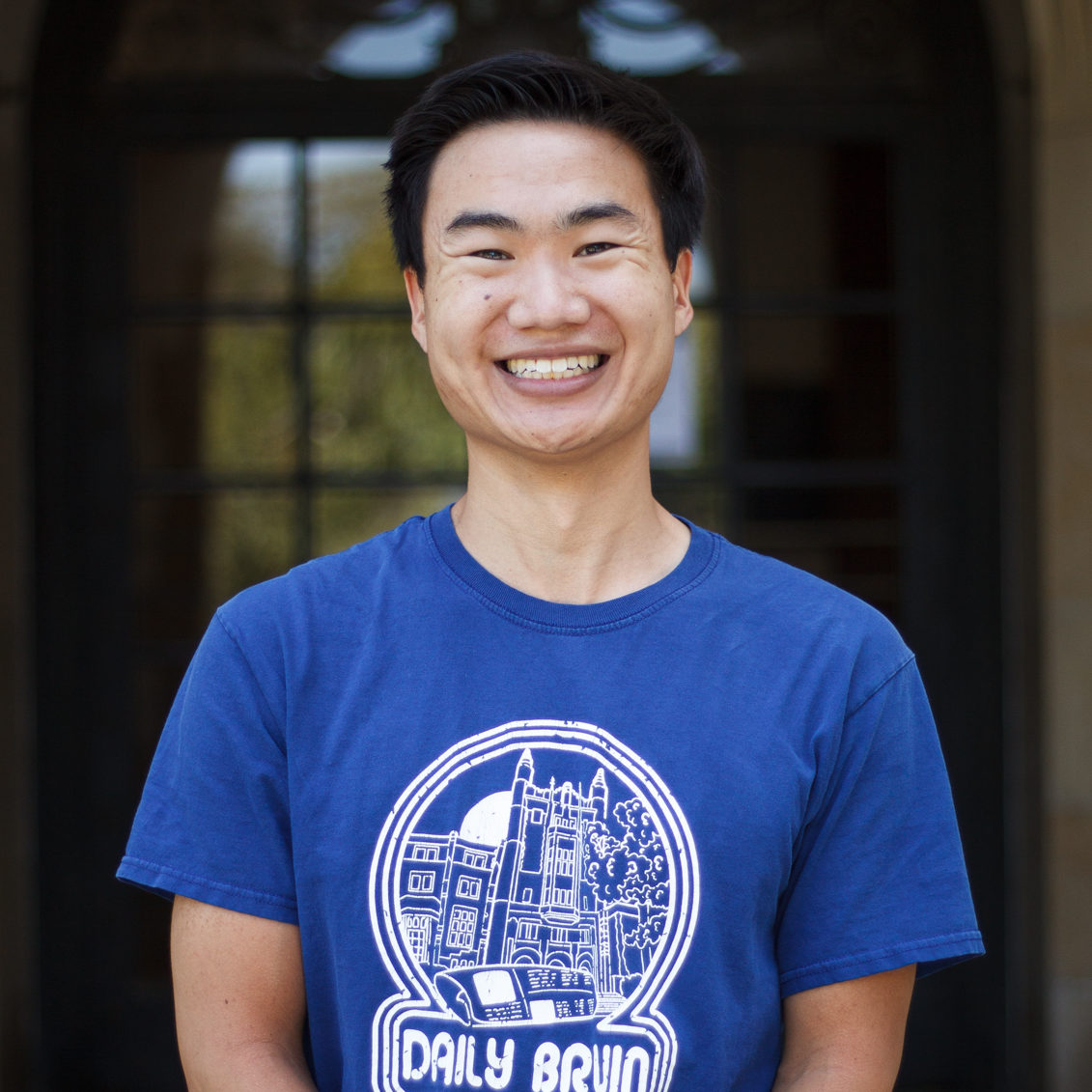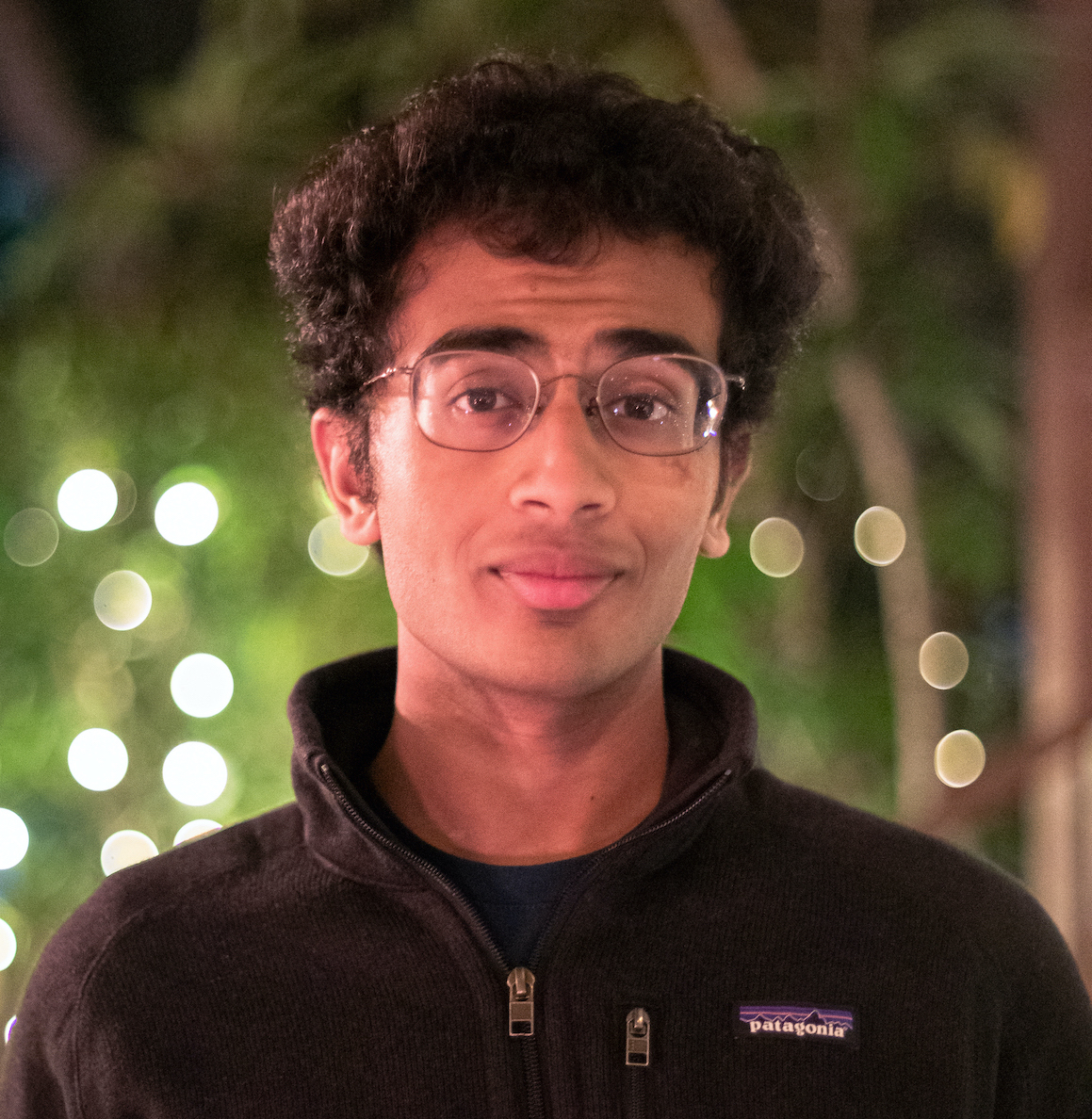 Jon Christon
Sports editor
Prediction: UCLA 35, Washington 31
As I pen this prediction, I sit in Washington's Suzzallo Library – a very beautiful building, I have to add – preparing to cover this Bruin-Husky clash in just over 24 hours.
So far in my visit to Seattle, I've been impressed by just about everything, whether it be the Washington campus, the food, the weather – you name it. It almost made me empathize with Husky fans, as the campus would be even more electric with a victory by the home team Saturday.
But if growing up a die-hard Oregon fan in Eugene taught me anything, it's to never trust Washington, and that is exactly what I'll be relying on to make this prediction.
The logical part of me says the Huskies will win this game, as the Bruins haven't exactly looked sharp the past few weeks. That being said, UCLA is still capable of handing Washington a loss in this contest, much to the satisfaction of my middle school-aged self.
While the cold and potentially rainy weather will do the Bruins and senior quarterback Dorian Thompson-Robinson no favors, it plays right into the hands of the running game – coach Chip Kelly's game plan of choice.
UCLA is coming off its best rushing game in recent memory against Arizona a week ago, and junior running back Zach Charbonnet and redshirt senior running back Brittain Brown surely have accumulated some momentum from the contest, as they combined for 265 of the Bruins' 329 yards on the ground.
Washington, on the other hand, ranks 10th in the conference in rushing yards allowed per game, putting them just one spot ahead of the same Arizona team that UCLA ran wild against last week. Theoretically, the Bruins could put up similar gaudy numbers again this week while running away with another victory.
I'll admit I'm still worried about turnovers in this one – particularly from Thompson-Robinson – but it goes against everything I believe in to choose the Huskies, even with their nice libraries.
So despite what my head is telling me, here I am, in enemy territory, picking a UCLA victory.
Francis Moon
Assistant Sports editor
Prediction: UCLA 28, Washington 23
Even in an 18-point win, the Bruins somehow found a way to create more cause for worry than optimism last week.
You're simply not going to win most games where your starting quarterback throws one completion for three yards in a half. Or when your team gives up 95 yards on penalties.
In a contest that was closer than the final score indicates, it took the highest rushing output from a UCLA offense in almost a decade and an injury to Arizona quarterback Jordan McCloud to defeat the Wildcats – the team that now holds the longest active losing streak in the NCAA.
In short, the Bruins have shown that they can't be trusted against most teams. Luckily for UCLA, Washington may be one of those exceptions.
Charbonnet and Brown will both have another chance to eat this week against the Huskies' defense, which ranks 10th in the conference and 99th in the nation against the run.
However, it ranks atop the Pac-12 in passing defense, meaning the backfield may once again be forced to carry the load – but I have faith in Charbonnet and Brown to be able to do so. On the other side of the ball, UCLA's defense should be able to harass Washington quarterback Dylan Morris enough to neutralize an offense that doesn't have any sort of run game to lean on.
It may be wishful thinking, but I just don't see the Bruins losing this week, though I bet they will still find a way to keep fans on edge by making it a close game.
Jared Tay
Football beat reporter
Prediction: Washington 24, UCLA 17
I have never picked the correct winner for a football prediction in the three years that I have written for the beat.
I'm aware this unfortunate statistic is subject to small sample size bias considering I've only done four predictions. However, I don't need to be a statistics major to know this is some bad luck. A monkey flipping a coin and picking a winner based on the outcome would theoretically have better results than I have seen thus far.
So I decided to consult my Google Home and flip a coin to determine whom I should pick as the winner because apparently, my football intuition is statistically worse than a monkey's.
Google Home picked the Huskies to prevail on home turf. I'll tell you why that prediction isn't far-fetched.
Despite winning last week in Tucson, the Bruins looked bad. In the first half, Thompson-Robinson threw as many completions to the opposing team as he did to UCLA receivers.
The defense looked mediocre in the first half, and while the performance was statistically better, Arizona's second-string quarterback was under center for the last part of the game.
If one subscribes to Kelly's mantra that he doesn't pay attention to the concept of momentum, then the Bruins' win on the road last week means quite little.
The forecast for Saturday also calls for intermittent rain throughout the game. This means turnovers for a fair-weather UCLA squad that hasn't seen a drizzle since one morning practice during fall camp.
Bad snaps for a third consecutive week? Yes. The ball slipping out of Thompson-Robinson's hand like it did against Fresno State? I'm here for it.
UCLA should win this game on paper. Washington lost to a Football Championship Subdivision team to open the season and struggled against a California squad that has looked lackluster this season.
But Google Home tells me they will not. In lieu of my football intuitions, I have no other choice than to center my prediction around the results of a 50-50 coin flip. I guess I'll find out the extent of Google Home's psychic abilities in a few hours' time.
Until then, keep me far away from all things related to sports predictions – especially those fantasy football lineups.
Tanmay Shankar
Photo senior staff
Prediction: UCLA 0, Washington 0, everyone else 0
What happens when a stoppable force meets a movable object?
Some of us remember the 2019 Super Bowl. I watched it with my suite in Rieber Terrace under the agreement that we'd down a Tecate for every touchdown scored.
What ended up happening was I went back to my room sober to work on Math 61: Introduction to Discrete Structures homework. My team won – go Patriots – but in reality, everyone lost – most of all my freshman self, sober on a Sunday with all the remaining weekend plans of a then-math major.
I knew better two weeks ago, when I left the Rose Bowl even before Arizona State tacked on the extra point to its final touchdown. I was in the stands – rather than on the field shooting the game – for the first time in three years, hoping for nothing more than to get plastered while watching the Bruins defeat the same team I'd watched them handle in Tempe just 10 months prior. I was disappointed, yes, but this football team has done a stellar job preparing its fans for disappointment.
I predict Saturday's game to look somewhat like the 2019 Super Bowl. No one can understate the Bruins' ability to snatch defeat from the jaws of victory, but this week they will be playing a team that managed to eke out a home loss against a Big Sky team from the Big Sky Country state, where six-man football is somehow still a thing.
At least one team will eventually win, but the rest of us will lose. UCLA and Washington embody the worst of the Pac-12: inconsistent, chaotic and self-defeating.
Standing on the field during the game continues to be an exhilarating, privileged experience, but this time I will not be looking out for either football team. Instead, I will have my eyes on Dubs the Husky, who can be relied upon for being consistently adorable and interesting. Dogs, not quarterbacks, are man's best friends.
I was in Pullman for UCLA's comeback win against Washington State in 2019, and in Tucson for its inexplicable loss against Arizona the week after.
I know better now than to have expectations. At least Seattle is pretty – and Washington's libraries are great.