Women's soccer drops outside top 5 in national rankings following overtime matches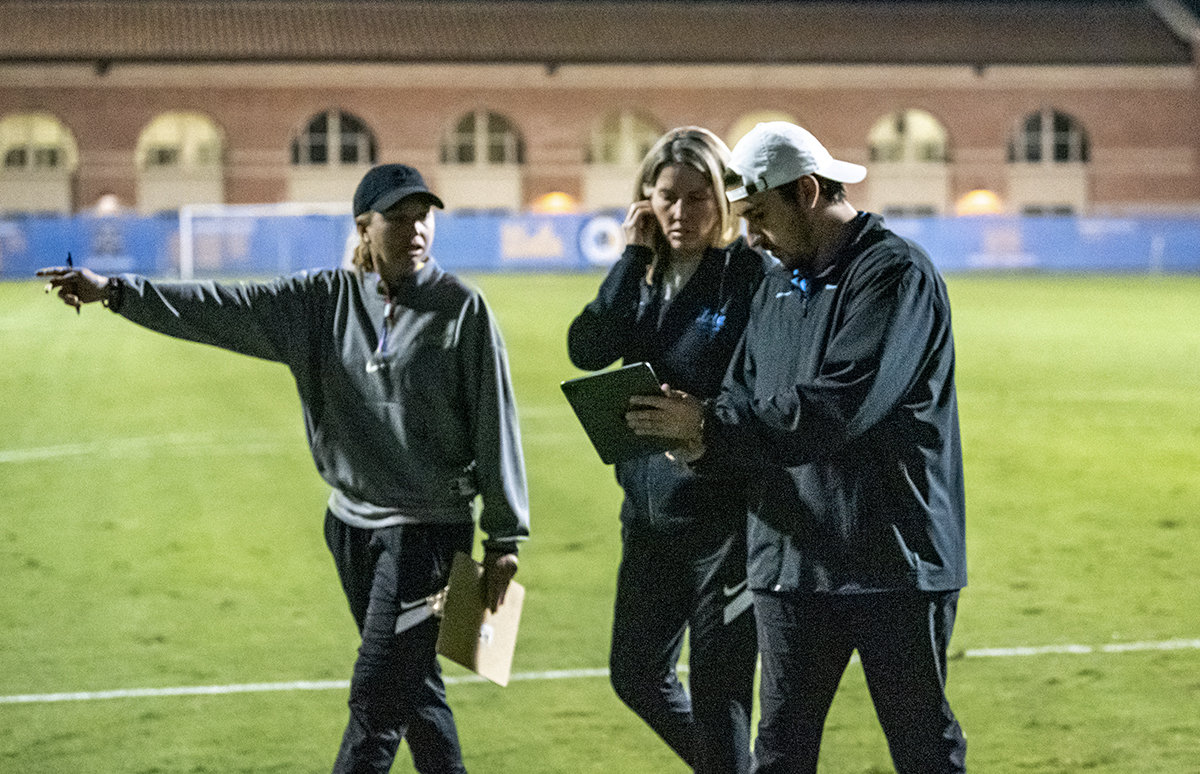 No. 7 UCLA women's soccer holds an undefeated record through 13 games, but the Bruins dropped four spots in the rankings this week, falling out of the top five for the first time in nearly two years. (Harold Lee/Daily Bruin)
The Bruins stand as one of four undefeated teams in the country, but they have taken a longer path to get there.
No. 7 UCLA women's soccer (11-0-2, 3-0-2 Pac-12) fell four spots in the national rankings after drawing with Utah (5-6-3, 0-3-2) and defeating Colorado (6-6-1, 1-3-1) on Thursday and Sunday, respectively. Both matches went to double overtime with the blue and gold finding a golden goal against the Buffaloes three days after failing to do so against the Utes.
The fall in the rankings marks the first time since 2019 that the Bruins have been outside the top five.
"We've kind of been in this rut of scoring first and giving up a goal," said freshman defender Quincy McMahon. "That's been really tough. … We've been outshooting opponents, and it's just the scoring that is the last thing to come."
Against the Utes, the Bruins scored a late first-half goal before conceding a score less than two minutes later. In the second half and two overtime periods, UCLA outshot Utah 15-5 but was unable to break through with any of those attempts.
Three days later, the blue and gold managed to outshoot the Buffaloes 17-8 after taking a first-half lead again, but a late equalizer forced the game into overtime. UCLA went on to net the game-winner on its fourth shot attempt of extra time.
The Bruins have outshot their opponents in 12 of their 13 matches this season. On the campaign as a whole, they are outshooting teams at a more than 2-to-1 clip, totaling a 223-100 shot advantage.
Graduate student midfielder Marley Canales said the team creates a lot of shot opportunities because opponents often defer possession to the Bruins and sit back in their defensive half.
"It's a compliment to us because teams know how dangerous we can be and that's why they tend to do that," Canales said. "We know that that's usually what is going to happen because of how dangerous we can be. So by keeping the ball, playing our style and not changing anything, we're able to eventually find our strengths and get the win."
UCLA went 71 minutes without scoring against Utah two weeks after failing to find the back of the net in a game for the first time since 2019 against Oregon.
Associate head coach Sam Greene said she expects teams to disrupt the Bruins' possession style of play by sitting back and that in-game adjustments are key to scoring goals.
"When you're an out-of-possession team, you do a lot of scouting and a lot of planning," Greene said. "A lot of times, if we're able to switch up our formation or even personnel, that hurts their game plan – then they have to reassess. Being so flexible in our formations as well as the type of personnel we're playing, it just adds a different look."
Dating back to last season, the Bruins have played in nine regular-season overtime games, winning four of those contests while settling for four ties and dropping one match.
"We're in the mindset of when we go to overtime that we're going to keep possession until we score," Greene said. "We believe we can do that. We believe we can put enough pressure on the team to do that. We have a very attacking mindset when we do go to overtime."
Canales, who has played in 14 overtime fixtures throughout her time in Westwood, said playing seven overtime periods in the last five games has given the team plenty of experience.
"Now we're well-equipped for overtime games," Canales said.
Farinha is currently a Sports reporter on the women's soccer beat. He was previously a contributor on the women's soccer beat.
Farinha is currently a Sports reporter on the women's soccer beat. He was previously a contributor on the women's soccer beat.