UCLA women's basketball welcomes newcomers, sets sights on Pac-12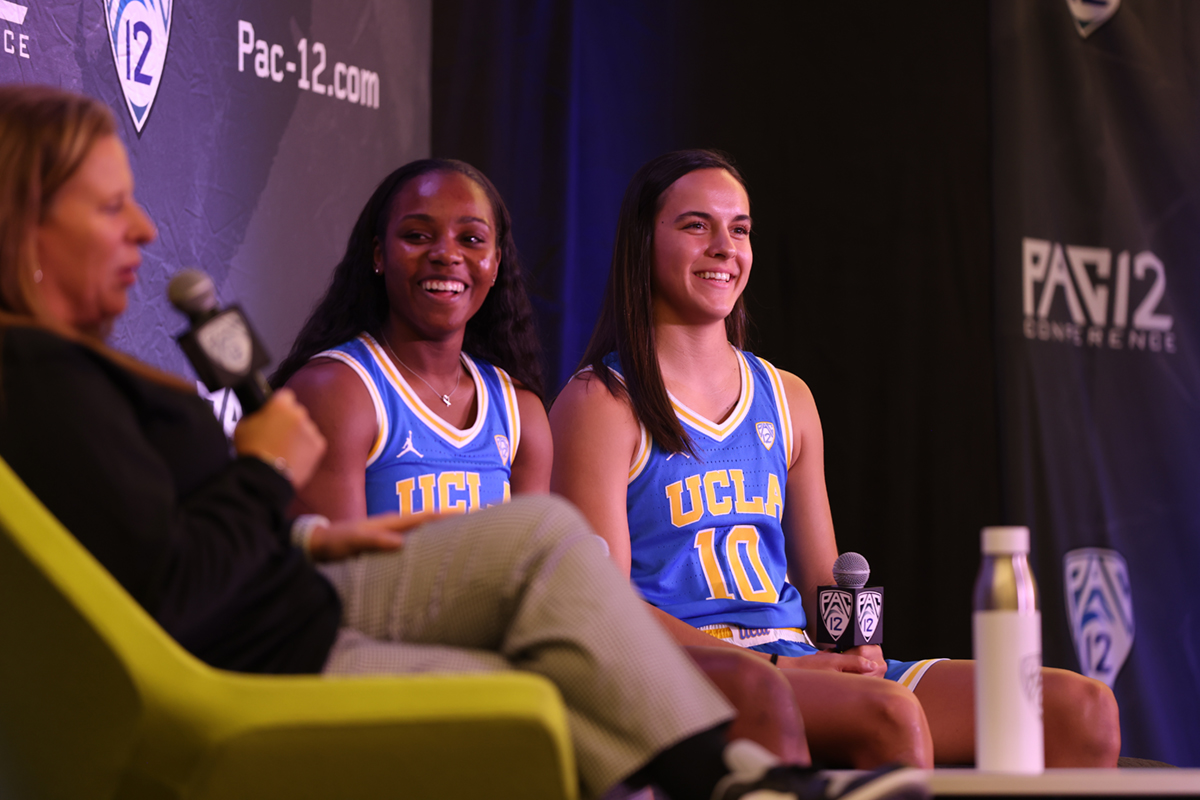 Junior guard Charisma Osborne (middle) and graduate student guard Gina Conti (right) represented UCLA women's basketball at the 2021 Pac-12 Women's Basketball Media Day in San Francisco on Tuesday. (Courtesy of Jenny Chaung/Pac-12)
The Bruins have high expectations despite many new faces, according to coach Cori Close.
UCLA women's basketball was picked to finish third in the Pac-12 preseason coaches poll released Tuesday, the same day Close spoke to the media at Pac-12 Women's Basketball Media Day in San Francisco.
"It's a lot of unknowns – every day is a new discovery," Close said. "It's definitely a different looking and feeling team. But we have plenty of talent, great personalities and really committed to playing at a championship level."
After finishing in the top three in the conference each of their past two seasons, the Bruins will welcome four transfers and a combined four players returning from injuries or COVID-19-related absences.
Among the new faces in Westwood is graduate transfer guard Gina Conti, who joined Close and junior guard Charisma Osborne at the conference media event in Northern California.
After dishing out 494 assists during her four seasons at Wake Forest, Conti will play point guard alongside Osborne in the UCLA backcourt. Osborne's 17 points per game ranked fourth in the Pac-12 last season, including a seven-game stretch in which she averaged 23.6 points per game.
Close said she's fortunate to have her new backcourt pairing leading the team.
"I really honestly think I have one of the best backcourts in the country," Close said. "Their ability to play off of each other, to stretch defenses from the 3-point line, get to the cup, but maybe more importantly, set other people up. … I feel very, very lucky for these two to be leading our team."
The Bruin frontcourt, on the other hand, was dealt an early blow when sophomore forward Emily Bessoir tore her ACL in practice last week.
But the roster now has several players who can fill Bessoir's absence. Graduate student transfer forward IImar'I Thomas – who averaged 23.7 points per game last season for Cincinnati – is joined by sophomore transfer forward Angela Dugalić, junior forward Brynn Masikewich and sophomore forward Izzy Anstey in the group of Bruin frontcourt players who did not play for the team last season.
As one of just seven returners from last season, Osborne said welcoming the new teammates has helped her develop as a leader.
"It's definitely different being an upperclassmen and then we have so many new players on top of that," Osborne said. "But honestly, I think this is just helpful for me in my leadership and trying to grow as a leader – just leading my team and showing them the ropes and using my experience to … get us to where we want to be."
UCLA confirms its 2021-22 schedule
While the Bruins' rotation is still in the works, their schedule is now set in stone.
The blue and gold finalized its schedule Monday, with UCLA slated to open its season against Pepperdine on Nov. 10 in Pauley Pavilion. The season opener will be the first of at least 10 nonconference games for the Bruins, including a Dec. 11 matchup with UConn in Newark, New Jersey.
Despite the matchup with the NCAA record 11-time national champions, Close said the team is still primarily focused on the Pac-12 this season.
"We have tremendous respect for UConn – they'll be a top-three team in the country going into that this year," Close said. "But make no mistake about it, the Pac-12 is our focus and we know that if we're able to survive and thrive in the Pac-12 grind, then the NCAA tournament will be – I'm not going to say a walk in the park – but a whole lot easier."
UCLA will play one game against defending national champions Stanford but will have two contests against national runner-up Arizona.
After four seasons in the Atlantic Coast Conference, Conti said she's excited to play West Coast college basketball in the Pac-12.
"Seeing two teams compete in the national championship game just speaks volumes to how great this conference is," Conti said. "I've never been out on the West Coast or played in these arenas, so I'm really excited just for that experience – just excited to represent UCLA."
Carlson is currently a reporter on the women's basketball beat. He was previously a contributor on the softball beat.
Carlson is currently a reporter on the women's basketball beat. He was previously a contributor on the softball beat.