The Quad: College stretches sibling bonds, but distance makes the heart grow fonder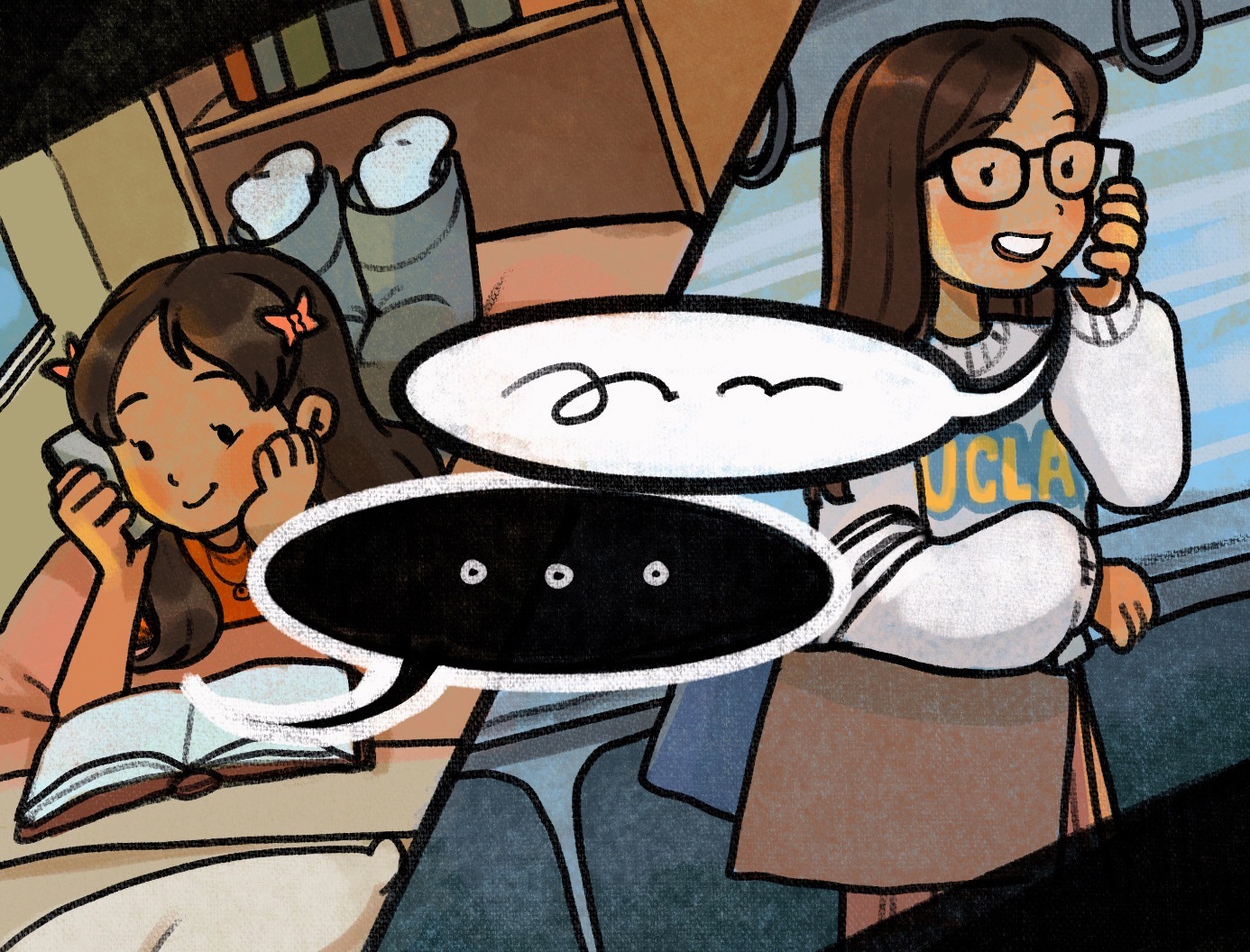 (Katelyn Dang/Illustrations director)
Correction: The original version of this article misspelled Jasmine Gonzalez Barrera's name.
This post was updated Oct. 18 at 4:59 p.m.
Whether they are a best friend, an annoying nemesis or a wise mentor, siblings serve as the epitome of family for many. But for Bruins entering the realm of college where sibling contact is no longer convenient, this relationship is often redefined.
According to psychology professor Rena Repetti, such an adjustment can be challenging for siblings who relied on each other for support and friendship.
"That could be a big loss if they don't make sure to find ways to keep in touch and keep each other informed about what's happening in their lives," Repetti said. "It's a transition to a more adultlike relationship because they have to now take more responsibility."
Second-year microbiology, immunology, and molecular genetics student Jasmine Gonzalez Barrera said her relationship with her sister thrived on spending time together, so college has made it difficult to maintain communication.
"I think that the distance has made it hard for us to really get along," Barrera said. "We just spend time together naturally. So, I think it's been hard to keep up with her because now I'm doing my stuff and she's doing her stuff."
But despite the hurdles, distance does make the heart grow fonder.
Second-year business economics student Claudia Lara said that since being away from home, where she and her little brother would bicker over minor inconveniences, she has grown to cherish their time together.
"For me, at least before (college), I didn't fully appreciate what it means to have siblings because a lot of times you just end up fighting with your siblings," Lara said. "But now that we don't live together anymore, I feel like I appreciate all the memories and all the time I can spend with him now way more than before."
Repetti added that siblings must adopt more adultlike skills and responsibilities, such as effective communication, in order to maintain their complex relationships.
"(Siblings) share so much history and so many experiences together," Repetti said. "They can think about ways to nurture that and keep that going during college by keeping in touch with their siblings and making an effort."
Repetti added that this transition provides siblings not only with the opportunity to continue pursuing the positive aspects of their relationships but also to rethink and approach the difficult ones in a new way.
"For example, maybe prior to leaving for college the siblings had a lot of conflict," Repetti said. "Now that they're separated, it could actually be an opportunity for them to renegotiate that relationship without those issues so present all of the time."
Lara said she and her brother stay in touch virtually through texts talking about things like sports practice and schoolwork. But during visits, Lara appreciates their beach trips, lunches and walks.
"Now whenever I do see him and I talk to him, I think I appreciate it more, and I tend to want to make it more special and more memorable," Lara said.
Lara added that as their relationship continues, she hopes to be a mentor for her little brother.
"I've already gone through a lot of things that he still has to go through," Lara said. "I want to be kind of like a mentor for him in that sense but also a friend that he can turn to for any advice or just a support system."
While some siblings use steady communication to remain close in college, others rely on their strong childhood bonds for comfort and connection.
Barrera said that while she misses her sister, she has gotten used to the distance.
"I think it's like as you would miss a friend – you know you're going to see them, but you just learn to live with the separation," Barrera said.
However, despite the physical separation, Barrera said she is confident that their relationship will continue to grow with time.
"I feel like our relationship grows, so if anything I feel like she's going to change, I'm going to change, but we're still going to be bonded," Barrera said. "You're siblings – I don't think that bond (is) ever going to change."