Flu season's return amid COVID-19 creates need for precaution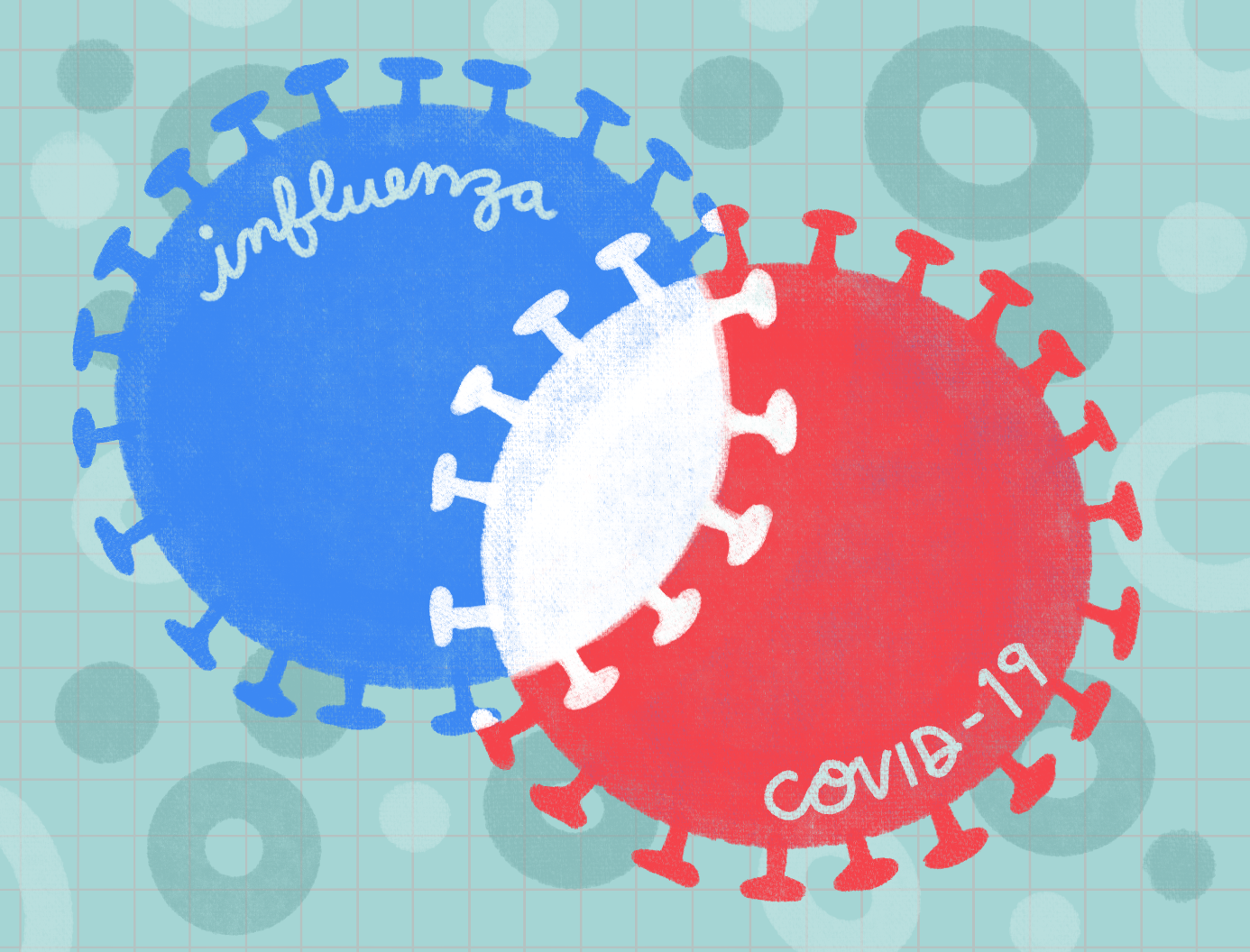 (Katelyn Dang/Illustrations director)
As flu season returns amid the COVID-19 pandemic, experts are concerned that relaxed attitudes and safety precautions may lead to a more severe flu season compared to last year.
In total, there were around 1,600 cases in the 2020-2021 season, while the 2019-2020 season saw an estimated 39 million to 56 million cases.
With COVID-19 and the flu circulating at the same time, there is an increased risk for a heavy burden on health care systems, said Dr. Chaitali Mukherjee, executive director of the Arthur Ashe Student Health and Wellness Center, in an emailed statement.
"The COVID-19 pandemic is continuing, and the potential confluence with influenza viruses remains a threat to the health and safety of the UCLA community and the public at large," she added.
Dr. Onyebuchi A. Arah, a professor of epidemiology, said he predicts this year's flu season will be worse than last year due to fewer COVID-19 precautions and people's return to their busy lives. Despite this year's potentially more severe flu virus recurrence, Arah said he is optimistic that the flu season may be better than people fear if they continue to use the proper precautions such as getting vaccinated and monitoring symptoms.
"This is one of those things where we like to fear the worst and hope for the best," he said.
Becca Nelson, a second-year molecular, cellular and developmental biology student said she believes the flu could come back stronger this year because the media is more focused on COVID-19, which may cause people to put the flu at the back of their minds.
Mukherjee said the best way to prevent the flu from spreading is to get vaccinated.
The University of California issued an executive order on Oct. 8 mandating influenza vaccinations for all students, faculty and staff on campus by Nov. 19, Mukherjee said. There is also an option to decline the vaccine and opt for interventions such as masking or routine testing.
Nelson is planning to get the flu shot as soon as she can at UCLA. She also volunteers at COVID-19 vaccination sites in public places like the Burbank airport, and said that recently, these sites also began offering the flu vaccine.
"It is safe to get a COVID-19 vaccine and a flu vaccine at the same time, including a COVID-19 booster shot," Mukherjee said.
She also mentioned a study conducted by the Centers for Disease Control and Prevention that looked at consumer attitudes toward flu vaccinations and if consumers would be willing to get both vaccines at the same time.
The study found that, of individuals who had received the COVID-19 vaccine, 70% of individuals also intended on getting the flu shot, compared to 25% of those who had not received the COVID-19 vaccine, she said.
Aside from vaccinations, Arah said that a lot of the preventive measures for the flu look similar to those used for COVID-19, such as washing hands, wearing a mask and socially distancing.
Mukherjee mentioned additional measures. She said avoiding close contact with people who are sick and avoiding touching your eyes, nose and mouth are ways to protect yourself and others from getting infected. Additionally, if you are sick with the flu, the CDC recommends staying home for at least 24 hours after the fever is gone, she said.
Arah said it is important that members of the community are compliant with the policies enacted to ensure everyone's safety.
"That's where we come in as the members of the community, is that we begin to engage and take our own responsibilities to one another seriously," he said.
Arah said he hopes COVID-19 reinforced the idea that people are already interconnected through public health. He said that pandemics and other public health crises show individuals the importance of taking preventative measures for the benefit of everyone.
"That's the problem with public health: when it succeeds, people don't see it," he said.