UCLA men's tennis sees mixed results from weekend at UCSB Classic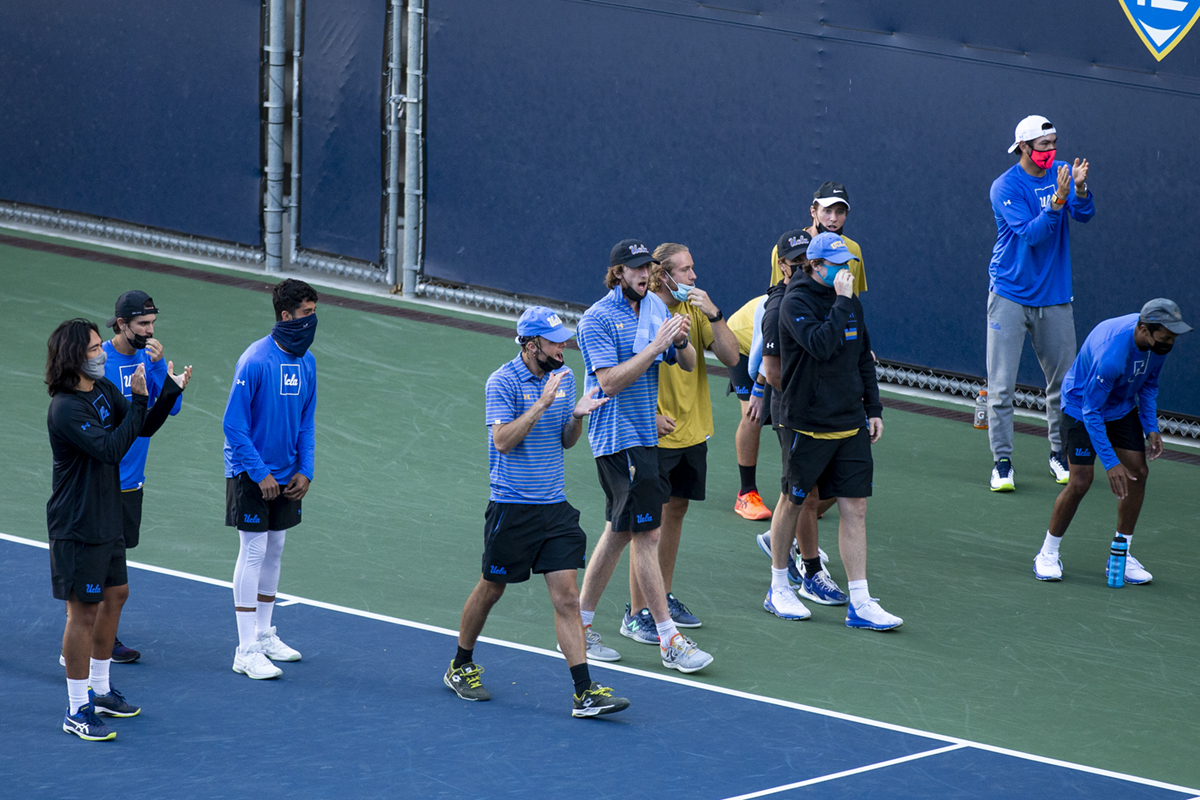 Four athletes from UCLA men's tennis competed in the UCSB Classic over the weekend in Santa Barbara. (Daily Bruin file photo)
The Bruins' second fall outing featured a quartet of athletes new and old.
UCLA men's tennis seniors Eric Hahn and Max Wild were joined by a pair of underclassmen making their debuts as Bruins, freshman Karl Lee and sophomore Timothy Li, at the UCSB Classic over the weekend. In the second preseason competition of the season for UCLA, the team earned a combined record of 6-9 in singles play and 2-4 in doubles play.
In the first round of the Flight A doubles bracket, the duo of Li and Wild was defeated by Kai Brady and Phillip Jordan of Santa Barbara 8-3.
Despite the loss, the pair of Bruins were not done competing and faced off against New Mexico's Alex Maggs and Arda Azkara in the Flight A consolation draw. After claiming an 8-5 victory, Li and Wild played in the consolation final, where they fell to Loyola Marymount's Charles Roberts and Daniel Moreno 8-6.
The combination of Hahn and Lee defeated Lincoln Bellamy and Austin Di Giulio of Loyola Marymount 8-5 in the first round of the Flight B doubles bracket. The two would go on to face the Gauchos' Alejandro Vedri and Pablo Masjuan for the third-place match but would ultimately lose 8-2.
"We're both really solid from the ground, so we're able to be successful by staying two back on the baseline for most points," Hahn said.
In singles play, Wild and Li competed in the Flight B singles draw, where they would tally a collective 3-5 record. Out of his four singles matches, Wild played three of them to three sets, including a win over Cal Poly's Bastiaan Weststrate 2-6, 6-3, 6-0.
"In the whole third set, I won 6-0, which was a really, really awesome thing for myself," Wild said. "I proved to myself that I can stay positive and keep up that energy for the three sets."
The other half of the Bruin quartet, Hahn and Lee, earned a collective 3-4 record in the Flight A singles draw. Hahn cleared the first round in straight sets against the Gauchos' Brady, 6-3, 7-5, but would fall in the next round to Pepperdine's Corrado Summaria 1-6, 6-4, 7-6.
Coach Billy Martin said despite losing his match, Hahn played very well and showcased his tenacity in the third set.
"(Hahn) had four match points to win the match and, unfortunately, did not win the match, but he came as close as he could," Martin said. "He showed me that he can compete with that level of player now, so that was encouraging."
Hahn, who holds 5-12 and 20-20 career records in singles and doubles play, respectively, said he had an awakening during the offseason that has helped his game progress.
Daniil Medvedev, the world's No. 2 men's singles player, was practicing at the Los Angeles Tennis Center a few weeks prior to the UCSB Classic, and Hahn said practicing with Medvedev bolstered his confidence heading into the season.
"I learned a lot, just knowing that we're not so far off from these pros, and it's only the little things that make the big difference," Hahn said.
Chesney is currently a Sports contributor on the men's tennis beat.
Chesney is currently a Sports contributor on the men's tennis beat.