BruinHub first step in providing resources for commuter, housing-insecure students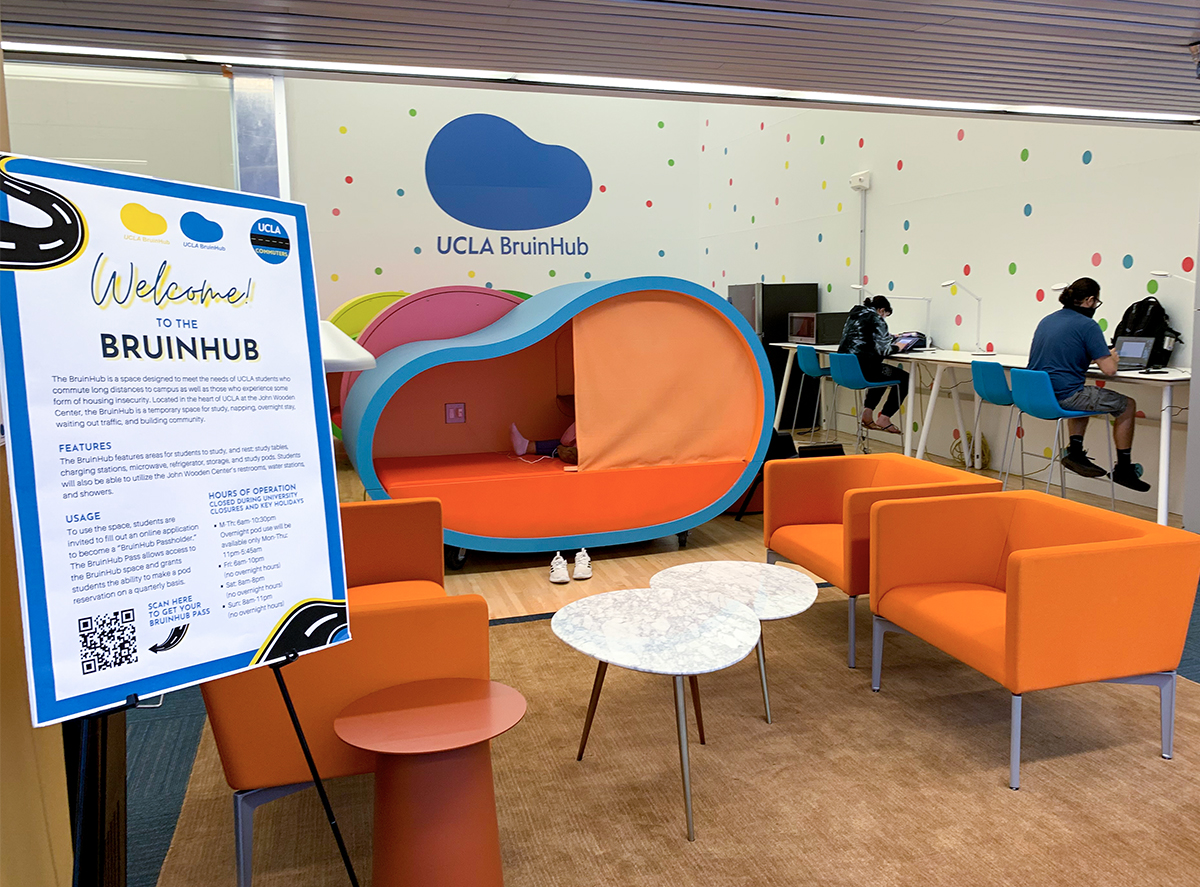 The BruinHub, which opened to students in late September, is a study and sleep space located on the second floor of the John Wooden Center. The space intends to address some of the needs and concerns of commuter and housing-insecure students. (Constanza Montemayor/Daily Bruin senior staff)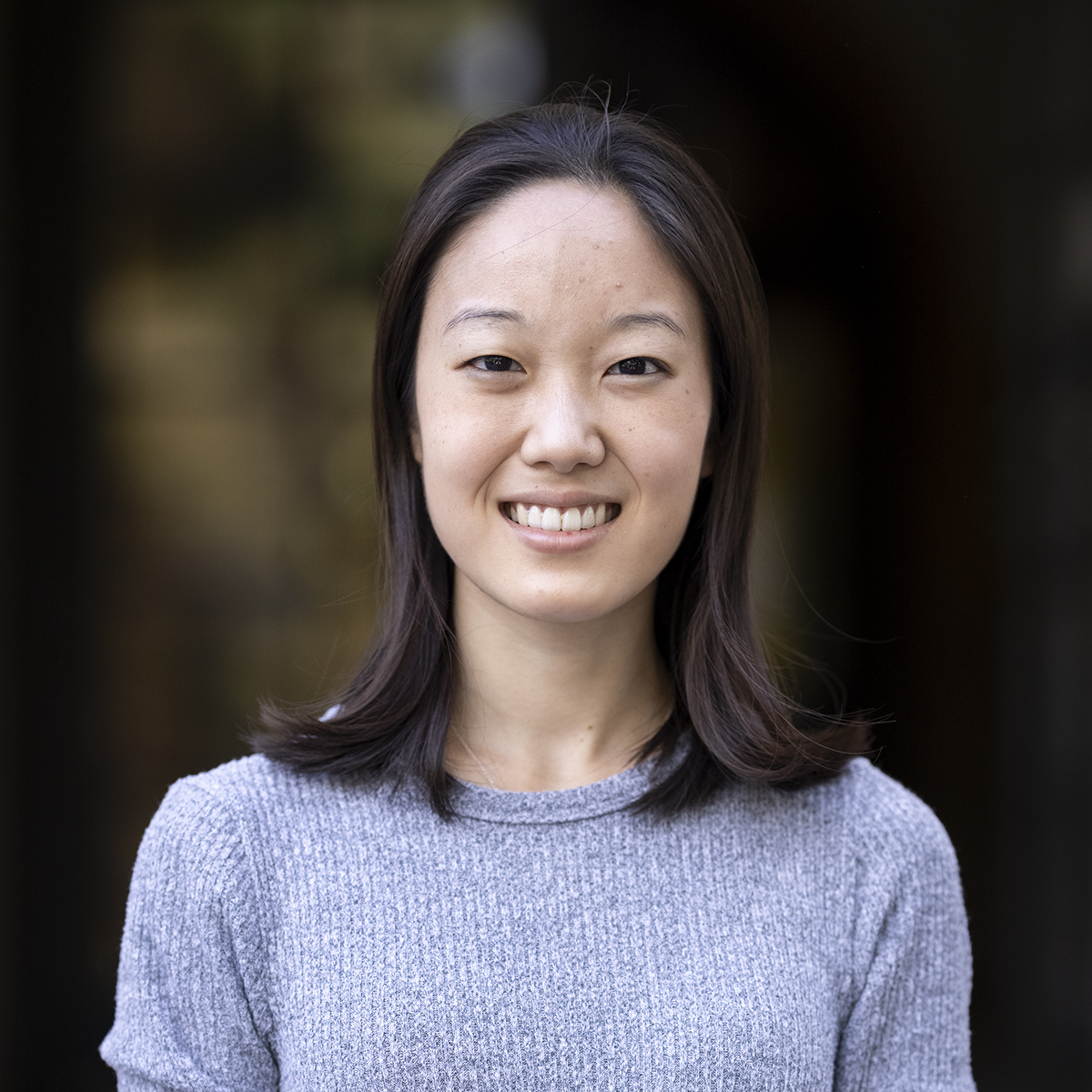 This post was updated Oct. 11 at 12:08 a.m.
In his third year, Juan Maya Hernandez began taking the bus home – only to fall asleep, miss his stop and end up in Santa Monica multiple times.
Maya Hernandez, a fifth-year atmospheric and oceanic sciences commuter student, said he had to stay on campus for long periods of time, with few places to sleep during the day.
BruinHub, a space in the John Wooden Center that fully opened to students Sept. 27, aims to address the needs of students like Maya Hernandez.
The BruinHub, with five reservable pods, provides commuter and housing-insecure students with a place to study, relax and sleep throughout the week, according to Archinect. Although the hours of operation vary by day, the BruinHub is open for almost 24 hours between Mondays and Thursdays, during which students can reserve pods for overnight stays.
Gus Wendel, a doctoral student in urban planning, said the BruinHub is also set to receive five additional pods in the coming weeks to help increase its nightly capacity.
The project was formed out of a collaboration between UCLA Basic Needs, Bruin Commuters, cityLab – a think tank within the department of architecture and urban design – and other campus organizations and offices, according to cityLab's website.
Wendel, who is also the assistant director of cityLab, said the idea of the BruinHub first emerged following cityLab studies on commuter and housing-insecure students that began in 2018.
Students in cityLab focus groups expressed an interest in having a designated space that would allow commuters to store their food, nap and build a community, Wendel said.
BruinHub's launch comes amid other failed proposals to address the needs of housing-insecure students. In a January 2020 meeting of the North Westwood Neighborhood Council, Administrative Vice Chancellor Michael Beck rejected a safe parking plan that would have allowed students to park on campus and sleep in their cars overnight. At the time, UCLA instead proposed the creation of an affordable hostel in Westwood that could open by fall 2020, a deadline the university failed to meet.
In a 2019 survey, cityLab found that 43% of off-campus undergraduate and graduate students faced one-way commutes of more than 60 minutes, and 7% of students had experienced housing insecurity during their college careers. In addition, more than half of the surveyed students expressed interest in having a safe space to sleep on campus.
Alyssa Ramirez, a fourth-year English student, was among the first group of students to use the BruinHub in late September. Ramirez, who is a commuter, said she faces up to four hours of driving on the days she comes to campus.
Because she does not have an on-campus parking permit, Ramirez added that she has to park at a friend's house before catching a ride to campus, oftentimes arriving more than two hours before her first class begins at noon.
Ramirez said in addition to providing her with a quiet space to study in the mornings, the BruinHub has also given her the peace of mind of knowing that she has a place to rest and relax before driving home. As a transfer student, Ramirez added that she had never experienced such a long commute time prior to the current school year.
"It was definitely stressful, but I do think that now that I know I have the BruinHub to go to, it's a little bit of a relief," Ramirez said. "I don't have to be alert and awake all day."
Wendel said commuter students often face heightened stress. In addition to facing the challenges of organizing their schedules and planning routes home, commuters may also take on additional responsibilities, such as caring for family members at home, Wendel added.
He said he hopes the BruinHub will help to meet students' needs by providing them with an additional space to wait out traffic or even spend the night if their commutes are too long.
"It's not going to solve all problems, but it's one more option … that can alleviate a lot of the stresses and anxieties that just come with the uncertainty of knowing how your day is going to unfold as a commuter and as someone who's housing insecure," Wendel said.
Although he lives only 15 miles away from campus, Maya Hernandez said his total commute time can take up to an hour and a half. Before the pandemic, Maya Hernandez said he sometimes remained on campus until midnight to wait out the traffic, staying in coffee shops, local libraries and the Student Activities Center until it was time to return home.
However, had it been available at the time, Maya Hernandez said he would have made good use of the BruinHub, especially because of its convenient location in the John Wooden Center.
Maya Hernandez added that, in addition to attending the BruinHub's grand opening last month, he also hopes to start using the space to study and meet fellow commuters as the quarter continues.
Wendel said he predicts BruinHub will continue to evolve and expand over time. He added that cityLab hopes to eventually increase the capacity of the BruinHub, both by expanding the current space at the John Wooden Center and creating new hubs around campus.
Ramirez said she also sees benefits to expanding the BruinHub. She added that because the BruinHub partially serves as a study space, the quiet atmosphere discourages students from freely talking with one another. By expanding the BruinHub to include a designated area for socialization, the space could be better suited to cultivating a community among commuters, Ramirez said.
Regardless, Ramirez said she appreciates that cityLab and its partners have recognized the unique challenges of being a commuter student.
"Some people don't realize that being on campus or being near campus is a privilege," Ramirez said. "I think (the BruinHub) really … does bring a lot of stress off of me, just knowing that I have a place on campus if need be."
Tagami is the 2022-2023 PRIME content editor. She was previously a News and PRIME staff member. She is a political science and public affairs student from Honolulu.
Tagami is the 2022-2023 PRIME content editor. She was previously a News and PRIME staff member. She is a political science and public affairs student from Honolulu.