UCLA women's soccer players swap colors, reach for Mexican roots in red and green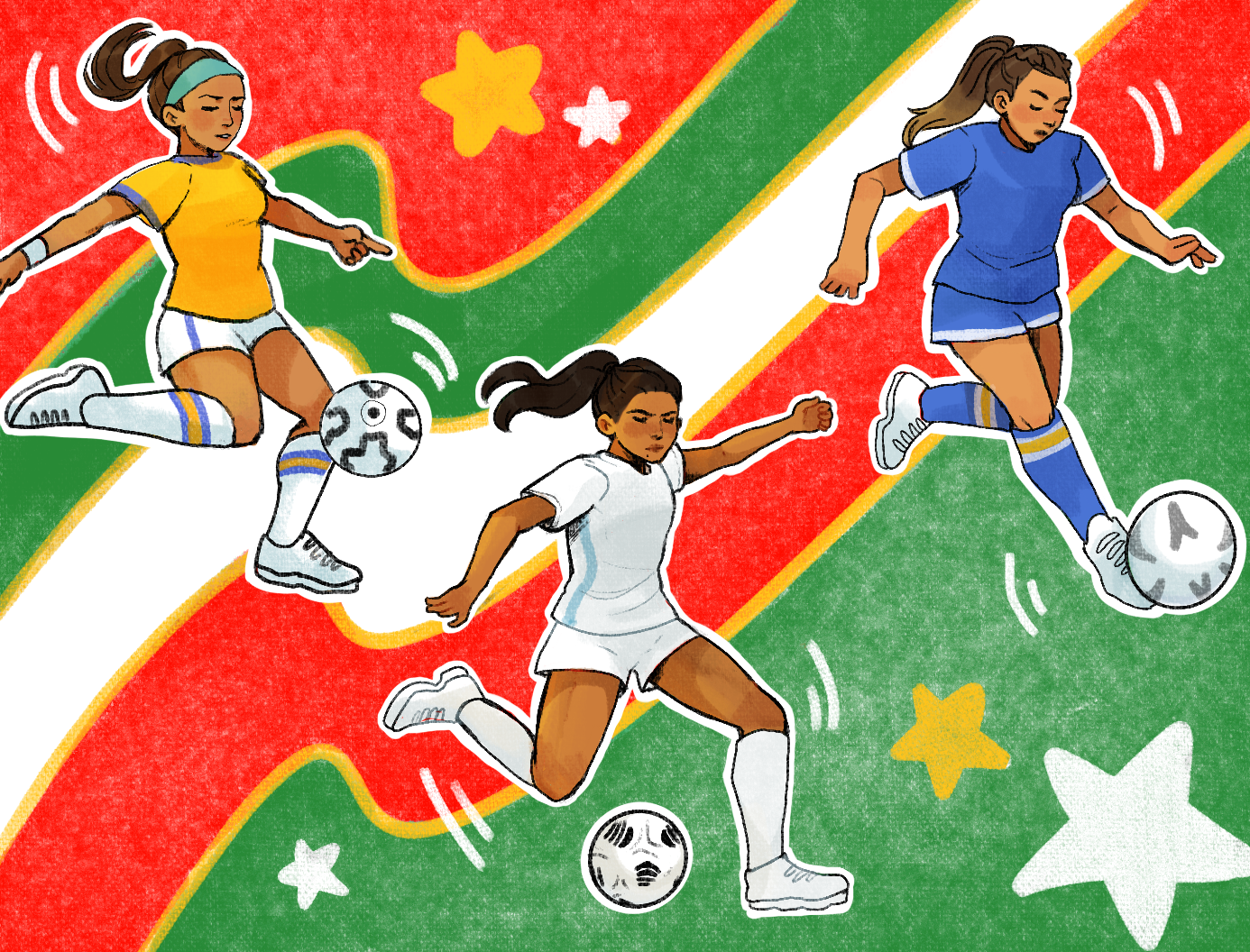 (Katelyn Dang/Illustrations director)
In the 36th minute of an international friendly against Colombia in Mexico City, Maricarmen Reyes awaited a cross into the box.
The Bruin pounced on the loose ball and blasted it into the net, giving the host country a 1-0 lead, which proved to be the match's winning goal. Nine days later in Tuscon, Reyes did the same thing – this time for UCLA women's soccer.
Playing for the Mexican National Team for weeks at a time, the senior midfielder often swaps blue and gold for red and green. But for Reyes, it's so much more than an exchange of polyester shirts.
"To be able to put on the jersey and represent our families (is special)," Reyes said. "It's super special to represent them because our parents were born (in Mexico), grandparents were born there. Our culture to me, to us, is the most important thing. … It runs in the blood."
For the first time ever, Reyes, defender Karina Rodriguez and midfielder/forward Anika Rodriguez were all selected by the Mexican National Team for the team's September training camp. UCLA alumni Karina and Anika played in Westwood together from 2017 to 2019, with Karina graduating this summer after Anika finished her career as a Bruin one year before.
The call up was the first for Anika, while Reyes and Karina have been called for national team duty multiple times in 2021, including a June match in Japan where both Bruins were on the active roster.
In the Sept. 21 friendly with all three on the squad, Mexico defeated Colombia 2-0 courtesy of a game-winning goal from Reyes and a 90-minute effort from Karina at center back that earned the clean sheet.
The Santa Ana, California, native said that it has been a journey to earn her first international goal with the full squad after playing years in the youth competitions.
"It's been a long process," Reyes said. "Every time I come back here, I learn something new, so it's been a learning process. Now, getting on the full team is a whole different ball game. It's pretty special to be here."
While Reyes' September score marked the first of her senior international career, it wasn't her first game wearing red and green.
Reyes participated in multiple CONCACAF tournaments at the U-17 and U-20 levels, also making an appearance at the U-20 World Cup. The Bruin midfielder helped her team raise the gold medal at the 2018 CONCACAF U-20 Championship at the expense of former UCLA teammate Karina, who was playing for the U.S. at the time.
"We were just grinders," Reyes said. "When we did raise that gold medal in CONCACAF it's something that we'll never forget because we were the underdog."
Karina and Anika's path to the Mexican National Team has been different than Reyes', as the former two began their international careers with Team USA at the youth level before opting to represent Mexico.
The younger Rodriguez sister said the opportunity to have worn the emblem of both countries has been a blessing.
"Both of us are really lucky and blessed to have had the opportunity to represent what our families have built in the U.S. but also to come out and pay all of our respects to our family and everything they've been through and did to get us where we are," Karina said.
The time spent in matches and on the training ground not only provides the three past and present UCLA women's soccer players a chance to represent their heritage but also gives two sisters playing on opposite sides of the Atlantic time to reconnect.
Anika, who plays for PSV Vrouwen in the Netherlands, said the opportunity to play alongside her sister, who plays professionally for the Washington Spirit, is an added perk of being with the national team.
"It just gives us a chance to see each other when we don't really get to see each other very often," Anika said. "So not only is it an incredible experience for us and an honor to represent this country, but it gives us time to be together and hang out a bit."
Although Karina and Anika have been called back to their club teams and Reyes is already back to scoring game-winning goals for the blue and gold, the former UCLA defender said playing for the Mexican National Team is an experience she will never take for granted.
"It's different," Karina said. "When you put on that uniform and you see the Mexico emblem and you're just representing an entire group of people, it's just a different feeling when you step on the pitch."
Farinha is currently a Sports staffer on the softball beat. He was previously a reporter on the women's soccer beat.
Farinha is currently a Sports staffer on the softball beat. He was previously a reporter on the women's soccer beat.