The Quad: UCLA clubs, organizations help international students navigate Bruin life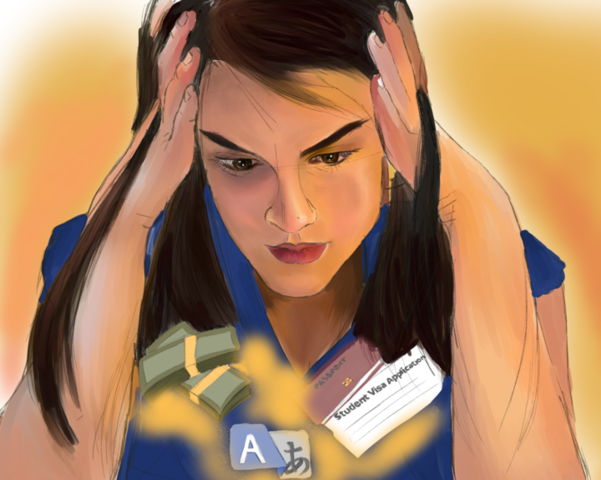 (Vaibhavi Patankar/Daily Bruin)
With college comes opportunities and challenges that can be just as daunting as exciting. For brand-new Bruins, the adjustment to college life can be social, academic or geographic.
UCLA clubs, among many other things, allow members of the university's diverse student body to better adjust to college. For international students, this opportunity can be key to helping them find a community in a setting miles away from their home countries.
According to UCLA's fall 2020 student profile, 8% of first-year students and 16% of transfer students are international.
This year, the Enormous Activities Fair included a variety of international clubs representing various countries and cultures that often help international students assimilate to college life.
Carol Guimarães, a fourth-year communication and psychology student from Brazil, said moving to the United States was not too unfamiliar, especially after living in the U.S. for part of her childhood.
"I really enjoyed my time in the U.S. I think it was a good age to live there. I really got into sports. … It's highly incentivized and that's very different from back home," Guimarães said. "I definitely found new passions in the U.S., and it definitely made me want to come back for college.
Guimarães added that joining various international student clubs made the social transition to college life more rewarding because they gave her an opportunity to connect with both Brazilian students and students from other cultures.
"I quickly got involved into the Brazilian club that we have on campus. So I think that made it easier, but then I (also) knew that I had to be open," Guimarães said. "I didn't … want to stick with just Brazilians. I also wanted to get to know people from other countries and other cultures."
Fourth-year political science student Penny Pathanaporn moved to the U.S. from Thailand. Pathanaporn joined Chi Alpha Delta, an Asian American sorority that helped her find a supportive community at UCLA.
"I feel like I definitely found not only my friends but also a support system. … I feel like they always have my back, whether it's, you know, in terms of me struggling with personal life stuff or just school stuff because we would always study together," Pathanaporn said.
Pathanaporn added that community and a sense of belonging are essential to someone's college life.
"I don't think I could have … done college without a sense of belonging," Pathanaporn said, "I think having a community and feeling accepted for who you are and where you come from is really important."
Fourth-year astrophysics student Jeth Arunseangroj said UCLA faculty and organizations helped ease his transition from Thailand to college.
"All the professors, especially in my department, were very welcoming, and they were very happy to answer all my questions," Arunseangroj said. "The UCLA Dashew Center … and my department … really put efforts into hosting welcoming events."
Arunseangroj said being a part of the Thai Student Association has been fulfilling for him, especially because of the opportunities it provided.
"I really enjoy participating in their events," Arunseangroj said. "They also had a mentorship program. … Basically, I was assigned a mentor, so that was really helpful because I could consult or ask my mentor regarding anything at UCLA. … My mentor also connected me to other different people."
Bruins have unique life experiences and backgrounds, some students owing such to growing up in a different country. However, at the end of the day, anyone can find a family on campus.
Guimarães said she has overall felt welcomed and included in the UCLA community as an international student.
"I obviously always felt like I was international. I am, but I never felt excluded," Guimarães said, "I felt welcomed, and I think it just helps with UCLA being a diverse university."