UCLA women's volleyball learns from in-match adjustments amid Stanford win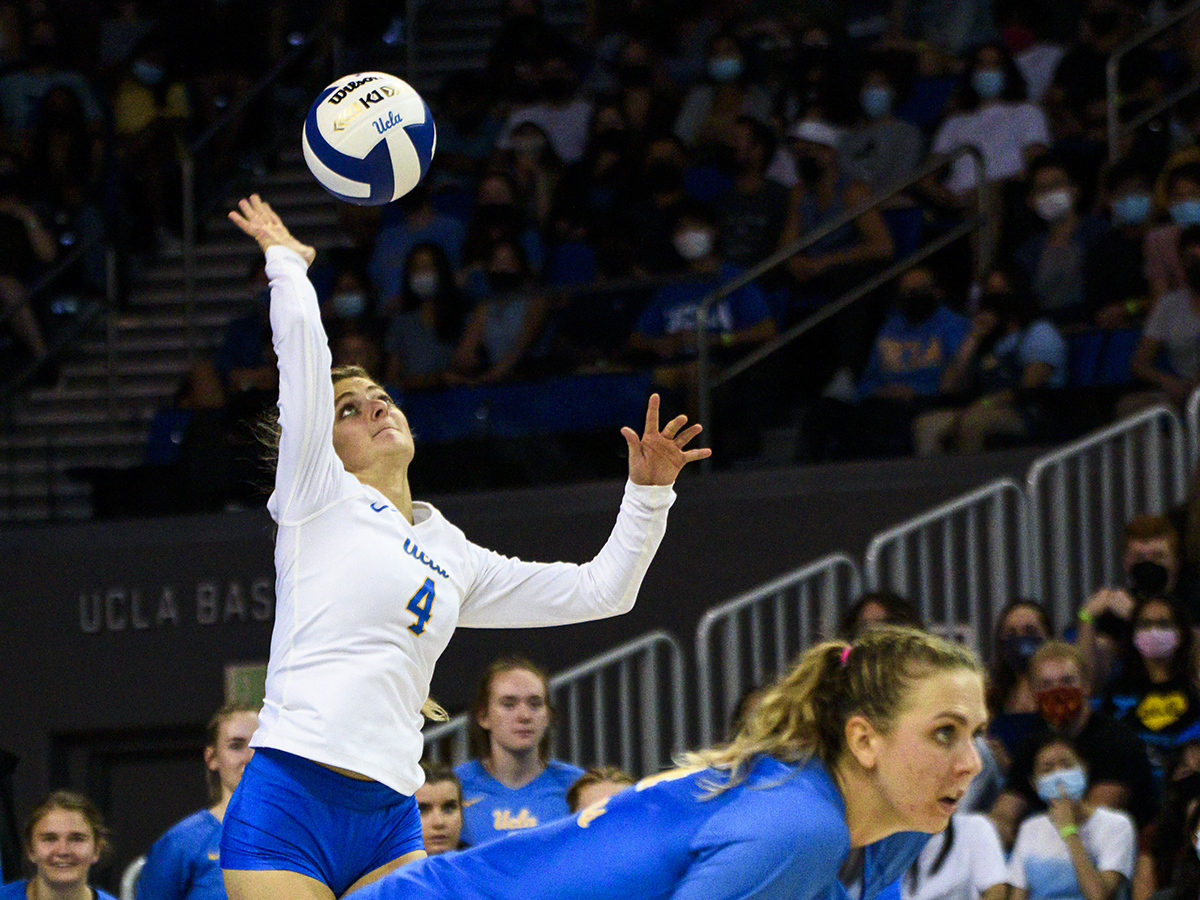 No. 15 UCLA women's volleyball has prioritized in-match offensive adjustments when facing ranked opponents this season. Senior libero/defensive specialist Zoe Fleck was responsible for four assists in the team's upset of Stanford. (Jeremy Chen/Daily Bruin)
Sept. 30, 2021 10:35 a.m.
The Bruins are making changes on the court.
During its victory over No. 17 Stanford (6-4, 1-1 Pac-12), No. 15 UCLA women's volleyball (9-1, 2-0 Pac-12) made several positional and lineup changes to secure the upset.
Coach Michael Sealy said that having not played the Cardinal last season, the Bruins were not able to prepare for the game as they normally would and were outmatched in some aspects.
"They're a really good blocking team, and they serve tough," Sealy said. "They're big, physical and very technically sound, so they pose that challenge for sure."
The last time Stanford and UCLA faced off was in 2019, when the Bruins were swept. This time around, the match started on a similar note with UCLA dropping its first two sets.
However, Sealy said he had told the team prior to the game that they must continue to fight in tough situations, especially because the team has a reputation of lacking resilience in difficult matches.
"I reached out to all of the top coaches and asked them, 'What is our reputation?'" Sealy said. "It was pretty unanimous that all the coaches said that UCLA is good when things are good – and it was a dagger. It's hard to hear that."
During the match, Stanford blocked UCLA hitters 20 times. To avoid this situation, Sealy said the team needs to adjust by playing cleaner.
"You want to be in system, and you want to try to create some one-on-one situations," Sealy said. "If your pass or dig is off the net, they can get two blockers out there, and they're daunting."
Senior defense specialist/libero Zoe Fleck, who led the match with 19 digs, said the Bruins struggled when the Cardinal targeted their outsides when serving.
"They're a tough serving team," Fleck said. "That's one of the things that make them so good."
Stanford recorded five service aces throughout the match, while UCLA tallied five total reception errors, including four from graduate student outside hitter/opposite Mac May.
Sophomore outside hitter/opposite Iman Ndiaye who had nine kills out of 22 total attack attempts, said she noticed a difference in Stanford's defense after switching hitting positions with May.
"From the outside, the block is a lot bigger, so there's less room for space," Ndiaye said. "That was the biggest difference."
The Bruins triumphed over the Cardinal in the final three sets and ended the match with 161 attacks and eight service aces, while Stanford had 150 attacks and five service aces.
UCLA will next take on No. 13 Washington with the opportunity to continue making in-match adjustments.
Chen is currently a Sports contributor on the women's volleyball beat. She was previously a contributor on the women's basketball beat.
Chen is currently a Sports contributor on the women's volleyball beat. She was previously a contributor on the women's basketball beat.