UCLA women's soccer's 1st Pac-12 match ends in draw, shutout streak remains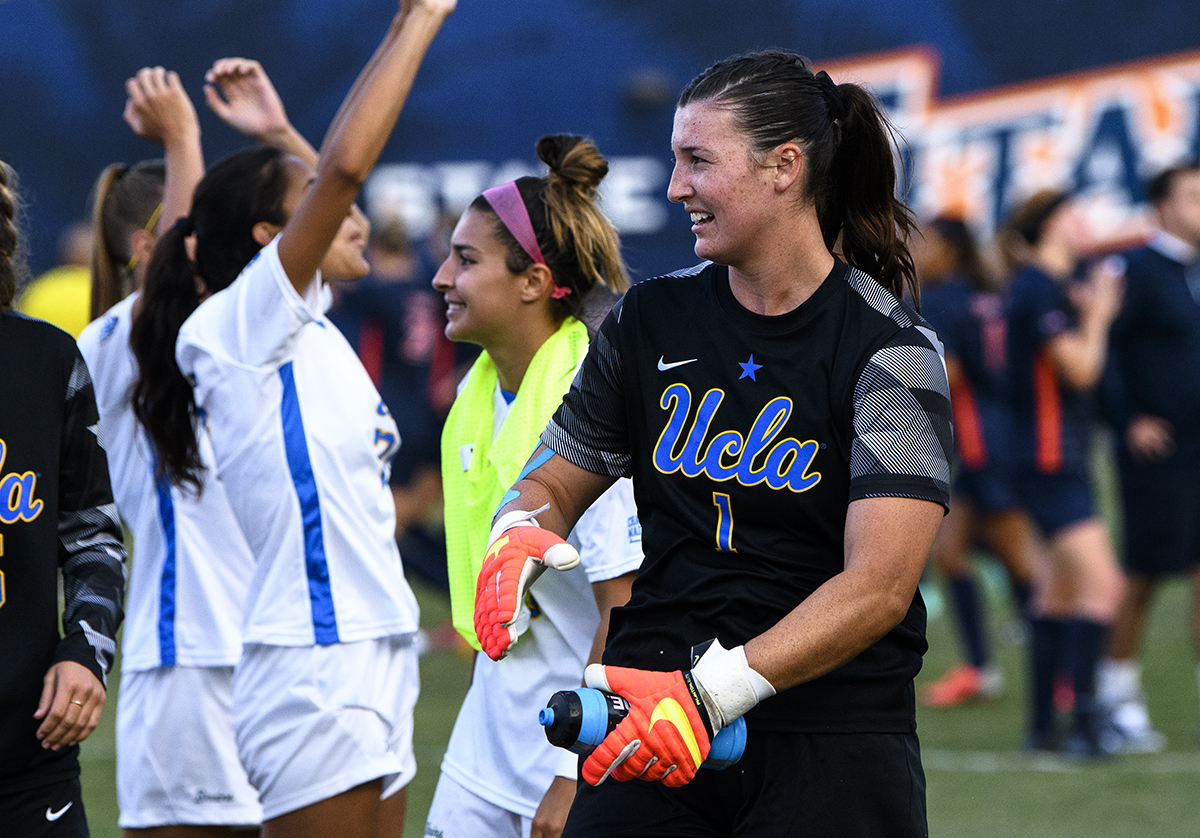 Senior goalkeeper Lauren Brzykcy made four saves as No. 3 UCLA women's soccer earned its eighth straight shutout of the season, but the Bruins couldn't find the back of the net, winding up in a scoreless tie against Oregon on Friday. (Lauren Man/Daily Bruin senior staff)
Sept. 25, 2021 10:29 a.m.
This post was updated Sept. 27 at 1:18 a.m.
The Bruins and Ducks played 110 minutes of scoreless soccer.
No. 3 UCLA women's soccer (8-0-1, 0-0-1 Pac-12) could not find a goal through two overtime periods against Oregon (5-0-4, 0-0-1) at Wallis Annenberg Stadium on Friday night – the Bruins' first 0-0 draw since 2018. With the tie between the two teams, the Bruins and the Ducks will remain the only two undefeated squads in the Pac-12.
"That's the conference," said coach Amanda Cromwell. "Everyone can beat everybody. Everybody can play well and give you their best shot. We just have to make sure we're ready for the next opponent."
After scoring in the first half in seven of its first eight matches of the season, UCLA could only muster up one shot on goal against Oregon in the opening 45 minutes. A long shot from graduate student midfielder Marley Canales stood as the team's only scoring chance.
On the other side, the Ducks forced three saves from senior goalkeeper Lauren Brzykcy in the opening frame, including a shot inside the six-yard box from forward Lexi Romero right before intermission. Brzykcy also intercepted multiple through balls intended for forwards Kaitlyn Paculba and Ally Cook, the latter of whom is the team's leading scorer.
To start the second half, freshman defender Quincy McMahon stayed on after her brief first-half cameo, while freshman forward Lexi Wright subbed in for her first appearance of the contest. Right out of the half, a McMahon cross found the head of junior forward Mia Fishel, but her header rose high off the crossbar.
"They had tons of numbers centrally, which made it really hard to get chances," Cromwell said. "We were really good in the second half as far as being more creative and getting chances. (We were) a bit unlucky not to score."
In the 60th minute, sophomore forward Reilyn Turner one-timed a Canales corner delivery which was saved by the Oregon goalkeeper Leah Freeman and bounced around in the box before a Bruin was called offside, ending the play.
UCLA continued to create chances in the second half as freshman defender Lilly Reale and Wright each located redshirt sophomore forward Sunshine Fontes in the box within a span of minutes, but she was unable to get clean enough touches on either balls to put the Bruins ahead.
Wright, who created multiple scoring opportunities on the left flank throughout the second half, said she was simply focused on giving her team a chance to score.
"I just wanted to make any impact I could, get some attacks off and hopefully score," Wright said. "I played with Reilyn for club. She's so good in the air and so is Mia and everyone. So (I was) getting as many attacks and crosses to them because they were running in on the back post."
With minutes remaining in the second overtime, two corner kicks and one set piece from Canales created multiple chances for UCLA in the Oregon 18-yard box, but no shot on goal resulted.
After the Bruins managed two shots in the first half, they added 12 more shots in the second half and overtime, outshooting the Ducks 14-8 in the game.
Despite the tie, UCLA extended its shutout streak to eight games and Brzykcy's four saves put her scoreless streak between the sticks this season at 740 minutes.
"Our defense has been incredible," said graduate student midfielder Olivia Athens. "I can't remember a start like this since I've been here. So that's definitely good. But I think this is the first time we haven't scored a goal in a long time, so that's a disappointment."
The Bruins will not return to the field until Thursday when they head to Tucson to square off against Arizona.
Farinha is currently a Sports reporter on the women's soccer beat. He was previously a contributor on the women's soccer beat.
Farinha is currently a Sports reporter on the women's soccer beat. He was previously a contributor on the women's soccer beat.