Scouting report: Men's water polo at MPSF Invitational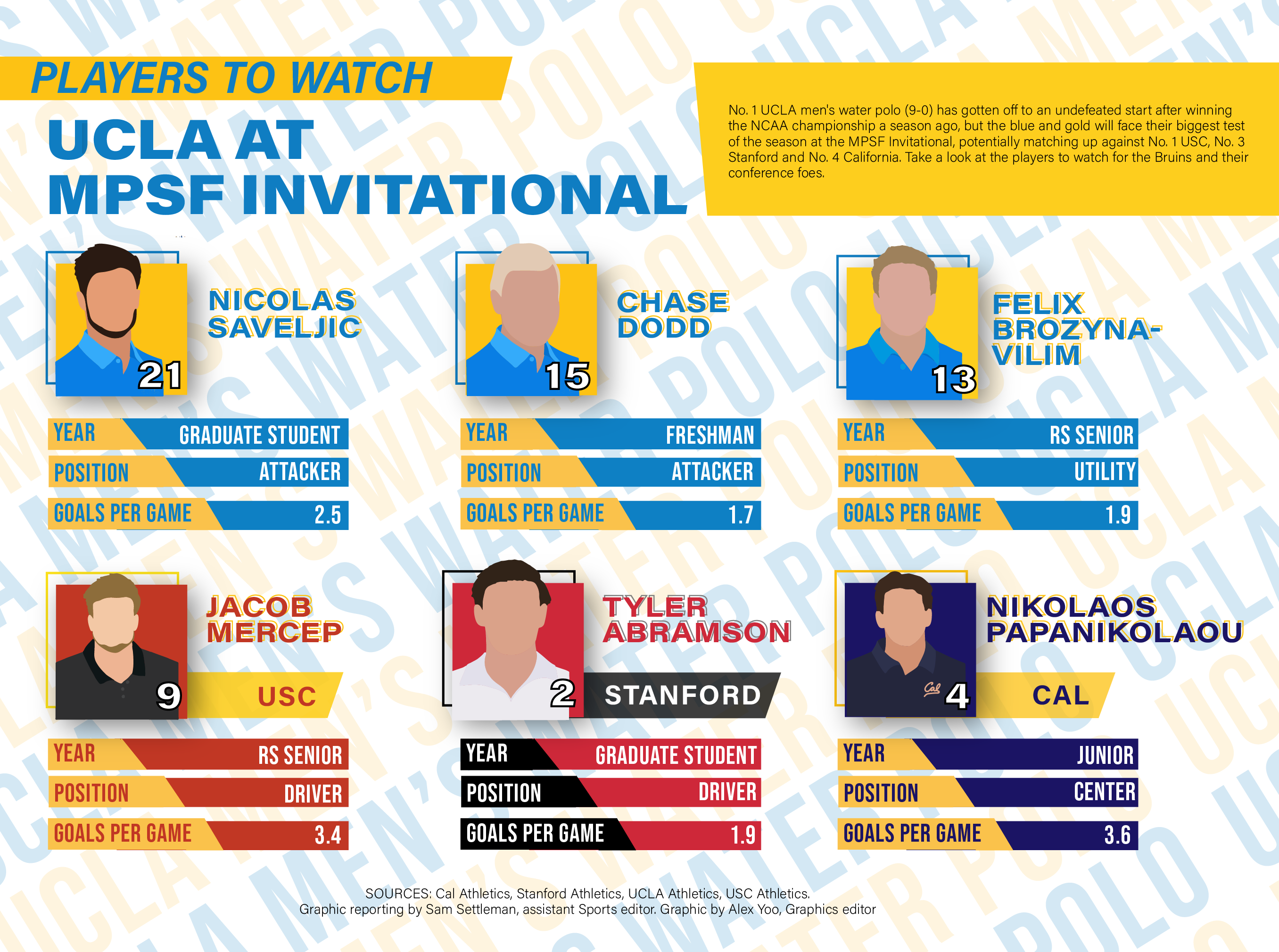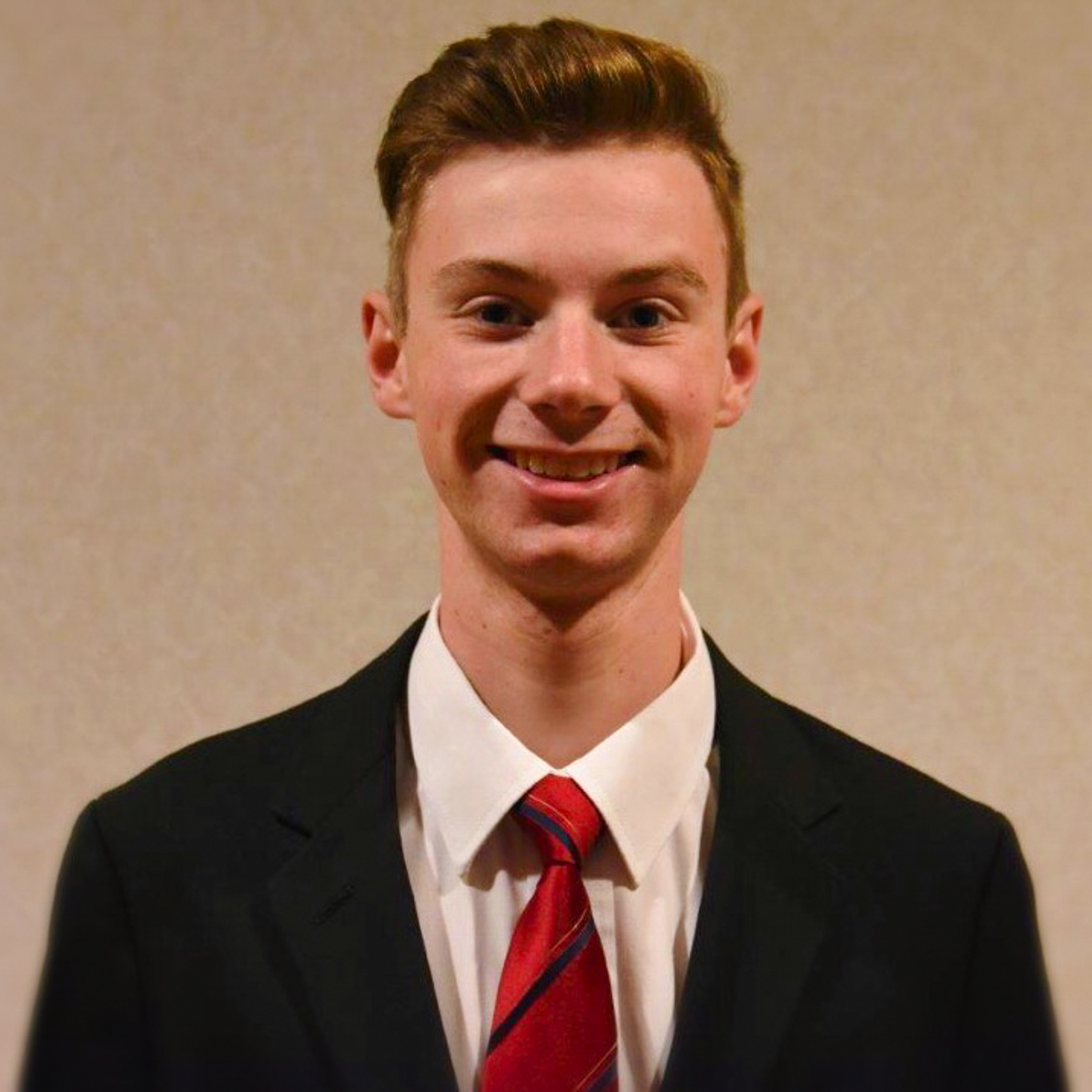 UCLA men's water polo (9-0) is the No. 2 seed in the Mountain Pacific Sports Federation Invitational hosted in Berkeley, California, the first tournament that No. 1 seed USC (7-0), No. 3 seed California (10-0), No. 4 seed Stanford (10-0) and No. 5 seed UCSB (11-2) will all compete in together this season. Daily Bruin Sports senior staff Kyle Boal is here to break down the top five seeded opponents that may challenge the Bruins for first-place bragging rights.
USC
Goals per game: 18.9
Goals allowed per game: 5.4
X-factor: Depth
The Trojans were the preseason conference favorites and top seed for a reason.
USC has played only seven games so far, the least of any of the top five teams, but the Trojans have had 19 individual scorers find the back of the net so far and have not fully shown their firepower.
UCLA transfer Ashworth Molthen – top three on the Bruins in goals during both years he spent in Westwood – has yet to see time in the pool for the Trojans. Olympian and driver Marko Vavic also has not returned but scored over 50 goals in 2017 and 2018. MVP of the U-16 Croatian Championship and highly-touted freshman Luka Brnetic is another name to watch that hasn't seen action.
One of the 19 Trojans with goals, redshirt senior and three-time First Team All-American driver Jacob Mercep has had no problem scoring. The No. 6 all-time leading scorer in USC history leads his team with 24 goals and tops the conference in points per game. On the defensive end, Mercep leads all MPSF players in steals per contest.
The team's second-leading scorer, left-handed driver Marcus Longton has already scored more goals through seven games than he did in his first two seasons combined. First Team All-American redshirt senior Jake Ehrhardt ranks third in goals for the Trojans with 12, while returning Olympian Hannes Daube has added 10 goals.
This season marks Nic Porter's fourth year as USC's starting goalkeeper, and the First Team All-American leads the conference in save percentage. The Trojans allow the least goals of any team in the top five.
With the largest goal differential of any team in the country, USC will look to claim the top ranking in the varsity polls with a first-place finish this weekend.
California
Goals per game: 15.4
Goals allowed per game: 8.8
X-factor: Big Three
If last season meant anything, the Golden Bears are a problem for the Bruins.
The only team UCLA had a losing record to in 2020-2021, Cal earned three overtime victories over the Bruins. This season, the Bears are led by center Nikolaos Papanikolaou, attacker Miles O'Brien-Schridde and utility Jack Deely.
In the team's last four games, Papanikolaou drew 21 exclusions and netted 15 goals en route to earning MPSF/KAP7 Player of the Week honors. The center, nominated last season for the Peter J. Cutino Award, leads the conference in goals per game with 3.6, and his 36 goals are 12 more than the next closest players.
The next closest happens to be O'Brien-Schridde with 24 goals, putting him in a tie with USC's Mercep. While O'Brien-Schridde ranks fourth in goals per game with 2.4, the attacker also holds second place for assists per game with 1.9.
Deely is the Golden Bears' best passer, averaging 2.2 assists per game – the best mark in the conference – while also averaging 1.9 goals per game, good for fifth in the conference.
Together, Cal's big three holds three of the top four spots in total goals scored this season and in points per game.
Cal, which holds each of the top three spots in assists per game, does not solely rely on its big three, however, 20 players have scored this season, including goalkeeper Adrian Weinberg. 2-meter Nikos Delagrammatakias, last season's team captain, registered a pair of hat tricks against UCLA last year en route to a First Team All-MPSF season.
Weinberg leads the conference in saves and saves per game, but Cal concedes the most goals of any top five seed at 8.8 per contest, and the Bears have had four games decided by three goals or less without playing a top six team.
Cal's talent is hard to deny, but whether or not it's deep enough to make a real run for the MPSF Invitational crown in its home pool is yet to be determined.
Stanford
Goals per game: 15.8
Goals allowed per game: 7.7
X-factor: Roster Size
Of all the teams in the top five, Stanford's roster is by far the smallest.
With only 22 players on the squad, over half of which are underclassmen, Stanford does not rely on any one person. Of the 15 players to score this season, 10 different ones have recorded hat tricks.
The Cardinal also hold the sixth through tenth spots in total goals scored in the MPSF. Two-time First Team All-American graduate student driver Tyler Abramson averages 2.4 points per game and is the only currently rostered player with over 100 career goals.
Second on the team in goals a season ago, 2-meter Beck Jurasius currently leads Stanford with 21 goals and three four-goal games this season. All-MPSF First Team driver Quinn Woodhead has 20 goals on the year.
Stanford has been in two overtime matches this season, allowing a 4-1 fourth-quarter run versus Long Beach State that forced an extra period before eking out a win and failing to pull away from Pacific until the overtime period. Nolan Krutonog is in his first year as the starting goalkeeper after playing in only three games last season.
Despite their small roster, the Cardinal have won the last three MPSF conference tournaments and have eight players with double-digit goals. Stanford will be a formidable opponent for anyone it faces, including higher-seeded UCLA.
UC Santa Barbara
Goals per game: 19.2
Goals allowed per game: 8
X-factor: Seniors
While the Gauchos are the only team of the top five squads to have lost, both defeats came at the hands of the Bruins.
Leading for three quarters, UCSB allowed a 4-1 UCLA run in the final quarter to drop the first meeting. Despite being tied at seven at halftime of the second matchup, the Bruins went on another 4-1 run in the third quarter to seal the victory.
Attacker Sawyer Rhodes scored a hat trick in points in every game leading up to the most recent match with UCLA, including a six-goal performance in the 14-12 loss Sept. 5. However, Rhodes, a USC transfer, went 0-of-7 with one assist in both team's most recent games to break the streak.
The Gauchos possess the largest roster of any team in the top five while also having the most seniors with 10.
In games against unranked opponents, UCSB has dominated, putting up scores such as a 29-7 win against Chapman, a 27-7 victory versus Occidental and a 28-6 win over La Verne.
With a win over UC Irvine in the first round, the Gauchos will likely match up with the Cardinal where a possible upset may be brewing.
Boal is currently a Sports senior staff writer on the football, men's water polo and swim & dive beats. He was an assistant Sports editor on the gymnastics, rowing, swim and dive, men's water polo and women's water polo beats. Boal was previously a contributor on the men's water polo and women's water polo beats.
Boal is currently a Sports senior staff writer on the football, men's water polo and swim & dive beats. He was an assistant Sports editor on the gymnastics, rowing, swim and dive, men's water polo and women's water polo beats. Boal was previously a contributor on the men's water polo and women's water polo beats.