Football expects physicality from Stanford, Sam Marrazzo rejoins starting lineup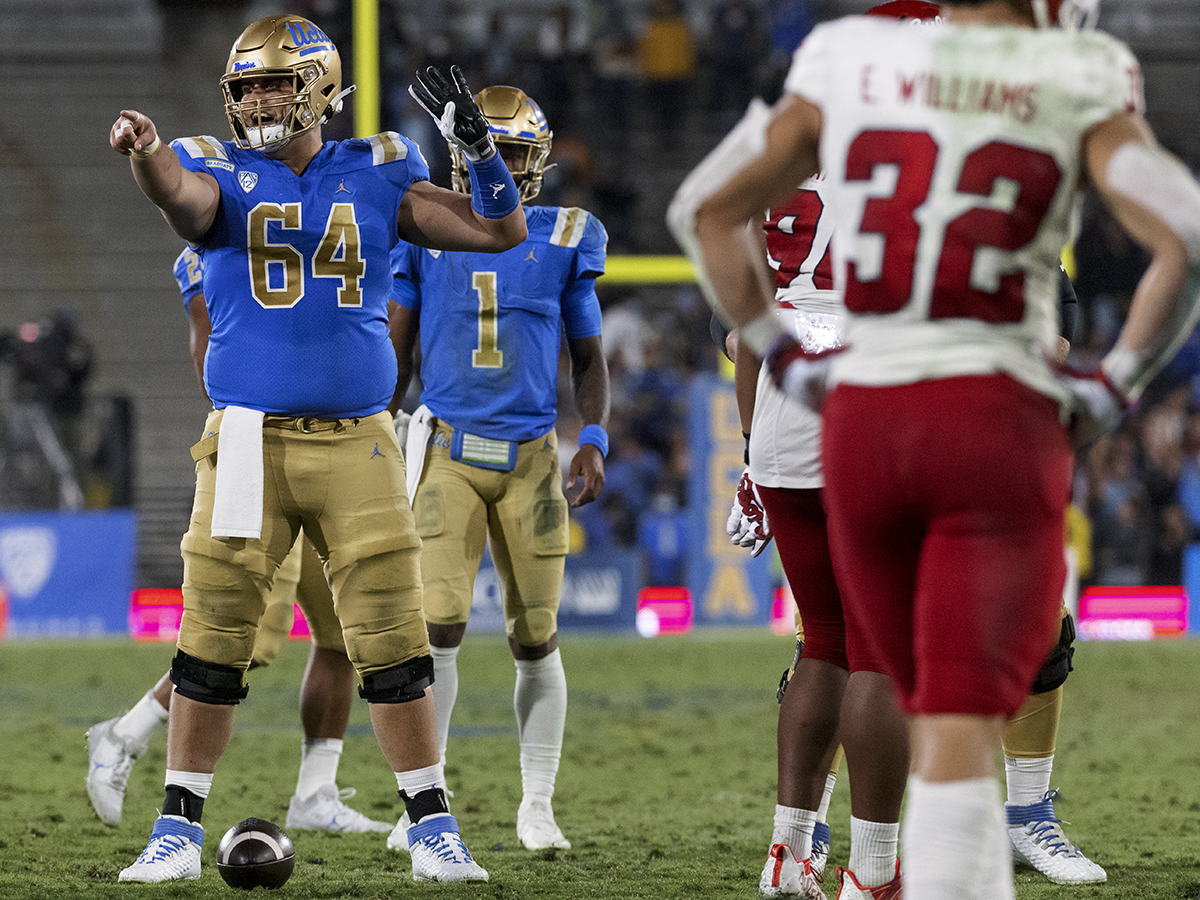 Senior offensive lineman Sam Marrazzo played his first game of the season for then-No. 13 UCLA football on Sept. 18, lining up at center for the first time since 2020 against then-unranked Fresno State. (David Rimer/Assistant Photo editor)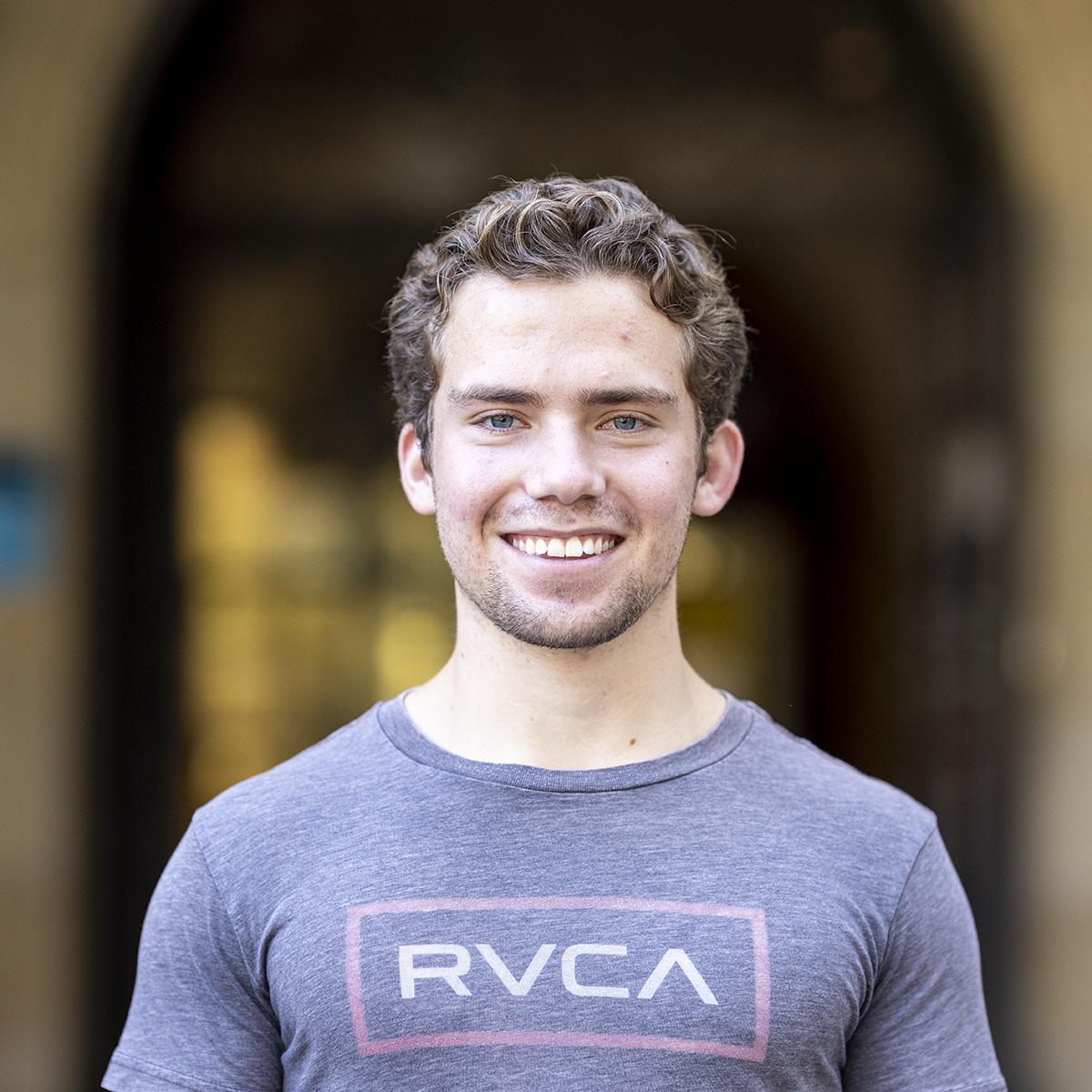 Sept. 23, 2021 12:50 a.m.
Sam Marrazzo made his return to the gridiron Saturday.
But he had something other than football on his mind when he spoke to the media Wednesday.
Prior to taking questions, the No. 24 UCLA football (2-1) senior offensive lineman opened his media availability with a statement about one of his teammates, redshirt junior offensive lineman Jon Gaines II.
Marrazzo said Gaines' father was diagnosed with kidney cancer a couple of years ago, and while he ultimately beat the disease, Gaines' father lost both his kidneys in the process and still requires dialysis treatment twice a week.
"Jon has been here every day through the whole thing, battling through it, (and) he's a great guy," Marrazzo said. "(I just want) to get that story out there and hopefully help his dad out a little bit in the process."
Marrazzo was sidelined for the Bruins' first two games of the year because of a leg injury from the final game of the 2020 season. In his place, Gaines stepped in as the team's starting center after primarily seeing action at guard in his first three years with the program.
The two have been close ever since Gaines joined the team in 2018, Marrazzo said.
"(Gaines) has always been one of those guys that's coming every day no matter what and just grinded," Marrazzo said. "Coming in and playing full games at center, I think he did really well. It was really good for the team."
While Marrazzo and Gaines are back to starting next to each other on UCLA's offensive line, Marrazzo – making his first media appearance since returning from injury – said he first wanted to talk about Gaines' family.
"It's been a real strain on their whole family, having to go in to get dialysis and all that stuff," Marrazzo said. "Jon has just really fought through this whole thing, so I just thought it was a good idea to get the story out there and then hopefully that can lead to some opportunities for them."
Back to the ground
The Bruins are coming off their worst rushing game in two years, but they're not giving up on the run game just yet, according to Brittain Brown.
"If we had the ball a little bit more (against Fresno State), we probably would have gotten more into our run game and everything, but it just didn't turn out that way," the redshirt senior running back said. "I don't think we're going to be changing much."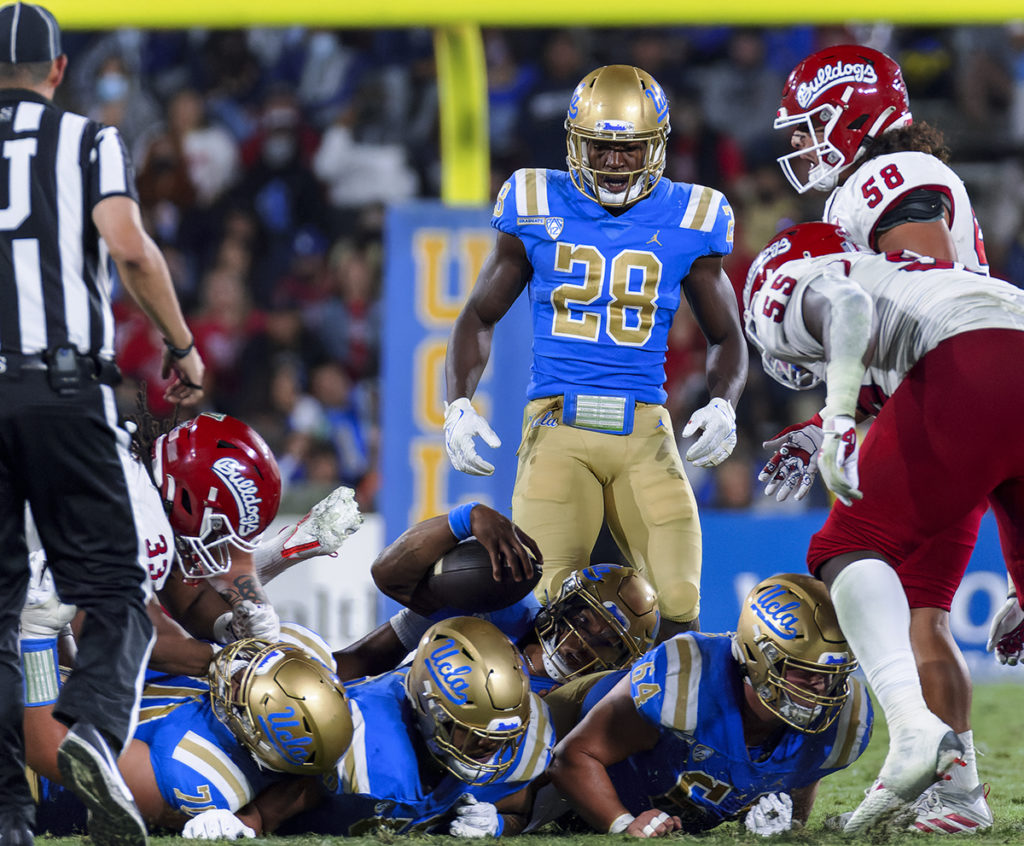 Next up on UCLA's schedule is its first Pac-12 matchup of the year, a battle against Stanford slated for Saturday at Stanford Stadium. Despite the Bruins running for at least 200 yards in each of their two wins and gaining 117 yards on the ground in their lone loss, coach Chip Kelly said his team can't focus too heavily on the run game.
"It depends on what Stanford does defensively in terms of how they're going to try to deploy their defensive people," Kelly said. "We always try to be a balanced attack, but how the game expresses itself is we only have control over one side of that – they have control over the other side of that."
Kelly said the Cardinal will be one of the most prepared teams his squad will face all season because of their coach David Shaw, who has an NFL background like Kelly.
While the Cardinal rank 114th in the nation in rushing defense through three games this season and have given up 5.8 yards per carry, Brown said Stanford teams always play with physicality.
"Coach Shaw's teams are always brute force, coming downhill, big backers," Brown said. "Nothing we haven't seen before, nothing we haven't played against, so we're going to be ready to up the physicality as much as they do."
The last time the conference foes met, the Bruins ran for 291 yards in the 2020 season finale, their most rushing yards since posting 313 yards on the ground against USC in 2018. Nonetheless, UCLA lost that game 48-47 in double overtime.
Brown – who got the touch on the failed two-point conversion attempt that sealed the defeat for the Bruins – said he recalls the game vividly.
"I remember how I felt during that game – it was terrible afterwards," Brown said. "I really wanted to win that one for the boys. It was the last game of the season. I know we were all playing our hearts out."
Despite coming out on the losing end of last year's barnburner, Kelly said this isn't a revenge game for the Bruins.
"To continue to dwell and to talk about things that went on in the past I think is just a waste of time," Kelly said. "Going to think about last year's game is really, to me, just a distraction."
Settleman is currently an assistant Sports editor on the gymnastics, women's soccer, women's golf, women's water polo and men's water polo beats. He was previously a contributor on the gymnastics and women's water polo beats.
Settleman is currently an assistant Sports editor on the gymnastics, women's soccer, women's golf, women's water polo and men's water polo beats. He was previously a contributor on the gymnastics and women's water polo beats.