The Quad: COVID-19 pandemic alters traditional sorority recruitment experience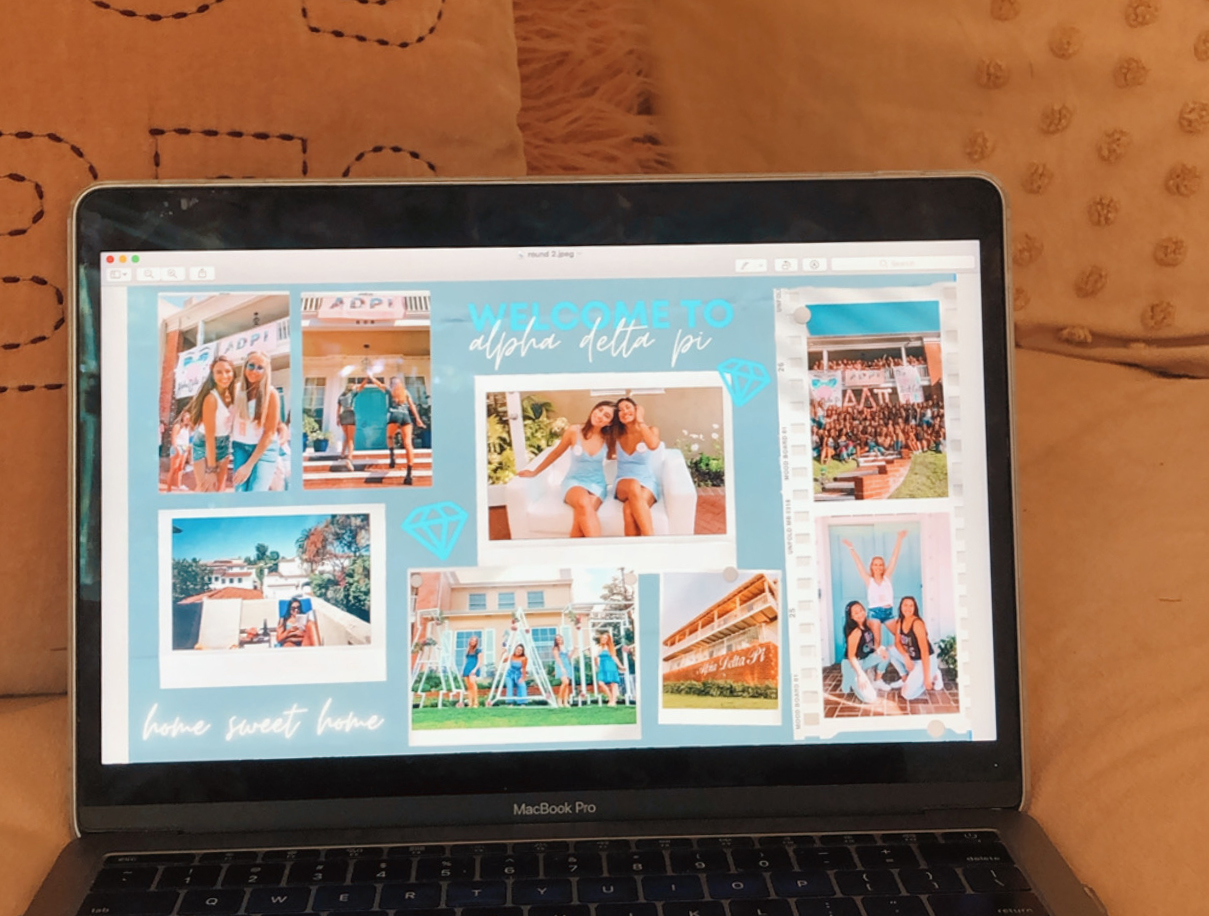 After a year online, sorority recruitment is adjusting to a new normal. This includes hybrid events and revised traditions. Sororities such as Alpha Delta Pi demonstrate their spin on online recruitment by utilizing decorative slides and designs. (Courtesy of Brooke Sagun/Alpha Delta Pi)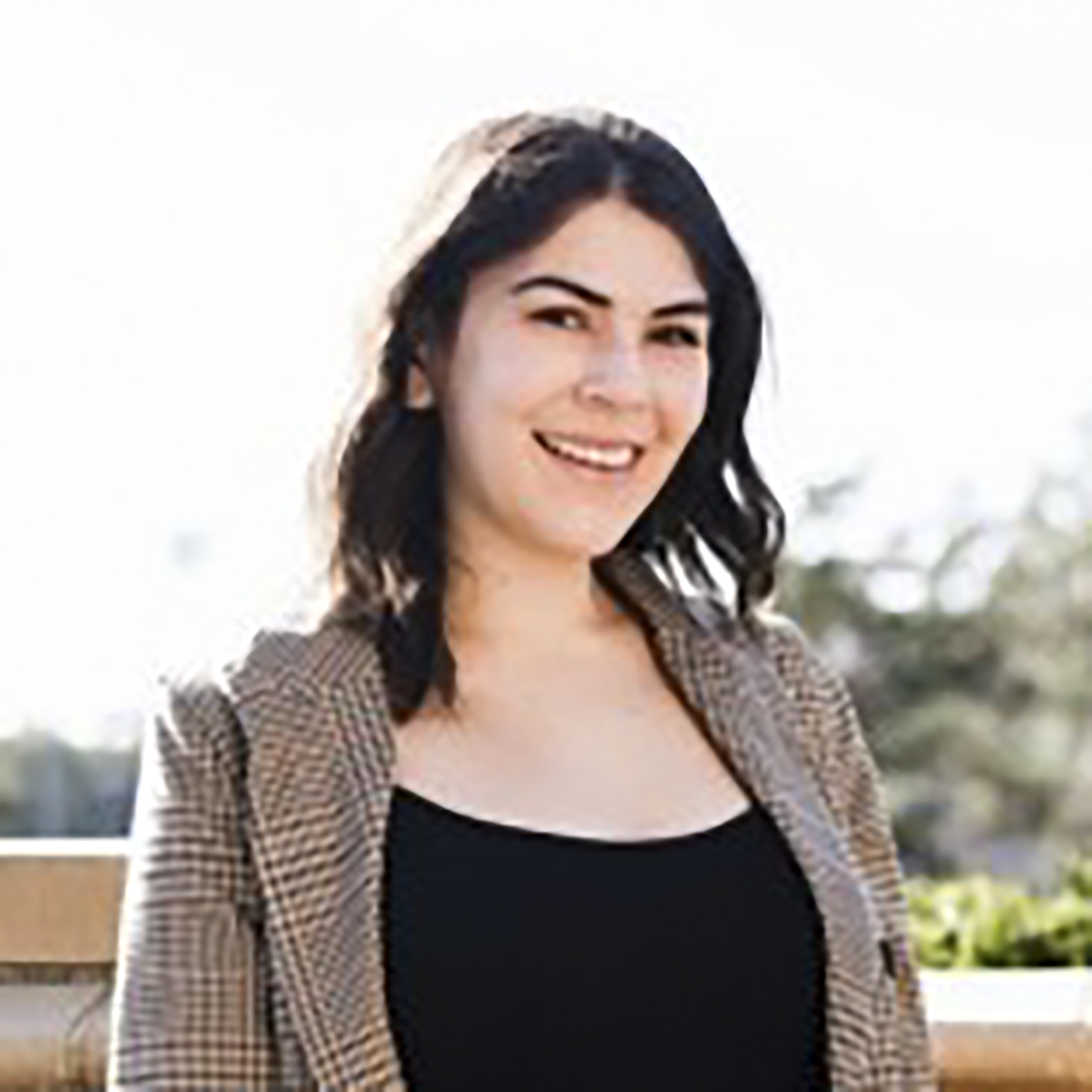 This post was updated Sept. 20 at 3:44 p.m.
Fall quarter recruitment season typically involves hundreds of anxious girls walking up and down Hilgard Avenue in heels, but Panhellenic sorority recruitment is looking a little different because of the pandemic.
According to the National Panhellenic Conference website, the NPC is made up of 26 women-only international member organizations. They are values-based organizations with members providing philanthropic support to a variety of causes.
Although there are 26 Panhellenic sororities in total, the UCLA Panhellenic community consists of 11 member chapters and two associate member chapters.
Besides Panhellenic, UCLA also has sororities under the Asian Greek Council, the Latinx Greek Council, the Multi-Greek Council and the National Pan-Hellenic Council for traditionally Black sororities.
According to an article from The Magazine of Higher Learning, positives of Greek life include increased graduate school attendance, higher academic retention and greater campus involvement than non-affiliated students.
Fourth-year molecular, cellular and developmental biology student Megan Blatt said that she chose to join a sorority her freshman year because it felt like the perfect way to meet new people in college.
"I was hesitant in the beginning because I didn't really know what (recruitment) entails … and then when I ended up joining, I really enjoyed getting to meet a lot of people and getting all the opportunities that came with joining a sorority because there really is more beyond the social aspect of it," Blatt said.
Before the pandemic, sorority recruitment usually involved members going to all the different houses for several rounds.
Second-year biology student Angela Davis said that she participated in virtual recruitment last year because she was worried about making friends through online classes.
"Through sorority recruitment, I was able to make friends instantly. … They put us into group chats with people in our major and we could ask them questions," Davis said. "It definitely felt a lot more welcoming and less overwhelming being an incoming freshman at such a large university."
Last year's recruitment was fully remote, but this year, the first two rounds will be held virtually while the last two days will be in person with a virtual option, according to the UCLA Panhellenic website.
Blatt said that planning a hybrid recruitment is very challenging and requires a lot of time and effort to try and make each conversation with a potential new member run smoothly.
"Obviously, there's a lot of planning and there's a lot of practice that goes into it. … We're trying to get as many girls talking to new members as possible, and we're obviously trying to present ourselves to the members in the best light that we can," Blatt said.
Brooke Sagun, a fourth-year communication student, said she has a much different perspective on recruitment after going through recruitment as both a potential new member and a recruiter.
"I feel like when I was a (potential new member) I sort of treated it as an interview and felt like I had to say the right answers or what they were looking for," Sagun said. "(As a recruiter), I learned that it's really hard to get to know someone within five to 15 minutes so I tend to try to talk beyond the surface-level things and really get to know people as much as I can in the time constraints given."
Despite the many benefits of recruitment and Greek life, there is also a certain stigma attached to joining a sorority.
According to the NPC annual reports, sorority membership has decreased in the last few years. Roughly 384,000 women participated in 2018-2019, while in 2015-2016 there were around 411,242 members.
This decrease may be largely attributed to sexual assault and rape statistics associated with Greek life and the portrayal of Greek life in the media, according to Vox.
According to the same Vox article, there is also a long-documented history of exclusion, especially toward nonwhite members in both fraternities and sororities.
Fourth-year public affairs student Shelby Dunagan said that she was hesitant about joining a sorority because of the stigma surrounding Greek life; however, she found that the UCLA sorority community has done a good job of trying to change the meaning of Greek life.
"I do believe that at UCLA, they do a really good job of taking a holistic perspective and not caring about materialistic or certain characteristics … but really getting to know you and see how you get along," Dunagan said.
Sagun said that being in a sorority has also been a positive aspect of her college experience.
"I think UCLA would have been a totally different experience for me if I wasn't in Greek life," Sagun said. "I think it shaped me in a positive manner, really allowing me to make friends quickly and have a really strong support system as a home away from home."