The Quad: Comparing students' learning in different classroom environments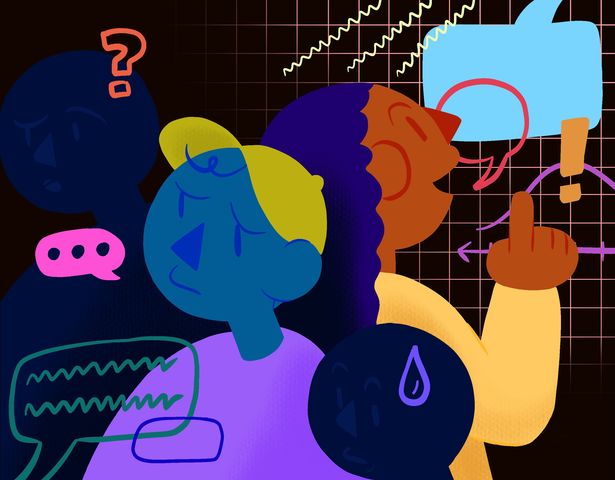 (Dani Nalangan/Daily Bruin)
The prospect of learning at a university where a student is just one of 31,636 peers may be daunting. How can a professor remember your name in a lecture class with hundreds of other students?
For students, teaching assistants and professors alike, navigating large class settings and various learning preferences can be challenging. Nevertheless, utilization of class resources allows for Bruins to achieve effective educational experiences that meet each student's learning niche.
For instance, such a feat can begin with the highly overlooked yet greatly insightful addition to each class: office hours.
Society and genetics professor Nicholas Shapiro said that office hours are an important space for extra communication between professors and students, especially in lectures.
"Sometimes, I'll have 10 students at a time in my office hours. And it's not a one-on-one conversation, but people have a collective conversation, and it feels really intellectually engaging," Shapiro said.
Shapiro said that office hours can give students the boost of confidence they need to participate in class.
"Once they share a thought in office hours and I'm like, 'This is actually great,' … then they start talking in class," Shapiro said.
Shapiro added that engagement also varies between grades, with younger students often being more excited about new material and older students engaging in more nuanced conversations.
"There's sort of a beauty of teaching some of the younger students to see their minds get blown. … And I think that happens less and less as you get older," Shapiro said. "But then I feel people feel more comfortable talking to professors – they're more honed in on what's exciting to them, and so they're able to reach out to professors that are doing work that's legitimately tied to their interests."
For many, the transition to Zoom made such engagement and outreach more difficult, but virtual capabilities helped students overcome these new challenges.
For second-year chemical engineering student Maiya Patel, breakout rooms allowed her the space to ask questions and stay connected. Patel said that it was helpful when professors provided class time for questions.
"I think that having opportunities in class just to ask questions was really nice in my experience because I've had professors who actually have a slide on their presentations to ask questions versus ones that just taught all the way through and you had to stay after to ask questions," Patel said.
Patel added that she felt more connected to discussion section TAs rather than professors because of their smaller class sizes.
"I was just more comfortable to ask questions because there were less people," Patel said. "I feel like the discussions were meant more for asking questions versus the lectures where it was like you had an hour to teach as much as possible."
Former society and genetics TA Maxwell Green said that because student-professor connections can become saturated in larger lectures, students tend to engage more during discussions with TAs.
"It's really kind of bridging that gap and being this sort of liaison between the students and the professors in the best way we can," Green said.
Green added that because of the close proximity in age between TAs and students, there is a sense of understanding in the dynamic, and the most effective way to connect is through transparency.
"I think just like out in the real world – you make connections with people by being transparent and being yourself. So I think that same sort of transparency, honesty and engagement with material really shows, and those are the students I've connected with the most through my time as well," Green said.
Because lectures and discussions offer their own benefits and drawbacks, Green said it is important for Bruins to recognize which learning formats they find most effective, thus enabling them to find a balance between academics and recreation.
"I think it's not a one-size-fits-all for everyone about what's best for them," Green said. "And I think part of the journey that students really need to go on throughout their education is determining how they are going to learn best, make the connections that they should be making with either a TA or professor and enjoying life outside of class."