Q&A: Johnny Juzang reflects on season successes, decision to return to Westwood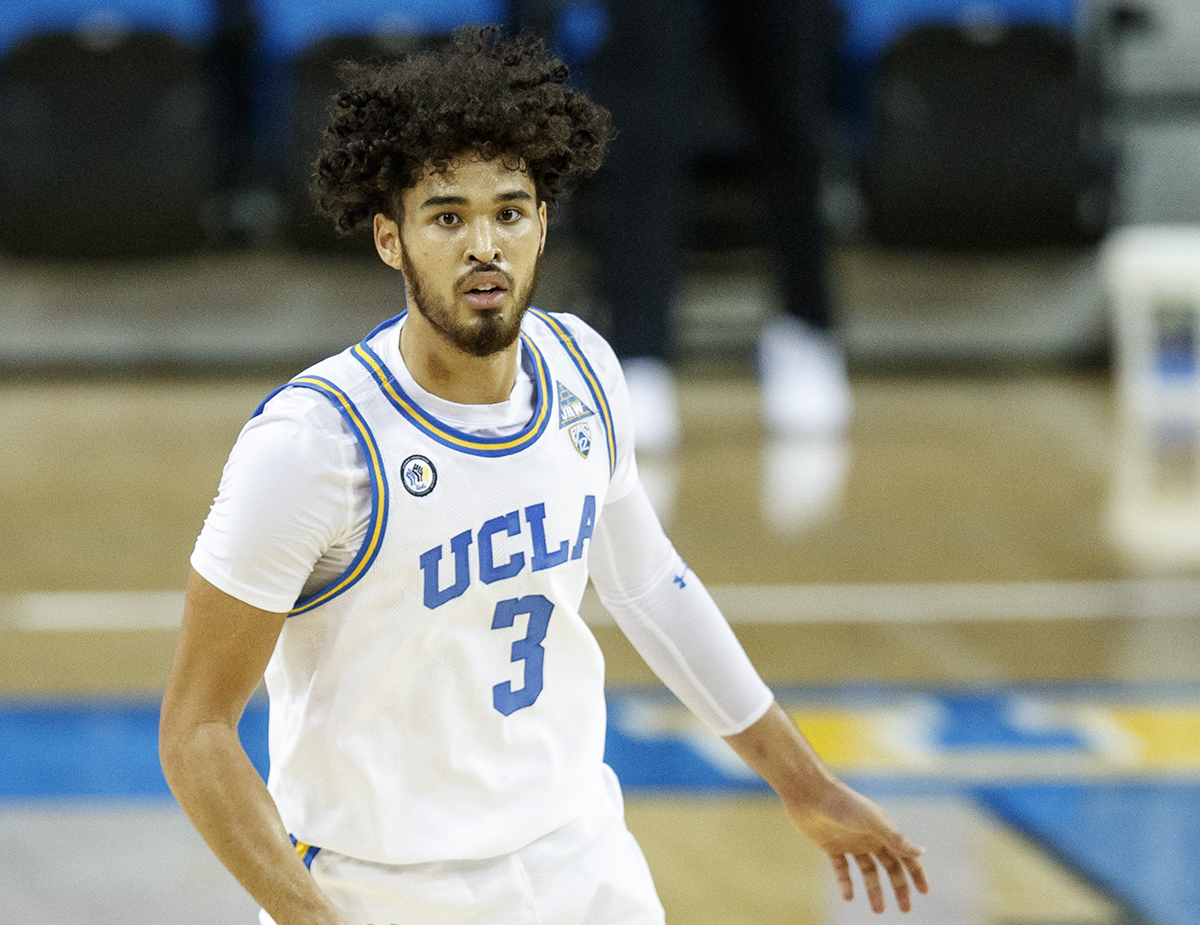 UCLA men's basketball junior guard Johnny Juzang picked up a number of accolades last season while leading the team in scoring, earning an All-Pac-12 Team selection and All-NCAA Tournament Team selection after the Bruins made their first NCAA Final Four appearance since 2008. (Daily Bruin file photo)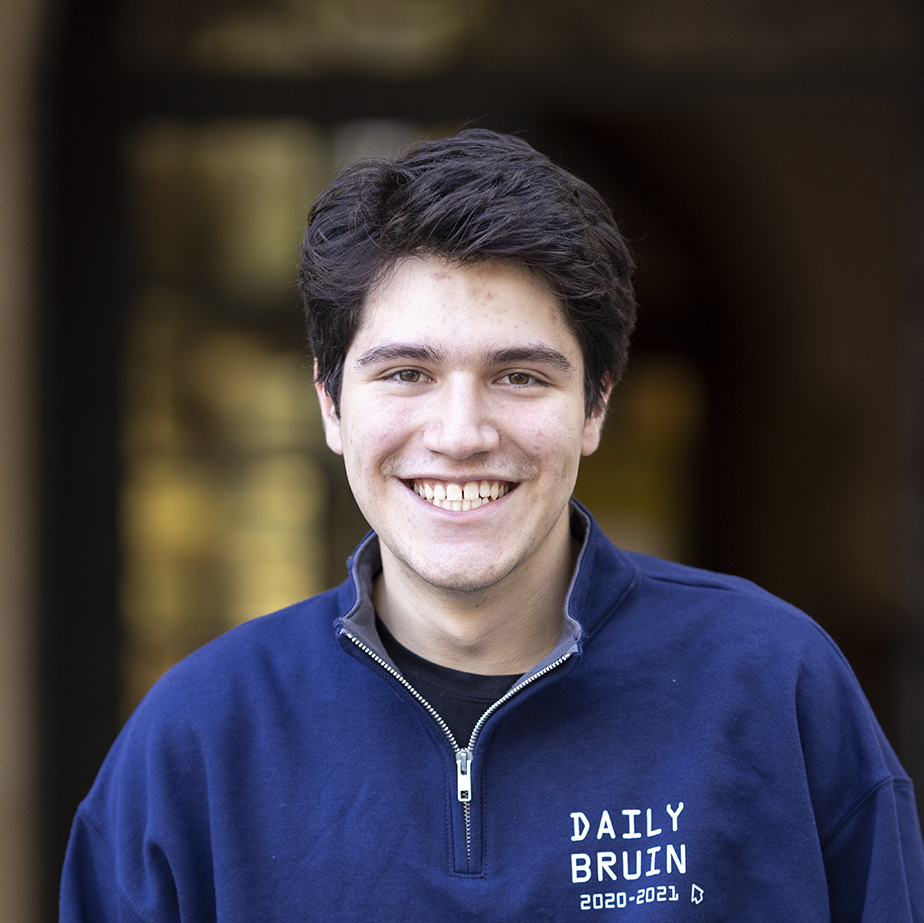 After transferring from Kentucky in the 2020 offseason, junior guard Johnny Juzang had one of the most decorated single seasons in UCLA men's basketball history. Pacing the team in scoring, Juzang helped lead the Bruins to their first NCAA Final Four since 2008, earning an All-NCAA Tournament Team selection after picking up All-Pac-12 honors in the regular season. In April, the guard entered the 2021 NBA Draft.
But Juzang is officially back in Westwood after announcing his intentions to return to the Bruins in July. Sports editor Jon Christon sat down with Juzang early in September and talked about the Final Four, his decision to return, the new name, image and likeness landscape and more.
This interview has been edited for length and clarity.
Daily Bruin: Take me back to the NCAA tournament. Getting to the Final Four, making the All-Tournament Team, was that just a dream come true?
Johnny Juzang: It's everything you work for as a player, so it was so fun. Also, playing with a team like that, where everybody is literally willing to do whatever it takes to win, it's the best feeling. You can't hope for more as a player with that. So, it was honestly a beautiful experience. That's how I would describe it.
DB: What about that last game? I know it didn't go the way you wanted, but that game is going to go down in NCAA tournament history forever. What was it like being a part of that, even if it didn't go your way?
JJ: Being a part of it, it was beautiful because we got so many of those moments where it was back-and-forth, back-and-forth, right? Those are the moments you want and are the most fun. That game would have been crazy if it was a regular-season game. But then also put it in the Final Four and the stakes are what they are and the stage is what it is, it was, regardless, one of the most fun games you could be a part of. When we were getting off the court, obviously, we wanted to go further and we wanted to win the game, but it really was a moment where we came together and there was a lot of gratitude and appreciation to have shared that journey with one another and to play with teammates like that. In basketball, you don't always get that, where literally every single guy is playing to win and is battling every moment of the game. Leaving everything out there, where you completely trust the guy on the left and the guy on the right, you don't always get that in sports – there are egos and all this stuff. But it was just such pure passion and grit and love for the game from every single one of the guys on the team, so that was one of the most beautiful things, too. That was awesome, but luckily we got another chance to do it again this year so it makes it even better.
DB: What was it like being in New York for the ESPYs and winning the award for that game?
JJ: We had fun, man. That was another awesome moment, especially being so young and we're still in college. Accepting an award for the biggest sports award show or event – whatever you want to call it – that there is, being on the stage and all that, it was a lot of fun. It's also one of those things that you think about as a kid. Obviously, there are more awards to be won – at least I hope so. But it was fun to see that happening, especially so quickly.
DB: Switching gears to the offseason, just generally, what's the offseason been like for you? What have you been up to? What have you been doing?
JJ: So first was getting ready for the draft process and then the draft process itself. The draft process is really intense, a lot of travel, high-pace training, but that's usual, at least for me. So I had that. And then I rolled my ankle a few times during the tournament, so I was kind of training with that still lingering. After I decided to come back to school, I took some time off just to let things heal just because I didn't have that really after the tournament too much. And then (I) got into rehabbing and whatnot and then now, it's been a lot of lifting, and a lot of cardio, a lot of work in the pool, bike work, VersaClimber, but mostly in the pool for cardio and working on the body a lot, probably seven times a week working on the body. And then getting back on the court, transitioning to the court, but a lot of really, really good bodywork. Just getting healthier from a preventive standpoint but also a performance standpoint, so I'm excited, man. It's been good. Obviously haven't been on the court as much as I wanted to recently, but just letting things heal. What I've been able to do with my body with cardio and whatnot, it's been great. So that's been the main focus more recently, is that stuff, but (also) transitioning onto the court.
DB: The draft process – what was that whole experience like? How much did you learn from it?
JJ: Yeah, it's really good because you get a feel for what it's like. And I'm speaking from the standpoint of if you do it and come back. For that reason, it's great. You get a really good feel of the pace at the next level, the things that they emphasize and just how things operate in the league. You just get a feel, that's the best way to describe it. You just get a feel, and you get much more comfortable with the works of being in the league, playing in the league, you come back with that. Also, it's good because it's just getting new looks – you're playing against really good guys. It's just a great opportunity to get better, playing against other draft prospects and training with them and training in different places and whatnot. You just get a lot of different looks, which I think is important in terms of growth. You see different stuff and now you have a lot of new takeaways to take back to your training. It was very helpful.
DB: Any specific takeaways that you got from scouts that you can bring back to UCLA now and work on? Anything tangible that you remember?
JJ: It depends on who you are, but they want two-way players. You got to be able to guard your man in the league. Obviously, there are talented players, and it's more spaced out and more isolation-driven. So being able to contain high-level players – you're guarding Kyrie (Irving) or Steph Curry – being able to at least contain or hold your end on the defensive end. Also, the pace of the game, it's just a little more up and down, it's faster, but there's also a more open floor. Efficiency is big, so those statistics matter, how you shoot the ball from the field in certain spots. Different teams have different emphases, but some teams emphasize layups and (3-pointers) and there's not as much room for the midrange, but some teams still utilize it. I would say for me, things that I wanted to improve were just training to becoming a better defender and shooting the ball at a little bit more efficient clip. But I want to improve really all around, having more control over the game and just getting better across the board. Really just across the board, but those are the things I noticed about what the NBA is looking for and the play at that level.
DB: Expand more on your decision to come back. What was the thought process?
JJ: You just weigh your options. I felt like we have a great opportunity to do something special this year and to continue to develop as a player under coach (Mick) Cronin – he's a phenomenal coach. I just felt really strong about the situation in Westwood and playing for Coach. And I want to be a part of it, man. I really think we have a talented team and a talented group and I think it's going to be great for players' development, but also just to win and compete at a high level. I just want to be a part of it. Seriously, we got a really good group, so it's a special opportunity.
DB: I know you said you haven't been on the floor that much, but do you have any insight on how the new guys look, with (freshman guard/forward) Peyton Watson, (freshman guard) Will McClendon and (redshirt senior center) Myles Johnson? How have they looked? What do you think they're going to add to this team this year?
JJ: Yeah, they're going to help us. We're going to have more depth, and they're talented guys, and they're working hard. So I'm excited, man. They're going to be super helpful. Super helpful and I think they're going to do great.
DB: Jordan Brand just came in, and you guys got a lot of new gear. How much have you taken advantage of that? What's the new gear like compared to last year?
JJ: Jordan Brand makes some really good stuff, so we got some cool stuff, it's nice. I'm not too into the gear, I'm just kind of working out. But they make good stuff so I know the guys like the stuff and everybody likes the product. It's high quality, it's good stuff.
DB: The new name, image and likeness legislation has been a huge change already. How much do you think that's going to change, specifically college basketball?
JJ: As far as NIL on college basketball, I think it was overdue. I especially saw it after our run. You see as you're playing these games and doing all this media stuff and even certain stuff for the advertisements or the hyping of the games, you see how big of an event this is and how much money is around it. Everybody in the country is tuned into this. Like, it is huge. March Madness – especially the Final Four – is a huge event. So having the run that we had, when I got home, I literally had less money than I went to the tournament with. Literally, I didn't make a dollar from any of that stuff, and you see how much is generated from it. So that was really when I kind of saw like, 'Man this is something that's got to change.' Because I hadn't been really too involved and not necessarily did I care too much before, but when I saw that, just the sheer size and scale of March Madness, I was like 'Man, something's got to change.' I definitely agree with it, I think it's something that's good. I'm glad they did it. I don't think it's going to change too much in college basketball. I think it will still be guys who really love the game and the craft, it will allow them to dial in even more, as there are more distractions or more things around them that are coming at them. Their ability to dial in and focus on the game will just escalate. If guys have other priorities, that will kind of come to light. It could distract some guys, and it could help other guys focus even more. So, I don't think that's going to change anything, I think it will just exaggerate guys' priorities.
DB: Everyone's back, you're back, you got the new freshmen coming in, coming off of a Final Four, what are the expectations you have for this year's team?
JJ: We all have the goal of winning the championship. That's the goal. We'll just take it day by day. We're going to keep working, just trying to get better every single day. You just stay present and keep working and then the season will come as it comes, but that's definitely the goal that we have in mind.
DB: Any individual goals for you? Pac-12 Player of the Year? First-round draft pick? Or are you just focused on getting the team better?
JJ: I'm just focused on us winning, us getting better as a team and me getting better as a player and just as a young man developing. I'm very development- and growth-oriented, so I try to stay pretty present – just get better and grow every day and the rest will work itself out.
Christon is currently the Sports editor and a reporter on the men's basketball and football beats. He was previously an assistant Sports editor on the women's basketball, softball, men's tennis and women's tennis beats and a reporter on the women's basketball and softball beats.
Christon is currently the Sports editor and a reporter on the men's basketball and football beats. He was previously an assistant Sports editor on the women's basketball, softball, men's tennis and women's tennis beats and a reporter on the women's basketball and softball beats.