Opinion: UCLA has obligation to reexamine limited benefits of AP, IB credits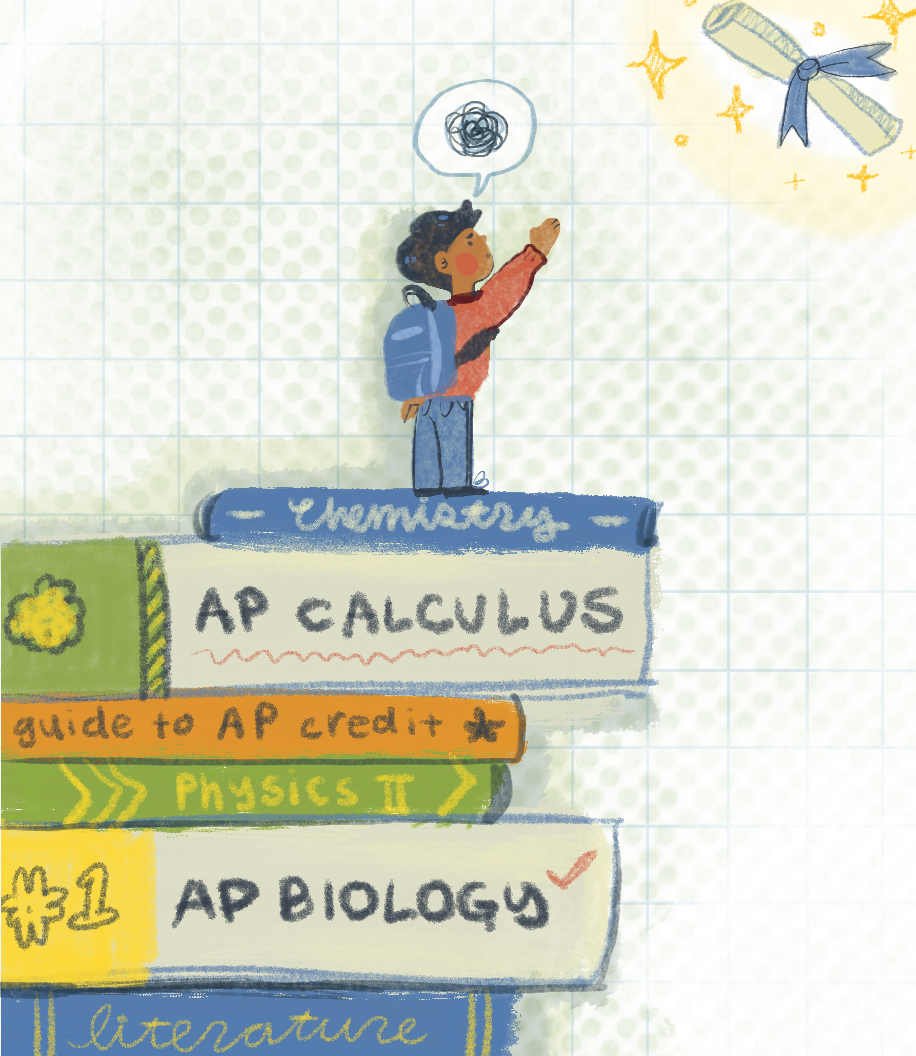 (Katelyn Dang/Illustrations director)
For many, taking advanced courses in high school provides a chance to pursue higher-level material upon entering college.
To rob students of this opportunity is quite a disservice.
High schools across the world offer courses that cover undergraduate-level material, most commonly the College Board's Advanced Placement program or the International Baccalaureate program. At the end of the year, students in the programs can take standardized exams that assess their mastery of the content.
Those who perform well on these tests may receive college credit depending on the university. At the UCLA College of Letters and Science, AP scores may fulfill certain graduation requirements like Entry Level Writing and Quantitative Reasoning. Other schools within the university, like the UCLA Henry Samueli School of Engineering and Applied Science, offer similar credits.
But beyond these circumstances is where credit from AP and IB runs dry. Some Bruins have expressed frustration with how few requirements their test scores actually fulfill. Considering the money spent on the exams and the time invested in these high school courses, they are right to feel this way.
Campus departments responsible for creating AP and IB policies need to revise the way they credit AP and IB test scores. Students who have proven their understanding of college-level material deserve more opportunities to pursue the knowledge they want.
That is what college is for, after all.
David Zhou, a UCLA neuroscience alumnus, entered his first year with 54 units credited from AP exams. However, only a select few, such as AP Chinese Language and Culture and AP English Language and Composition, actually fulfilled his graduation and major requirements.
Despite performing well on other exams such as AP Chemistry, Zhou still needed to take college courses that covered the content he had already learned.
"I felt like taking (Chemistry 14A) was largely just a repeat of material that I learned in AP Chem," Zhou said. "And the same deal with Physics 5A, … I just felt there was no point (in taking the class)."
Class enrollment at UCLA is difficult enough as it is, and forcing students already knowledgeable in a course's material to take it needlessly deprives them of opportunities to learn new things.
It also robs them of their money's worth.
In the United States and Canada, the College Board charges $96 per AP exam. A student taking 10 AP exams would spend close to $1,000 on these tests alone.
While college tuition costs much more than that amount – an estimated $36,297 for California residents living in UCLA residence halls for the upcoming school year – a lot of money goes down the drain when several of a student's AP scores fail to put them closer to graduation. Zhou said he felt frustrated after studying and spending hundreds of dollars on AP exams only for these investments to be wiped out because of departmental policies.
Out-of-state students who pay nearly double what in-state students pay are put at an even greater disadvantage, especially if they want to graduate early. Students should not be financially punished for academically pushing themselves in high school.
It should be UCLA's duty to motivate the pursuit of knowledge – not dissuade it.
Some departments, such as the math department, let students skip certain courses with AP scores, said the UCLA Academic Senate in an emailed statement. The Senate added that the psychology department allows its students to waive major requirements using AP credits.
It's welcome news that some departments have already assessed AP tests to find potential college-equivalent courses they could credit. But as the AP and IB programs continue to evolve, so will their exams. Departments should actively reassess their policies on exam credit so that students can enroll in classes that actually serve their academic needs.
On the other hand, it's true that not all AP courses are created equally. The difficulty of AP courses depends on the school's affluence, said Beth Lazazzera, the chair of the Life Science Core Education department.
She added not everybody has access to AP courses either, especially communities that experience higher rates of poverty. There's also the element of race. According to the National Equity Atlas, high-poverty areas are disproportionately made up of people of color.
"Unfortunately, … (our system) has certain racism baked into it," Lazazzera said. "So if we then say, 'Alright, we're going to let kids who have AP courses move on and all the other kids not,' are we not perpetuating this … racist system?"
While it's important the university helps address inequities, it's critical to realize that putting students from under-resourced schools up against peers that have already had opportunities to learn a course's material can be more unfair than just letting those peers move on to the next course. It forces an unfair comparison – sometimes directly, such as in cases of curved grading.
Instead, there are solutions that don't include holding any students back.
The math department requires certain students who take the AP Calculus exam to also take a math diagnostic test. Other departments can create their own diagnostic tests that assess a student's mastery of content and use these tests to place students into classes suited for them and their educational backgrounds.
Departments can also create more courses intended for students who need extra help. For example, the chemistry department offers Chemistry 14A: "General Chemistry for Life Scientists I" and Chemistry 14AE: "General Chemistry for Life Scientists I – Enhanced," both of which have the same content and rigor, but the latter includes a mandatory two-hour discussion section to help students with limited exposure to chemistry.
Although neither of these is the ultimate solution to address disparities in college-level exam access, they are far better than just pretending that inequity doesn't exist.
The university has a duty to academically enrich its students.
Acknowledging their current understanding is a necessary first step.