Kaila Novak inspires many with her joy, messages of body positivity on TikTok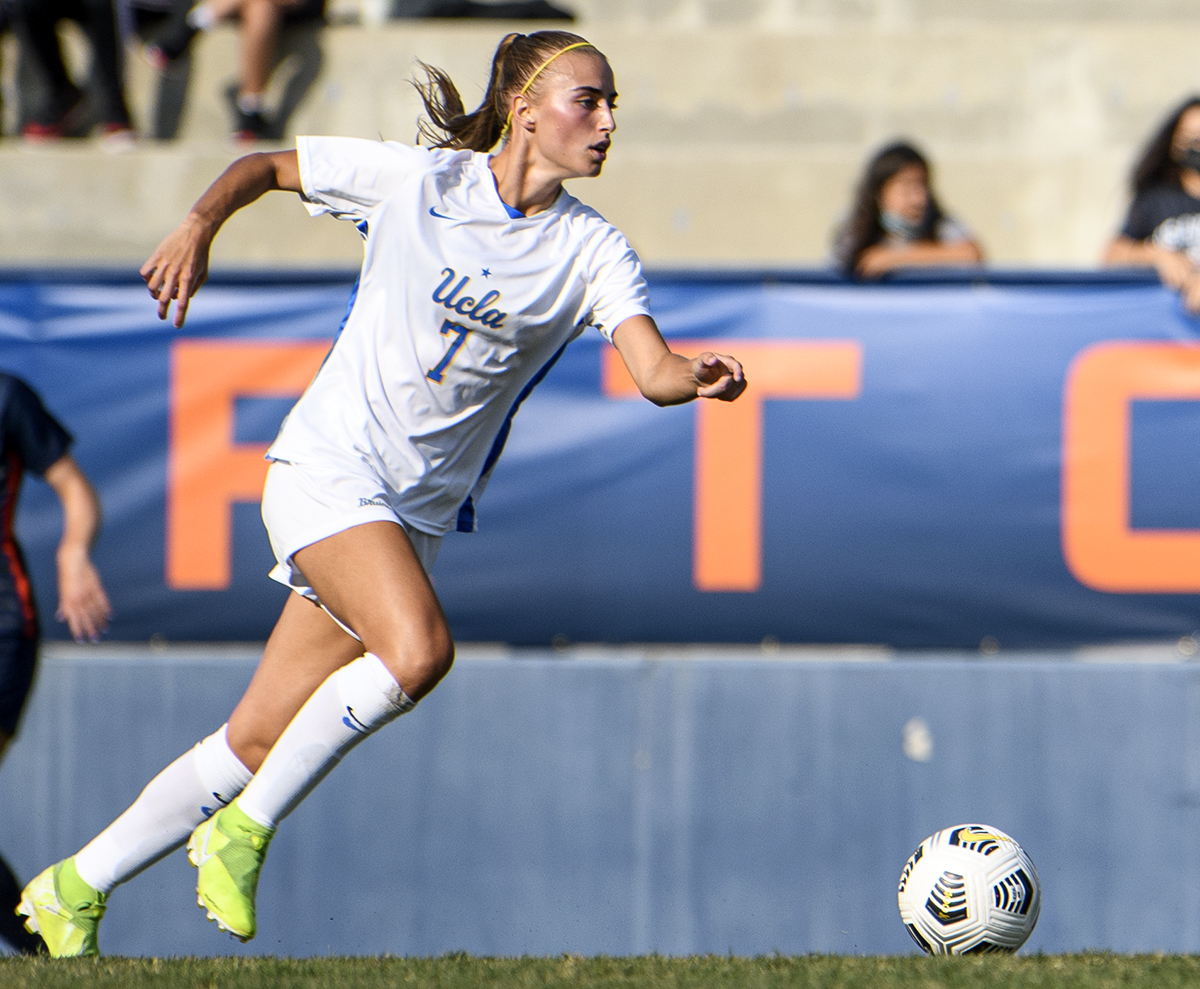 UCLA women's soccer forward Kaila Novak is a Pac-12 All-Freshman team caliber player on the field, but the sophomore has also amassed more than one million followers on TikTok, using her platform to spread positivity. (Lauren Man/Daily Bruin senior staff)
Kaila Novak is just an ordinary teenager.
That is, if you consider ordinary as being a Division I soccer player with more than a million followers on social media.
The sophomore forward for UCLA women's soccer is coming off a freshman season that saw her named to the Pac-12 All-Freshman team, and so far in her sophomore campaign, she has started the first two games for the Bruins as they chase their first national championship since 2013.
But it is not her soccer career that has garnered her more than a million followers on social media.
Novak started posting TikToks in early 2020 but did not begin to take the app seriously until August of the same year. However, her initial posts had nothing to do with the sport she loves.
"The main content that started going up a year ago on TikTok was my food reviews at UCLA," Novak said. "Some 'Day in the Life of a D-1 Athlete,' that type of stuff got really popular. But food reviews were popping off the most."
Even though her "Day in the Life" videos and food-review videos may amass the most views, Novak said her favorite videos to film are with her best friend, senior goalkeeper Lauren Brzykcy.
Brzykcy said she met Novak as a freshman while she was entering her fourth year, and they instantly became buddies.
The reigning Pac-12 Goalkeeper of the Year said it has been crazy to be by Novak's side and watch her grow on social media over the past two years.
"She's (making content) in such a positive and amazing way," Brzykcy said. "Just being next to that, always having that energy next to me, being friends with that, it's just helped me become a better person as well. So it's just awesome seeing her help millions of people as well doing it."
Ever since she first started posting on TikTok, Novak said she has tried to bring the charisma and positivity that she carries with her every day on and off the soccer pitch. To go with her food reviews, her biggest message is body positivity.
"I've gotten a lot of DMs from a lot of girls being like, 'You've helped me with my eating disorder,'" Novak said. "You just need to obviously eat whenever you want. Love your body no matter what. And you don't want to look back and be like, 'Dang, I wish I ate that burger.'"
On top of the body positivity messages she conveys, Novak said she wants to try to inspire the people who watch her content.
In a day and age in which so much content on social media is fake, according to Novak, she wants to show her followers that she can be more than an influencer, but a person too.
"In the back of my head, I'm like, 'How can I be a role model to these people that are watching me on the field, that have come from my social media, and show them I'm a happy and positive person?'" Novak said. "How can I show that I'm authentic in what I post on social media and that I'm the same person in real life and on the field?"
However, even with all the positive things that Novak sees come out of social media, she has also seen a variety of negatives come from her large following.
Novak said the best way she deals with the hate is to not read comments at all, but sometimes she is still faced with people making assumptions about her life.
"The way I've coped with (the hate) is reassuring myself and knowing that I'm the only one that knows what's going on in my life, and random people on the other side of the world don't have any say in how my life is going," Novak said.
Associate head coach Sam Greene said she is proud to see one of her players be so public with issues the team finds important.
The Bruins pride themselves on not just succeeding on the field but building a culture where everyone can feel welcomed and fight for what they believe in, Greene said.
"It is really cool to see it publicly and for her to feel that she identifies with that so strongly and that is what she wants to pursue because it is something that we really practice on our team," Greene said. "That is what we recruit and the culture that we create."
Novak said the messages she gets from other girls and the ability to inspire others are just a couple of the many positives her life on social media has brought.
It is not just the positivity that Novak brings to her videos that inspire people such as Brzykcy, but also the hard work that she puts in off-camera as well.
"She's one of the sweetest people, and everything that she's getting, she deserves," Brzykcy said. "She's working her butt off. Like people don't understand how hard she works, and it's finally paying off."
With college athletes now being able to profit off their name, image and likeness, Novak can be financially rewarded for that work. Novak said her following on social media has given her the opportunity to work with brands she never would have expected.
Although social media brought her an immense amount of fame – and now provides an avenue for her to profit – Novak said she will never abandon the two most important aspects of her life: soccer and academics.
On the pitch, Novak has already picked up a number of accolades and accomplishments, but the sophomore has bigger aspirations. Novak said she has her eyes on the Canadian national team and potentially the new Los Angeles-based NWSL expansion team Angel City FC, a club that lists Novak's current coach, Amanda Cromwell, as a founder.
If soccer does not work out, Novak said she looks forward to attending medical school or working in a research lab one day when she hangs up the cleats. Novak is majoring in neuroscience and was named to the Pac-12 Academic Honor Roll this past season.
Even if those academic aspirations never materialize, Novak is set with more than few alternative options.
"I think (with) social media, you can be blowing up one day and then totally irrelevant the next," Novak said. "Social media is definitely, in my opinion, not the only thing you should be doing. … You need backup plans, and I'm on the route to have like four different backup plans."
Fenn is currently a Sports reporter on the women's soccer beat. He was previously a contributor on the beach volleyball and men's and women's golf beats.
Fenn is currently a Sports reporter on the women's soccer beat. He was previously a contributor on the beach volleyball and men's and women's golf beats.