International students plan for long-awaited campus return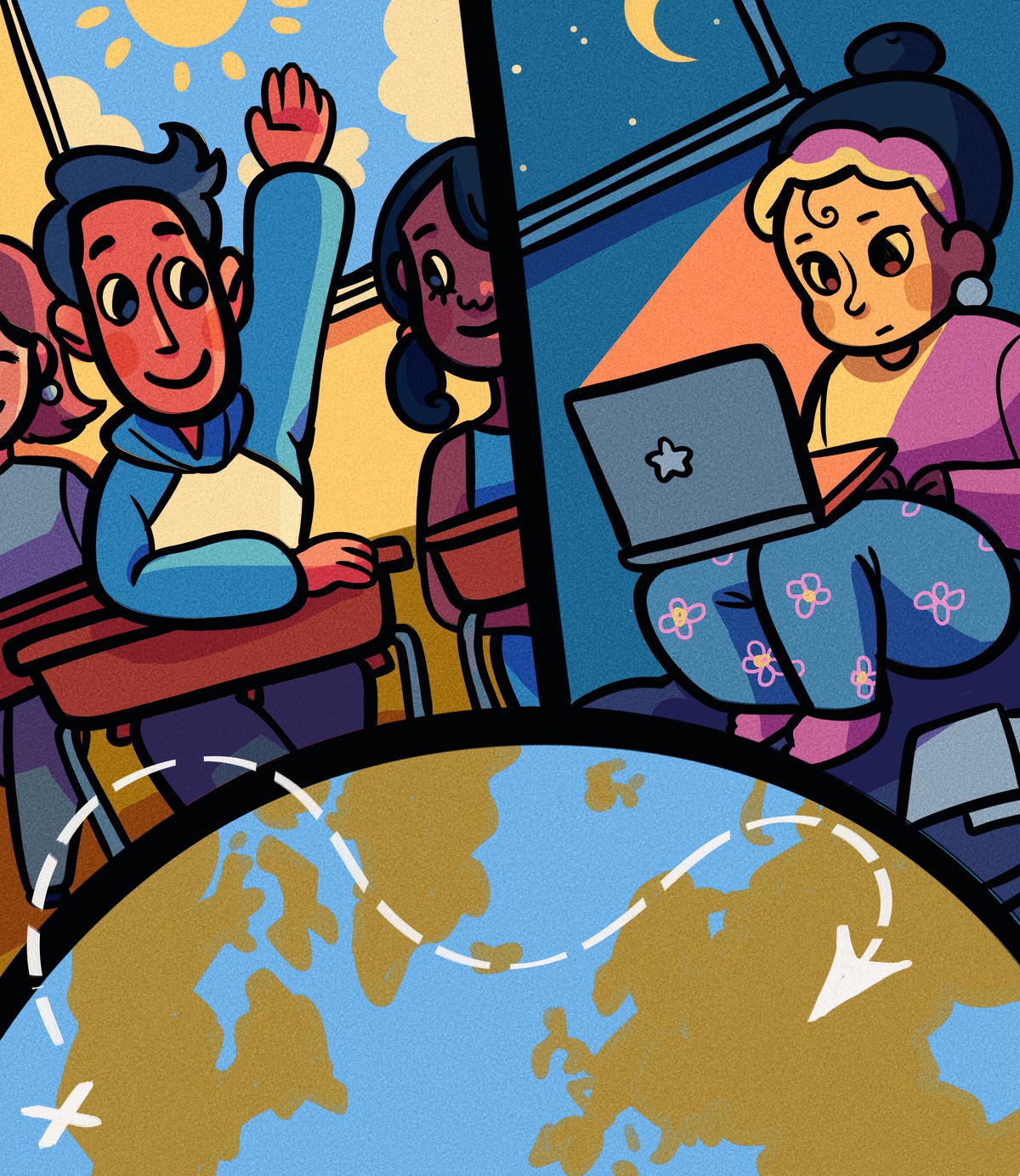 (Katelyn Dang/Illustrations director)
Despite issues with travel bans and securing housing, some UCLA international students remain eager for a safe return to campus.
The U.S. Department of State announced May 27 that international students from travel-restricted countries like Brazil, China and India would qualify for National Interest Exceptions, which would allow them to reenter the U.S. Despite this measure, many students are struggling to come back to campus because of travel restrictions and flight cancellations.
Iris Liu, a third-year communication and economics student from China, said she hasn't been in the U.S. since June 2020.
There was a travel ban between the U.S. and China months ago when she was booking her flight back to Westwood, Liu said, and she was unable to get a direct flight from China. As a result, Liu said she now has to fly to Singapore first and take another flight to Los Angeles before the start of the fall quarter.
Sanjana Dixit, a second-year molecular, cell and developmental biology student , said her flights were canceled in June because of the rise in COVID-19 cases in India and that more flights were not available until August.
Dixit added that her travel time nearly doubled when trying to get to LA in the spring as she had to take multiple COVID-19 tests before and after her flights.
Some international students have yet to step foot on UCLA's campus although they are in their second year. Yug Goradia, a second-year chemical engineering student from India, said he is looking forward to meeting other students after a year online.
"As a college student, I never got to go on campus. I mean, I was willing to (go) last fall as a freshman as well, but because of travel restrictions that were imposed by the U.S., we couldn't enter," Goradia said.
The Dashew Center for International Students and Scholars said in an emailed statement that while visa processing remains a challenge, it is seeing a significant increase in the number of visa approvals compared to last year.
But even before reaching LA, several international students faced issues beyond reentering the country.
Liu said she was forced to pay rent on an off-campus apartment even while living in China since she signed her contract last year and was unable to get out of it.
Dixit, who had never been to LA before spring, said she had to tour apartments virtually, over Zoom. She added the transition was more abrupt as she had to adjust to living on her own in a new country.
"It took like a few weeks to actually be able to start navigating in and around LA – not just LA actually – beginning with Westwood and UCLA in general. When we got there, things were so new, and there was kind of like a culture shock for all of us," Dixit said.
While getting ready to return to UCLA, Liu said she is worried for her health because of the rising COVID-19 cases caused by the delta variant and the fact she will be living in a studio apartment with two roommates.
"So we basically sleep together (and) eat together," Liu said. "If one of us is infected, then the other two might be in danger as well," Liu said.
Similarly, Goradia added that he is scared of contracting COVID-19 while being in a new country for the first time.
"It's just a daunting situation … to not be home in such a scenario, to not have that backing and that support of your family," Goradia said.
Liu and Goradia both said they managed to get vaccinated in their home countries, and they appreciate that UCLA is accepting their local vaccines.
The Dashew Center said that UCLA will be accepting all COVID-19 vaccinations approved by the World Health Organization, even if the vaccinations are not authorized by the U.S., in order to allow international students flexibility in getting vaccinated by the Sept. 9 deadline.
For students who are unable to get vaccinated in their home countries, UCLA will immediately refer them to a vaccination site unless they qualify for a university-approved exception or deferral.
"UCLA did a pretty great job in terms of (the) vaccination requirement because it accepts … all the individual emergency-approved vaccines, including the (Sinovac COVID-19 vaccine) and other brands," Liu said.
Despite her concerns, Liu said she is ultimately excited to get back to campus after taking online classes with a 15-hour time difference.
"I have tests in the middle of the night, and sometimes the professors don't even offer accommodations," Liu said. "It wasn't super fair for me to get up at 3 a.m. and do the same test as other people who are living in (the) daytime."
Goradia said he misses being able to socialize with other students, which proved difficult in the virtual environment.
"On a Zoom lecture, you aren't talking to the person sitting next to you … and so that's something I'm really looking forward to, … just the student interaction," he said.
However, as the start of the fall quarter gets closer, many students are aware of how easily the situation can change. According to Inside HigherEd, multiple universities that have resumed in-person classes have experienced campus outbreaks or returned to an online format.
"Cases in India are beginning to increase again, … and of course, with that comes the obvious fear that 'what if the US imposes another travel ban and again, we're not allowed to fly,'" Goradia said.
Yet, Dixit said she is still optimistic for a safe return to campus.
"I'm really hoping that all students are vaccinated and UCLA takes appropriate precautions," Dixit said. "Although that's an initial concern for me, I'm sure that UCLA will be able to handle it."