Brain and behavioral health minor offers bridge between science and wellness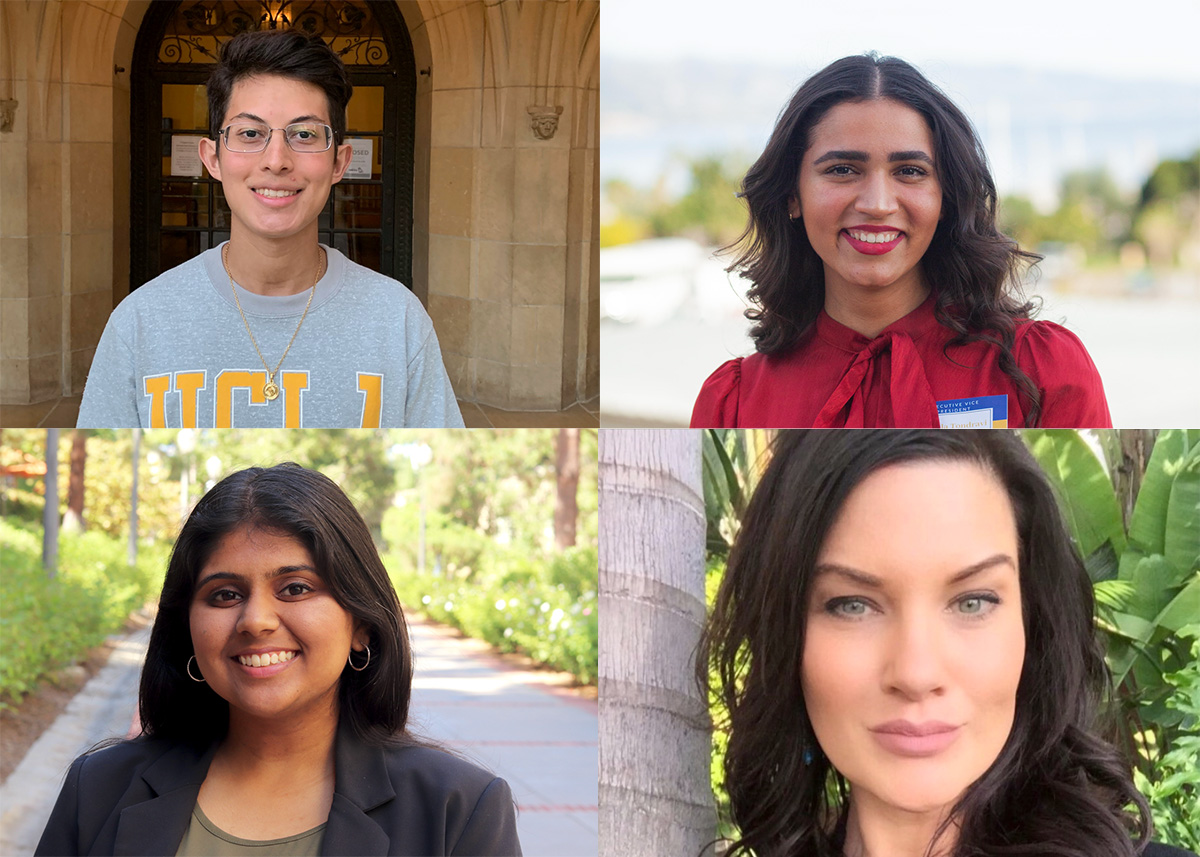 Nearly a year after they were accepted to the program, students in the brain and behavioral health minor reflect on the classes they have taken and what they hope to accomplish in the future. (Clockwise from top left: Courtesy of Johan Carrascoza, Layla Tondravi, Robin Castillo and Gurleen Kaur)
Robin Castillo's journey as a psychologist began after helping clients in the beauty industry for more than 25 years.
Her passion for helping people through their personal issues inspired her to apply for the brain and behavioral health minor at UCLA, she said.
"Everybody knows that people tell their hairdresser things that they don't tell anybody," said the fourth-year psychology student. "The running joke was that I should be paid."
In fall 2020, UCLA launched the brain and behavioral health minor, and Castillo was accepted as one of 16 undergraduates in the inaugural cohort of students.
Andrew Fuligni, the director of the brain and behavioral health minor program and a psychology and psychiatry professor, said the minor was created as part of an ongoing effort to improve the well-being of students, faculty and staff by providing more opportunities to learn about behavioral health.
He said he and the other founding faculty also wanted to expose students to the wide variety of research at the Semel Institute for Neuroscience and Human Behavior – which houses the minor – and allow them to apply what they learn in science classes to improving health in the future as professionals. Fuligni said he prioritized designing the minor's curriculum to cover not only psychiatry but also all aspects of behavioral science in a hands-on way.
Gurleen Kaur, a fourth-year neuroscience student, said she knew she wanted to apply to the minor after learning about it through her department's email newsletter.
As an aspiring physician, Kaur said she wanted to learn about mental disorders beyond what happens in the brain on a molecular level. The minor bridged her interests in the science of the brain with medicine and understanding how to better help individuals with unique needs, she added.
"I have loved ones in my life who struggle with anxiety and depression and it's more than just like, 'OK, we're just going to give you medication or you're just going to have to go to therapy now,'" Kaur said. "It affects every aspect of your life so I feel like this minor really is good at exploring that."
According to the program's website, students in the minor can take classes on topics including mindfulness, stress and the impacts of cannabis.
"The theme of the minor is all about active problem solving," Fuligni said. "We want them to learn … how to engage in problem solving, to do research, to work together as a team and to collaborate towards solving these very complicated problems about brain and behavioral health."
Kaur said her favorite class was Psychiatry 174: "Brain and Behavioral Health: Childhood and Adolescence" in which students worked in groups to tackle problems people face in real life, presenting their findings to their peers and experts. She recalled when a researcher from the UCLA Depression Grand Challenge came to their class to give feedback on their solutions for a case centered on depression.
"I've never had a class like that before where there's no textbook, there's no lesson or anything like that," Kaur said. "The students are sort of leading the class."
[Related link: Course focuses on students' wellness, explains well-being through neuroscience]
Johan Carrascoza, a fourth-year human biology and society student, said Psychiatry 174 – taught by Fuligni – was his favorite class in the minor because of the small class size and seminar-style structure.
Carrascoza said he applied to the minor because it was open to transfer students such as himself, and he was interested in learning more about opioids and the science of addiction. He hopes future classes in the minor will help inform his ongoing research, he added.
Fourth-year psychology student Layla Tondravi said she hopes to eventually earn a Ph.D. in clinical psychology after graduating with a minor in brain and behavioral health.
Like Carrascoza, Tondravi is also a transfer student and said she appreciated the inclusivity of the minor. The application was more flexible with prerequisite classes and allowed students to include their GPA from previous institutions, which was not the case for other minors Tondravi was interested in, she added.
As the brain and behavioral health minor continues to grow, increasing student diversity in the minor is one of the program's goals, Fuligni said.
Since the pandemic limited the types of opportunities students had, Fuligni said he is hoping for change as restrictions ease and students return to in-person learning.
Castillo, Kaur and Tondravi said they will soon be starting research projects with faculty at the Semel Institute, and Carrascoza is hoping to get involved in outreach with local high schools to raise awareness about drugs through science.
The first cohort of brain and behavioral health minor students are set to graduate in 2022, but applications for the next cohort will be opening in the fall.
For students interested in the minor, Tondravi said they should apply if they feel like it is the right fit and to not worry if students feel they don't have enough experience. Fuligni added that students should attend the minor's info session during the first week of fall quarter and explore opportunities around campus.
Castillo said that students should apply if they're interested in interdisciplinary work and helping people.
"I just think it's a fascinating minor and I love that it encompasses so many different disciplines," Castillo said. "It's all for the greater good of helping other people."
Li is the 2021-2022 science and health editor. She was previously a contributor for the science and health beat. She is also a third-year human biology and society student at UCLA who enjoys writing about research and public health.
Li is the 2021-2022 science and health editor. She was previously a contributor for the science and health beat. She is also a third-year human biology and society student at UCLA who enjoys writing about research and public health.