Weekend Preview: Sept. 16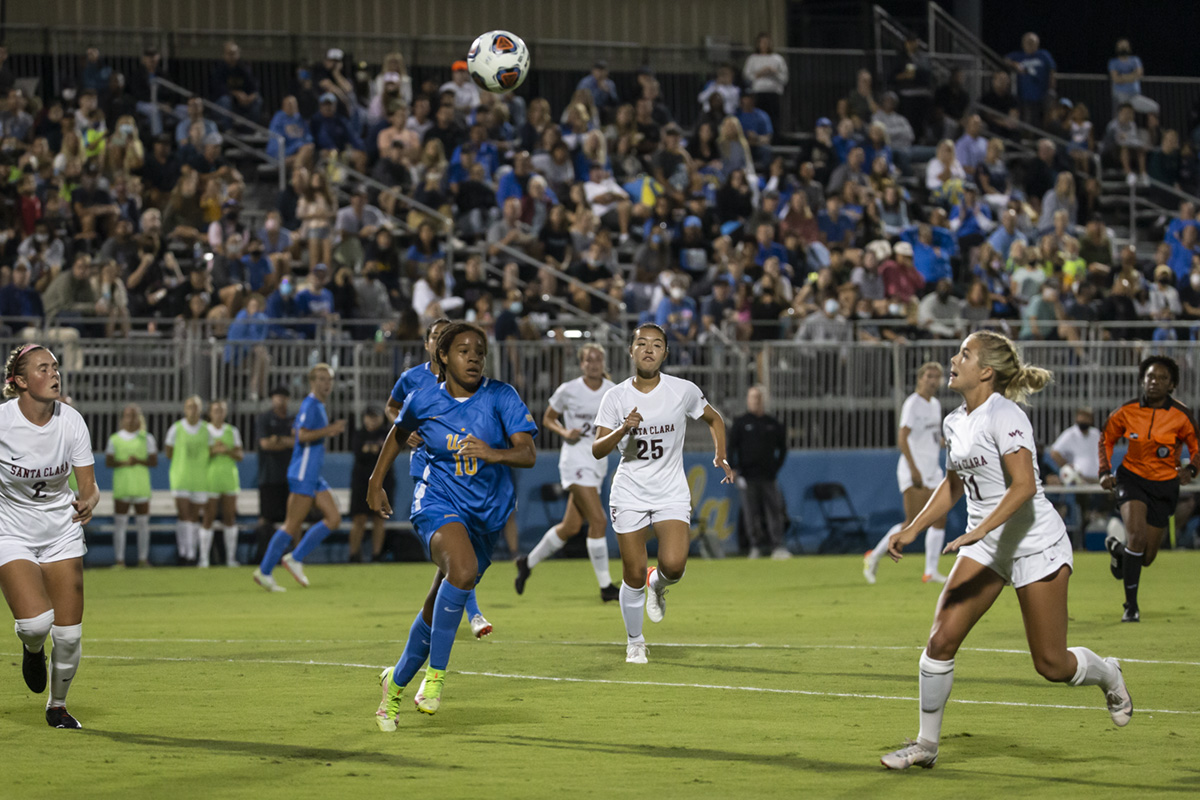 Junior forward Mia Fishel, a San Diego native, will return to her hometown as No. 3 UCLA women's soccer heads south to take on San Diego and San Diego State on Thursday and Sunday, respectively. (Jack Stenzel/Daily Bruin)
Women's soccer
Jay Fenn, Daily Bruin reporter
The Bruins will put their perfect record on the line when they head to San Diego.
No. 3 UCLA women's soccer (6-0) will travel south to take on San Diego (4-2) on Thursday and San Diego State (2-5) on Sunday. If the Bruins secure both victories, they will match their 8-0 start from the 2020-2021 season.
The Toreros are led by coach Louise Lieberman, who played for UCLA from 1995 to 1999 and was an assistant coach for the blue and gold from 2009 to 2016, winning a national title with the program.
Coach Amanda Cromwell said the Bruins are not underestimating either of the teams given the limited amount of rest before the games.
"It is going to be a tough game Thursday," Cromwell said. "We are bussing down on Thursday and that's tough. (Lieberman) has them super organized at San Diego, so we know it's going to be a hard game."
The two games will be UCLA's third and fourth games in just 11 days, a stretch that began with a matchup against then-No. 8 Santa Clara.
Junior forward Mia Fishel, a San Diego native, said it is going to be important for the Bruins to use their depth in order to keep everyone fresh.
"We are going to need to try to bring a lot of people off the bench and try to keep our legs fresh," Fishel said. "We also want to make sure to keep our momentum. It's going to be important against USD and SDSU to carry our momentum into those games."
The Bruins will face off against San Diego on Thursday and San Diego State on Sunday with both matches kicking off at 6 pm.
Men's water polo
Ricardo Garcia, Daily Bruin contributor
The Bruins will face their highest-ranked competition so far in the early season.
Following a 3-0 sweep of No. 13 UC Irvine, then-No. 8 UC San Diego and then-No. 19 Pomona-Pitzer last weekend, No. 1 UCLA men's water polo (7-0) will face a pair of top-six ranked opponents in No. 6 Long Beach State (8-0) and UC Santa Barbara (8-1) this weekend on the road.
The Bruins will face the Beach for the first time since the 2019 season, while they will match up with the Gauchos for the second time this season. It took a come-from-behind effort from UCLA to earn a 14-12 win over UCSB on Sept. 5.
Freshman center Eli Liechty said team discipline and not getting ahead of themselves will help the team in its approach throughout its games.
"Those kinds of things will allow us to not start the game off better but transition through the game better and have more success early on," Liechty said.
Liechty also said the Bruins' preparation has put them in a position of success during their unbeaten start.
Through the team's first seven games, Liechty scored nine goals and credited the team's veteran players and coaching for his quick start.
"They've had a lot of experience going through that journey through getting all the way to the national championship and winning it," Liechty said. "Last year was a hard year, and they fought through it, and they did what they had to do to get it done. That shows a lot of who they are and the character that they have."
The Bruins take on the Beach at Ken Lindgren Aquatics Center on Friday at 7 p.m. Opening sprint against the Gauchos is scheduled for Saturday at the UCSB Campus Pool at 6 p.m.
Men's soccer
Nick Darrow, Daily Bruin contributor
The Bruins will open their Pac-12 schedule with a game against the defending conference champions.
UCLA men's soccer (3-2) will host No. 23 Stanford (2-1-1) on Thursday at Wallis Annenberg Stadium in their first conference game of the season. The Bruins are coming off of a loss against Portland in the second game of a five-game homestand, but they had won their previous three contests.
Despite the recent loss, coach Ryan Jorden said the team is not losing its confidence.
"I don't think our team is going to lack confidence," Jorden said. "I think it will be us just making sure that we get back to work and looking at the areas we need to be a bit sharper."
The Bruins have posted a 3-2 record, matching the amount of wins they had in 12 games during the shortened 2020-2021 season.
Senior goalkeeper Justin Garces said matchups against the Cardinal require the best out of his team.
"Every time we play Stanford it's always a good game, it's always a tough game," Garces said. "So we need to make sure we have our minds and bodies right for Thursday."
Stanford is coming off a draw from Saturday against San Jose State and will also be playing their first Pac-12 game Thursday.
UCLA will host Stanford on Thursday at 7 p.m.
Women's volleyball
Juliana Chen, Daily Bruin contributor
The Bruins will head to the Midwest for their final nonconference tournament of the regular season.
Following its first loss of the season at the San Diego invitational, No. 19 UCLA women's volleyball (5-1) will face off against Butler (6-4) on Friday afternoon and Milwaukee (4-5) on Saturday morning at Hinkle Fieldhouse. This will be the first time since 2002 that the Bruins will compete against the Bulldogs and the first time in history that they will face off against the Panthers.
Graduate student outside hitter/opposite Mac May said although the team is unfamiliar with Butler's play style, she is confident in the coaching staff's scouting report.
"This week practice-wise we have been working on our systems to make sure they are very crisp for when we go to the Midwest to play those teams," May said. "Since we haven't played them in a while, it is a little bit of a challenge, but I am sure we will be in a good spot because our coaches are really good at creating a game plan and scouting teams."
Last week, UCLA lost to San Diego in five sets to end its undefeated record. Following the San Diego tournament, the Bruins had a full week of practice before heading back on the road.
May said practice took an unexpected turn this week, as the team needed to refocus its goals for the season.
"We actually used (Tuesday) as a day to come together and buy in again because we felt like we were veering off in the wrong direction," May said. "We took a good chunk of time to recall what it really means to be bought into a program."
May posted a career-high 30 kills against San Diego last weekend, but the Bruins had seven more attack errors than the Toreros. Moving forward, May said she is focused on aligning her personal goals with the team's goals.
"A huge one for me and across the team is to win the serve and pass battle within games, and so that means serving tough and controlling our offense with a good first serve-receive pass," May said.
The Bruins will take on the Bulldogs on Friday at 3 p.m. and the Panthers on Saturday at 10 a.m.