Football sees strong improvement in defense, in time for Fresno State matchup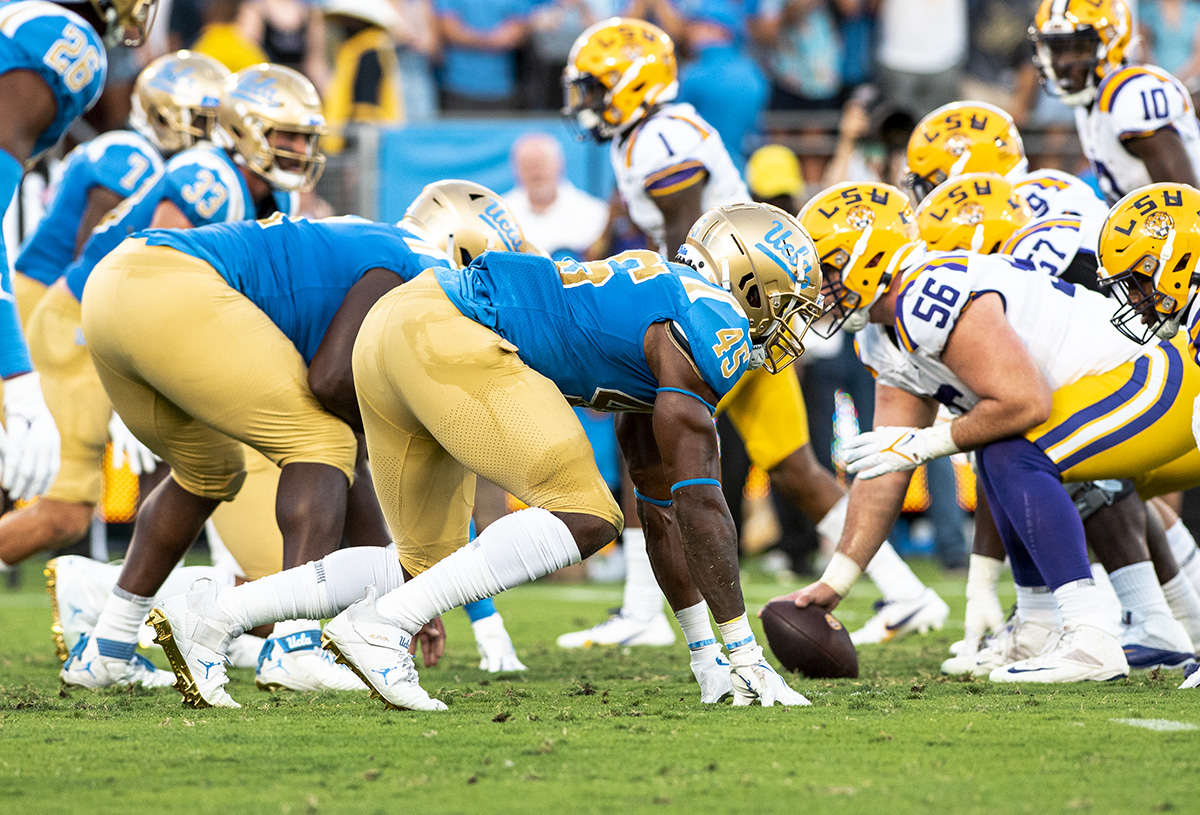 UCLA football senior linebacker Mitchell Agude has forced four fumbles in two games this season, making him the all-time leader in school history. (Antonio Martinez/Daily Bruin)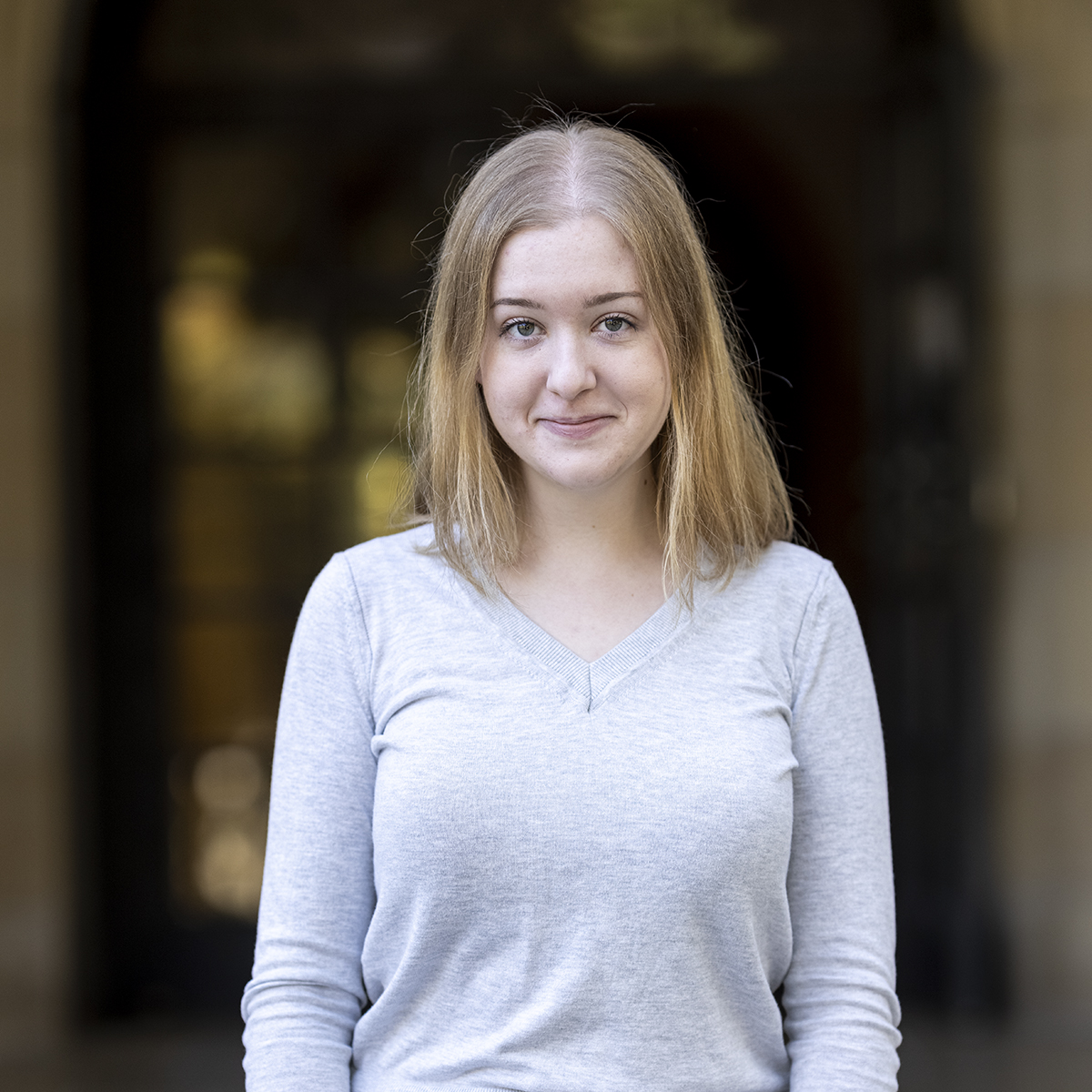 While the Bruins' offense has garnered national attention, the team has also seen improving numbers from the other side of the ball.
No. 13 UCLA football (2-0) opened its campaign by allowing 37 total points through two contests, including holding Hawai'i (1-2) to 10 points in its first game of the season – tied for the second-lowest total in coach Chip Kelly's tenure. The Bruins' defense currently holds the No. 4 spot in the country in rushing yards allowed per game, a jump of 26 places from last season, allowing only 75 total rushing yards to their opponents this season and 1.63 yards per carry.
Leading the team in tackles with 11, senior Mitchell Agude has started every game in UCLA's linebacking corps this season after starting five of seven games last year and leading the blue and gold in tackles for loss. Agude has also made his mark this year, forcing four fumbles in just two games, already making him UCLA's all-time leader in forced fumbles.
Redshirt senior linebacker Jordan Genmark Heath said Agude provides a strong presence for the team both on and off the field.
"Mitch is a force," Genmark Heath said. "Anytime you have a player like that, especially playing right behind him, it makes my job a lot easier. He's awesome, a good leader on our team as well. … He's going to help us win games."
Agude stands at 6-foot-4, 245 pounds, and Genmark Heath noted the senior's physical presence adds to his ability to be a leader for the defense.
"(You've) seen (Agude's) biceps – he's a force, he's a big, big guy," Genmark Heath said. "His presence is definitely felt. We need guys like that, (who) have the ability to end games when we need to."
From UCLA's secondary, senior defensive back Mo Osling III has recorded eight solo tackles this season while also notching two pass breakups against Hawai'i, matching a career-high.
Osling said the defense's strong start to the season is due to improved communication and preparation.
"(Our biggest improvement is) just being able to communicate better as a defense," Osling said. "Just knowing where we're supposed to be, the D-line and linebackers and strikers, the safeties and corners. Everybody knows everybody's position, so we're able to coach each other out there."
Haener at the helm
While the defense has progressed this season in a number of categories, UCLA will take a team that ranks 21st in the country in points per game and 15th in total offense in Fresno State.
Leading the Bulldogs' offense is quarterback Jake Haener, who has racked up 1,009 passing yards in three games this season – the most in the nation by more than 100 yards – and ranks eighth in the country in passing efficiency.
Osling said Haener's completion rate, which currently stands at 73.6%, stands out to him when scouting Fresno State's signal-caller.
"I'm looking forward to the challenge – he's probably the best quarterback we face this season," Osling said. "It's going to be a test to our (defensive backs) most importantly."
While the Bruins rank near the top of the nation in rushing yards per game, they currently sit at No. 115 in passing yards allowed, giving up 286.5 yards through the air per contest – though some of these yards have come with the outcome of the games already decided. The Bulldogs, as a team, have averaged 385 total yards per game, putting them at sixth in the country, including 336.3 passing yards per contest from Haener.
The senior has also notched eight passing touchdowns this season, including four against Cal Poly on Saturday.
"You can see in the film, (Haener is) explosive – he can extend plays," Genmark Heath said. "For the (linebackers), we're just going to have to play from depth and rally down on those tackles when he throws those short routes. I'm excited about the opportunity – hopefully, he'll throw me one."
Simons is currently an assistant Sports editor on the baseball, women's tennis, men's tennis, swim and dive and rowing beats. She was previously a reporter on the baseball and women's tennis beats.
Simons is currently an assistant Sports editor on the baseball, women's tennis, men's tennis, swim and dive and rowing beats. She was previously a reporter on the baseball and women's tennis beats.