Women's volleyball looks make adjustments after loss to San Diego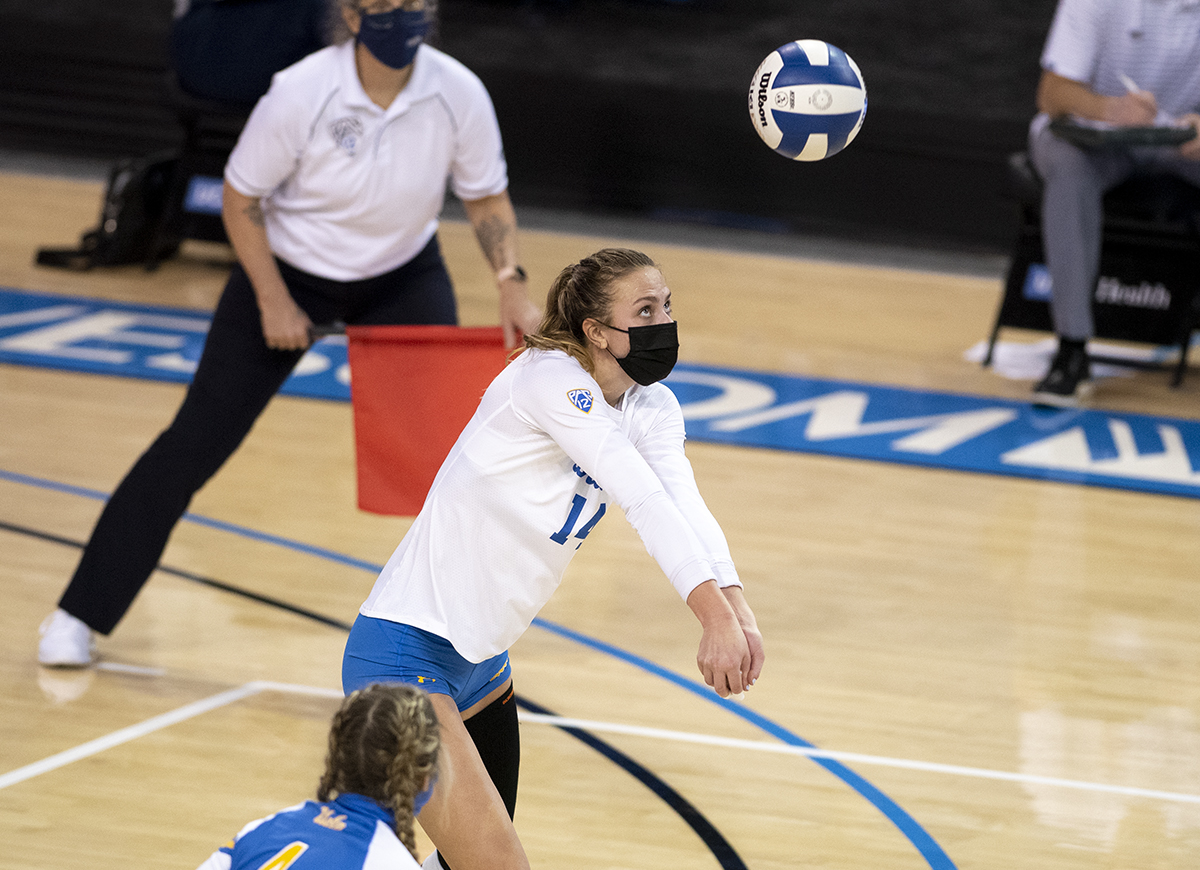 Graduate student outside hitter/opposite Mac May had a team-high four service errors and two receiving errors in No. 19 UCLA women's volleyball's loss to San Diego on Thursday, but cut such errors to one and zero, respectively, against San Diego State on Friday. (Alex Driscoll/Daily Bruin staff)
Sept. 14, 2021 12:46 p.m.
After their first loss, the Bruins are focusing on their first touches.
No. 19 UCLA women's volleyball (5-1) won four straight matches to open the season, but fell short to then-No. 25 San Diego in five sets at Jenny Craig Pavilion on Thursday.
While the Bruins held a higher hitting percentage and recorded 12 more kills than their opponent, the Toreros amassed more service aces and fewer receiving errors than the blue and gold.
Senior defensive specialist/libero Zoe Fleck said the game was a learning opportunity for the team in the run-up to conference play.
"Preseason matches are all about learning more about our team and where we're at," Fleck said. "Our team put in a really good fight (Thursday) and USD is a really good team. They came out and served tough, hit well, blocked well."
UCLA rebounded Friday with a 3-1 victory against San Diego State. Fleck, who cut her receiving errors in half from the previous night, said her team improved its preparation and overall receiving in the victory.
"They brought some things to the match that we hadn't seen before," Fleck said. "So we made sure that we dug deep into the film and we were really well prepared for (Friday's) match, and we came in with everyone on the bench ready to go."
Compared to their loss to the Toreros, the Bruins finished with 11 fewer points lost to serves against the Aztecs and fewer receiving errors per set. The victory also marked UCLA's 13th straight win against San Diego State.
Graduate student outside hitter/opposite Mac May said the team's small improvements were the biggest contributors to their success.
"We made sure that our first full touch was really clean and then worked from there and just bettered the balls as we went," May said. "We just did a good job terminating and putting pressure on the other team so that was definitely a big adjustment from (Thursday)."
UCLA had a hitting percentage of .346 to go with 39 kills and finished with two more service aces than San Diego State.
Coach Michael Sealy said he attributed the team's triumph against the Aztecs to its improved defense.
"USD was a little bit more polished," Sealy said. "They served really tough and put more pressure on us, so it took us a while to kind of meet that challenge. We were a little bit cleaner (Friday) against San Diego State and a little bit more in charge of that match."
After the tournament, Sealy said the team will use the upcoming full week of practice to make necessary improvements.
"We'll watch videos over the next few days," Sealy said. "In general, we need our quality of touch to be better at all times."
Chen is currently a Sports contributor on the women's volleyball beat. She was previously a contributor on the women's basketball beat.
Chen is currently a Sports contributor on the women's volleyball beat. She was previously a contributor on the women's basketball beat.