UCLA women's volleyball opens season with lineup experimentation, builds team bond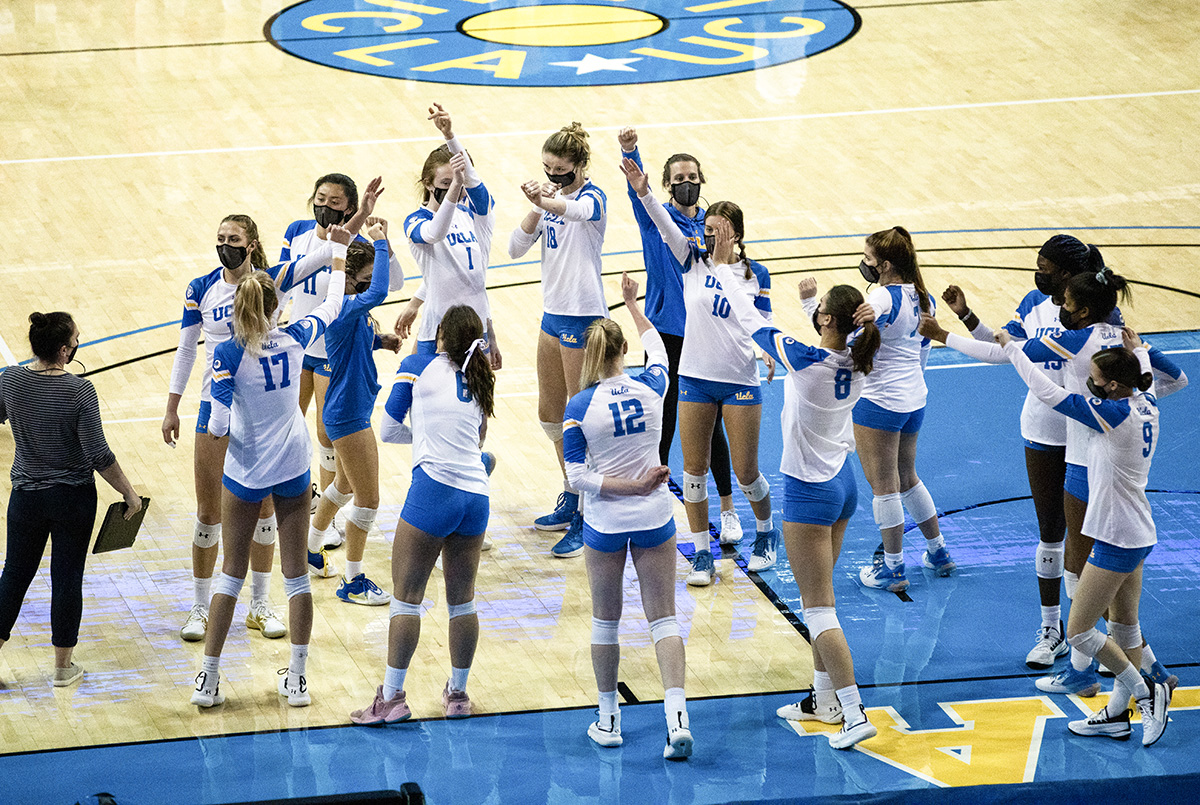 No. 16 UCLA women's volleyball has been in the midst of lineup experimentation to open the season. Seeing play from graduate students, players now fully recovered from injury and freshmen, the Bruins have compiled an undefeated record. (Lillie Yazdi/Daily Bruin)
The Bruins have yet to solidify their everyday lineup four matches into the new season.
With injured players making a return, graduate transfers entering the lineup for the first time and freshmen adjusting to college-level competition, No. 16 UCLA women's volleyball (4-0) has relied on different lineups to help launch the Bruins to their undefeated start to the season.
Coach Michael Sealy said he used the Long Beach State Tournament, which concluded Saturday, to experiment with different lineups and allow multiple players to brush off the rust and settle into a rhythm.
"I'm glad that in the (Portland) State (game) we tried a lot of different people, got some looks and opportunities to play," Sealy said. "It was a great opportunity for everybody to get on the floor and play a little bit."
Redshirt sophomore middle blocker Anna Dodson, who had a team-high six blocks against Portland State and seven kills against Georgia Tech in the tournament, had previously torn her ACL twice, forcing her to sit out her final high school season and first year with UCLA.
However, Dodson said she has taken her injuries in stride and credited the Bruin community for her transition back to the court this year.
"I learned there's more to being an athlete, especially outside, and how important a team dynamic is because I wouldn't have made it through without the team or without the coaches," Dodson said. "That kind of community is what really brings everyone together."
Sealy said he is impressed by Dodson's ability to contribute to UCLA's success so far despite her absence in previous seasons.
"Anna Dodson is someone who, because of injuries coming in, she hasn't played a real match as a starter, like high level, in three years," Sealy said. "So I thought she was really good as far as starting out with some expected nerves and then finding her voice and being a really good energy spark plug."
This season, the Bruins have employed a 5-1 offense as opposed to their 6-2 lineup from previous seasons. At the helm of this formation is UCLA's starting setter, graduate transfer Shelby Martin. In the 2020 to 2021 season with Kansas State, Martin started in 15 games and earned All-Big 12 Conference Second Team honors.
Dodson said Martin's experience has allowed her to adjust well to the Bruins' offense and play a key role in the team's success.
"It's really great that Shelby came and transferred in," Dodson said. "She's been so focused on intentionality and being mindful about every single touch."
Freshman outside hitter/opposite Charitie Luper had a team-high 17 kills and a hitting percentage of .295 in UCLA's victory against Georgia Tech and was named Pac-12 Freshman of the Week for her performance against the Yellow Jackets.
Standing at 5-foot-9, Luper said she had no nerves playing alongside 6-foot-3 graduate student outside hitter/opposite Mac May and 5-foot-10 Martin in her second career match with the Bruins.
"It was pure excitement, there wasn't one nerve in my body, to be honest, and my teammates, they helped a lot with that," Luper said. "They helped me through a lot since I'm really new, and they just make things a whole lot easier for me."
According to outside hitter/opposite senior élan McCall, UCLA's team chemistry has remained strong amid changes.
"Sometimes I think it's always tough when we get new incoming people, we have to kind of create a bond," McCall said. "But I think with this group of women we've found that bond pretty easily."
Chen is currently a Sports contributor on the women's volleyball beat. She was previously a contributor on the women's basketball beat.
Chen is currently a Sports contributor on the women's volleyball beat. She was previously a contributor on the women's basketball beat.