Women's soccer remains steady despite losing their backline, adding new defense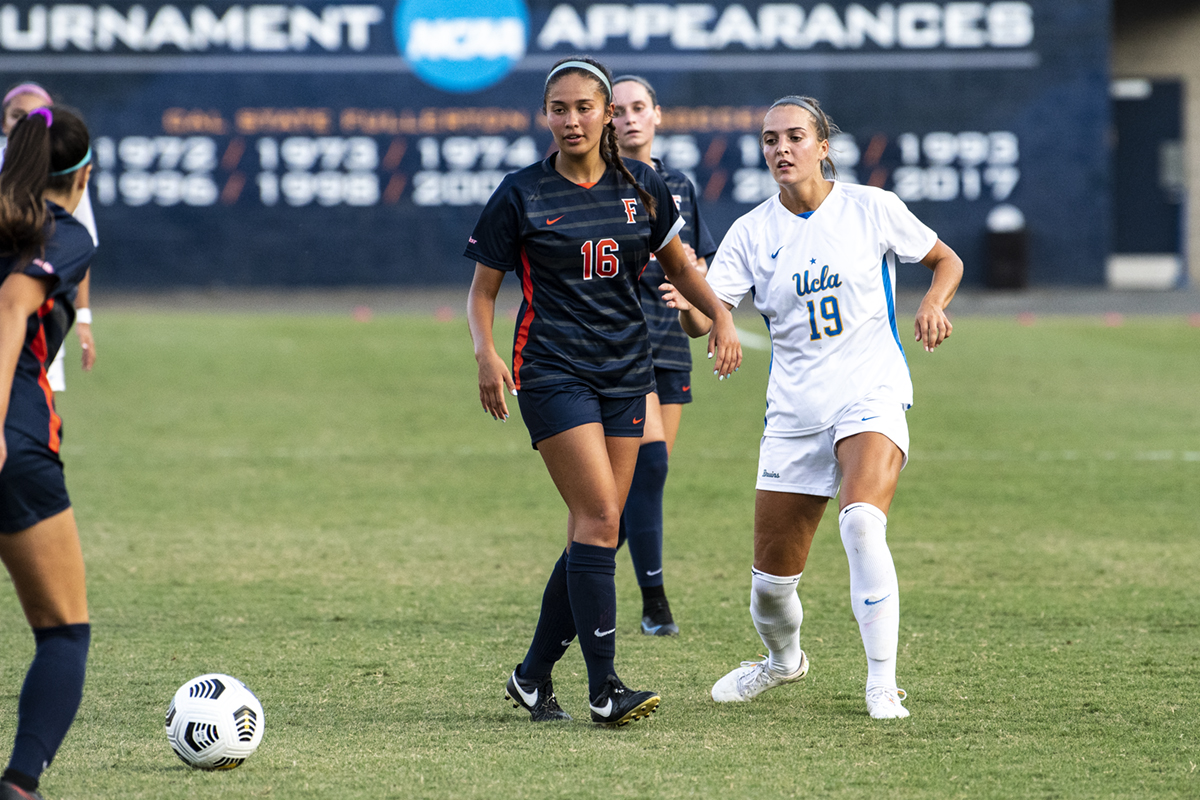 Freshman defender Quincy McMahon started in the midfield for UCLA women's soccer Sunday against Long Beach State. McMahon is one of two freshmen to register a start for the Bruins in three games this season. (Lauren Man/Daily Bruin senior staff)
Despite losing most of their backline from a year ago, the Bruins' defense has remained at last year's level.
To open the season, No. 4 UCLA women's soccer (3-0) attracted record-breaking crowds and scored seven goals in three games en route to its third consecutive 3-0 start. Entering this season, the Bruins returned their top four goal scorers from a year ago but lost much of their production along the backline.
UCLA was faced with replacing three starters on the defensive end from last year, with only one starter – junior defender Brianne Riley – returning to Westwood for the 2021 fall season.
But through their first three games, the Bruins have only given up one goal – an 89th-minute score conceded to UC Irvine.
Part of that is because Riley, redshirt junior defender Madelyn Desiano, junior defender Kylie Kerr and freshman defender Lilly Reale have only allowed six shots on goal all season.
"They have done so well so far – it's just so exciting to watch," said senior goalkeeper Lauren Brzykcy. "We are doing a new formation this year, we switched from 4-3-3 last year to 4-4-2 this year. It's been so cool to see how our team has switched into these formations like it's nothing. It looks like we have been doing this formation for years."
Brzykcy – the reigning Pac-12 Goalkeeper of the Year – is entering her fifth year at UCLA and is tasked with leading this new defensive line. While Brzykcy has only had to make three saves in 225 minutes this year, she praised how comfortable her two new center backs have looked in their first three starts.
"It looks like Kylie has been a three-year starter – she has done a great job reading the game and being confident with her passes," Brzykcy said. "Lilly too, she looks like she has been here forever as well. They will just become more in sync as games go on because it's so new right now."
Freshmen Stepping Up
Reale ranks in the top three on the team in minutes, something no freshman has done for the Bruins since 2017 when Karina Rodriguez – who Reale replaced on the backline – finished in third.
Freshman defender Quincy McMahon said it has been easy for all the freshmen to get accustomed quickly to their new team because of the culture at UCLA. McMahon made her first collegiate start Sunday against Long Beach State.
"It's easy to play for a group that is always behind you and coaches who always believe in you," McMahon said.
The Bruins have had two freshmen make starts this year in McMahon and Reale and have also integrated freshman defender Jayden Perry into the lineup, who played 44 minutes against Long Beach State and registered a shot on goal less than four minutes after being subbed into the game.
Coach Amanda Cromwell said she is proud of how all of her players have been able to show versatility, citing Perry's ability to switch away from her natural center-back position to the outside.
"(Perry) brings a lot to the table as a player," Cromwell said. "She's usually a center back, so it's the first time that she has played out. All of our players are really able to play multiple positions and be very versatile."
Brzykcy reiterated how important it is to have a welcoming culture for the freshmen to feel comfortable. The All-American said this year's freshmen have already stepped up in big ways through the first few games, and she expects them to play a significant role in the Bruins' chase for a second national championship.
"Our culture is amazing, I feel like they came in and didn't even feel new here," Brzykcy said. "Their impact has been huge. We lost all these amazing players from last year, and they are filling their shoes like it's nothing."
Fenn is currently a Sports reporter on the women's soccer beat. He was previously a contributor on the beach volleyball and men's and women's golf beats.
Fenn is currently a Sports reporter on the women's soccer beat. He was previously a contributor on the beach volleyball and men's and women's golf beats.