Women's soccer secures narrow victory over Long Beach State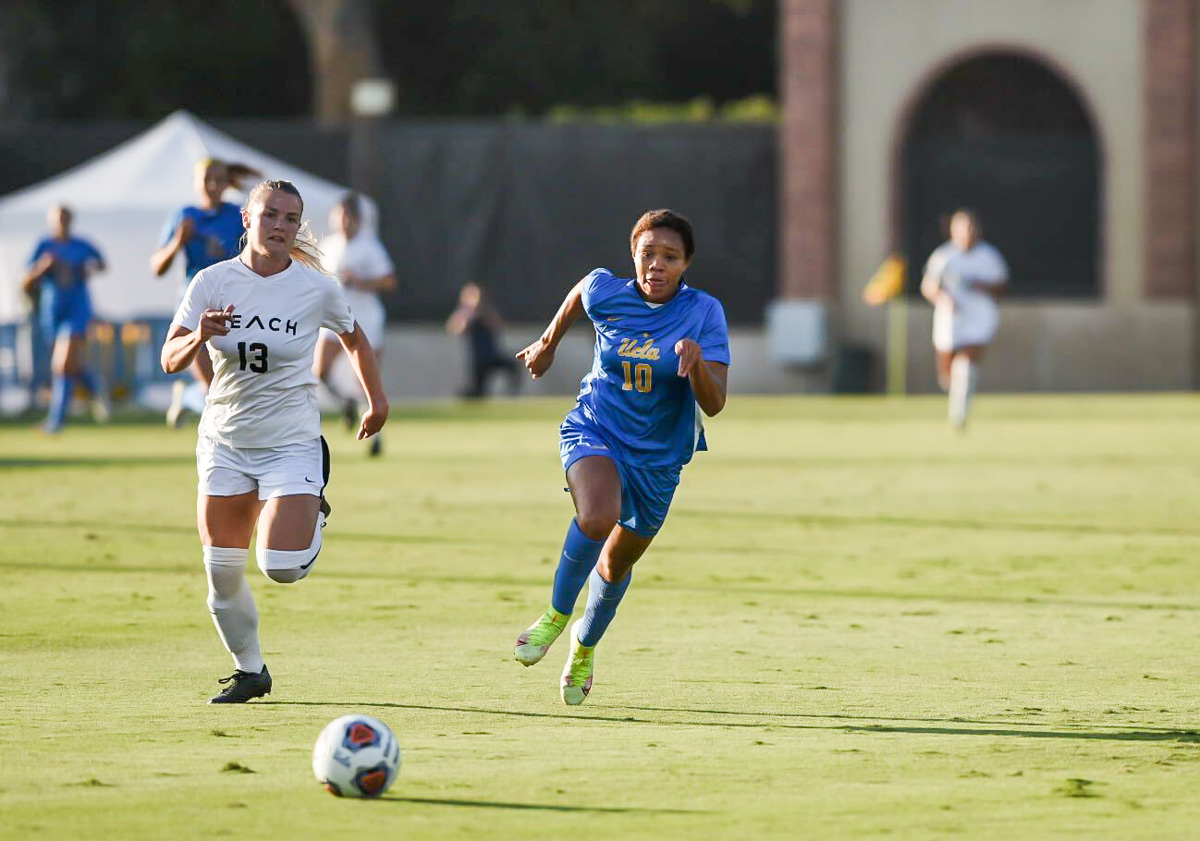 Junior forward Mia Fishel scored her third goal in three games for UCLA women's soccer as the Bruins only needed one goal to beat Long Beach State on Sunday night. (Jack Stenzel/Daily Bruin)
Women's Soccer
---
| | |
| --- | --- |
| Long Beach State | 0 |
| No. 4 UCLA | 1 |
This post was updated Aug. 30 at 1:17 a.m.
Unlike their first two games, the Bruins didn't find a goal in the first half.
In fact, it took them until the 78th minute to get on the board.
Still, their defense secured the shutout for the second consecutive game and No. 4 UCLA women's soccer (3-0) prevailed over Long Beach State (2-1) 1-0 at Wallis Annenberg Stadium on Sunday night. With the win, the blue and gold improved to 3-0 for the third-straight season.
The Beach held the Bruins scoreless in the first 77 minutes, until junior forward Mia Fishel tallied her third goal of the season to break the deadlock by heading in a cross from sophomore midfielder Michaela Rosenbaum.
We have lift-off! ✈️ @@miafishel10 heads it in for her third goal in as many games.

📺: @Pac12Network
📲: https://t.co/sgt5lI6p1c#GoBruins pic.twitter.com/l2s969C3yi

— UCLA Women's Soccer (@UCLAWSoccer) August 30, 2021
Fishel's score – the lone goal for UCLA in the game – kicked off a series of offensive opportunities for the Bruins late in regulation, including a scoring opportunity for sophomore forward Reilyn Turner 34 seconds later. The blue and gold was unable to register another goal, but Fishel's header proved to be the difference.
"We had to keep grinding and never stop," Fishel said. "I was happy I was able to step up for my team there in the end. I really want to be a captain and a leader this year for the team, so it just meant that much more to me."
Fresh off a victory over No. 8 Pepperdine, Long Beach State was able to contain a UCLA offense that scored six goals in its first two games. Neither team recorded a shot on goal until the 34th minute when freshman defender Jayden Perry – who subbed on in the 30th minute – fired a shot that was saved by Beach goalkeeper Morgan Houston-Shepherd.
Perry was the third freshman to see action in the first half for the Bruins, with freshman defender Quincy McMahon making her first collegiate start after scoring against Cal State Fullerton the previous week.
"There were definitely some first game jitters and the speed of play is so much faster," McMahon said. "This group of girls has been so good at getting (all the freshmen) involved and just inviting us in and teaching us a lot, so getting to start with them is great."
Despite failing to find the back of the net, the Bruins were able to put together seven shots and four corner kicks but were unable to take advantage of any of their first-half opportunities. The Beach only garnered one shot in the opening period and didn't put any balls on frame.
"(Long Beach State) defends very well," said coach Amanda Cromwell. "In the first half, we just needed to be a little quicker in our decision making and try to take less touches."
Senior goalkeeper Lauren Brzykcy was not tested until the 66th minute when the Beach made a run into the Bruins' box, but the All-American goalkeeper was up to the challenge. Brzykcy didn't have to make a save all night as her squad's backline held Long Beach State to just two shots and zero shots on goal.
Freshman defender Lilly Reale and junior defender Kylie Kerr played all 90 minutes at center back for the second consecutive game.
"Kylie and Lilly did a great job in stopping the counter attacks all game long," Cromwell said. "We attack out of the back with our outside backs, so we always need to be mindful about those counter attacks."
UCLA registered a second shot on goal just over a minute into the second half before adding another opportunity later in the second half when redshirt sophomore forward Sunshine Fontes created a free kick opportunity and ultimately unloaded on goal, forcing a rebound that was swallowed up by Houston-Shepherd.
With the offensive pressure intensifying, it was Fishel – last week's UCLA student-athlete of the week – who found the back of the net less than a minute later to extend her scoring streak to three games.
"Mia turned it on to another level," Cromwell said.
UCLA will have a week off before making the short trip south to take on Loyola Marymount next Sunday.
Fenn is currently a Sports reporter on the women's soccer beat. He was previously a contributor on the beach volleyball and men's and women's golf beats.
Fenn is currently a Sports reporter on the women's soccer beat. He was previously a contributor on the beach volleyball and men's and women's golf beats.