Men's soccer fails to secure victory in season opener against Lipscomb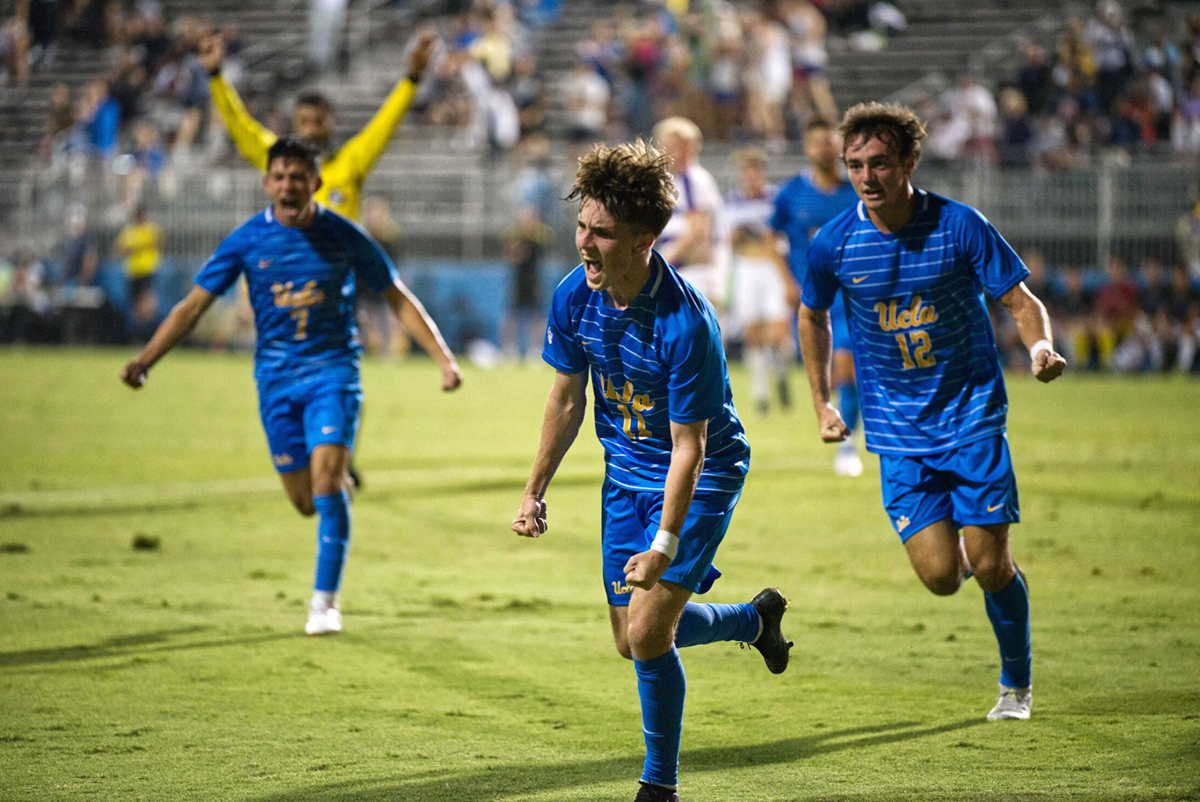 Redshirt freshman midfielder Tucker Lepley scored in the 33rd minute of his debut game as a Bruin, in which UCLA men's soccer lost 2-1 to Lipscomb in its regular season opener. (Jason Zhu/Daily Bruin staff)
Despite two preseason wins, the Bruins lost their season opener for the first time in almost a decade.
UCLA men's soccer (0-1), which shut out both of its preseason opponents, lost to Lipscomb (1-0) Thursday night by a final score of 2-1.
The Bisons set an aggressive tone early on, receiving multiple fouls within the first few minutes of play. However, this aggression also gave them the opportunity for two shots on goal.
During the fourth minute, Lipscomb forward Burl Shepard appeared to have had his shot blocked by senior goalkeeper Justin Garces, but it was determined that the ball had crossed the goal line before going out of bounds, giving the Bisons a one-goal advantage.
"The goal came early, and I don't think it was even a goal, to be honest, but the refs decided it was," said graduate midfielder Yoni Sorokin. "But we came to play 90 minutes and to deal with whatever happens in the game. We just tried to play our game and come back to win, but unfortunately, we couldn't."
UCLA took a bit longer to warm up to the pace of the game, with the Bruins failing to record a shot on goal until the 31st minute of the game. Two minutes later, redshirt freshman midfielder Tucker Lepley found the back of the net to score his first career goal.
Lepley was not the only player to have his Westwood debut. UCLA has 10 new players on its roster this year, four of which were part of the 11-player starting lineup. The four new players overall averaged 80.5 minutes with freshman defender Pietro Grassi staying in for the entirety of the game.
"We are a new group, and there are a little bit of misunderstandings sometimes," Sorokin said. "It's part of the process, and we have a great team, great talented players. I think the future for us is bright this season."
The newer players continued to display their skills during the second half of the match. In the 72nd minute of play, it looked as if UCLA had taken the lead with a go-ahead goal by redshirt freshman forward Jose Contell. However, an offsides call against the Bruins negated their second goal, and the game returned to a tie score.
The official third goal of the match occurred in the 83rd minute when forward Hayes Wood recovered an initial blocked shot and gave Lipscomb a 2-1 lead. UCLA was unable to recover in the final seven minutes of the game, solidifying its season-opening loss.
"I don't necessarily think that it was anything that we did differently," Lepley said. "I just think in the flow of the game we had two mental lapses, and it cost us two goals. At this level, you give away good chances, and they punish you."
Coach Ryan Jorden said the Bruins are determined to not let this first loss defeat them and instead are going to use it as a learning opportunity going forward with the rest of the season.
"Our guys really understand that we're going to get everybody's best effort," Jorden said. "In the future, we've got to be ready to be a little bit sharper than maybe we were in a couple moments."
UCLA will be back at Wallis Annenberg Stadium on Sunday to host San Francisco at 3 p.m.
Grimes is currently a Sports reporter. She was previously a contributor on the beach volleyball, men's soccer and women's volleyball beats.
Grimes is currently a Sports reporter. She was previously a contributor on the beach volleyball, men's soccer and women's volleyball beats.