UCLA athletes consider ramifications of game-changing NIL legislation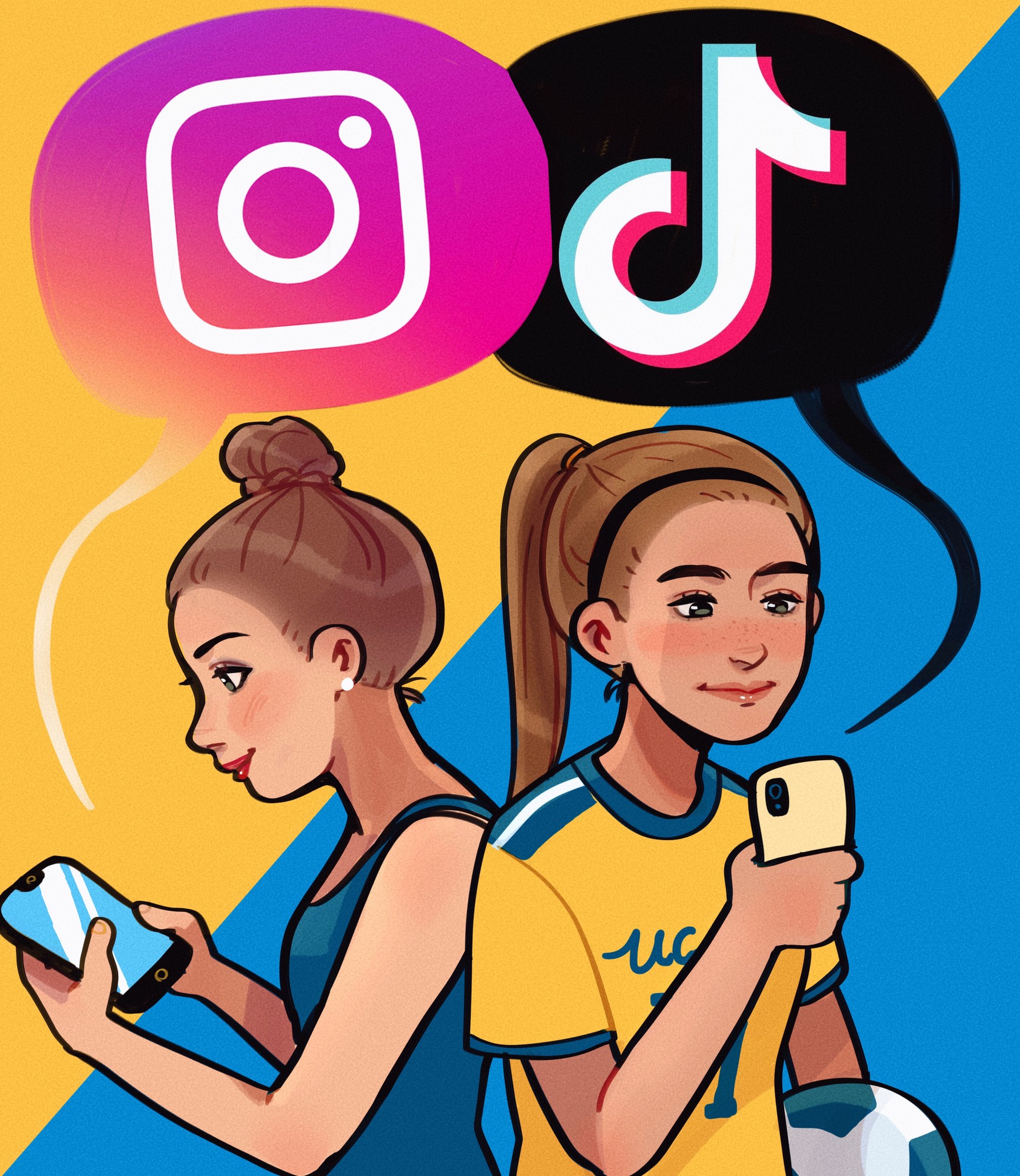 (Katelyn Dang/Illustrations director)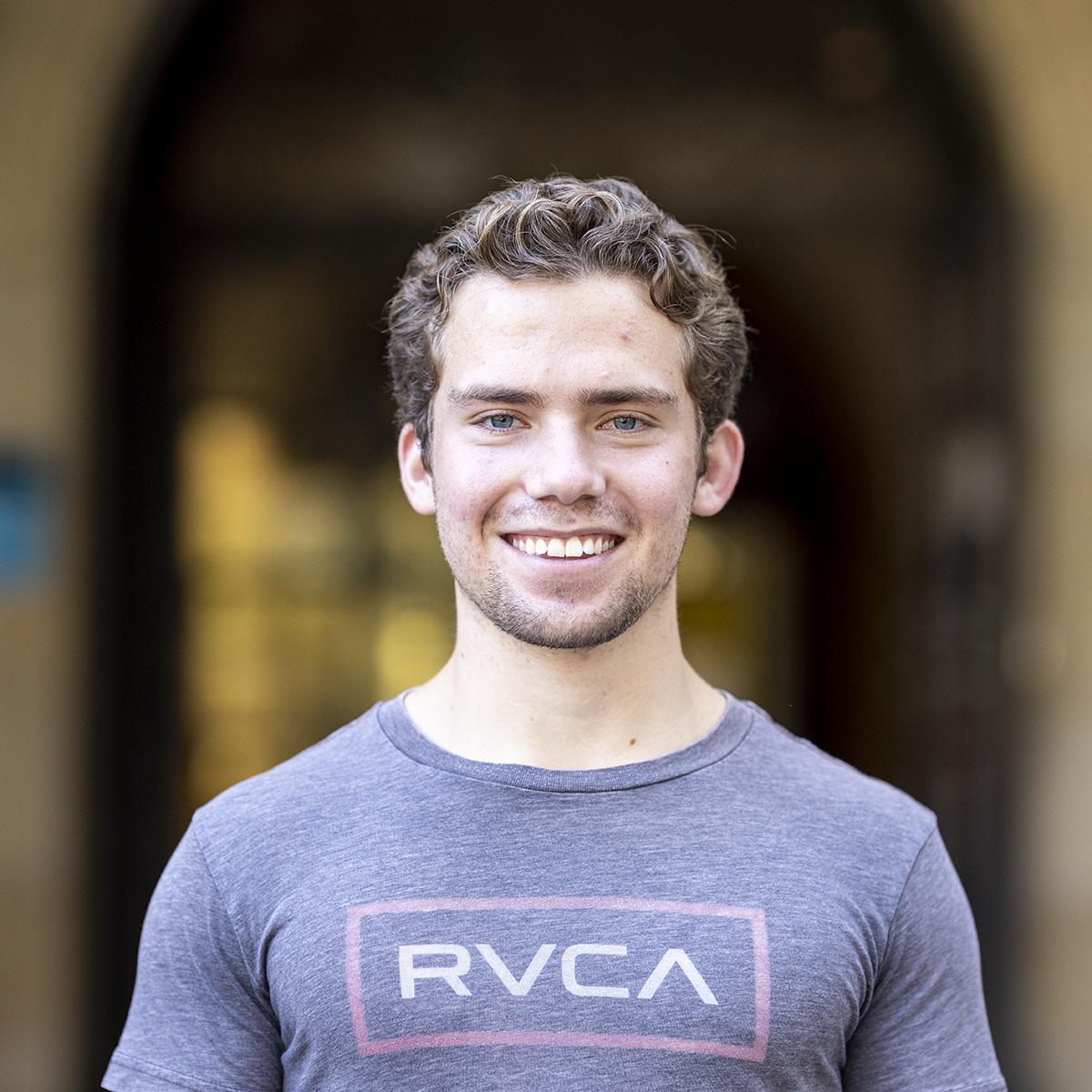 This post was updated Aug. 22 at 10:45 p.m.
Three words flipped the collegiate athletics world upside down in July – name, image and likeness.
For years, NCAA athletes had been campaigning for the right to make money from endorsements while retaining eligibility to compete.
But in January, the NCAA's Division I Council had tabled its vote on NIL indefinitely.
Six months of virtual silence on the NIL front passed before the Supreme Court made waves in June, ruling against NCAA restrictions on student-athlete benefits in a unanimous fashion and consequently setting a precedent against future NCAA constraints.
"I remember this changed, this changed, this changed – and then finally, July 1, everything just changed completely," said UCLA women's soccer sophomore forward Kaila Novak.
Nine days after the Supreme Court's historic decision, the NCAA Board of Directors approved an interim NIL policy that opened the floodgates. When the clock struck midnight July 1, student-athletes were allowed to profit from endorsements while retaining collegiate eligibility for the first time in NCAA history.
Novak, who has amassed over a million followers on social media, said the decision was a long time coming.
"It was such a quick transition for everyone, but I think the best thing possible for athletes," Novak said. "It's super cool that athletes are finally given the opportunity to make a brand for themselves."
A Pac-12 All-Freshman honoree last season, Novak did more than just impress on the field in her first year in Westwood, building a following of over 1.1 million on TikTok and more than 115,000 on Instagram to boot. The Canadian-born forward initially gained traction on TikTok with her energetic reviews of UCLA's No. 1-ranked dining hall food, staged in her dorm room.
Novak's sizable presence on TikTok and Instagram makes her among the most popular Bruin athletes on social media, alongside multiple members of UCLA gymnastics, including senior Norah Flatley. The three-time All-Pac-12 honoree boasts over 83,000 followers on Instagram.
Flatley never expected the NIL changes to happen during her Bruin career.
"We didn't think it was going to happen until my class, the class of 2022, graduated, so it kind of came up earlier than expected, but it's very exciting," Flatley said. "We're all still learning all the new rules we have to follow and everything we have to disclose to the school to make sure that we're eligible for everything, but at the same time seizing all the opportunities that come to us."
For Flatley and UCLA gymnastics, the latest NIL legislation could be a game-changer. The Bruins are the second-most-followed women's sports team in the nation with over 427,000 followers on Instagram, and the team could earn over $10,000 from each sponsored post on the platform, according to a study from AthleticDirectorU.
The study also projected that former Team USA Olympians Madison Kocian and Kyla Ross could have earned $466,000 and $323,000, respectively, from endorsements in their senior seasons with the Bruins in 2020 had the new NIL legislation been in effect.
"UCLA is obviously a hot spot," Flatley said. "We're the most-followed women's college team, so that says a lot about our following and what we can do."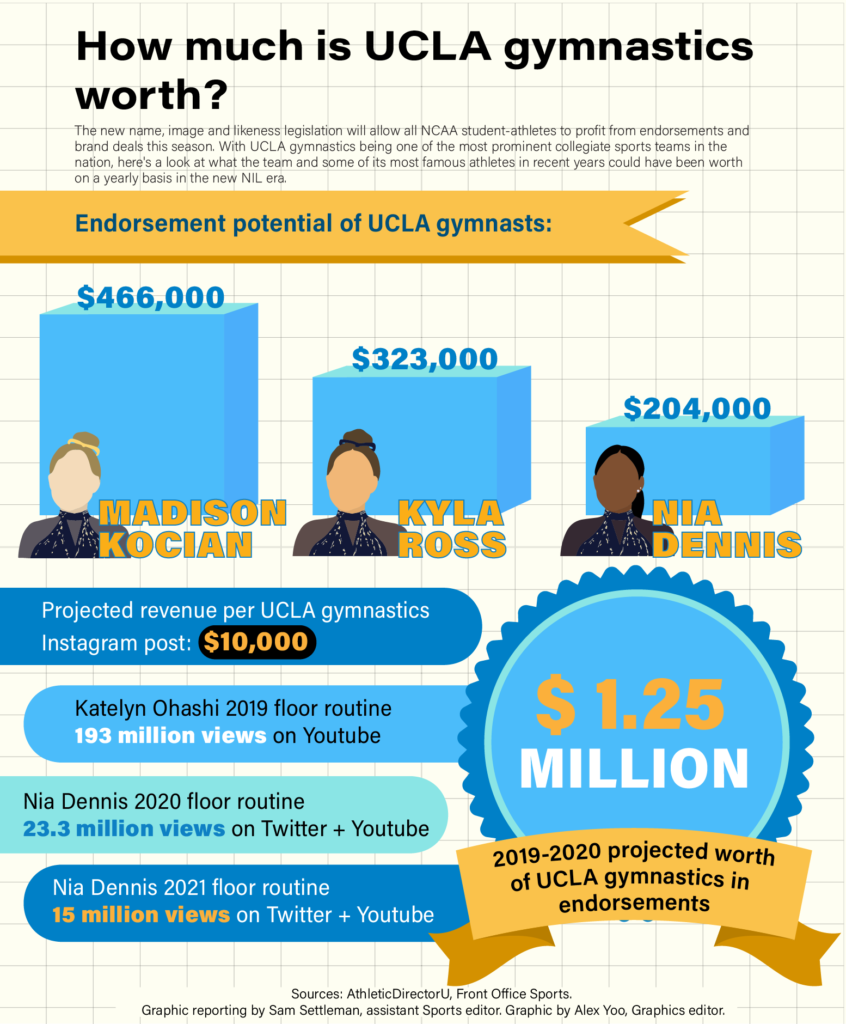 Flatley recently signed with Players Collxctive – a student-athlete representation organization co-founded by UCLA softball alumnus Lesley Feldman – in order to navigate the new NIL landscape.
Like Flatley, Novak wasted no time acquiring representation of her own. One week after the NCAA approved its interim NIL policy, Novak inked a deal with talent representation agency Team Colour Sound, where she will be represented by talent manager Dylan Saborio.
"He has just helped me through the ins and outs of everything regarding social media, and really put an emphasis on mental health, keeping a balance between soccer, school, life, relationships and social media," Novak said. "He has been absolutely amazing in terms of workload and getting my name out there and helping me recognize what I want to do with the platform that I have."
With up to 10 brand deals already under her belt in just over a month, Novak said potential partnerships pop up on a daily basis. She added that her dream would be to partner with UCLA's newest apparel sponsor, Nike, or Chipotle, who has already reached out to her about setting up a partnership.
Flatley – who struck a deal last month with HighKey, a company that produces healthy snacks – said she would never advertise a product she doesn't believe in.
"All the partnerships go beyond the transactional process that people may see on social media," Flatley said. "If I ever want to set something up, I'm making connections for my future. It's not only about the money right now. I definitely want to stick to brands that are completely authentic to myself and something I use in my day-to-day life that I want to encourage my fans and followers to use."
While the student-athletes and their representatives are largely responsible for making decisions regarding endorsements, UCLA Athletics has partnered with two companies – INFLCR and COMPASS – for compliance and personal brand development purposes.
UCLA football coach Chip Kelly said the Bruins have had meetings throughout the athletic department about how to capitalize on the NIL changes, while also understanding how decisions can affect your image.
Kelly expects the ramifications from the new NIL legislation on the collegiate athletics landscape will be minimal, with much of the action taking place behind the scenes.
"Some people were concerned it was an Armageddon, but I think they forgot the Olympics went to this model a while ago and it didn't seem to really affect what they do," Kelly said. "Apolo Ohno got a Subway commercial, some people had some Visa commercials, but I don't think it changed the landscape of any of those sports."
But while Kelly isn't convinced much will change, Flatley and Novak said NIL could cause a significant shift to one aspect of NCAA sports – recruiting.
Flatley acknowledged that separating gymnastics and business will be important, but said she wouldn't be surprised if recruits take into account NIL opportunities when making their college decisions.
"At the end of the day, we are adults that eventually need to start making money," Flatley said. "So I'm sure recruits are going to start thinking about that when they're planning their recruiting process."
With UCLA women's soccer being the most-followed collegiate soccer team in the nation on Instagram, Novak said she suspects NIL will certainly have a bearing on the Bruins' future recruiting efforts.
Novak added that her personal success can partially be attributed to the UCLA brand, after her reviews of the school's dining hall food went viral on TikTok.
"Just being at UCLA with such a big name behind it helps you immensely," Novak said. "With recruiting, there is going to be this thing in the back of your head of 'What can this school do for me in terms of exposure to brand deals, to endorsements? How can they build my name, my brand, et cetera?'"
It remains to be seen how far-reaching the effects of NIL will be, but the Bruins are sure to take center stage for years to come.
Settleman is currently an assistant Sports editor on the gymnastics, women's soccer, women's golf, women's water polo and men's water polo beats. He was previously a contributor on the gymnastics and women's water polo beats.
Settleman is currently an assistant Sports editor on the gymnastics, women's soccer, women's golf, women's water polo and men's water polo beats. He was previously a contributor on the gymnastics and women's water polo beats.