The Quad: Students prepare for difficult separation from dogs after extended time at home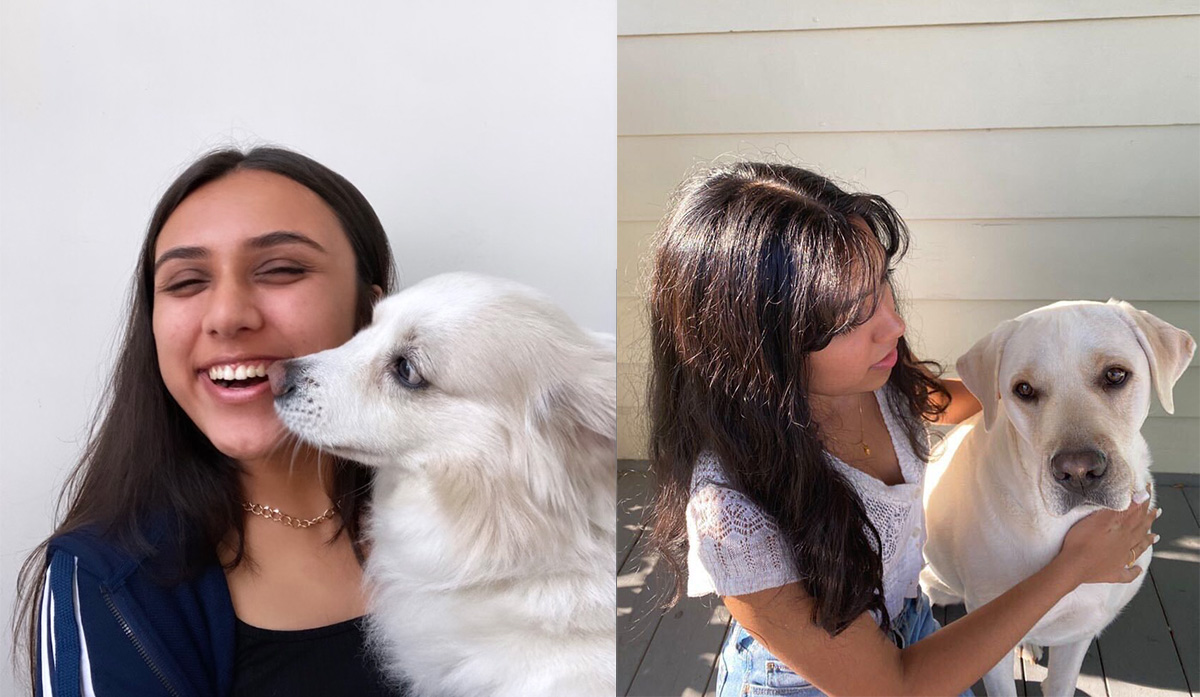 Heading off to college can be difficult for students – especially when it involves leaving behind their furry friends. (Left to right: Courtesy of Mansi Kaushik, courtesy of Geethika Janga)
This post was updated Aug. 22 at 6:51 p.m.
Coined as national dog month, August is a time to appreciate the special animals that bring comfort to so many. However, many Bruins must part with their pups for the first time this school year – a challenge for both students and their beloved canines.
The attachment that many students have with their dogs runs deeper than a simple camaraderie. According to National Geographic, the bond between humans and canines is thousands of years old. The friendliness and empathy exhibited by dogs over the centuries have turned them into a constant source of love and reassurance for humans – one that many Bruins anticipate will be difficult to leave.
Second-year psychobiology student Simer Shera hasn't had the opportunity to live on campus, so the coming fall quarter will be the longest time she's spent apart from her two English bulldogs.
"They don't judge me or anything, and they're the emotional support I need," Shera said. "They keep me anchored. … Right now, my alone is when I'm with my two dogs, but when I'm actually alone at UCLA, it'll actually be just me."
Second-year microbiology, immunology and molecular genetics student Geethika Janga said she has a Labrador named Bheem, whom she's never been away from for more than a week.
"He's really my best friend," Janga said. "If I'm studying for a lot of time or just busy, the times in a day where I get some peace and quiet are when I go out with him to play together and we bond. That's my designated time to relax like that, so I think it's going to be really tough without him."
On the flip side, dogs can have just as much difficulty dealing with the absence of a family member for long periods of time.
Second-year human biology and society student Mansi Kaushik said she left her home in India to live on campus for a quarter during the pandemic. She added that her dog, Mooni, didn't want her to leave.
"He came in and just sat in my suitcase, and he was smelling all my clothes," Kaushik said. "He dropped me off at the airport, and he was barking while I was going inside."
Kaushik added that Mooni was visibly upset at the change in the family dynamic due to her sudden absence.
"Whenever one family member is missing, … he goes and sits at the door … hoping they'll come back. The first maybe two weeks, he did that for me when I was gone," Kaushik said.
The solace that students and their dogs find in each other is difficult for many to part with, especially when they depend heavily on each other's presence throughout the day.
Janga said that Bheem finds comfort being next to her, often snuggling up in her bed to feel safe.
"When I'm gone, he'll definitely ask my parents to open my door. He'll wait outside my bedroom like he usually does," Janga said.
Shera said one of her dogs deals with separation in a similar way, often coming into her room for comfort even when she's not at home.
"When I leave, he'll probably still use this room as his room just because it's his safe space," Shera said.
Kaushik explained that the hardest part of living on campus without Mooni was missing the silent comfort his presence gives her.
"Whenever I take study breaks at home, I always go check in on him, pet him for a while, play with him, and I couldn't do that when I was at UCLA," Kaushik said. "And him being next to me makes me feel happier."
However, the hardest goodbyes can also make for the warmest welcome homes, especially when accompanied by a wagging tail and bouncing paws.
Kaushik said when she returned home from her quarter at UCLA, Mooni was ecstatic.
"He started licking my face. … After that, he wouldn't leave my side. Even if I just went to the bathroom, he would sit outside the door and make sure I wasn't leaving," Kaushik said.
Janga said she anticipates a similar excitement from Bheem, who gives her a warm welcome whenever she comes home after a quick outing.
"His tail moves so fast. I don't know how it's possible. His whole body starts to wiggle at that point," Janga said.
The pandemic has given many students extra time to nurture their bond with their loving dogs, making moving out a bit harder. But as the old saying goes, distance makes the heart grow fonder.
"To be in the presence of an animal that's so pure just makes you feel happy inside, and it makes you forget about all your worries for a while," Janga said. "You just know they're always going to be there for you."