Opinion: AB 1887 offers symbolic support to LGBTQ+ community without real change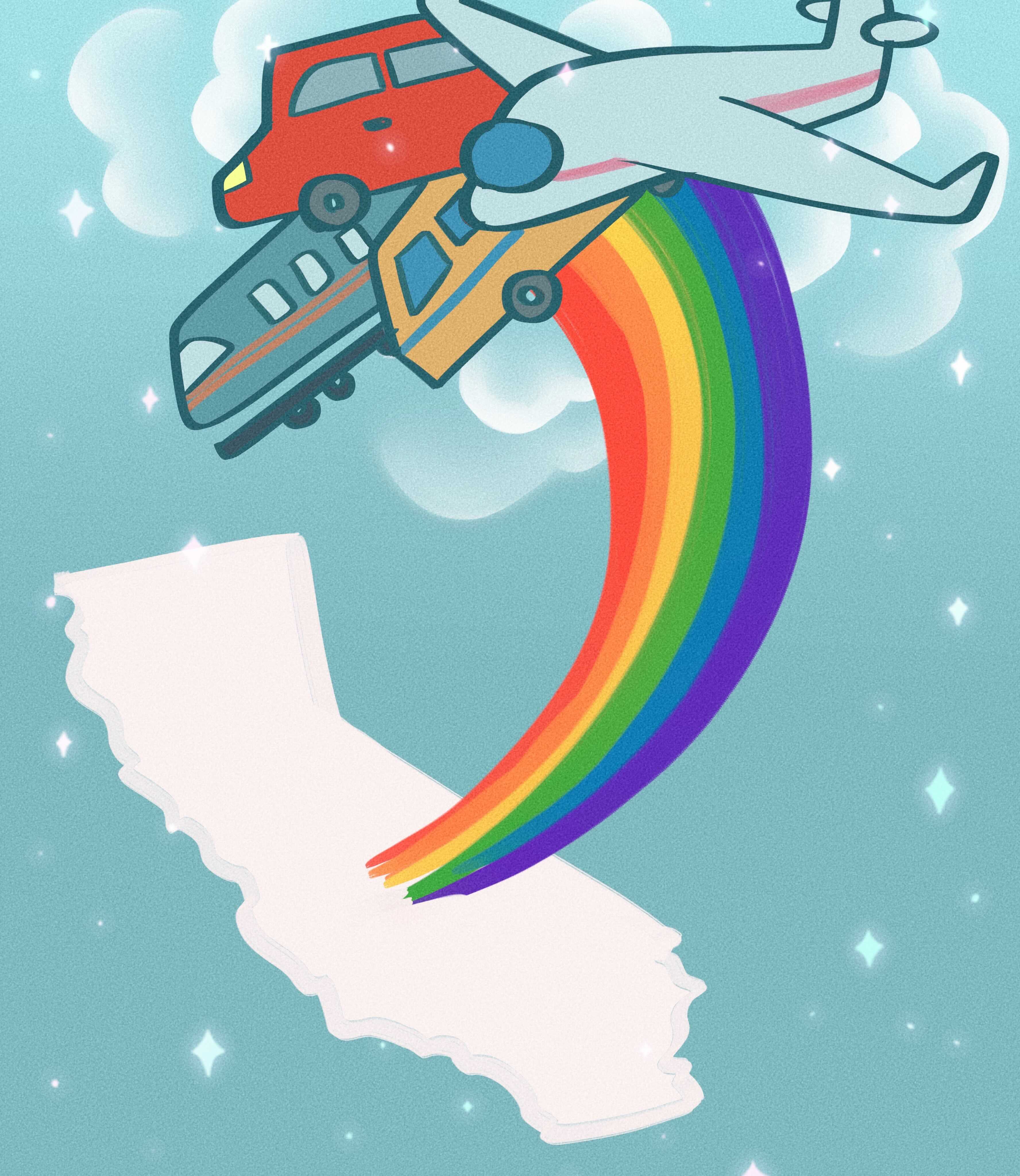 (Katelyn Dang/Illustrations director)
This post was updated Aug. 15 at 5:30 p.m.
A controversial Californian bill toes the line between legislative progress and performative activism for the state's LGBTQ+ community.
Assembly Bill 1887 is a 2016 legislation that prohibits the use of state funds for travel expenses to states with discriminatory legislation against the LGBTQ+ community. Only state institutions are affected, and it poses no restrictions on private entities.
The list of states under AB 1887 is fluid – states are added or removed based on their current laws.
The legislation hasn't gone unchallenged. In a dispute due to reach the Supreme Court soon, Texas has claimed that it breaches the privileges and immunities clause of the Constitution, which forbids states from discriminating against residents of other states.
However, despite the recent addition of Florida, West Virginia and three others to California's state travel ban, the listed states haven't repealed their discriminatory legislation.
AB 1887 is not enough, and it does not have the legal reach to change the tide. Any benefits that accrue from the bill are limited at best, as the legislation stops short of providing direct support to the LGBTQ+ community. Where the legislation's true promise lies is in the message it sends: anti-LGBTQ+ legislation is not tolerable.
California's willingness to draw attention to this issue is crucial, while more comprehensive federal protections are delayed and other states become bolder with their discriminatory policies.
"If other states were to pass this bill, it might not have as much of an impact because it's only talking about funding state employees going to other states," said Bryson Culver, the former co-head of OUTlaw, UCLA Law School's society for LGBTQ+ students. "But California's government is very large."
Culver, who is a law student, added that California has historically led the nation in establishing progressive policies, such as emissions standards in the 20th century and electrification of the petroleum grid in recent years.
But in addition to setting an example, this legislation generates economic pressure – if an organization wants California state employees to attend an event that requires state funds, they need to choose a host state without discriminatory legislation.
AB 1887 also affects college sports at the University of California since it receives state funding.
At UCLA, games against schools in banned states occur occasionally, but the university will often enter a contract that allows the teams to play at UCLA one year and at the other university the next year, said UCLA Athletics spokesperson Scott Markley in an emailed statement. If this cannot be done, the team will play at a neutral site, Markley added.
UCLA has not entered a competition contract in a banned state since AB 1887 took effect Jan. 1, 2017, but in the event that a team competes in a banned state, student-athletes and staff receive education about the law at issue in the destination state and are given the choice to opt out of the travel, Markley said in the emailed statement.
Recruiters also cannot scout in banned states using state funding. However, while neutral-site games may present more challenges, it doesn't keep the universities of states with LGBTQ+-discriminatory legislation from turning a profit – high-profile football games at neutral sites can draw up to $6 million per team.
Furthermore, a large portion of capital used by the athletics program, such as ticket sale revenue, is not considered state funding and thus can be used without AB 1887 compliance. This allows one of the supposed target areas of AB 1887 to comply with the bill whenever it suits them.
"(UCLA) is doing everything possible to not be affected by this," said a student worker within UCLA Athletics who wished to remain anonymous. "If they want to scout someone in Alabama, they will get their scout a hotel in a state nearby. … Then they can drive in Alabama, and then they can scout the athletes that they want to pick out."
UCLA Athletics believes it's fair to recruit student-athletes from all states, Markley said in the emailed statement. However, no state funds are used in recruiting trips, and recruiters fly into different states in an attempt to minimize spending in banned states, Markley added.
While UCLA Athletics appears to be maintaining the spirit of the legislation even when it isn't necessary, AB 1887 has only created a bureaucratic obstacle that minorly inconveniences the athletics program. In other words, the legislation doesn't have teeth.
"It's just something for them to tout," said the anonymous student worker. "(They) can do everything in (their) power to still jump through these hoops and have these events that they want to have still happen."
Despite the drive for revenue and a large amount of private capital available all but weakening what progress AB 1887 could have brought, it's important to consider the symbolic significance of such a bill as a stand against discrimination.
"California is one of the states that does have a lot of really robust protections for LGBT people," said Luis Vasquez, a scholar of law at the Williams Institute, UCLA's law think tank that researches sexual orientation, gender identity law and public policy. "And so I think … (California) would like to get other states to that place."
A lack of cohesive federal leadership on whether queer identities are constitutionally protected makes California's leadership role even more critical. Without federal oversight, states are free to pass overtly discriminatory legislation, such as Arkansas' Senate Bill 289 that allows health care providers to refuse treatment of a patient based on any religious, moral or philosophical objection.
Such measures are blank checks for bigotry with the potential to cost lives. We don't have the luxury of waiting for federal action, especially with a polarized Congress and a conservative-leaning Supreme Court.
Despite its imperfections, AB 1887's symbolic value holds a significant place in confronting discriminatory legislation, and its overall effects are still to be seen.
But AB 1887 should only be the beginning, not the end.