UCLA alumnus bridges barriers with cooking, takes passion to 'Top Chef Amateurs'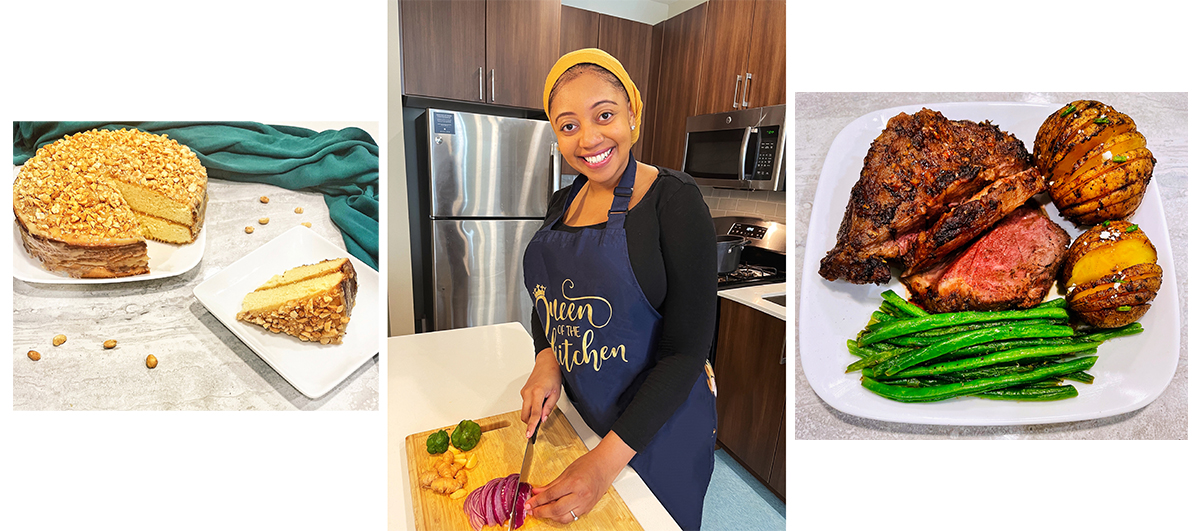 (From left: Sharila Stewart's Angolan inspired peanut sponge cake, Stewart in her home kitchen, and Stewart's lamb roast with haricot vert and potatoes.) UCLA alumni Sharila Stewart is a contestant on the first season of "Top Chef Amateurs" this year. Stewart said the diversity of dishes in UCLA dining halls helped develop her love for learning about other cultures and bringing people together through food. (Courtesy of Sharila Stewart)
This post was updated Aug. 8 at 10:01 p.m.
An 11 p.m. leap-of-faith decision took Sharila Stewart, a UCLA alumnus, to the first season of "Top Chef Amateurs."
Premiering July 1, "Top Chef Amateurs" is a spinoff of the American reality show "Top Chef" and features home cooks instead of professional chefs as contestants. Stewart's episode is scheduled to premiere Aug. 5 on Bravo.
Stewart, who graduated in 2017, has watched "Top Chef" with her mom since she was a little girl. Stewart said she applied to "Top Chef Amateurs" last year after she found a social media post announcing that Bravo had begun casting for the show.
"So I had snapped a few pictures along the way of some of my food, nothing super Instagram-worthy, but I went ahead and just clicked on the link, filled out the application, uploaded my photos and it kind of just took off from there," Stewart said. "So it was a real spur of the moment 11 p.m. decision to just give it a try."
Stewart, who is currently a law student at New York University, said she has always enjoyed cooking for family and friends. Stewart said she first started cooking at home when she was a teenager by learning basic recipes from her mom and exploring dishes she saw on TV, but said her interest in cooking grew after she experienced the dining halls and restaurants at UCLA.
"I really got into cooking after graduating from UCLA," Stewart said. "I think after experiencing food there, I want to learn how to cook like that for myself at home.
Stewart said her favorite part of being in "Top Chef Amateurs" was being on set, though she was initially terrified of stepping into the huge industrial kitchen that had been the place where contestants cooked in "Top Chef" for years.
Aiko Celeste, a UCLA alumnus and friend of Stewart, said she was excited when she heard that Stewart would be competing in "Top Chef Amateurs. Celeste said she would stop by Stewart's apartment when she was commuting to UCLA in 2017 and would often see Stewart experimenting in the kitchen.
"She opened up her space for me and I know that there were a lot of times where I felt like she was experimenting," Celeste said. "She didn't really talk about what she was doing. But she was definitely in the kitchen trying to cook her meals.
Mercedes Cornelius, a UCLA alumnus and Stewart's close friend, said Stewart practiced her cooking almost every day, was always coming up with different ways to prepare dishes and had a depth of knowledge about food.
Cornelius added that she could tell that Stewart loved being on "Top Chef Amateurs," despite the immense pressure of the show.
In addition to being an NYU law student, Stewart also started the blog "The Diasporic Dish" in November after finishing shooting for "Top Chef Amateurs." Her blog features cuisines, books and culture of the African diaspora.
Stewart is currently in West Africa, where she has stayed for over a month as she explores the regional cuisine and culture. She said one of her favorite dishes during her time there is a Ghanaian dish called kenkey, which is made from corn dough and usually served with fish or stew. She also enjoys jollof rice, which is a rice cooked in spicy tomato stew.
Stewart said her experience as a comparative literature student at UCLA allowed her to tap into her creative writing skills to write her blog. Stewart added that her experience with the global foods at the UCLA dining hall has also helped her write about the African diaspora and foods from different countries and explore how food shapes a country's culture.
Stewart has a gift for talking to other people from different cultures about their food, Cornelius said. Stewart would always research and reach out to someone from the culture so she could better understand the culture and have a deeper appreciation for the food, she added.
"So if you want to interact with somebody by language, you can do that," Cornelius said. "But if you want to interact with somebody by their food, she really knows how to do that."
Looking forward, Stewart said she wants to continue her home cooking, food photography and blog writing. She said her blog has gotten around 1,000 views per month.
"I want to continue to build (my blog), perfect it and see what happens from there," Stewart said. "And then, as well as that, I want to continue to become better at being a recipe writer myself, a tester and everything."
With Stewart's upcoming episode in "Top Chef Amateurs," several UCLA alumni and friends of Stewart expressed their support and excitement.
Celeste said people should not only support Stewart because she is a Bruin, but because she proves that people can explore multiple things and not give up pursuing their passion and career.
Cornelius said Stewart is like food – an entity that is able to bridge barriers and differences – which has allowed Stewart to overcome the differences in both their friendship and her interactions with others.
"She also uses … food in order to understand other people's culture and bring them closer to understanding her and understanding what she's cooking or understanding (others)," Cornelius said. "She's not afraid to try anything new."