Editorial: UCLA student-athletes can benefit from recent focus on athletes' mental health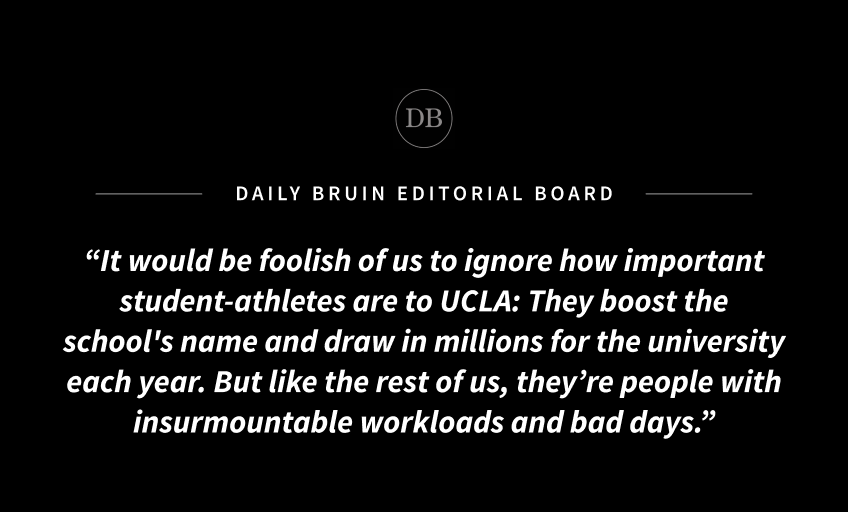 This post was updated Aug. 1 at 5:29 p.m.
Editor's note: Editorials are intended to serve as the jumping-off point, not the conclusion, to discussion. As part of the Daily Bruin's commitment to its readers, the board hopes to present a responsible and clear analysis of relevant events and news items affecting the lives of those we serve, but our editorials are not representative of the Daily Bruin's views on issues as a whole. We encourage all readers to reach out to our board members and to respond to our editorials.
Game days at UCLA are traditionally marked with cheering Bruins and crowded stadiums.
But the cost of athletic fame for student-athletes is hardly ever considered.
This week, gymnast Simone Biles withdrew from the team and individual all-around finals at the Tokyo Olympics to focus on her mental health. The enormous expectations placed on her coupled with the pressure to win gold understandably spurred an unbearable amount of stress. The two-time Olympian didn't want to risk injuring herself or costing the team a medal from a lack of focus.
Biles' decision sent shockwaves around the world and should serve as a jarring wake-up call for the Bruin community. If nothing else, it helps chip away at the idea that athletes are invincible.
Biles isn't the first athlete to remind us they're human. In late May, tennis player Naomi Osaka withdrew from the French Open to tend to her mental health – but not before being fined $15,000 for skipping a press conference that would've increased her anxiety.
Bruins are all too familiar with intense competition. UCLA men's basketball's nail-biting run in the 2021 NCAA tournament is one of many examples in which it felt like everyone – past, current and future Bruins – was on the edge of their seats. Yet in the midst of athletic glory, we must all reflect on the enormous pressure on college athletes.
It would be foolish of us to ignore how important student-athletes are to UCLA: They boost the school's name and draw in millions for the university each year. But like the rest of us, they're people with insurmountable workloads and bad days. UCLA must show its student-athletes it cares more about their wellness than their ability to win by making strides to support their mental health.
The university dedicates a fair amount of resources to educating and spreading awareness about mental health for student-athletes. In January 2020, UCLA hosted the Student-Athlete Mental Health Summit, which focused on mental health education programming for athletes. The university also sponsored meetings between teams returning to campus and mental health professionals during the COVID-19 pandemic.
Erasing the stigma around mental health is critical, but there is more UCLA can do to remind student-athletes that their health is its priority.
UC Berkeley, for example, provides evaluation appointments specifically for student-athletes so they can be redirected to the proper resources. Additionally, Washington State offers mental health screening visits for each of its student-athletes. Such measures are key to preventing the dangerous burnout we are seeing in so many talented athletes today.
The experiences of athletes such as Biles and Osaka could be similar to those many Bruins face. The university would do well to provide its student-athletes with the support they deserve.
Counseling and Psychological Services does offer short-term care to students, which may help student-athletes navigate a schedule jam-packed with training and classes. However, the pressure to perform under the public eye creates unique struggles that require the university to create programs that directly address student-athletes' needs.
The only way to protect UCLA athletes is to make sure they are healthy – both mentally and physically.
And the first step is to realize that Bruin athletes are more than the images we see on our screens.