UCLA gymnastics to display star-studded freshman class in 2022 season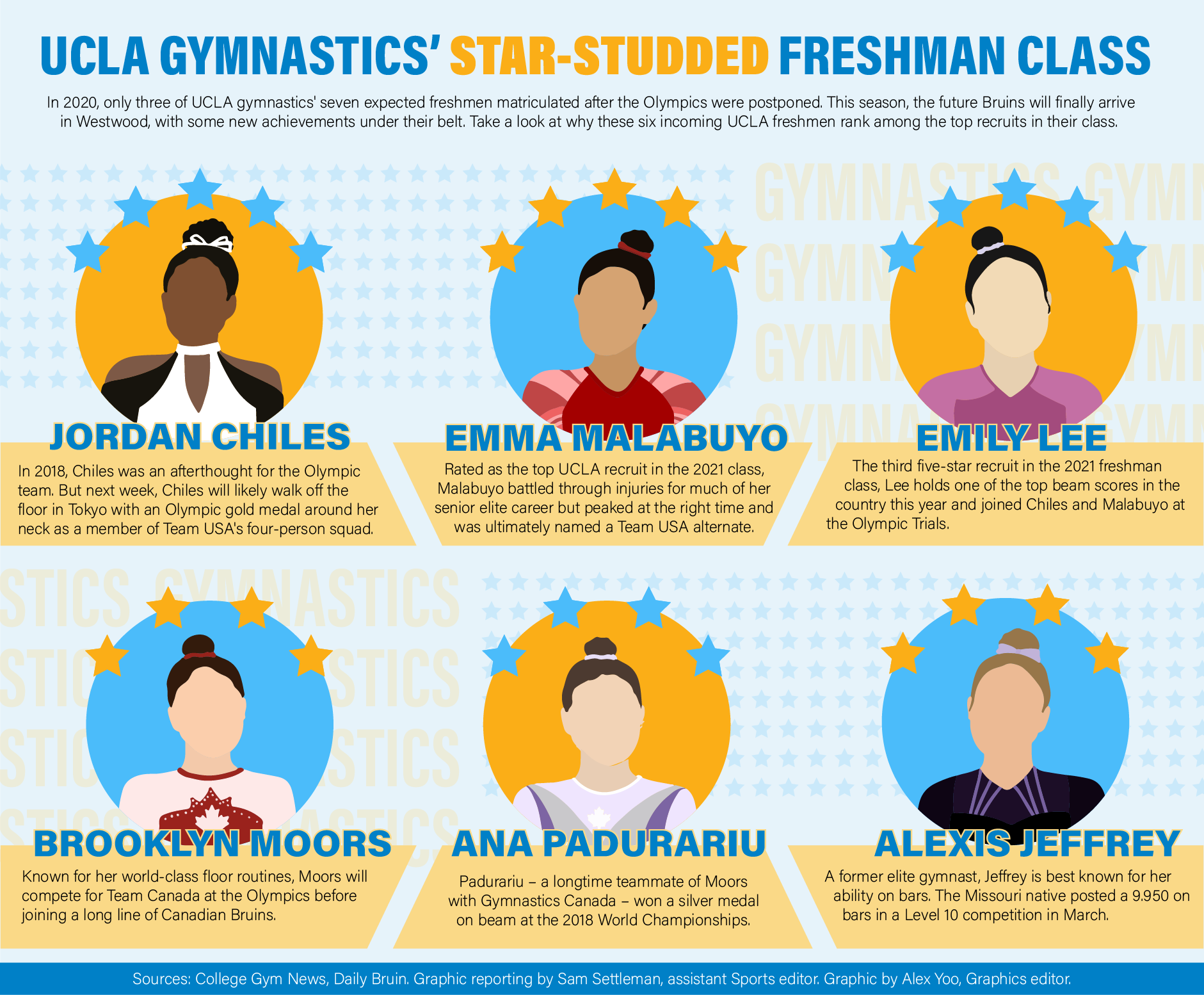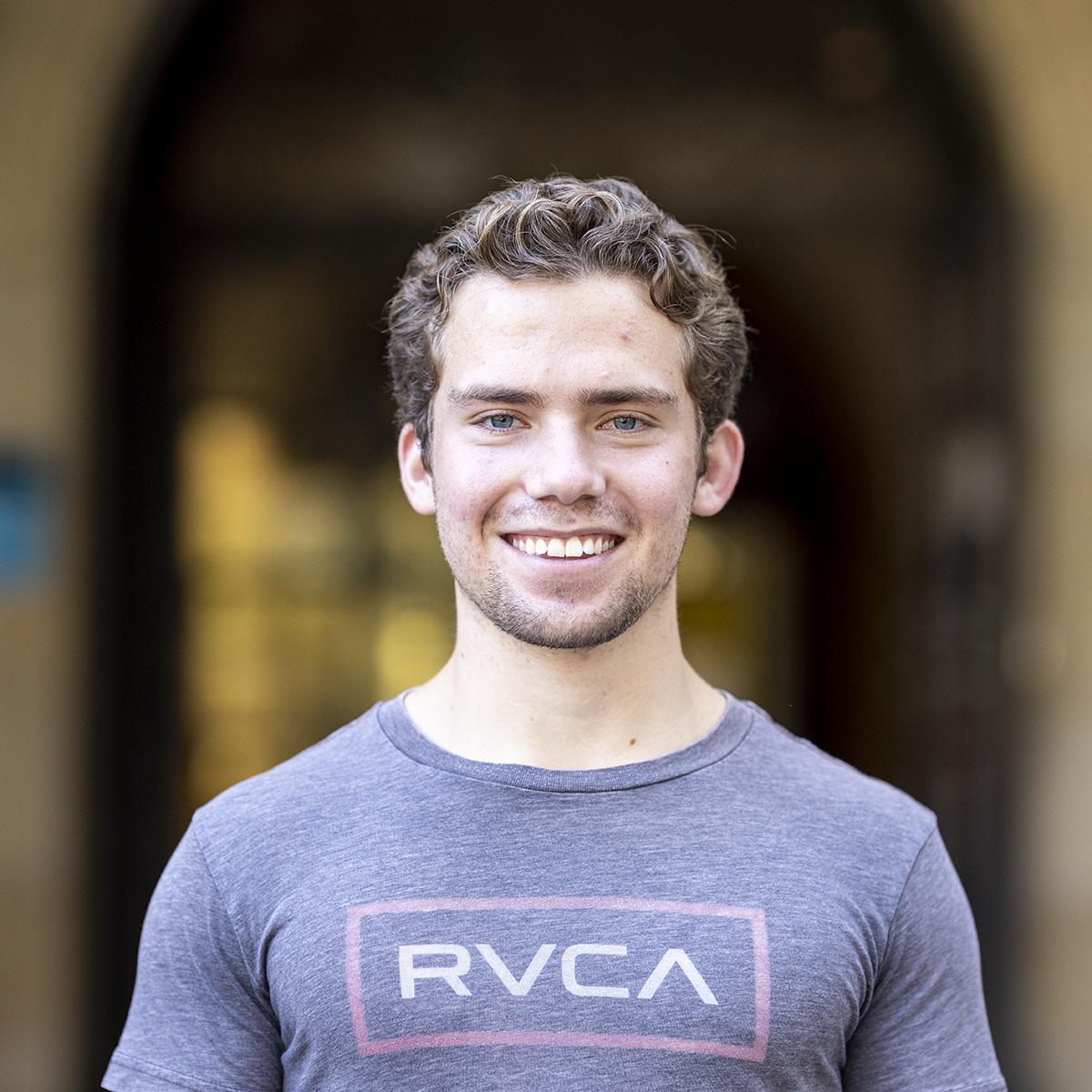 This post was updated July 18 at 8:58 p.m.
Three Olympians, a World Championships silver medalist and a total of six elite gymnasts.
Say hello to the Bruins' 2021 freshman class.
After four of its seven expected freshmen deferred a year in 2020 to pursue their Olympic dreams, UCLA gymnastics will add a full class of seven gymnasts to its roster in 2021. Ranked as the No. 1 freshman class in the nation, the group is headlined by Team USA Olympian Jordan Chiles and includes Team USA alternate Emma Malabuyo, Team Canada Olympian Brooklyn Moors, World Championships beam medalist Ana Padurariu, U.S. National Team member Emily Lee and former elite gymnast Alexis Jeffrey. Level 10 gymnast Mia Erdoes rounds out the class.
Entering his 20th season with the program, coach Chris Waller said this class may go down as one of the greatest of all time.
"This will be one of the strongest classes we've ever had come through UCLA," Waller said. "This is going to be an epic class."
As a consequence of the condensed freshman class, the Bruins maintained a smaller roster in 2021 than in years past. UCLA's championship roster in 2018 had 24 athletes compared to just 18 competitors a season ago.
Rising fifth-year senior Kendal Poston said having a bigger roster again is one of the things she's most looking forward to next season.
"I love the feeling of a big team," Poston said. "I love the big, happy family, and I love the depth that it brings and the diversity that it brings."
With six of the seven incoming freshmen having experienced competing at the elite level, rising senior Norah Flatley – a former elite gymnast herself – said she hopes to ease the transition for the newcomers.
Flatley cited recent graduates and former Olympians Kyla Ross and Madison Kocian as teammates that helped her manage the move to the college ranks.
"Helping (the freshmen) adjust to college life here is something that's really important to me because I went through that," Flatley said. "I had (Ross) and Kocian, and all these girls helped me adjust, so I just want to make sure I provide that to them as well."
For rising fifth-year senior Pauline Tratz, this year's incoming class brings more than just the standard crop of top-ranked recruits. After spending the last two seasons as the only international student on the team, the German national will be joined by a pair of Canadian athletes in Moors and Padurariu.
In Tratz's freshman year, she received mentorship from then-sixth-year senior Christine Peng-Peng Lee, who hails from Canada. Now, Tratz is excited to relay everything she has learned from her four years in Westwood to the newest batch of Canadian Bruins.
"(Lee) kind of took me under her wing, and it was awesome to have her – so that's what I'm trying to do too because there are some unexpected challenges being an international that nobody can relate to," Tratz said. "If that is just like figuring out your phone plan or 'How am I going to get bedsheets' or whatever it is – just for those little things, I want to be there."
It is only a matter of weeks before the incoming freshmen arrive in Westwood. The team is officially set to report Sept. 7, but Waller expects that much of the team will be back in the gym by early August.
The lone gymnast who is not expected to report along with the rest of the team is Chiles, who has committed to join Simone Biles' "Gold Over America Tour" in the fall following the Olympics.
While Chiles likely will not join the program until January, Waller is confident that she will make a seamless transition into the world of college gymnastics.
"Her level of confidence and her skill level is so high at this point – transitioning to college is going to be incredibly fun," Waller said. "And the challenge is going to be so completely different."
Emily Lee competed at Team USA's Olympic Trials with Chiles and Malabuyo but ruptured her Achilles tendon while competing on floor day two of the competition, putting her freshman season in jeopardy. It is not yet clear whether Lee will compete at all for UCLA next season, but Waller said he ultimately expects her to be an all-arounder for the Bruins.
"One of the things that just strikes me about her is just the maturity with which she does her gymnastics – she just owns her journey so much," Waller said. "She too has been dreaming about competing for UCLA, and being in Pauley Pavilion and competing for a team instead of as an individual. She's just going to thrive in that environment – I think it's going to lift her up."
Padurariu is another gymnast that Waller said he expects will flourish in the NCAA gymnastics atmosphere. A slower-than-anticipated recovery from foot surgery in 2020 thwarted Padurariu's Olympic hopes, but the 2018 World Championships silver medalist on beam could be a significant contributor to UCLA's lowest-ranked event last season.
Waller said Padurariu's lighthearted attitude and competitive drive will be an important addition to his team.
"Ana is just a great combination of being super loving and funny and quirky and super humble, but don't let that fool you because she's a total lion in sheep's clothing – she's fiercely competitive," Waller said. "Frankly, I think she's going to keep the team light and loose because I think she's going to be really funny."
In January, the seven incoming freshmen and four rising sophomores will experience a packed Pauley Pavilion for the first time – a moment that Flatley described as transformative.
"I'm just so excited for all the freshmen to experience that for the first time because it's a life-changing experience," Flatley said.
Settleman is currently the Sports editor on the football, men's basketball and gymnastics beats. He was previously an assistant editor on the gymnastics, women's soccer, women's golf, men's water polo and women's water polo beats and a contributor on the gymnastics and women's water polo beats.
Settleman is currently the Sports editor on the football, men's basketball and gymnastics beats. He was previously an assistant editor on the gymnastics, women's soccer, women's golf, men's water polo and women's water polo beats and a contributor on the gymnastics and women's water polo beats.