Op-ed: Funding should be allocated away from drug enforcement, toward harm reduction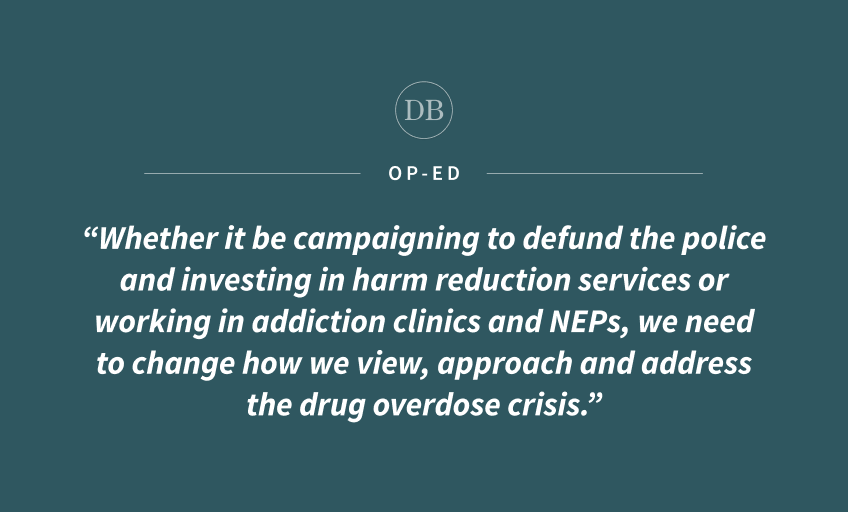 Correction: The original version of this article incorrectly stated that the University of Texas at Austin started "Operation Naloxone Expansion." In fact, the University of Texas at Austin started "Operation Naloxone."
This post was updated July 18 at 4:22 p.m.
Last summer, I recall scrolling through Instagram stories and seeing a peer of mine sharing a few signs she had painted. In big, bold, capitalized letters, one of the signs read, "DEFUND THE POLICE." This three-word slogan has grown more commonplace during and after the protests surrounding the murder of George Floyd. However, these three words do not fully encapsulate the meaning behind the intent. Some may believe that the slogan is calling for the abolition of police, but that's not the case. Defunding the police means reallocating the overwhelmingly disproportionate amount of funding police and law enforcement receive toward community projects, decriminalization efforts and harm reduction.
I remember the first time I saw an individual experiencing homelessness inject themselves with drugs. I was around 10 and had just received my flu shot – I thought this person was getting their vaccine too, just in a self-administered fashion. The realization of what they were actually doing hit me a few years later when it was brought to my attention that since 1999, more than 840,000 people have died from a drug overdose. The United States chose to wage its war on drugs by spending $100 billion annually on policing and an additional $80 billion on incarceration while doling out "almost nothing" on harm reduction services – though the latter more proactively addresses the complexity of addiction, drug use and overdose prevention. Defunding the police and investing in harm reduction services may be one of the most effective action plans for the U.S. to get a handle on the drug overdose epidemic.
And students – yes, students – can be a part of that plan.
We can advocate for the reallocation of funds dedicated to policing and incarceration toward needle exchange programs. These programs provide drug users clean needles in exchange for used ones and offer educators an opportunity to provide additional harm reduction services like referrals for people seeking support for drug use. These programs are severely underfunded and need continued advocacy, increased awareness and implementation. If we allocate just 7.5% of the $100 billion the world spends on drug enforcement toward harm reduction programs, we'd be able to decrease HIV-related deaths and infections by 93% and 94%, respectively. NEPs are also proven to be highly effective in reducing the transmission of the hepatitis C virus and can serve as individuals' first step toward receiving appropriate medical care.
On a more direct level, students – especially those interested in entering the health care or public health fields – can advance harm reduction by serving as organizers who eliminate drug use stigma and educate the public. A study looking at student involvement in NEPs found that NEPs are cheaper and operate more simply than clinics since they do not require rigorous "licensing, clinical knowledge, and infrastructure." Students can learn about harm reduction culture, and according to researchers, all that's required is an open mind, a humble attitude and a goal of understanding structural violence. If working at NEPs doesn't sound appealing, students can also get involved politically, advocating for the overturning of laws that restrict syringe exchange.
It's known that incarceration is likely not effective at reducing substance use. Rather than sending people who use drugs to prison, we should focus on redirecting funds for incarceration toward NEPs.
There are many misconceptions about NEPs – many critics say NEPs enable and perpetuate needle drug use. However, as public health expert and physician Mark Tyndall put it in a 2017 TED talk, "A clean needle is not an advertisement for drug use." Despite the numerous sanctions on drug use the U.S. has created, people are still using such substances because of their addictive nature. Offering safer and even supervised ways to do so can reduce the frequency of drug overdoses and get people into effective treatment plans.
People who use drugs have stories and are human beings. Drug use may be a coping mechanism for past traumas. We must approach the drug abuse epidemic with compassion and stop blindly funneling more money into law enforcement when such resources could do more good elsewhere.
Another harm reduction service that deserves investment is naloxone training. Universities around the nation are already implementing it. For example, the University of Texas at Austin started "Operation Naloxone," an initiative funded by a grant program from the Substance Abuse and Mental Health Services Administration, in 2016. Operation Naloxone teaches students how to administer naloxone, which is a medication designed to rapidly reverse the life-threatening effects of an opioid overdose. The goal of the university is to offer naloxone kits as readily as it does fire extinguishers and defibrillators. Operation Naloxone has since expanded into a statewide training initiative that educates health professionals about opioid use.
The Student Wellness Commission CPR & First Aid Program, UCLA's very own on-campus CPR organization, is composed of student instructors and offers certifications for various levels of basic life support. Rechanneling a fraction of the UCPD's projected budget of more than $22 million in the 2020-2021 fiscal year to fund the organization – or an entirely new one – to offer naloxone training will allow UCLA to join other universities in their efforts to prevent overdose deaths. During an overdose, seconds matter. Having naloxone and individuals ready to administer it correctly can save lives. In this sense, naloxone can serve as a second chance – an opportunity to seek treatment. Investing in programs and educators who can come to college campuses and workplaces to teach individuals the same way CPR or BLS trainers do promotes a culture of harm reduction while destigmatizing addiction and drug use.
Though the drug overdose epidemic may not affect you directly, there are many ways to educate the public, save lives and get people toward recovery. Whether it be campaigning to defund the police and investing in harm reduction services or working in addiction clinics and NEPs, we need to change how we view, approach and address the drug overdose crisis. Incarceration is not the solution, nor is pouring money into law enforcement. It is time we defund the police and redirect that money toward NEPs, education for naloxone administration training and getting students involved in helping those who may be struggling.
Click here to learn more about the harm reduction movement and to support local efforts.
Do is a fourth-year human biology and society student.