Op-ed: Bruins must voice opposition to Israeli human rights violations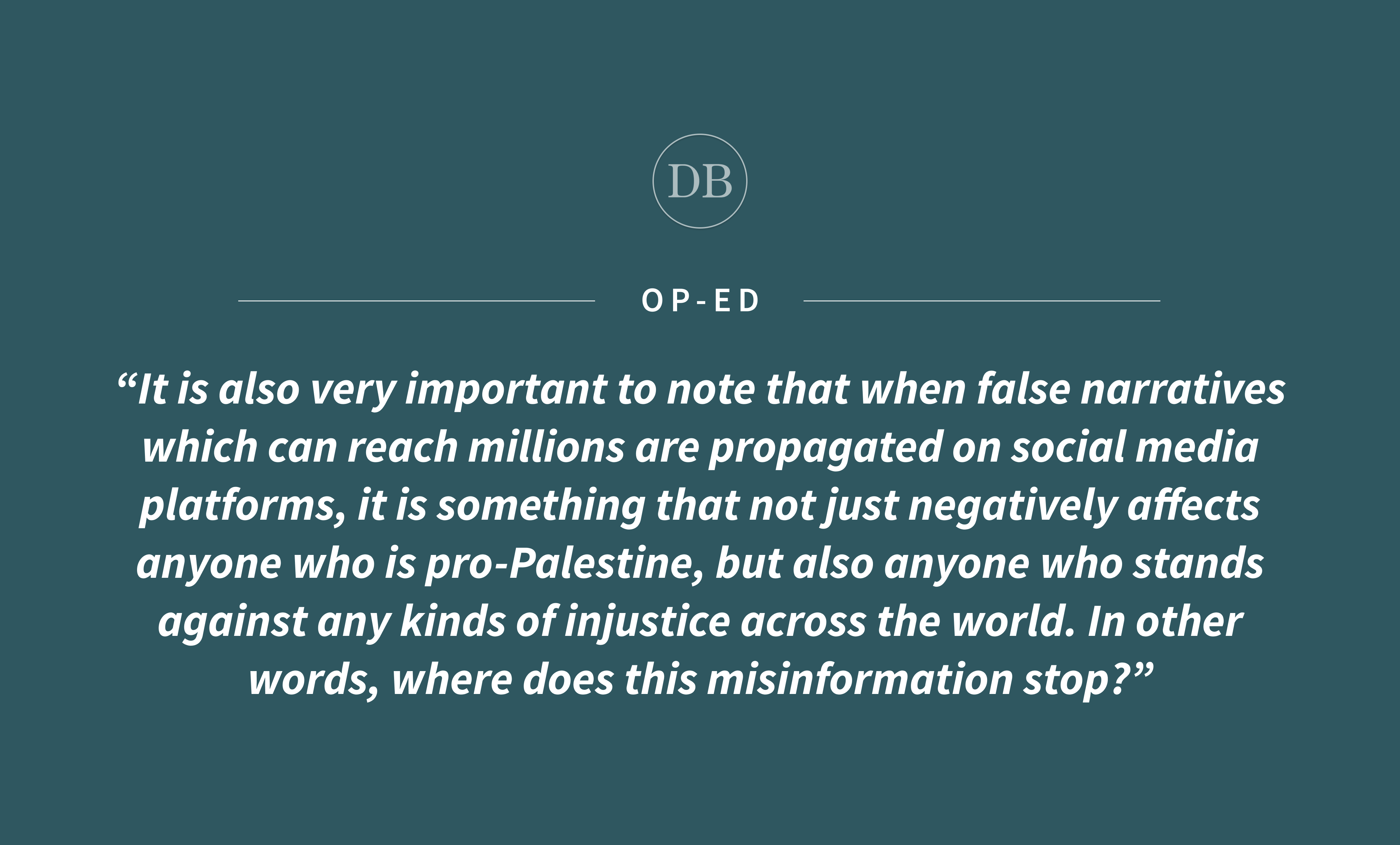 This post was updated July 5 at 7:57 p.m.
Every day, Palestinians face persecution, destruction and death at the hands of the Zionist state of Israel. According to Oxford Reference, "Zionism is a movement for (originally) the re-establishment and (now) the development and protection of a Jewish nation in what is now Israel." These crimes against humanity are not getting as much attention as they should because Israel has continued to drop explosives on innocent Palestinian civilians. Although a ceasefire has been called, there are still tensions and violence in the Middle East as the resistance against colonizing Israeli forces continues.
As human beings, we must persistently and firmly resist the apartheid state of Israel and what author, journalist and analyst Ben White has described as the ethnic cleansing of the Palestinian people before it is too late. We must educate ourselves on what is happening in Palestine because there have been many instances where social networks have attempted to censor events, posts or information regarding the plight of Palestinians at the hands of Israel. Outlets such as Instagram and Facebook have reportedly taken part in hindering efforts to alleviate the misery of the Palestinian people. Venmo has also halted some transactions in favor of sending donations and monetary aid to Palestine.
From 1947 to 1949, a forced eviction of 750,000 Palestinians, or nearly half of Palestine's Arab population, marked the event now known as the Nakba. Although the origins of the colonization of Palestine reach further into the past, the Nakba is a distinct event because it was the first time that Israel took such a large area of historically Palestinian territory. This displaced thousands of Palestinians, who were now without a home. Less than a decade before, the Holocaust started off in a similar fashion to the Nakba. In both events, people were forcefully displaced, homes were demolished and important ethno-religious places were destroyed. Blockades deprived people of medicine, food, water, education and other basic necessities for survival – and in the case of the Palestinians still continue to do so today. By the demise of the Nazi regime, the Nazis murdered 17 million people – among them Soviets, Jews, Roma, Poles, Serbians and countless others. Although these are two different events deserving of separate but equal acknowledgment, they show that the deprivation of basic necessities, unlawful dispossession of land and the mass killings of certain groups still take place. I ask for the respect of past, ongoing and potential victims of genocide, but when will these current atrocities stop?
When Israel says it has the right to defend itself, it is analogous to a thief stealing from someone's home and saying that the thief has the right to defend against a homeowner's attack. This is nothing more than a smokescreen for wrongdoing. Furthermore, it is a major issue when proponents of Zionism divert attention away from the human rights violations Israel is committing against Palestine. Finally, the currently pending investigation of grievous war crimes by the International Criminal Court, which Israel is not cooperating with, is another issue in itself, as time is essential in handling the ongoing brutalities Israel is propagating on Palestinian soil. In labeling anti-Zionist reactions to such crimes as "antisemitic", these Zionist misconceptions are falsely spread and implicitly justify Israeli colonization. However, this representation is misleading.
First, Arab Palestinians are part of the Semitic people. According to Britannica, the Semitic people include "Arabs, Akkadians, Canaanites, Hebrews, some Ethiopians and Aramaean tribes." How can a group of people stand in ideological opposition against themselves? Second, an increasing number of people are speaking out against what many prominent legal scholars and human rights organizations consider genocidal acts that are taking place under Israel. To elaborate, being pro-Palestine is by no means a resistance against Jewish people, but resistance against the mass murder of Palestinians in their homeland and thus the Zionist ideology. Third, there are both Jewish groups, such as the Neturei Karta, and Israeli individuals who condemn the establishment of a Zionist nation in Palestine. Finally, it is also very important to note that when false narratives that can reach millions are propagated on social media platforms, it is something that not just negatively affects anyone who is pro-Palestine, but also anyone who stands against any kinds of injustice across the world. In other words, where does this misinformation stop?
The first step to becoming an advocate for Palestinians is to be educated. The United Nations has an entire webpage dedicated to the history of Palestine. Additionally, there are social media resources such as @eye.on.palestine that describe in detail Israel's reported war crimes against Palestinians. We can also advocate for Palestine by engaging in the following actions:
Spreading awareness about the truth of what's really happening in Palestine.
Attending peaceful protests that show solidarity with Palestine.
Donating money to feed the communities who are currently resisting Israeli oppression.
Boycotting products that profit Zionist causes or which stand for Zionism.
Supporting businesses that are located directly in Palestine, such as Hirbawi, the last producer of the Keffiyeh in Palestine.
Pressuring elected officials to oppose foreign aid to Israel, which assists in propagating Palestinian mass killings. In May, President Joe Biden's administration approved a contract that gives Israel $735 million of your taxpayer money, which could contribute to the ongoing bloodshed and ethnic cleansing of Palestine.
But in the end, this is just the tip of the iceberg. There is so much more to learn and to do. We must all take action for truth.
El Taha is a class of 2021 alumnus and a former anthropology student.