The Quad: Exploring toxic positivity and its effects on college students' mental health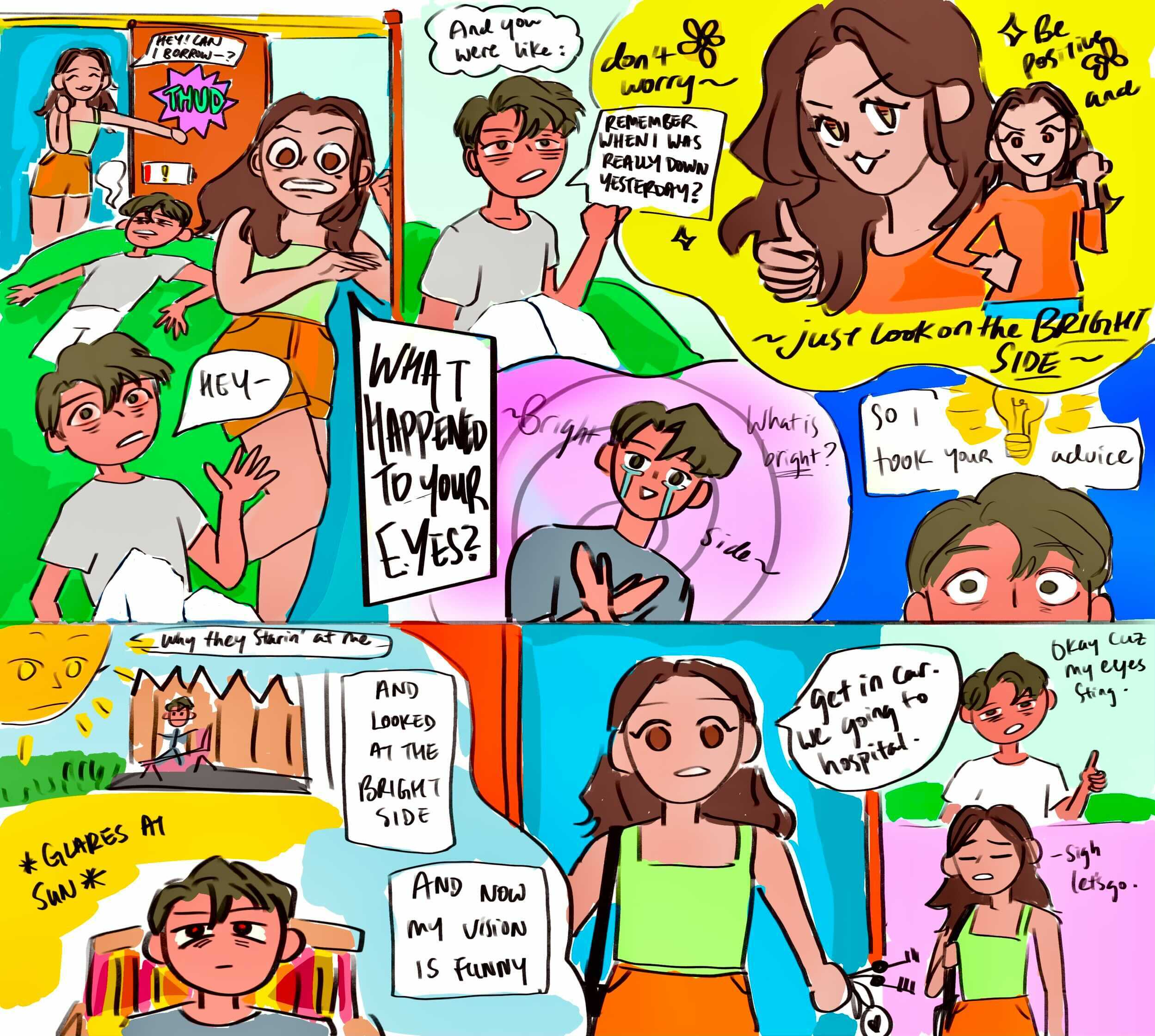 (Jocelyn Wang/Daily Bruin)
We have all heard the saying "too much of anything is bad" – a phrase that is glaringly obvious when we have a surplus of sweets or one too many classes in one quarter. But is it possible to have too much of something as heartening as positivity?
During tough times, it may seem easy to push ourselves and our peers forward by propagating a constant positive outlook, but this may not always have the expected outcome.
Toxic positivity can be described as the perpetuation of forcefully positive attitudes, said adjunct assistant neuroscience professor Alex Korb.
"(It's) this belief that negative emotions are always bad and positive emotions are always good, and … that you should and could always try to maintain a positive emotional state and positive outlook," Korb said.
Although the term itself may not be widely used, second-year neuroscience student Astha Sahoo said that it can be second nature for many people, including herself, to resort to toxic positivity when faced with a problem.
"I definitely think, for example, if you're helping out a friend if they're going through tough times, an easy phrase to say is 'Oh, it'll get better soon,'" Sahoo said. "And I guess that's a form of toxic positivity we don't really think about, but it's there."
In the past year, such exceedingly sunny attitudes seem to have been furthered by the COVID-19 pandemic.
"COVID and the pandemic certainly fueled (toxic positivity) because one, people are separated and probably on social media a lot more, and on their computers a lot more," Korb said. "And two, it created a lot more stress – and any time you create more stress in people's lives, they're always going to be looking for an easy way to deal with that stress."
Clinical psychology professor Carrie Bearden added that people often avoid sharing their own complaints out of guilt when comparing their struggles with others.
"There's certainly a focus on, 'Hey, you're not sick, you don't have a loved one in the hospital. You should be grateful for what you have,'" Bearden said. "And so I think that's where I've seen (toxic positivity) a lot."
While toxic positivity is a phenomenon observed across all ages, it can have particularly harsh effects on college students, who may force themselves to think positively in order to avoid stress or burnout.
Sahoo said that after dealing with a family crisis that impacted her midterm grades, she found herself rushing to encourage herself to catch up.
"I think to myself, I'll be like 'Come on, you need to get back up soon' – especially at UCLA, where the quarter goes so fast," Sahoo said.
Korb explained that toxic positivity may be a particularly enticing coping mechanism for college students because of the constant pressure they are under.
"They're interested in learning things, and it's alluring to think, 'Oh, I could learn something or reframe my thoughts, and that would just solve all my problems,'" Korb said.
Korb said this seemingly harmless notion of positive thinking may cause the buildup of underlying feelings of self-criticism, anxiety and negativity, thus exacerbating mental health issues in the long term.
However, increasing one's self-awareness may be a simple way to address this oftentimes toxic mindset.
Sahoo said it's important for her to sit and reflect on her negative emotions when she can feel them building up, rather than putting them on the back burner.
"You truly need to move on, and those emotions are still going to get you even if you're not thinking about them or you're trying to do homework," Sahoo said.
Sahoo also added that it is important for her to have a support circle that is able to validate her feelings.
"I think I've been able to find that (support) at UCLA, where the clubs I'm part of and even where I work definitely allow me to take time to process my emotions and validate me – and I think that's super important," Sahoo said.
In the long run, Korb said addressing toxic positivity requires embracing negative emotions.
"(An alternative to toxic positivity) is recognizing that it's okay to feel negative emotions, and even beneficial – that often, your negative emotions are trying to tell you something important," Korb said.