UCLA gymnastics sets sights on 2022 roster additions, ranking improvements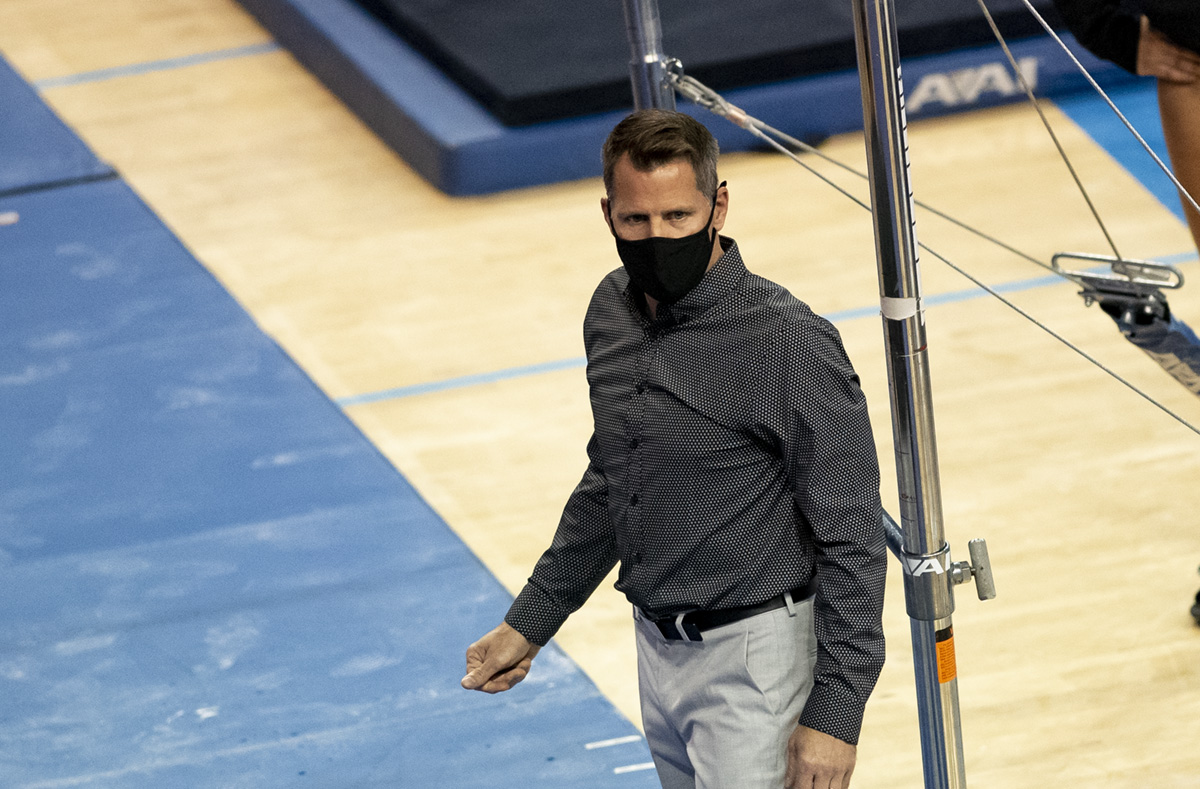 In 2020, coach Chris Waller led UCLA gymnastics to a No. 3 national ranking in his first season as head coach. After finishing No. 12 in the nation last season, Waller and the Bruins will have a full offseason and a retooled roster heading into the 2022 season. (Kanishka Mehra/Daily Bruin senior staff)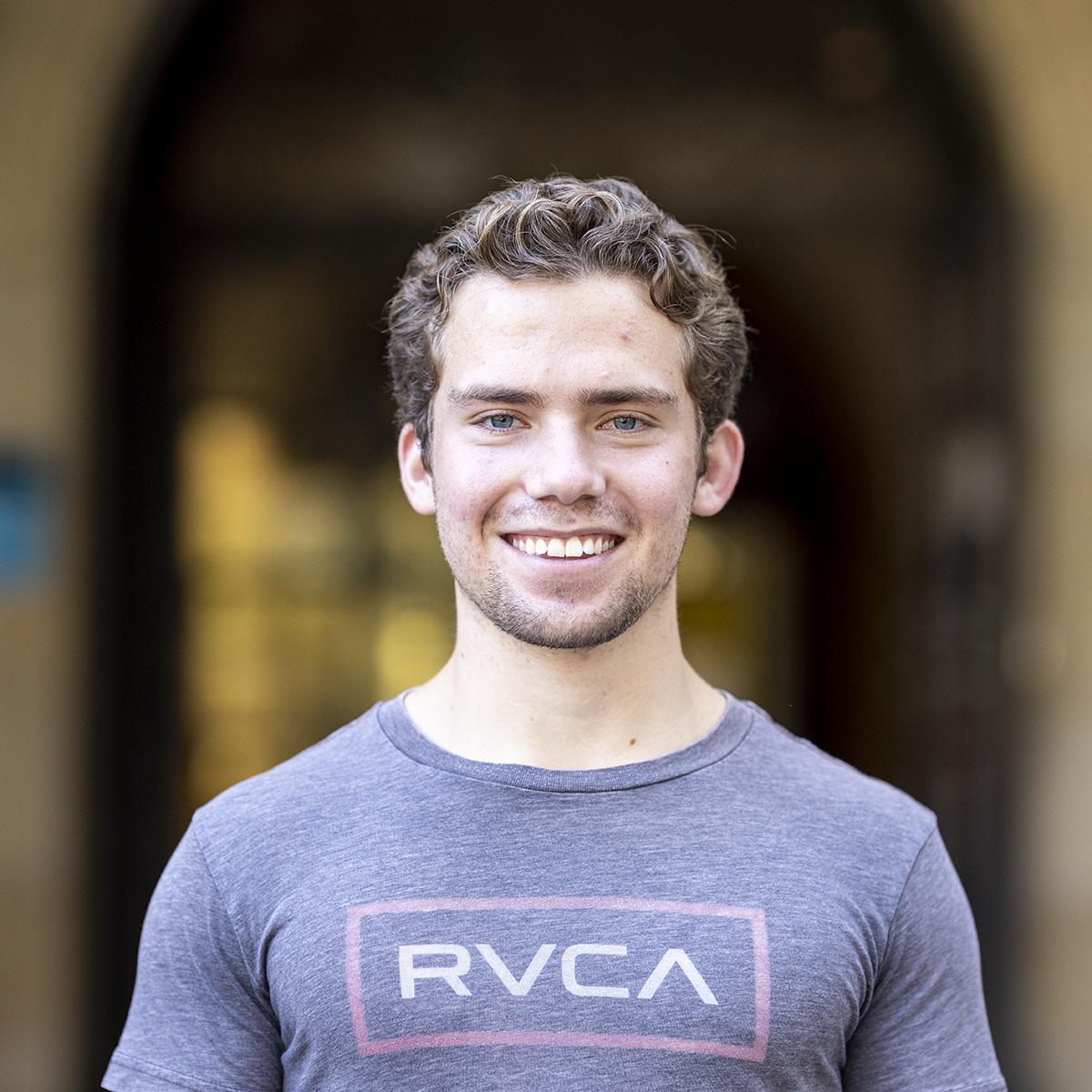 This post was updated June 27 at 9:39 p.m.
The Bruins already have their eyes set on 2022.
Amid a year of turmoil, UCLA gymnastics ended last season ranked No. 12 in the nation – its worst finish since 2006. But with a full offseason to train and prepare, the Bruins will attempt to return to their usual form atop the national rankings.
One of two athletes on the team to have won an NCAA championship, senior Kendal Poston – returning for a fifth season with the program – said last year's performance didn't dampen the team's passion for the sport.
"I've already felt it literally from day one when we got back into the weight room," Poston said. "We love what we do, and this past year was hard, but it hasn't done anything to that love – it's still there."
After losing one of the most decorated classes in NCAA gymnastics history and bringing in only a fraction of its expected freshman class for the 2021 season, UCLA found itself without a team appearance at the NCAA championships or an individual title for the first time in 30 years.
Coach Chris Waller said his team is working harder than ever to ensure that does not happen again.
"Our team is motivated to train because they're on a mission to win a national championship – and so really everything feels different," Waller said. "They have embraced our athletic performance training like I've never seen before."
Waller added his team has prioritized building a physical foundation after being unable to do so last year, given the lack of a complete offseason.
"They understand the game right now – we need to get upgrades, but most importantly, they need to get physically healthier and stronger," Waller said. "They're being super enthusiastic about taking the steps they need to do that."
One athlete who hopes to make the most of the extended offseason is rising senior Norah Flatley. Before the Bruins' season-opening meet, the three-time All-Pac-12 honoree – who had planned to compete in the all-around last year – suffered an ankle sprain that caused her to miss the entire regular season.
Flatley made her season debut for UCLA at the Pac-12 championships on bars before competing on both bars and beam at the NCAA regionals. But despite taking some time off upon the season's conclusion to physically recover, Flatley said she can't wait for what the 2022 season has in store.
"Physically, I definitely took a couple weeks off, but emotionally and mentally, I am still even now just so fired up to get everybody on the same track and everybody on the same page," Flatley said. "We're fired up going into next season and preseason – just really, really excited to get after that natty."
While the Bruins will return two 2018 NCAA team champions in Poston and senior Pauline Tratz, the majority of the team has yet to experience a deep postseason run after a truncated season in 2020 and a third-place finish at the 2021 NCAA regionals.
"We've got three quarters of our team that hasn't been to an NCAA championship now, so having some people that know what it's like to be on a championship team is a big deal," Waller said. "They're going to bring that confidence to the season."
Experience will be a rare commodity for a UCLA squad set to welcome eight new gymnasts to the program in the fall. The Bruins' report date is currently set for Sept. 7, but much of the team will be back in the gym by early August, according to Waller.
Tratz said she is looking forward to having the whole team back together.
"I've already seen a big shift in our team the past weeks, and everybody is extremely motivated," Tratz said. "Everybody's so excited for the incoming freshmen. As soon as everyone steps on campus and we're together in the gym, it's just going to go up and we'll all have a lot of motivation."
With the pandemic seemingly on the decline and things starting to trend in the right direction, Poston said she is excited for her fifth and final season with the blue and gold.
"There's just so much joy and so much gratitude for 'Okay, things are clearing up. This is finally going to go a little bit smoother for us," Poston said. "That's really driving the team forward, and I'm super excited to be a part of that."
Settleman is currently an assistant Sports editor on the gymnastics, women's soccer, women's golf, women's water polo and men's water polo beats. He was previously a contributor on the gymnastics and women's water polo beats.
Settleman is currently an assistant Sports editor on the gymnastics, women's soccer, women's golf, women's water polo and men's water polo beats. He was previously a contributor on the gymnastics and women's water polo beats.