Track and field wraps up NCAA championship meet with multiple top-10 finishes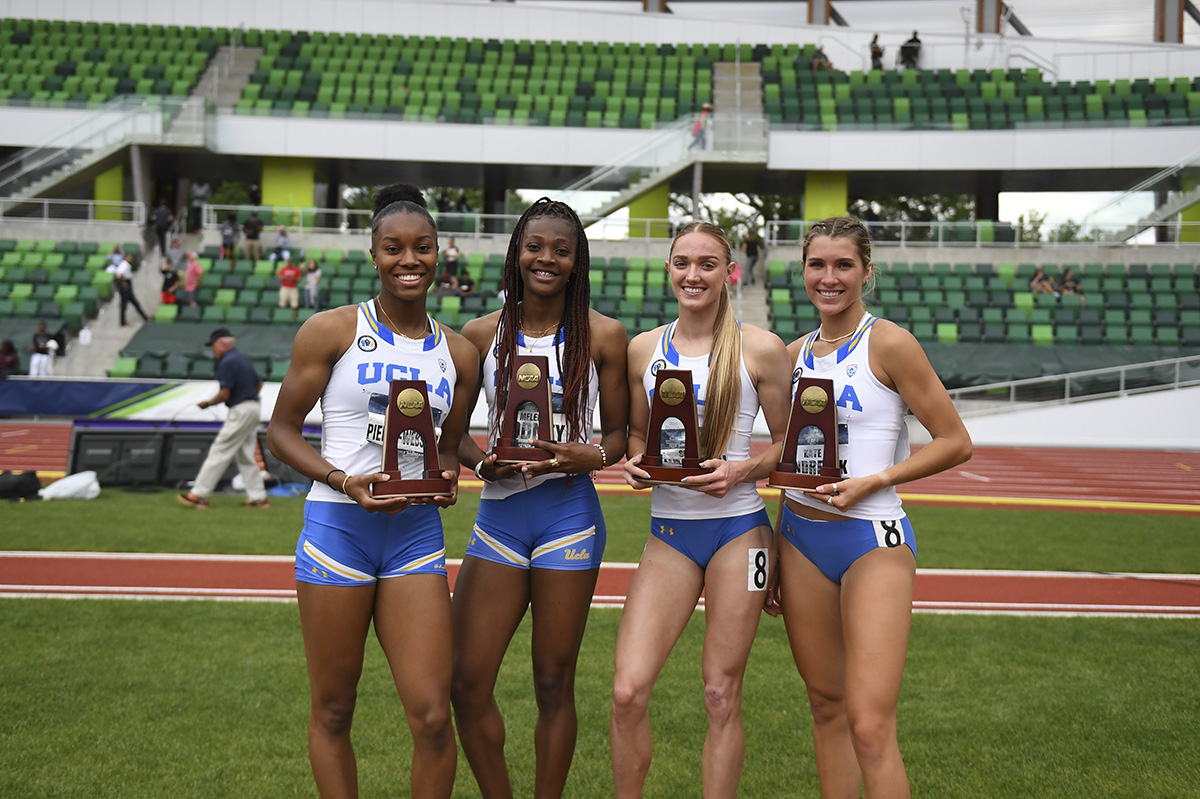 The Bruins' quartet of sophomore sprinter Makenzy Pierre-Webster, senior sprinter Meleni Rodney, redshirt junior sprinter Shae Anderson and freshman sprinter Kate Jendrezak set a new school record in the 4×400 meter relay race on the final day of the NCAA championship meet. They posted the eighth-fastest time in collegiate history to finish off UCLA track and field's season. (Courtesy of NCAA Photos)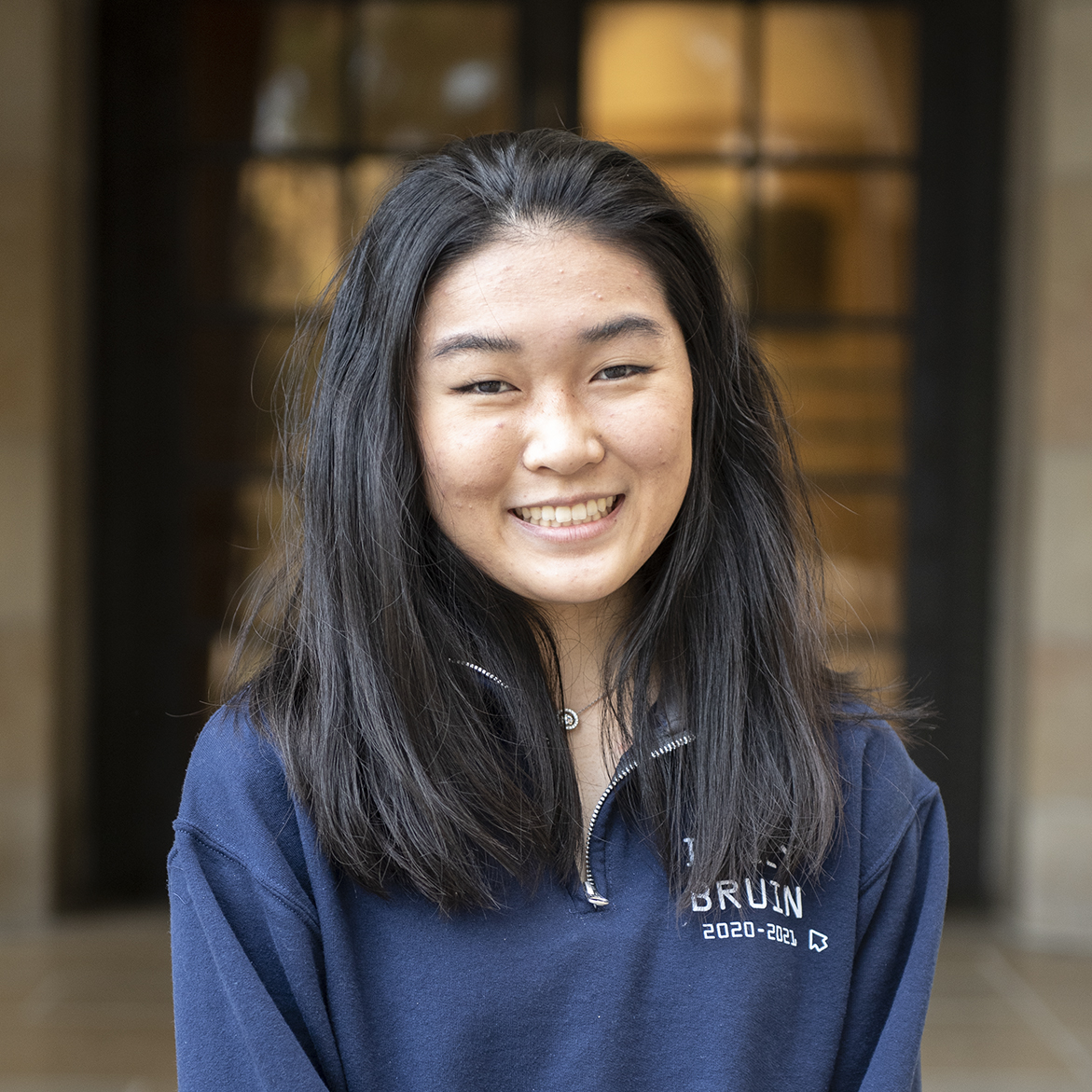 An 18-year 4×400-meter relay record was snapped by the Bruins over the weekend.
UCLA track and field sent two relay teams and five individual athletes to the NCAA championships, which began June 9 at Hayward Field in Eugene.
Day one of the championships opened with two Bruin men – senior sprinter and jumper Harrison Schrage and sophomore sprinter Ismail Turner – competing in the long jump and 400-meter semifinal, respectively. Schrage finished sixth overall in his first-ever appearance in an individual national championship event, while Turner finished 21st with a time of 46.94 seconds.
On Thursday, redshirt junior thrower Alyssa Wilson had a top-10 finish in the hammer throw with a distance of 66.52 meters, while senior thrower Ilaria Casarotto, the UCLA-record holder in the javelin, finished 15th in the javelin event with a throw of 52.80 meters. Senior sprinter Meleni Rodney just missed the final, finishing in 10th place with a time of 52.02 seconds in the 400-meter, and the women's 4×100-meter relay team landed a 12th-place finish. That left the women's 4×400-meter relay, the last event of the day for UCLA.
"Earlier in the day, we had the 4×1 relay, and it didn't really go the way we wanted it to," redshirt junior sprinter Shae Anderson said. "I just wanted to get us in a safe spot. We were just like, 'We need to make finals in the 4×4.'"
The women's 4×400-meter team, a squad consisting of Rodney, Anderson, sophomore sprinter Makenzy Pierre-Webster and freshman sprinter Kate Jendrezak, ran a time of 3:27.68 in the semifinal, which was a then-second-fastest and now-third-fastest time in school history.
Jendrezak – the only true freshman in the women's 4×400 relay squad – ran a split of 52 seconds in the 4×400.
"I kind of shocked myself on Thursday," Jendrezak said. "I'm an 800 runner, and this was my first time being on the championship relay, so I was way more nervous for this than I really have been at any other race. I was very pleased on Thursday when I split a 52."
Three days later, the 4×400 squad bested its own effort on the final day of the championships.
Despite complications at the handoff between Jendrezak and anchor Anderson, the quartet beat the previous school record set 18 years ago by more than two seconds with a time of 3:25.01. The team finished third overall in the race and now holds the eighth-fastest time in collegiate history.
"It was so exciting watching Shae come through the home stretch and start to catch up to people," Jendrezak said. "Watching all the girls run is just very inspiring because they're such phenomenal athletes. … I was amazed by them."
Anderson, who anchored the record-setting team, said her 49-second split was an important accomplishment.
"I'm the 12th person in collegiate history to split a sub-50-second in the 4×4, so that for me was a pretty big accomplishment," Anderson said. "I've been wanting to split a 49 for a really long time because I knew I was capable of doing it. … It was really exciting that I finally accomplished that at the meet."
Wilson finished 19th overall in the discus competition with a distance of 52.74 meters, competing in her third NCAA outdoor championship. The redshirt junior has also qualified for the Olympic trials in the hammer throw, while Anderson qualified for the 400-meter dash and the 400-meter hurdles.
Approaching the trials, the sprinter said her goal is to make the Olympic team.
"That has been a big goal of mine since I was a very little girl," Anderson said. "I fell in the regionals in the 400 hurdles and I wasn't able to make it for NCAAs in that event, so I kind of have an edge going on. I really want to have a great race considering that I fell and wasn't able to compete in that."
Yu is currently a Sports contributor on the men's volleyball beat. She was previously a contributor on the cross country and track & field beats.
Yu is currently a Sports contributor on the men's volleyball beat. She was previously a contributor on the cross country and track & field beats.