Vivian Wolff connects with women's tennis teammates to cap off sole UCLA season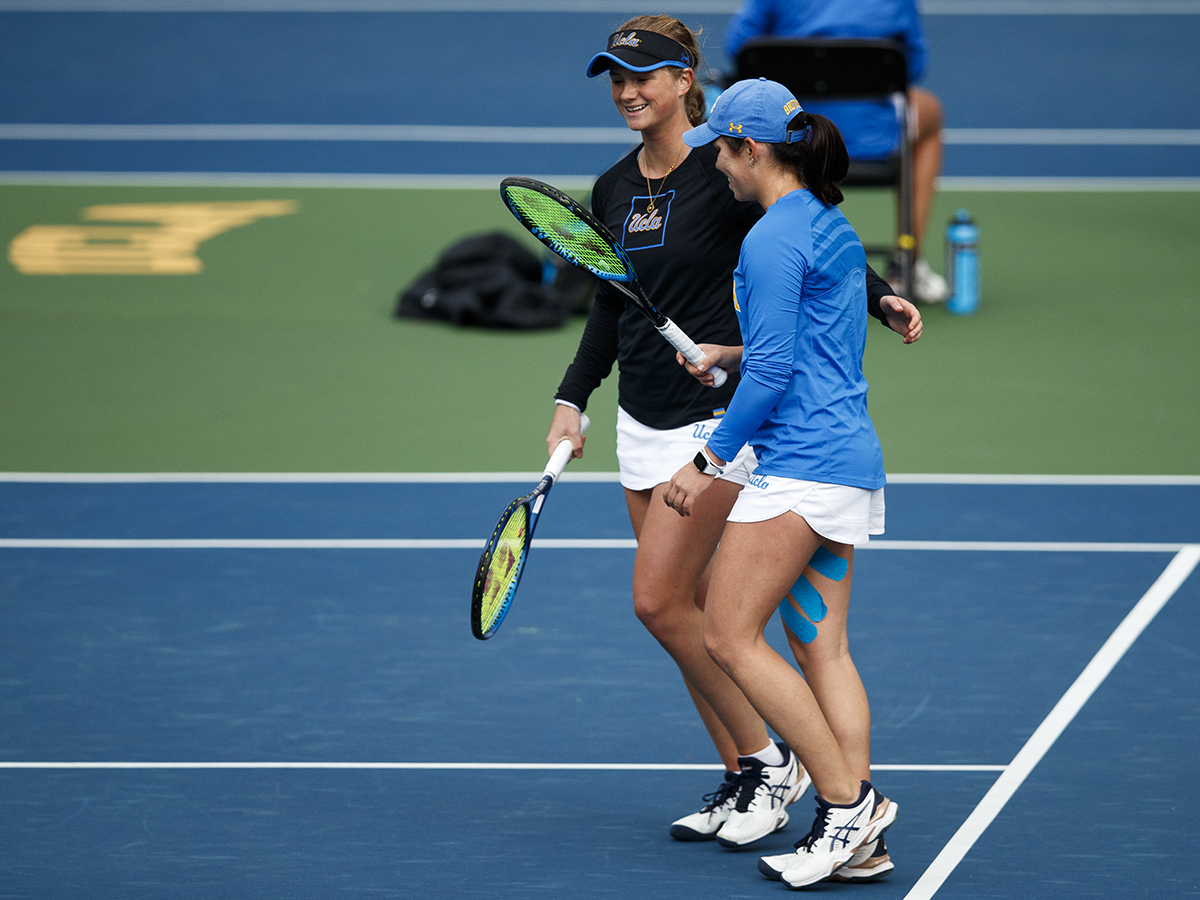 Seniors Vivian Wolff (left) and Annette Goulak (right) transferred from Georgia after their junior and sophomore years, respectively, to play for UCLA women's tennis. (Andy Bao/Daily Bruin staff)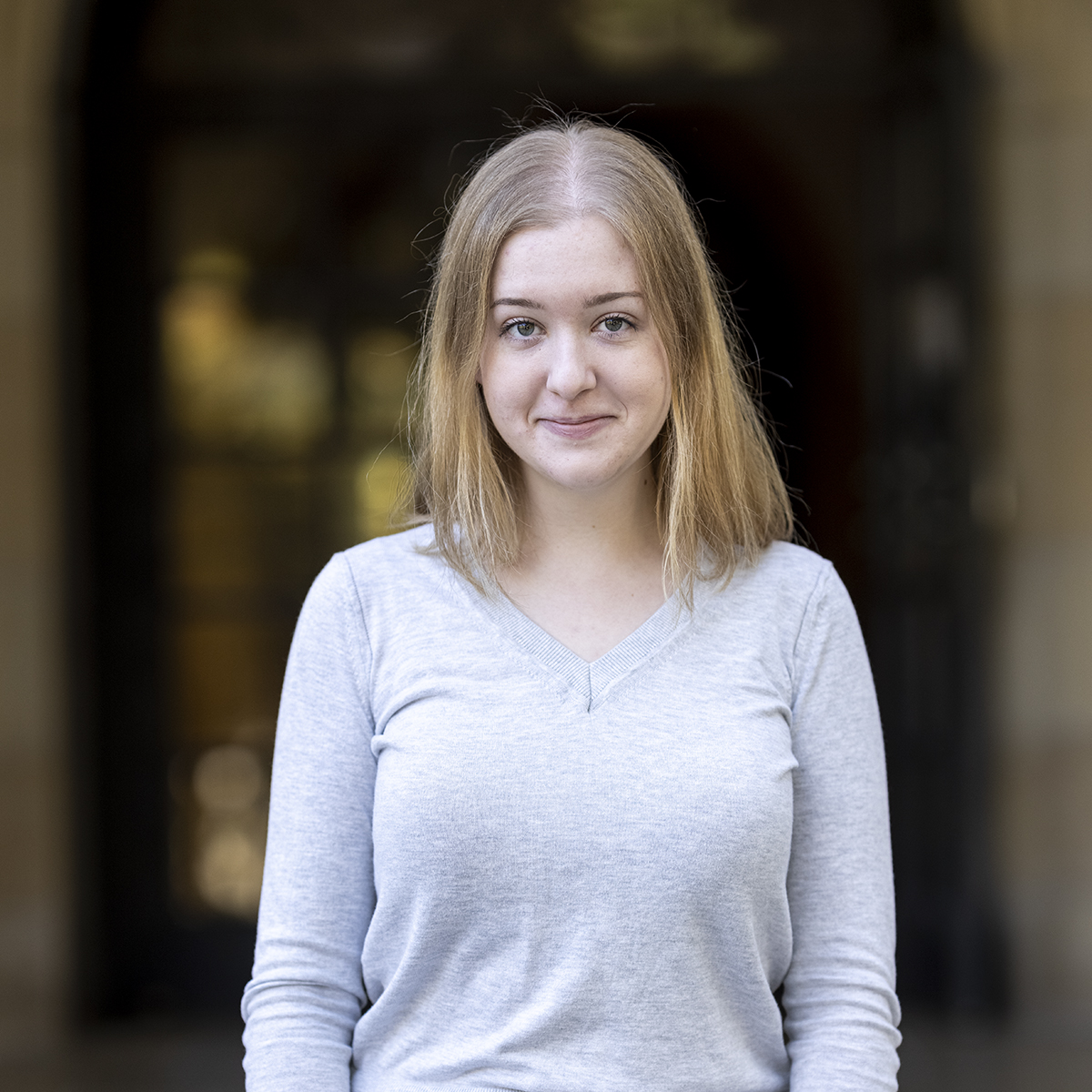 In a year full of fifth and sixth-year seniors with extended eligibility, Vivian Wolff only got five months with her teammates.
A native of Frankfurt am Main, Germany, the senior spent three years at Georgia playing tennis for the Bulldogs. At the end of her junior year, however, she decided to make the switch to UCLA women's tennis, jumping another three time zones west of her family and her home.
Wolff said the quality of education was the main reason she decided to transfer, but also added that the environment of UCLA's tennis program better suited her and her playing style.
"Academics did play a big role with what I wanted to do after my tennis career," Wolff said. "I feel like UCLA is a very good degree for international (studies) because I probably want to stay in Europe and I feel like it has a little bit more power there than a Georgia degree. Tennis-wise, just being a little bit more relaxed on the court really helps me personally. I feel like that's the vibe I got from UCLA and that's why I decided to just go for it."
When UCLA transitioned to online instruction in March, Wolff stayed in Germany for the fall and waited to make the move to Westwood, meaning she wouldn't be able to meet most of her new Bruin teammates until the season started in January.
But luckily for the senior transfer, she did know one familiar face.
Senior Annette Goulak transferred from Georgia to UCLA after her sophomore year in 2019, and the two already-close friends reunited in Westwood with Wolff's decision to join the program.
"Me and (Goulak) were really, really close at Georgia and I feel like that kind of continued even at UCLA," Wolff said. "Nothing changed there. We're great teammates, we hold each other accountable, we can be honest with each other."
Not only did they have the opportunity to reconnect, but they also earned another shot to play tennis together one more time when coach Stella Sampras Webster paired the two in doubles for the season.
The duo played doubles together at Georgia, finishing their 2017-18 freshman season 2-2 while also playing a couple of matches their sophomore year.
"We played like once or twice at Georgia and it really went poorly," Goulak said. "When we were paired up (at UCLA), I didn't think it was going to go great, but everything's just been coming together for us."
Wolff and Goulak played in 26 of 27 matches this season and were the only doubles team to play with the same partner all season. The team boasted an 18-3 record, including two eight-match winning streaks.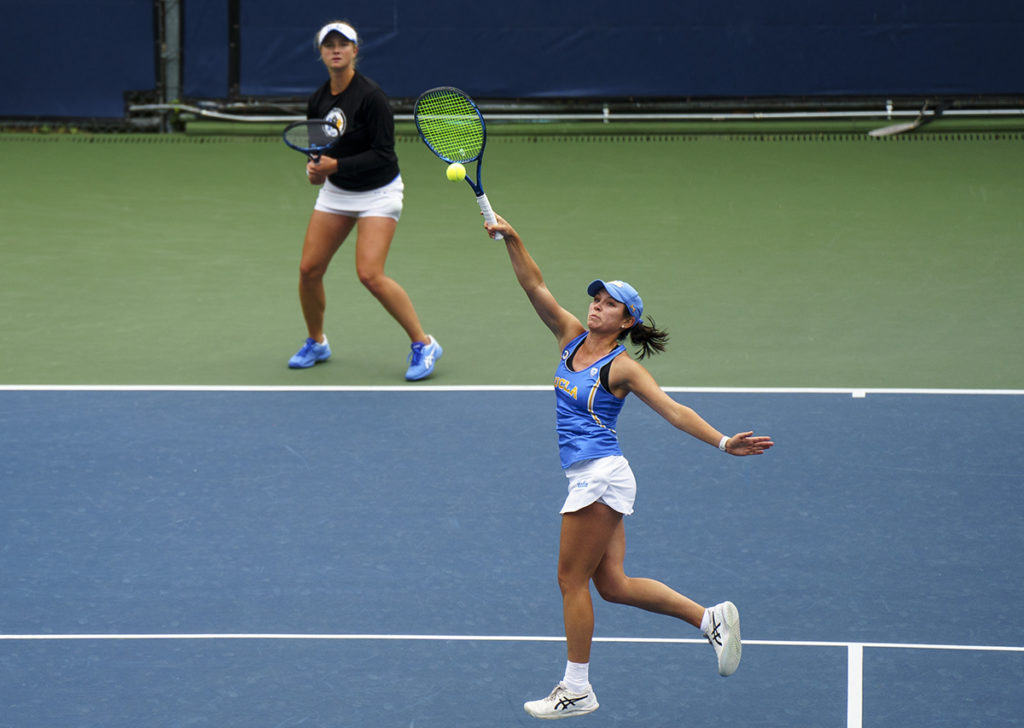 Both Wolff and Goulak said their transition to UCLA benefited their tennis, especially because of the freedom the program afforded them. The pair felt limited in their ability to play how they wanted to at Georgia, which had a more uptight and strict environment than UCLA's more laid-back, West Coast style, Wolff said.
"Especially from the coaches, I've just learned to enjoy playing tennis more," Wolff said. "I've also learned I can win even though I'm not playing that well – I'm still relaxed and that's something that I was not able to do at Georgia. The atmosphere was always a little uptight and I feel like that kind of affected my tennis, and UCLA is like the complete opposite of that."
In her singles matches, Wolff earned a 9-9 mark her freshman year, a 32-3 showing her sophomore year and a 15-8 record in her final season with the Bulldogs.
With the blue and gold, Wolff started off her season with three unfinished matches followed by two losses, earning her first win on Feb. 13 against San Diego. Since her victory over the Toreros, Wolff finished her season at 10-5, including two match-clinching wins over Stanford and California to earn the team its first outright Pac-12 title.
"(Wolff) didn't come in just in the best of shape, just in the best match shape," Sampras Webster said. "She's really stepped up in the last couple months and just played some great tennis for us. She's been a lot of fun. A fun person to be on the team, but she also loves to win and has that attitude, that mindset of like she's there to do a job, and she's going to fight to the end."
After the match against the Golden Bears, Wolff said she felt like she had been a Bruin for four years despite it being only her fourth month in person with the team.
Heading into the third round of the NCAA Tournament against Georgia Tech, the senior said her connections with her teammates will extend well beyond their time at the Los Angeles Tennis Center.
"Even though I've been here for such a short time I feel like I really connected with all the girls on the team," Wolff said. "I'm honestly so happy I got to meet them and be on the team with them and I honestly think that I made friends for life. … I'm honestly so sad it's already come to an end and it really does feel like I've been here for all those four years."
Simons is currently an assistant Sports editor on the baseball, women's tennis, men's tennis, swim and dive and rowing beats. She was previously a reporter on the baseball and women's tennis beats.
Simons is currently an assistant Sports editor on the baseball, women's tennis, men's tennis, swim and dive and rowing beats. She was previously a reporter on the baseball and women's tennis beats.