Men's tennis' Keegan Smith recounts new lease on life after near-death accident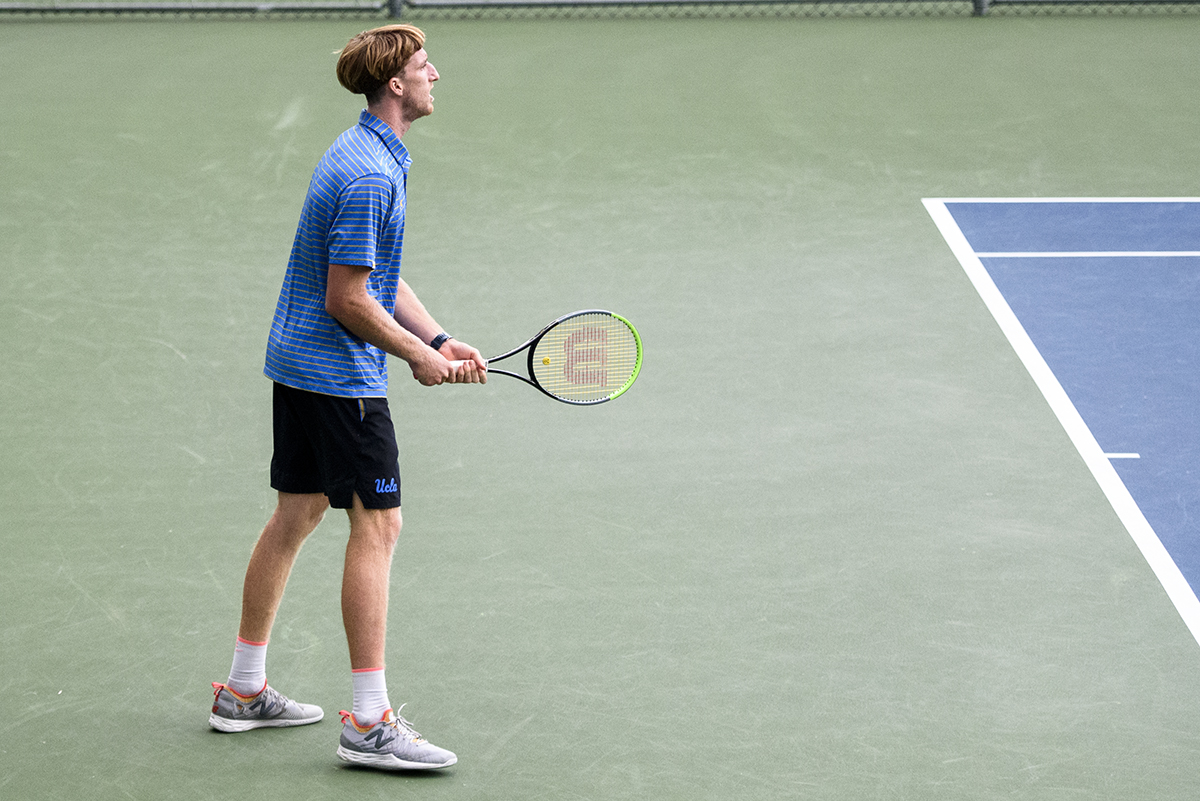 Keegan Smith's senior season with UCLA men's tennis was cut short because of a skateboarding accident, but he still potentially finished his career as a Bruin with more than 100 wins across both singles and doubles matches. (Jefferson Alade/Daily Bruin)
While the Bruins faced the prospect of a winless season against the Trojans, Keegan Smith's situation was much more dire.
The senior faced the prospect of losing his life.
Prior to UCLA men's tennis' scheduled April 16 match versus USC that was later postponed, Smith flew into a car while skateboarding on Gayley Avenue. He was found unresponsive by Tyler Kirberg, a freshman goalkeeper for UCLA men's soccer, who proceeded to call 911. At the Ronald Reagan UCLA Medical Center, Smith was diagnosed with a broken temporal bone and skull, brain swelling and a blood clot in the brain.
In an April 27 Instagram post, Smith wrote about his eight-day battle in the medical intensive care unit. He recounted his fight against the "worst physical and psychological pain" he had ever gone through, disclosing that the accident nearly killed him.
But Smith won the fight, and now, life means something different to him.
"Sometimes I think with a lot of people my age, and especially guys I think, we feel immortal, but god, that was a wide awakening that you're not," Smith said. "Sometimes I'll just be sitting there and thinking I'm happy I'm here and happy I'm breathing, and when I wake up, I'm just happy."
Smith's Instagram message was met by a flurry of supportive comments, many of which came from fellow UCLA student-athletes. Among them were men's basketball's Chris Smith, football's Bo Calvert, women's basketball's Michaela Onyenwere, beach volleyball's Lexy Denaburg, men's water polo's Nicolas Saveljic, women's tennis' Abbey Forbes and women's volleyball's Mac May.
"I've always felt a certain respect and understanding between the student-athletes at UCLA because we know how much we've worked to be where we are," Smith said. "It's just kind of cool because all the athletes at UCLA are some of the best athletes in the nation."
The injuries forced Smith to sit out the remainder of his senior season, and his team wasn't the same without him. The Bruins posted an 11-4 record with Smith at the helm, but went 2-3 during his absence, losing their first-round matchups in the Pac-12 and NCAA tournaments. It was UCLA's earliest exit in the NCAA tournament since 1988.
Coach Billy Martin acknowledged the significance of losing Smith down the stretch.
"We did the best we can, but obviously we weren't nearly the team without him than we would be with him," Martin said. "Those are the kind of guys you need out there under this pressure when it's do-or-die."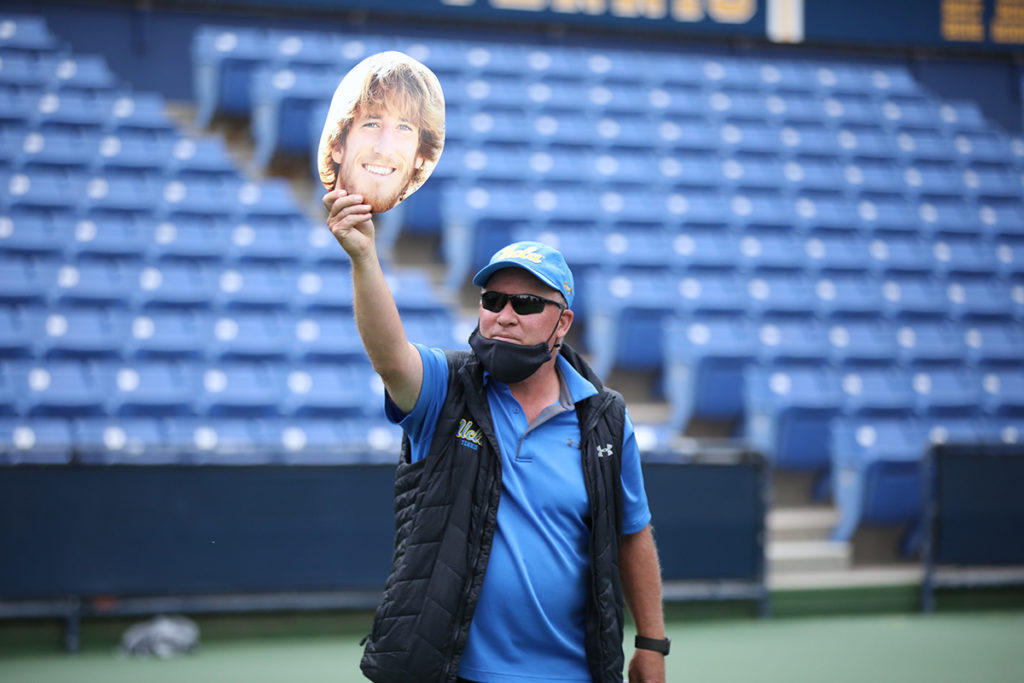 A blue-chip recruit out of Point Loma High School in San Diego, Smith was a four-year starter at UCLA. In dual match play, he accumulated a record of 61-9 in singles and 47-18 in doubles, good for a .750 winning percentage across all contests. Before the accident, he built a resume of 13-2 in singles and 8-6 in doubles in 2021.
With now-pro Maxime Cressy, Smith completed a perfect 17-0 run in dual match play en route to an NCAA doubles title in 2019, bringing home the 14th such title for the program. Among other accomplishments, he earned three Intercollegiate Tennis Association All-America selections, three All-Pac-12 selections and achieved a career-high ranking of No. 4 in the Oracle/ITA singles ranking on March 3, 2020.
Sophomore Drew Baird noted Smith's value to the team but said his absence didn't deter the Bruins from their collective goal.
"Obviously, he's our number one player and it would affect some matches, but at the end of the day, we all came to UCLA to compete at the highest level," Baird said. "We all have aspirations of going pro, so it's not like we felt we were doomed to lose."
On May 27, more than a month after his accident, Smith had a CT scan which indicated nothing but positive news. There was no more swelling in his brain and the blood clot had gotten smaller, so his doctor gave him the green light to start lightly exercising. Later that day, Smith returned to the courts where he made his name.
With his former doubles partner and fellow senior Bryce Pereira, Smith said the emotions hit him hard.
"Me and Bryce went out to the UCLA courts, and it just hit me like a truck," Smith said. "I started crying like a little girl as I walked out there. It's weird how this little game means so much to me."
Despite being a senior, Smith said there's a small chance he will return to UCLA next year. He wasn't able to finish his academics this year, so he could potentially come back and get his degree with the NCAA's extra year of eligibility because of the COVID-19 pandemic. However, he said he is currently leaning toward going pro.
"I've never really given myself a true chance, which is super exciting and kind of crazy to think about," Smith said. "It's going to be pretty eye-opening for a lot of people because I feel like I'm a bit underrated for my skill. I'm thinking of moving out to Orlando and training at the (United States Tennis Association's) facility down there and really just give it my all."
Regardless of his next move, Smith has made his mark. He's been a leader, a winner and now a fighter in his UCLA career. So how does he want to be remembered as a Bruin?
"Just as me," Smith said. "I'm just a normal guy, a happy guy trying to enjoy life and have fun in college but also dedicate myself to the game. I'm just a goofy dude who likes to have fun, but I mean, I would never change a thing."
Nelson is currently a Sports contributor on the women's tennis beat. He was previously a contributor on the men's tennis beat.
Nelson is currently a Sports contributor on the women's tennis beat. He was previously a contributor on the men's tennis beat.