Softball enters 6th straight Women's College World Series with familiar opponents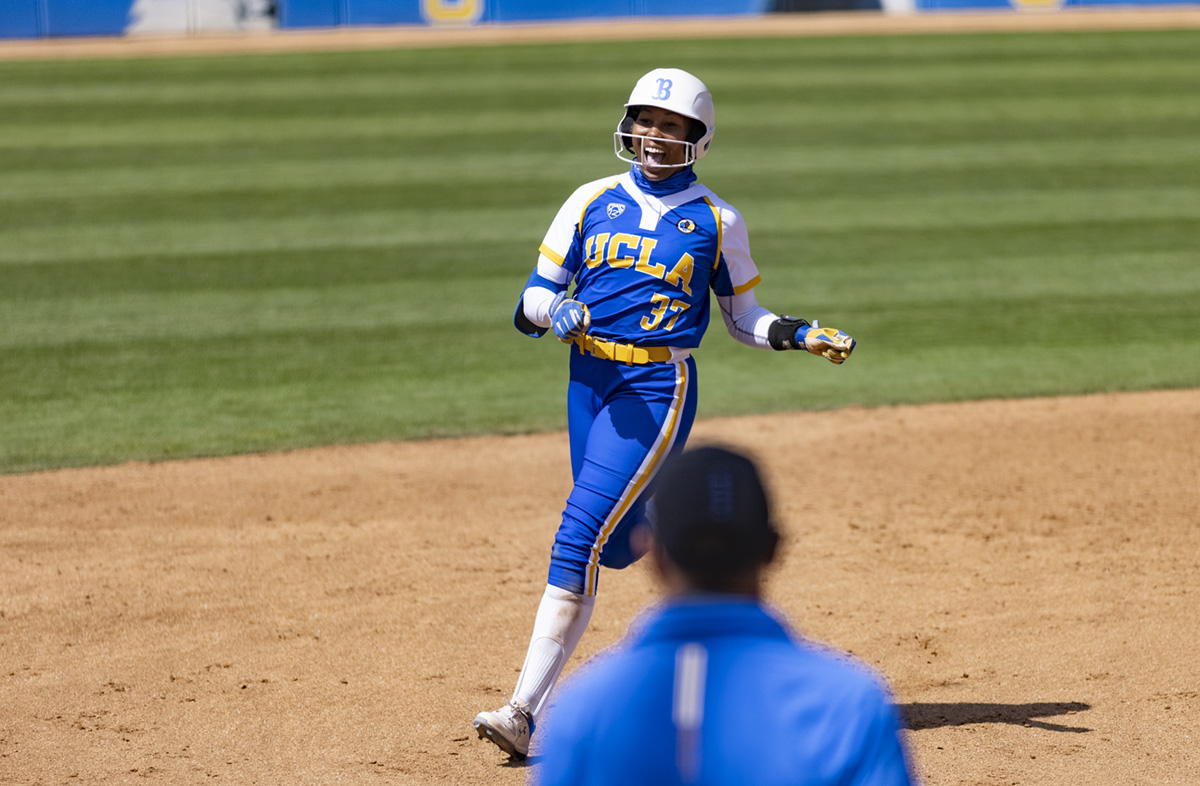 In No. 2 seed UCLA softball's most recent Women's College World Series at-bat, redshirt junior infielder Kinsley Washington hit the walk-off hit that made the Bruins champions. Washington enters this year's tournament hitting .318 with 32 RBIs on the season. (David Rimer/Daily Bruin staff)
Softball
---
No. 10 seed Florida State
Thursday, 6:30 p.m.
USA Softball Hall of Fame Stadium
ESPN
Correction: The original version of this article incorrectly stated that Florida State softball's record is 55-10, 19-5. In fact, Florida State's record is 44-10-1, 26-5-1.
This post was updated June 6 at 8:42 p.m.
The Bruins have sized up their competition – and they're ready.
"We fear nobody," said coach Kelly Inouye-Perez. "Our goal is to play our game, always. When we play our game, good things happen."
No. 2 seed UCLA softball (46-5, 19-2 Pac-12) will start its sixth straight NCAA Women's College World Series appearance with a double-elimination tournament beginning in Oklahoma City on Thursday night. The Bruins will be playing for a place in a best-of-three series against the winner of a second, concurrent double-elimination tournament.
"This season, we've learned that we aren't invincible," said redshirt junior outfielder Aaliyah Jordan. "Now, we're on top of our stuff, and we're ready to go as we come into the World Series."
UCLA's first opponent will be No. 10 seed Florida State (44-10-1, 26-5-1 ACC). The Bruins played the Seminoles three times in the 2018 WCWS and were ultimately knocked out of the tournament after two consecutive losses.
"I'm excited to play (Florida State), after knowing they knocked us out in 2018," said redshirt junior infielder Kinsley Washington. "They aren't afraid to compete, which I love. Their entire lineup swings for the fences, and we are preparing for them."
UCLA had a rematch in 2020 – securing a 3-2 victory over Florida State after a late-game rally to pull ahead.
Florida State came back from a 2-0 deficit against No. 7 seed LSU in the second game of the Baton Rouge Super Regional to punch its ticket to the WCWS.
"There's definitely that memory, where (Florida State) straight up beat us (in 2018)," Inouye-Perez said. "But, there is a more recent memory of 2020, and we are all different teams now. Anything can fuel a fire, but we have learned and grown as a team since (2018). We're better and stronger, and we look forward to the opportunity to play Florida State again."
The other two teams in UCLA's bracket are No. 3 seed Alabama (50-7, 18-6 SEC) and No. 11 seed Arizona (41-13, 12-10 Pac-12).
The Bruins finished their regular season with a four-game series against the Wildcats – where they won by four or more runs three times while falling once by a score of 1-5. Arizona is currently one of only two active teams ranked in the top 10 nationally for team batting average.
The last time UCLA saw Alabama was in 2020, when it beat the then-No. 9 Crimson Tide 7-0. Alabama is currently riding an 18-game winning streak, shutting out its opponents in the regionals before defeating No. 14 seed Kentucky in the Super Regionals.
"A common factor amongst all our opponents will be that everyone has figured out a way to get through a regional, a super and get back to Oklahoma," Inouye-Perez said. "We always respect our opponents, but we give ourselves the best chance to win when we play our game, no matter who is in the other dugout."
If the Bruins emerge from their double-elimination bracket victorious, they will face the winner of the other bracket, which consists of No. 1 seed Oklahoma (50-2, 16-1 Big 12), No. 5 seed Oklahoma State (47-10, 15-3 Big 12), James Madison (39-2, 17-1 CAA) and Georgia (34-21, 7-17 SEC).
A similar pattern played out in 2019, when the Bruins won three straight within their own bracket before facing and sweeping the Sooners in the WCWS final to bring home UCLA's 118th NCAA title.
The 2021 WCWS may look a little different for the Bruins, however, as redshirt sophomore pitcher/first baseman Megan Faraimo recently suffered an injury to her hand, which she stayed in Los Angeles to treat. Her return to the mound is uncertain.
"Megan is doing as well as she can," Inouye-Perez said. "We're living day-to-day right now, and I have to focus on what we have in our control. It's unfortunate but fortunate that we've had adversity this entire year. But, if someone goes down, someone else steps up and has her back."
Redshirt senior pitcher/first baseman Rachel Garcia has split most of the Bruins' pitching duties with Faraimo this season, leading the team with a 0.95 ERA.
UCLA may have added Faraimo to injured reserve this week, but it will be welcoming redshirt senior utility Bubba Nickles back to the field and the batter's box after gradually reincorporating the Olympian into the roster over the past couple of weeks.
"Bubba's in," Inouye-Perez said. "We're really excited about the energy she brings, and we're excited to get started."
Hunt is currently a Sports staff writer on the softball and women's soccer beats. She was previously a reporter on the gymnastics, women's water polo and swim & dive beats.
Hunt is currently a Sports staff writer on the softball and women's soccer beats. She was previously a reporter on the gymnastics, women's water polo and swim & dive beats.