Op-ed: UCLA's reduction in number of units for priority pass hurts disabled student community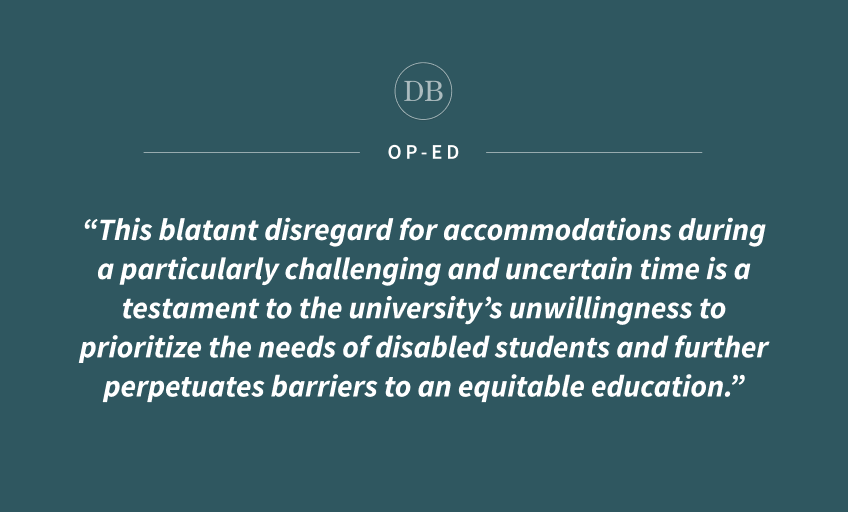 An open letter to administration,
The Disabled Student Union is appalled to learn of the decision made by UCLA administration to reduce the number of units students with the Center for Accessible Education accommodation are allowed to receive during priority enrollment. Notice of this decision was delivered via an email sent by the CAE on May 28. Not a single disabled student leader was consulted on this decision, and DSU strongly condemns this discriminatory action. Further, this email was sent at 4:21 p.m. on a Friday before a three-day holiday weekend, only two weeks before priority enrollment begins. This is indicative of the constant refusal to be communicative, transparent and honest with the UCLA disabled student community despite consistent attempts from disabled student leaders to open communication lines.
This decision arrives as students prepare to transition back to in-person learning when disabled students are already concerned for their health, safety and access. Further, a decrease in accommodations leads to lower retention rates for our population. To reiterate, effective fall quarter, students with disabilities will now only be able to enroll in 15 units during priority enrollment, where, previously, the cap was set at the standard 19 units. If the impulse is to think that 15 units is enough or that students don't need this accommodation, below are some reasons as to why this decision negatively affects our population, who are legally obligated to have access to an education:
Due to the nature of UCLA class units, this means that disabled students will only be able to enroll in approximately three classes a quarter. As such, it will be more difficult for students to add a minor or graduate on time, leading to a potential loss in financial aid packages and awards.
Disabled students need to organize transportation, caregiver support, periods of medication, energy levels, etc. This means that many students have significantly restricted windows of time to take courses, requiring considerable transition time between courses, among other reasons.
Many disabled students may only have one or two accessible class/discussion permutations, and thus, there is a high probability that their classes, including non-impacted courses, will be full by first pass.
Due to unaccommodating professors, medical emergencies, etc, some disabled students are forced to drop courses at a greater frequency than the general student population. While the university must address the barriers that lead to students dropping courses in the first place, these barriers still exist today. Priority enrollment allows disabled students to have a buffer when it comes to specific classes.
Immunocompromised or otherwise at-risk students may not be able to safely attend in-person classes in the fall. Given that the number of online course offerings will likely be limited, these students are even further restricted in the number of accessible courses.
The Undergraduate Council and the UCLA Priority Enrollment Ad Hoc Committee, mentioned in the email, made these recommendations regarding priority enrollment in June 2020, yet did not notify students until May 28, 2021, when students are working on their final examinations and about two weeks before their enrollment.
This blatant disregard for accommodations during a particularly challenging and uncertain time is a testament to the university's unwillingness to prioritize the needs of disabled students and further perpetuates barriers to an equitable education.
Actions such as this sharply contrast UCLA's expressed values and intentions. In a letter to the editor for the Daily Bruin published on April 7, 2021, the CAE's director expressed a commitment to "increasing incorporation of student voices and experiences in CAE's work." As disabled students continue to be disregarded by the CAE and broader UCLA administration after nearly a year of active attempts to engage and open lines of communication, this latest offense, following a pattern of gaps in transparency, is truly insulting. As the DSU, we make it clear that we condemn these actions as well as the blatant disregard for the free labor that we, as disabled students, are forced to exert as the university continues to disrespect our community.
We expect a response inclusive of a time to meet with disabled student leaders regarding the above demands within the next few days. This will entail tangible action items that will be followed up on in a timely manner. We ask that the administration solve problems not by taking resources from vulnerable populations, but by creating a system that provides for all.
To read our full list of demands and the email from the CAE, signatures are continually being added as more people sign onto the letter which is linked here. We would like to stress that there have been over 500 signatures on the first day since the letter was publicized, which proves just how urgent this matter is, especially given that priority enrollment is scheduled to take place in two weeks' time. We believe that this may be the largest instance of organizing around a disability topic in recent UCLA history. Because of this, we urge you to not let these names and stories go unnoticed.
We call on the UCLA Administration involved in this decision to attend the June 8 USAC Meeting at 7 p.m. in order to hear public comment from students and to discuss with council members the decision that has been made.
With respect and resolve,
The Disabled Student Union at UCLA and the undersigned
For anyone who would like to sign this petition, it is linked here. The original DSU Instagram post with more information is linked here. If you are a disabled student affected by this change of policy, reach out to [email protected] if you would like to be connected with legal counsel.