Opinion: Careless behavior during pandemic shows disregard for welfare of older adults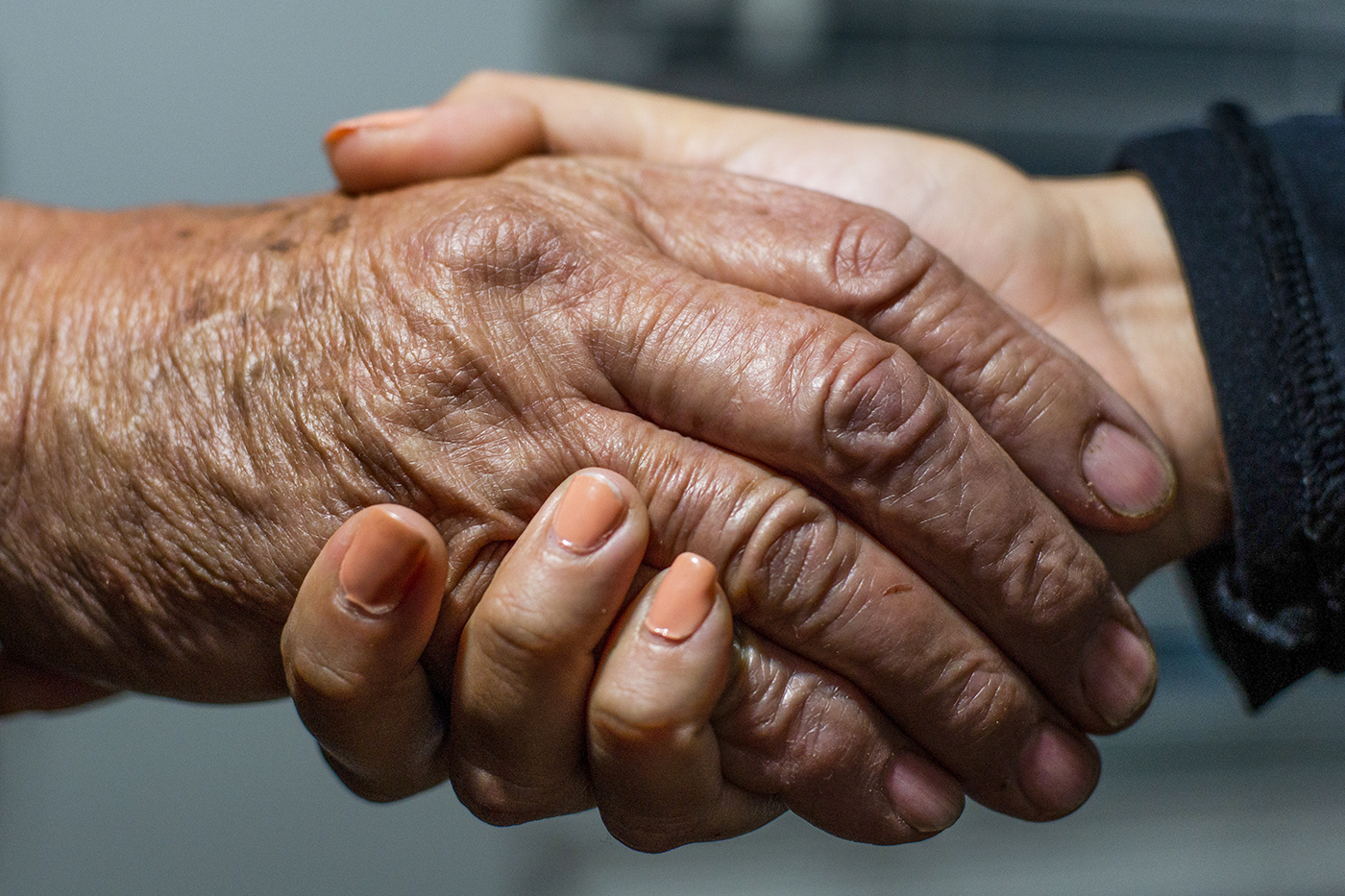 Ageism is a pervasive problem that the COVID-19 pandemic has only underscored. Older adults deserve our respect and empathy, long after social distancing ends. (Antonio Martinez/Daily Bruin)
This post was updated May 31 at 6:19 p.m.
Over the past year, the pandemic has revealed how little our country values its older population.
It's time we change that.
More than half a million people have passed away in the United States from complications related to COVID-19. Nearly 80% of those people were older than 65. And yet, while the pandemic was at its peak and vaccinations weren't readily available, there was still blatant, widespread disregard of public health guidelines.
People refused to wear masks indoors and threw parties. As late as December, 158 people were arrested in Los Angeles County for holding a "superspreader" house party, many of whom were teenagers.
Sacrificing the older generation's well-being in this way demonstrates the need for serious change – both within the UCLA community and the nation as a whole. Moving forward, students should strive to develop a better understanding of older people. This means holding one another accountable for following safety measures, volunteering with nonprofit and campus organizations that help older adults or taking classes about problems unique to the population.
UCLA can help connect Bruins with these resources. The university may be consumed by other issues on the table, but its name carries weight and it should use it for good.
After all, ageism is a pervasive problem.
Government officials such as former President Donald Trump attempted to rationalize COVID-19-related deaths by highlighting that only the older generation was impacted. Similarly, headlines such as NBC's "Not just older people: Younger adults are also getting the coronavirus" minimize the issue.
The story isn't that COVID-19 is deadly for older populations but that it is only deadly for older populations. Misrepresentative as it may be, that headline still hasn't translated to urgency.
"In the beginning, lots of organizations downplayed the contagiousness of the virus and severity of it," said Lynn Vavreck, a professor of political science. "The media reflected that."
This rhetoric is reflective of a mentality that has dominated Western culture, which posits that individualism and innovation are more valuable than experience and collective welfare.
"European and American cultures (are) very individualistic and kind of youth-oriented," said Jessica Collett, a professor of sociology. "People who can do the most are of the most value, and as people get older, perhaps they're (seen as) more frail or less intelligent."
This philosophy has damaging effects. While Los Angeles County has provided meal sites for senior citizens, the community has done little to enforce the health orders, relying on vaccines and people's volition to reduce transmission of the virus.
But clearly, with more COVID-19-related deaths in Los Angeles County than nearly any other in the state, relying on individuals in this way just doesn't work.
"There was a lot of convenient ignorance," said Collett. "We all have the same kind of psychological biases, thinking we are somehow safer than other people are."
In contrast, data indicates that Little Saigon, a Vietnamese American community located in the cities of Garden Grove, California, and Westminster, California, has significantly reduced infections within its population. As of September, Asian Americans accounted for only about 15% of Westminster's COVID-19 cases despite the fact that roughly half of residents are of Asian descent.
These low rates of transmission can be linked to that community's perception of older generations and an emphasis on collective welfare over individual freedoms, the Los Angeles Times reported. Common practices include having a single representative from the family conduct tasks outside the home in lieu of grandparents and avoiding bars, restaurants and other crowded venues, according to the Los Angeles Times.
Granted, not every college student ascribes to the harmful, youth-oriented mentality. Many have followed social distancing protocols to protect their older family members and continue to do so.
Unfortunately, these efforts haven't been enough.
"It's really just hard to imagine that I'll never see my grandpa again," said Apurva Chaturvedi, a second-year psychobiology student. "I wanted him to be there at my wedding. I wanted him to see his first great-grandchild."
Chaturvedi added that it was frustrating to see the media, the Trump administration and fellow young people disregard the impact the pandemic has had on older individuals.
"As an elderly person, you're already dealing with so much and now you have this bigger and more scary threat," said Chaturvedi. "And then when younger people are still messing around, … it's like they don't respect your life."
There are movements dedicated to supporting older generations who are isolated within nursing homes. Organizations such as the Dialogue Society or Intergenerational Friendship Initiative at UCLA forge connections and allow for safe and virtual social interaction. Bruins, if they are able and willing, should join these organizations.
We must stop perpetuating ageism and carefully consider the implications our actions have on the older adults in our community.
Students can encourage their peers to follow public health guidelines and check in with older family members. UCLA should promote its gerontology classes so students can learn about older populations. We all have a role to play, big or small, to ensure that ageism does not persist after the pandemic subsides.
As the world begins to return to "normal," we cannot continue to prioritize one age group over another. This mindset encourages ignorance and, at worst, harms an entire community.