Op-ed: Dialogue about Israeli-Palestinian conflict must avoid oversimplification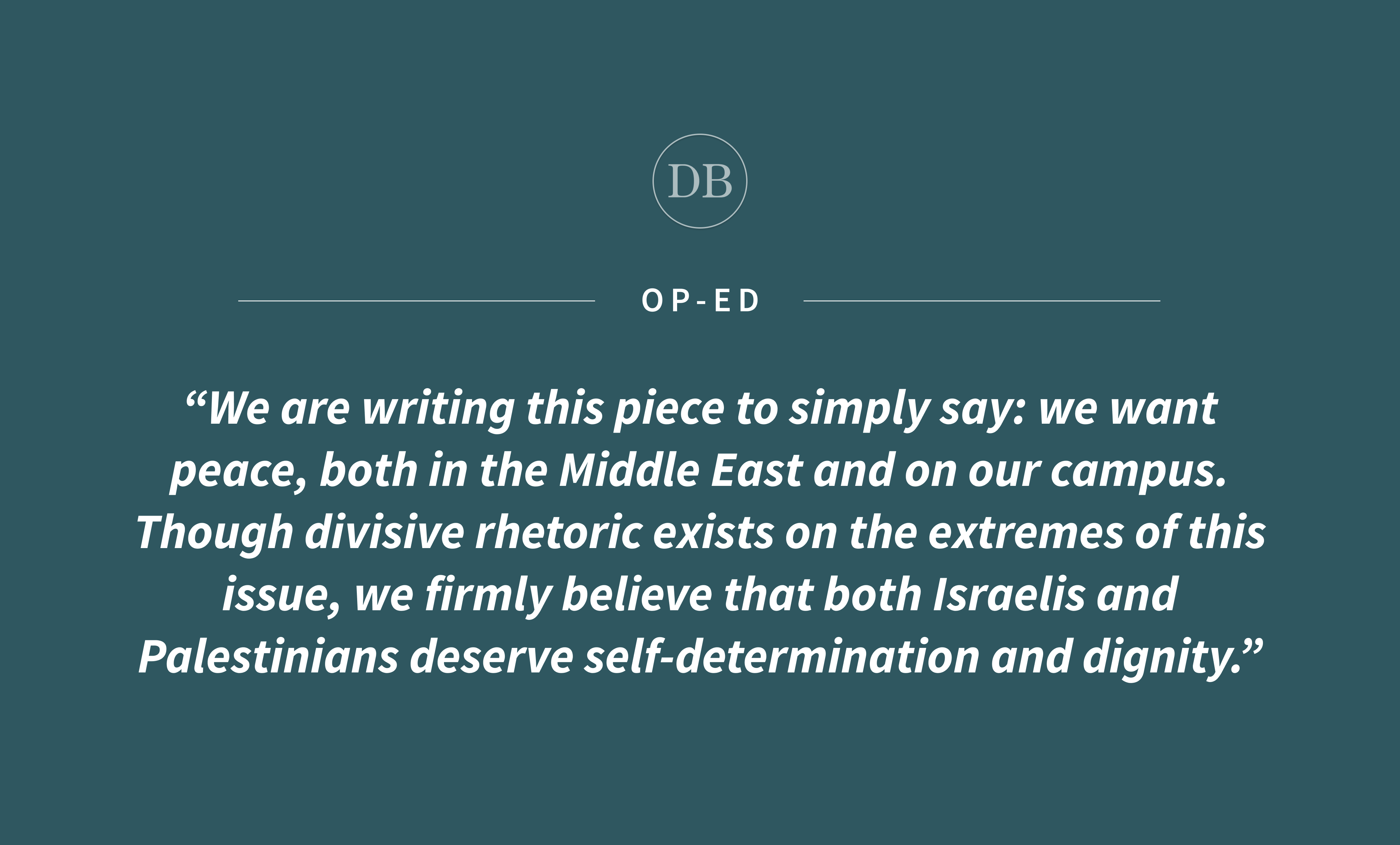 In recent days, we, and many other Jewish student leaders on our campus, have seen our campus spaces engulfed in a debate over the Israeli-Palestinian conflict. Our community has a diverse range of views on these issues, a characteristic we cherish. Yet, many Jewish students, like ourselves, are feeling the consequences of a conversation losing connection with the truth.
A nationwide spike in antisemitism has emerged in recent weeks, translating aggressive rhetoric against Israel to direct physical harm against Jews – even in our own city. UCLA's student leaders have a responsibility to stop perpetuating false and offensive language that promotes oversimplified narratives at the cost of dealing with the real, complicated history of the region. They should fulfill their obligations to equal treatment of all students on campus – including Jewish ones. Many of our student government officials have failed to do so in this trying time, instead choosing to actively disregard the voices of the leaders of our community, Hillel at UCLA – the mainstream Jewish organization on our campus.
We are writing this piece to simply say: we want peace, both in the Middle East and on our campus. Though divisive rhetoric exists on the extremes of this issue, we firmly believe that both Israelis and Palestinians deserve self-determination and dignity.
We have felt distraught over the way a conflict thousands of miles away, outside of our individual control, has harmed relationships and undermined our campus climate in the past weeks. We have felt unwelcome on our campus for existing within our identities as Jewish and Israeli students. No student should feel ostracized because of who they are or where they come from. They deserve respect and equal access to spaces around our campus, political or otherwise. To this end, we appreciate the recent affirmation by Chancellor Gene Block and Vice Chancellor Anna Spain Bradley that antisemitism has no place in our community and for listening to Jewish student's concerns.
Though the campus supports the current fight against antisemitism, some Undergraduate Students Association Council representatives continue to fail to support efforts to create a healthy campus climate. On Monday, May 24, we and other UCLA Hillel student leaders met with USAC council members to express our concerns about how USAC's proposed statement of solidarity in support of Palestinians was offensive and erased our community's experiences. Solidarity for the historic and current pains of Palestinians can be advanced without the usage of exaggerated, aggressive language that fuels antisemitic hatred. Some examples of such damaging language include the unsubstantiated claim of "ethnic cleansing". We appreciate the USAC members who see these distinctions and urge others to consider the impact of their words and actions on the campus community they serve.
More broadly, we see many students on campus who perceive a never-ending conflict and cannot imagine the possibilities for a different future. This hopelessness has, intentionally or not, translated to calling for more violence, not less. During recent protests, there have been calls for a new intifada. An intifada is a violent uprising, the most recent of which was marked by attacks against innocent civilians. Similarly, there has been an alarming misidentification of Hamas as a "pro-Palestine organization," when in fact it is a recognized terror organization by many countries, including the United States and the European Union. USAC's implicit reference to the organization as "Palestinian resistance" is especially offensive. Dismissing these realities disrespects the lost lives and personal pains of many innocent Israeli and Palestinian civilians over decades. Those pushing for peace will advocate for coexistence between groups, not violence and division.
Those who care about the region know that there should be no mutually exclusive sides in this conflict, which has been evolving for decades. It is not a zero-sum game. For those who are genuinely interested in these issues, there is a wide range of research to learn more. Instagram infographics cannot capture the nuances of a conflict that has now extended for over 100 years. What has been reduced to misinformed social media graphics are the complicated realities of millions on the ground in the Middle East, oversimplified by posts lacking any reference to verifiable or credible sourcing.
One can criticize Israeli leadership or actions without making claims about their fundamental right to exist. The noble goal of expressing solidarity with Palestinian students can occur without propagating false ideas and offensive language that have led to a direct surge in antisemitic violence. As Hillel student leaders, we fundamentally believe in a shared future for Israelis and Palestinians, where the communities live together in mutual peace.
We hope you will join us in our mission to create intentional, safe spaces for students to engage in civil discourse. Much of our programming at Hillel, open to anyone on campus, is aimed at furthering this goal.
We are a part of a single UCLA community, regardless of our political differences. On campus, we believe in inclusivity for all students and their differing viewpoints, as well as facilitating dialogue that prompts respectful conversation on these important issues. Ultimately, each of us has a role to play in building a culture that embraces these challenging dialogues while ensuring that every student feels included on UCLA's campus.
Binat Gousinov is a third-year business economics student and the 2021-22 President of Hillel at UCLA Student Board. Danit Hetsroni is a fourth-year communications student and the 2020-21 President of Hillel at UCLA Student Board. Loren Ben David is a fourth-year political science student and the 2020-21 President of Bruins for Israel. Brandon J. Broukhim is a fourth-year political science, public affairs and history student and a senior student leader for Hillel at UCLA. These views are solely representative of the authors herein and do not represent the overall positions of any of the organizations listed.