Winners and losers of UCLA football's spring camp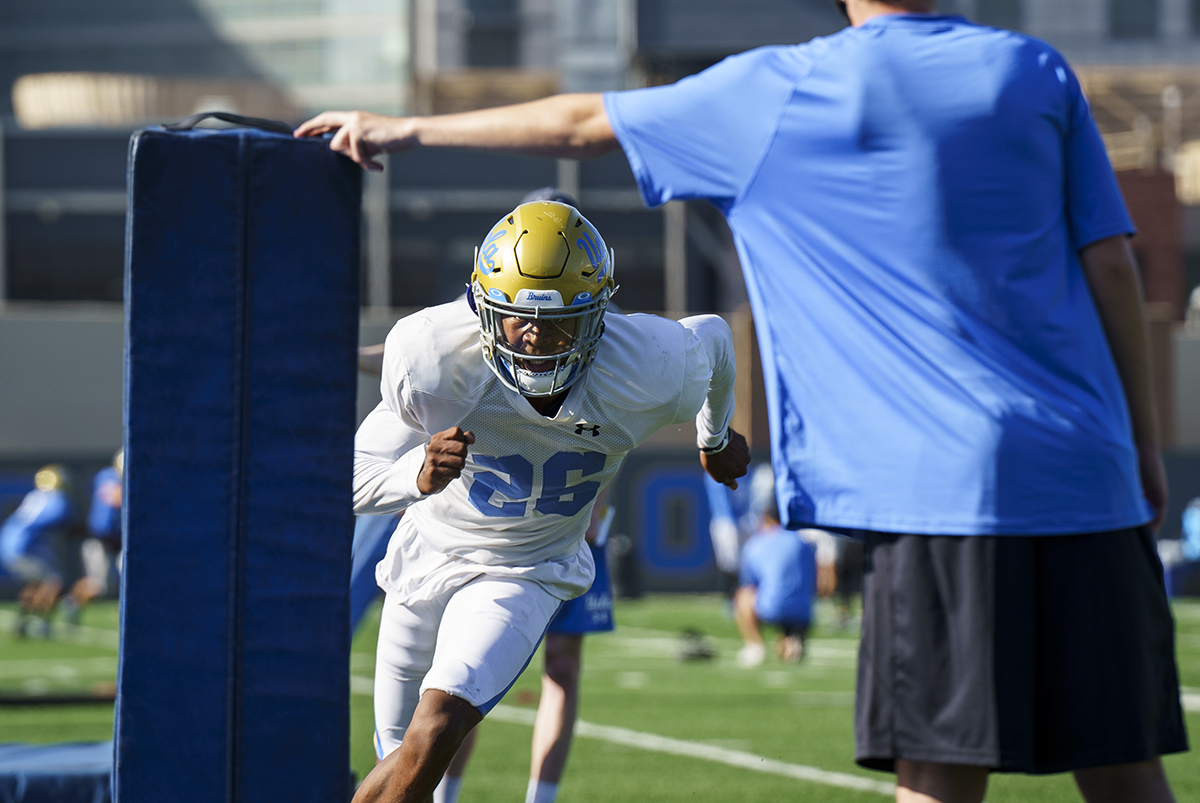 Freshmen defensive back Devin Kirkwood – one of two four-star commits for UCLA football in the class of 2021 – had two interceptions at Thursday's Spring Showcase. (Esther Ma/Daily Bruin)
This post was updated May 28 at 4:11 p.m.
Over a month after most programs packed it in for the offseason, the Bruins have finally wrapped up spring camp.
UCLA football capped off its five-week spring practice schedule with a Spring Showcase on Thursday. There are now fewer than 100 days remaining until the regular season kicks off against Hawai'i at the Rose Bowl on Aug. 28, and roughly two months until preseason practices open up. With the Bruins preparing to take some time off, here are the ones who stood out the most in the 15 sessions open to the media – for better or for worse.
Winner: Devin Kirkwood
Over the course of the last few weeks, Kirkwood, a freshman defensive back shuffled, his way up the depth chart in a major way.
As one of UCLA's two four-star commits in the class of 2021, Kirkwood started out playing corner with the threes. By the final few practices, he was rotating between the ones and twos and he made some impressive pass breakups in 1v1s and 11v11s.
Kirkwood's best practice came when rising redshirt senior cornerback Jay Shaw was absent on May 21. Although he dropped two interceptions from rising redshirt sophomore quarterback Chase Griffin and rising redshirt sophomore quarterback Chase Artopoeus, Kirkwood showed great ball instincts and made the most of his time playing up in the lineup.
The young defensive back capped things off with two interceptions at Thursday's Spring Showcase – one of which he took back for a pick-six – as well as another breakup or two.
And on the topic of highly-ranked early enrollees, freshman Quintin Somerville deserves a shoutout as well for being one of the most impressive defensive ends right off the bat. He could stand to put on a few more pounds before getting game time and he didn't make much of an impact in 11v11s, but he's shown enough in 1v1s and drills for fans to get on board sooner rather than later.
Loser: Bo Calvert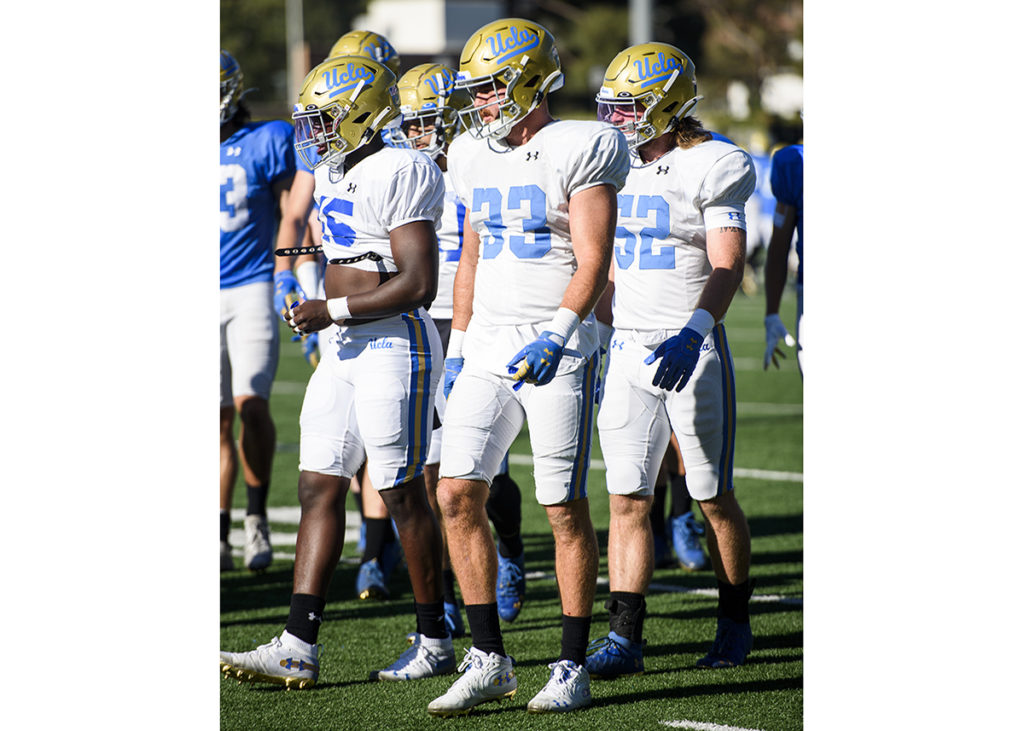 Calvert had similar issues during spring camp that he had in the 2020 season.
He just kind of blended in.
Early on in camp, Calvert was jumping passes and making solid tackles. By the end, however, the rising senior middle linebacker had faded into the background just as he did so many times in real game situations last year.
Calvert's fit in the defense continues to be a question mark moving forward too. He hasn't proven to be athletic enough to thrive in coverage, and he certainly isn't long and powerful enough to move to the edge.
The rising senior has a good command for the game and, if he's the one calling the shots out on the field, he should get a lot of credit for how the defense constantly got the better of the offense in live sessions.
That being said, Calvert has to be more consistently present if he's going to reach his ceiling – both as a playmaker and as a game manager.
Winner: Dorian Thompson-Robinson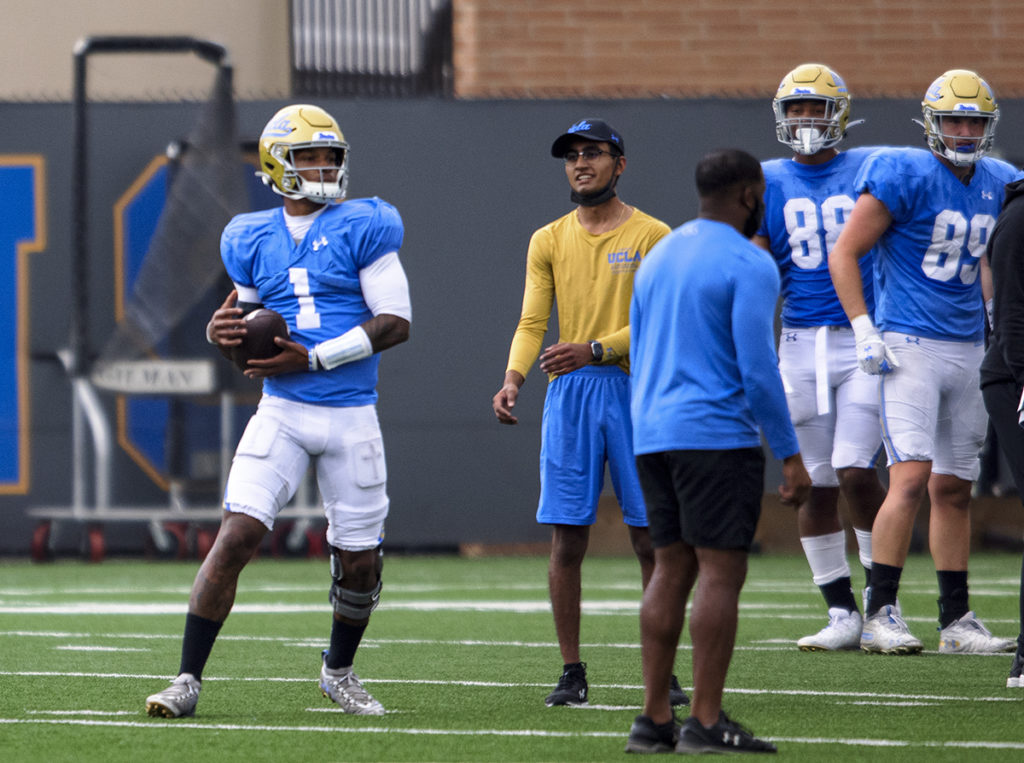 It wasn't the flashy plays that showed how the Bruins' senior starting quarterback had taken another leap in the offseason.
It was the little things, the heads-up plays, the energy and the overall grasp of the offense.
In the final Tuesday practice, Thompson-Robinson and the rest of the ones got forced into a three-and-out on the first drive of live sessions. While that isn't a positive on the surface, the sequence of plays demonstrated the quarterback's growth.
Thompson-Robinson stepped up in the pocket for a 1-yard sack, threw sidearm into the flat to avoid a leaping defender and launched one out of bounds on a broken slip screen.
Those are the kind of plays the Bruins need their signal-caller to make in 2021, avoiding the big losses and negatives that have plagued him in his career to this point. His big-play ability was on full display in his five-game 2020 campaign, earning him second-team All-Pac-12 honors – and he had a few of those moments in spring ball as well, to be completely clear.
What is going to set him apart are the types of plays only a veteran college quarterback can make, and he showed this spring that he's ready to take that next step.
Loser: Chase Griffin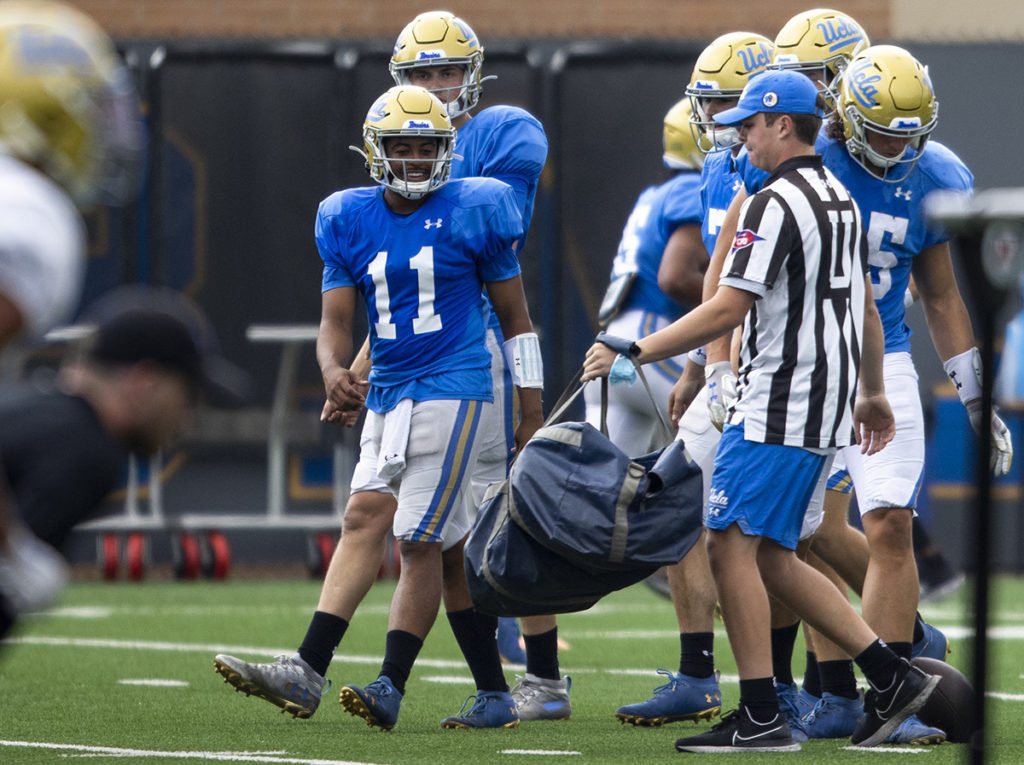 Griffin didn't take a step back, but adding a new face into the quarterback room continued to highlight his biggest flaws.
Rising sophomore quarterback Ethan Garbers, who transferred from Washington, split reps with Griffin as the No. 2 quarterback, and both had their fair share of miscues. Looking at Garbers' effortless throwing motion and superior footwork, however, Griffin might slip to QB3 by the time next season kicks off.
Griffin puts everything he has into every throw over 20 yards, sometimes resulting in wobbly balls and passes that hang in the air far too long. And when he's forced to throw on the run, he tosses similarly-iffy balls.
While every quarterback threw a handful of interceptions throughout spring camp, they were rampant for Griffin, who was intercepted by rising redshirt sophomore linebacker Kain Medrano, rising redshirt sophomore safety Jelani Warren, rising senior safety Martell Irby and others in the last few practices alone. Irby picked him off again in the Spring Showcase, as did Kirkwood.
Griffin's unmatched leadership ability and proven familiarity with the playbook give him a leg up on the other quarterbacks heading into fall camp, but those traits on their own will only get the rising redshirt sophomore so far.
Winner: Zach Charbonnet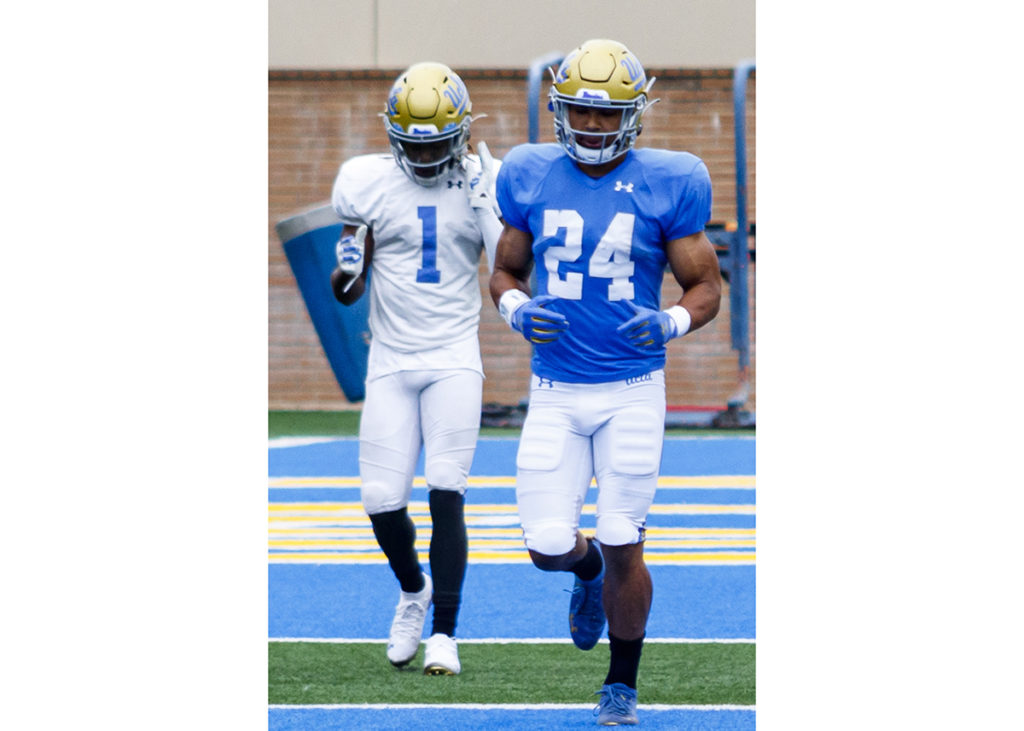 Perhaps the biggest winner of spring camp – new face or old – was Charbonnet.
The rising junior running back transferred from Michigan in the offseason after falling out of the rotation in the Wolverines' backfield last fall. After putting up over 5,000 yards from scrimmage in his high school career, in addition to 756 yards and 11 touchdowns as a freshman in Ann Arbor in 2019, Charbonnet seemed like a true up-and-coming running back who could make a major impact in the Big Ten.
Instead, he moved back west and could be doing the same in the Pac-12 moving forward.
Charbonnet clearly has an affinity for the gym, considering his arms and legs are absolutely massive for a running back. His decision-making behind the line of scrimmage and ability to get consistent yardage up the middle gives the Bruins something they were missing with Joshua Kelley gone last year. Charbonnet made several solid grabs coming out in the flat or on wheel routes in team drills as well.
Anointing him an All-Conference favorite – or even the starter in Westwood – is premature considering how crowded and experienced the backfield already is. Anyone who watched him play this spring, however, knows he's got something special going.
Loser: Brittain Brown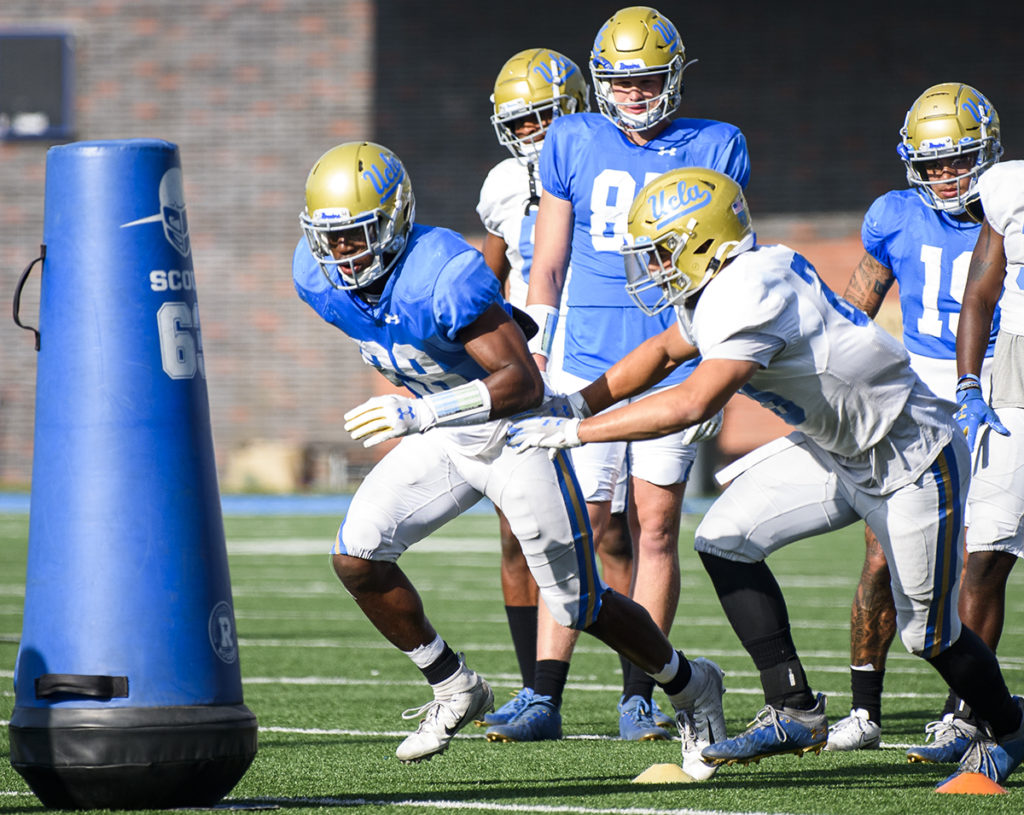 One of the main reasons Charbonnet was able to shine so bright over the past few weeks was because Brown was so on-and-off.
That isn't to say the graduate running back was bad – far from it, actually – just that he took very few snaps with the ones during live sessions down the stretch. Those are the moments where guys can put what they've honed during drills into action, and not seeing that work pay off for Brown was a tough blow.
Brown was held out of 11v11 sessions entirely in several of the final practices, indicating his absences might have something to do with the foot injury coach Chip Kelly said he's been dealing with lately. Physically though, he looks better than ever, and he has the potential to be the same back who rushed for 219 yards in the 2020 season finale against Stanford.
But with Charbonnet playing so well in spring and Brown not getting full reps, the latter may not have as tight a grip on the No. 1 running back role as previously believed.
Winner: Kain Medrano
Medrano was exclusively a special teamer in 2019 and made a couple pass breakups and tackles for loss in 2020 despite missing two games because of COVID-19 protocols.
This spring, the rising redshirt sophomore linebacker made a case for even more playing time.
Medrano's standout day was May 14, when he recorded two interceptions in live sessions against Griffin and Garbers in the end zone. In addition to that solid string of possessions, Medrano did well overall in 1v1 coverage drills against both tight ends and wideouts.
UCLA's defense took a step forward last year, mostly because it got into the backfield a lot more often. Medrano proved he can do that, and now he's shown he is a solid coverage linebacker who can help fix the Bruins' remaining woes on that side of the ball.
Connon joined the Bruin as a freshman in 2017 and contributed until he graduated in 2021. He was the Sports editor for the 2019-2020 academic year, an assistant Sports editor for the 2018-2019 academic year and spent time on the football, men's basketball, women's basketball, baseball, men's soccer, cross country, men's golf and women's golf beats, while also contributing movie reviews for Arts & Entertainment.
Connon joined the Bruin as a freshman in 2017 and contributed until he graduated in 2021. He was the Sports editor for the 2019-2020 academic year, an assistant Sports editor for the 2018-2019 academic year and spent time on the football, men's basketball, women's basketball, baseball, men's soccer, cross country, men's golf and women's golf beats, while also contributing movie reviews for Arts & Entertainment.